April 17, 2011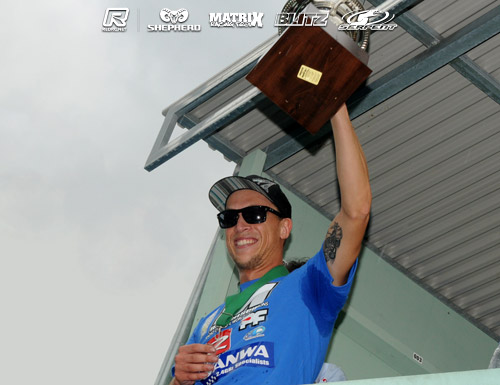 Having proven himself to be the fastest driver in the World for a third consecutive time Robert Pietsch today finally went on to claim the crown of the World's best racer as he lifted his first IFMAR title at the 2011 1:8 Onroad World Championship in Miami, Florida.  The German headed a Mugen 1-2 in a rain shortened final at Homestead RC Raceway with Keisuke Fukuda finishing runner-up ahead of Capricorn driver Dario Balestri who completed the podium at the 18th running of the sports original World Championship.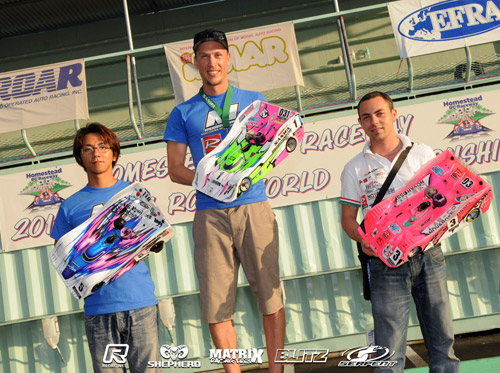 Failing to make the podium when he was Top Qualifier in Lostallo 2-years ago and again when he TQ'd the 1:10 Worlds last July in Texas, Pietsch said his luck had finally stuck today but the reality of taking the sports greatest accolade was going to take a few days to sink in. Responsible for designing the MRX-5, which he already used to become European Champion, he was very proud of his work as not only did he win but the car made up half of the grid in the final.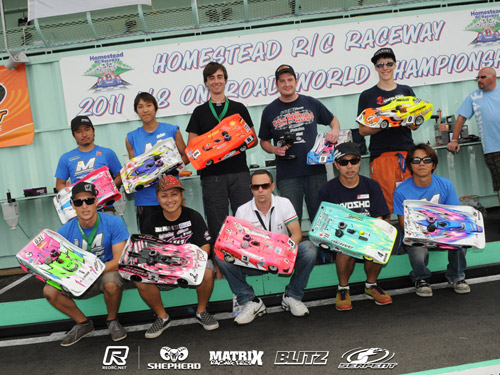 Over taken in the early part of the race by a blisteringly fast Balestri, Pietsch said he was not surprised by the speed of his European rival. Having spotted the Italian true three sets of tyres before the race he was pretty sure that Balestri was going to run a two tyre-stop strategy which would allow him to push harder than the rest of the field who all ran just single tyre stops. After Balestri made his second tyre stop the champion elect had almost a lap on his rival and started to pace himself although he said a bad second last fuel stop almost saw him come undone costing him 4 seconds in time.  Ultimately the rain, which arrived with about 1/4 of the race to run, brought the race to an early conclusion as the cars started to slide around the track forcing its stoppage at 47-minutes.
Having been unable to play out his strategy in full, having pitted for his second set of tyres just 5 minutes before the rain, Balestri said afterwards he wasn't sure if the win would have been possible.  The 25-year-old said he knew his Capricorn/Novarossi package was fast, endorsed by his 15.767 fastest lap of the race, and they ran the two tyre stop to try to capitalise on the outright speed of the LAB C801, but they hadn't predicted the rain.  A former two time European 200mm Champion he said he was still very happy to come away with a podium finish.
Knowing what its like to win a World title having won the 200mm crown in 2006, Fukuda said his car felt really good but he just didn't have the pace to match Pietsch.  One of an impressive line up of five Japanese drivers in the final, he thinks following Balestri's strategy would have been better for him as the tyre diameter difference from when you stop to when you change is very large and makes the car very difficult to drive consistently.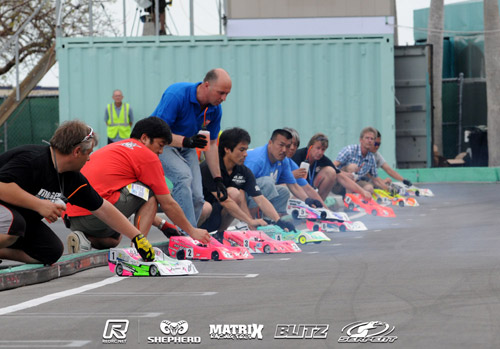 The only Kyosho in the final having qualified directly Takaaki Shimo was disappointed to miss out on the podium.  Working to his 1-hour plan the highest placed OS Speed driver believes second was on the cards but the premature end to the race did not let his strategy play out.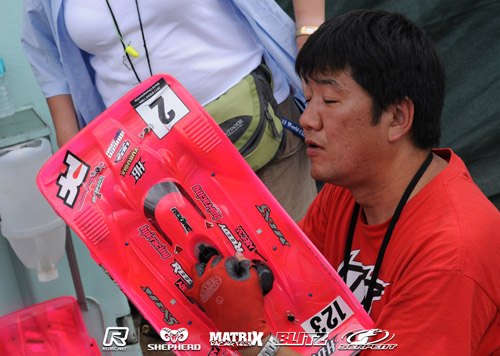 Having qualified 2nd Atsushi Hara could only manage 5th after his Mugen felt like it had a transmission problem 5 minutes into the race.  His 1:8 Onroad debut Hara said he tried to push hard at the start of the race but he was too slow.  This being his first opportunity to see Pietsch in action he said he had a lot of respect for the new World Champion who he felt deserved the win.  A World champion of 1:8 Offroad and 1:10 Electric Touring Car Hara said he hoped to be at the next 1:8 Onroad worlds saying he had a lot of fun racing in what is rc racing's Formula 1 category.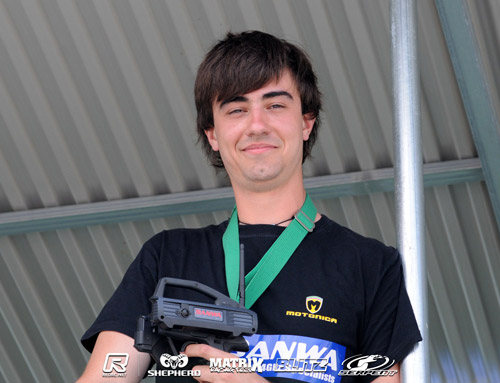 Finishing last in the final in Lostallo, Robin D'Hondt improved on that this year to finish 7th behind Shinya Shimazaki but the Belgian ace said after a trouble free run in the Semis bad luck dogged him in the main event with his Motonica needing to make a number of unscheduled pit stops.  Claiming Shepherd's first 1:8 World finals appearance Swiss teenager Simon Kurzbuch was the final finisher in 8th with Takehiro Teraucho retiring his Mugen after 23 minutes.  Unfortunately the joy of getting one of their new RX8 chassis' into the final was very short lived for Xray as Paul Lemieux would retire during the warm-up with a suspected radio receiver problem.  With Shimazaki having already called a 10-minute delay the only American in the Top 10 was forced to sit out the final.
Official Final Results
1. Robert Pietsch (D) – Mugen/Novarossi – 167L in 47:06.695
2. Keisuke Fukuda (JP) – Mugen/Novarossi – 166L in 46:53.593
3. Dario Balestri (IT) – Capricorn/Novarossi – 166L in 47:00.352
4. Takaaki Shimo (JP) – Kyosho/OS – 166L in 47:02.751
5. Atsushi Hara (JP) – Mugen/OS – 166L in 47:09.161
6. Shinya Shimazaki (JP) – Mugen/Novarossi – 151L in 47:11.611
7. Robin D'Hondt (BE) – Motonica/Gi-Mar – 145L in 47:15.396
8. Simon Kurzbuch (CH) – Shepherd/Max – 144L in 47:07.745
9. Takehiro Terauchi (JP) – Mugen/Novarossi – 85L in 23:57.205
10.Paul Lemieux (US) – Xray/Max – OL
View our event image gallery here.
---