September 18, 2011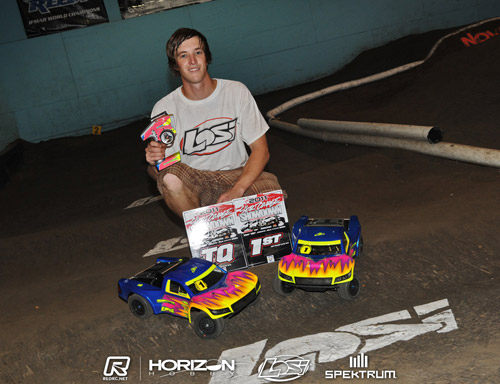 Factory Losi driver Dustin Evans finished out the perfect weekend when he cruised to victories in the two main classes at the Short Course Showdown Nationwide Tour finale held at the impressive Mikes Hobby Shop facility in Dallas, Texas.  Top Qualifier in both 2WD Modified and 4WD, the Colorado driver lead the 7-minute finals from start to finish in what he himself described as 'two flawless runs'.  Behind the World class driver Team Associated's Brian Kinwald was runner-up in 2WD while Josh Glancy made his 15th birthday extra special by finishing an impressive second in the 4WD.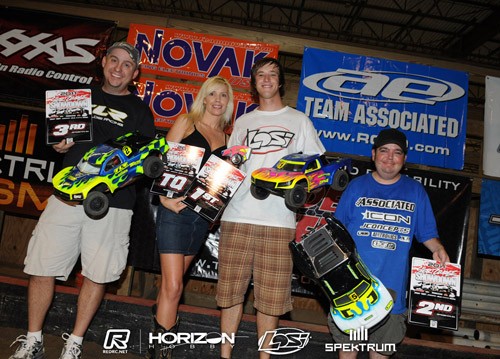 The winner of 2WD at the third stop on the Scott Ernst promoted tour, Kinwald described his race as 'OK'.  Pretty much as he expected the two time 2WD Buggy World Champion said he had hoped to have been able to hang with Evans a little longer but he made a small mistake.  Qualifying 4th on the grid in 4WD Kinwald failed to finish saying he just 'self destructed' but he did put on a show for the crowd when he got massive air over the table top admitting that at one point he thought his SC10 4×4 was going 'out through the roof'.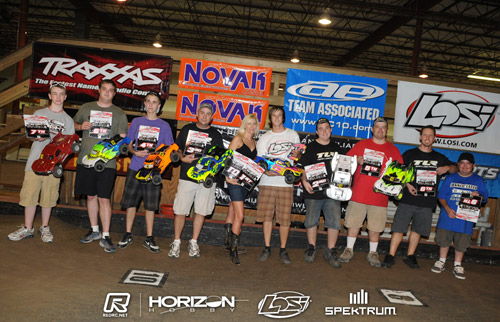 Having only got his Losi TEN-SCTE 10-days prior to the event, Glancy was delighted with the result. Getting the jump on the No.2 truck of Quincy Hughes off the line, the 1:8 Off Road regular said he was really happy with his driving in the final and finishing second to a World Championship driver like Evans was as a good as a win for him.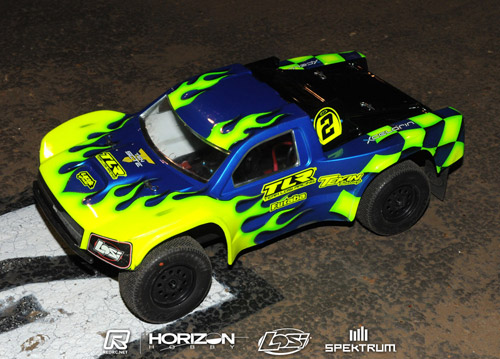 Completing the podium in 4WD and also in 2WD Mod, local ace Hughes joked that he was being nice to Glancy at the start of the final because it was his birthday.  Despite the less than perfect start the Losi driver was very happy with third and even more pleased about making the podium in 2WD.  Admitting in qualifying that his driving was letting him down in 2WD he said the Main was the best he had driven the XXX-SCT all weekend.
Finishing fourth in 2WD, Kyosho driver Cody Hollis was disappointed with his final after he choose the wrong compound of tyres.  Running AKA Wishbone tyres, he switched from Super Soft compound to Soft for the longer run but after a strong opening to the race he said the tyres went away dropping him out of a podium finishing position.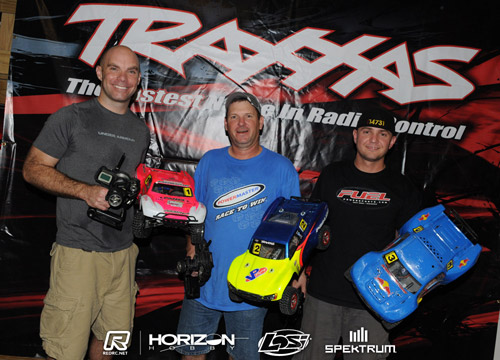 Elsewhere one of the most exciting races of the day was the Traxxas Slash final in which Ron Simpson took a thrilling win over Justin Johnson by 1/10th second with Top Qualifier Marc McGurren coming in third. The 2WD Stock A-Main was also a close affair with Brent Burns getting the better of Top Qualifier Garrett Tokuno by 2/10ths of a second. In the 2WD Novice class Top Qualifier Kent Everett took the win.
Our first time to cover a Short Course event we can now see why there is so much excitement around what this class can do for our sport.  Ending the inaugural Short Course Showdown Nationwide Tour with a record entry, the concept Scotty Ernst has created brings the way rc events should be put on to an all new level.  The atmosphere created by the giveaways for both racers and the large number of spectators who came along to Mikes Hobby Shop to check out the event added a a really electric atmosphere and credit needs to go in particular to Traxxas and Losi who really go involved in pumping up the crowds.
Red RC would like to thank Horizon Hobby, Losi and Spektrum for making our coverage possible and to Mikes Hobby Shop owner Mike Darnell who was a fantastic host.
4WD Short Course A-main results
1. Dustin Evans – 24L 7:12.519
2. Josh Glancy – 23L 7:06.169
3. Quincy Hughes – 23L 7:17.241
4. Aaron Reynolds – 22L 7:08.648
5. Chris Allison – 22L 7:10.839
6. Clayton Easley – 22L 7:17.511
7. Hunter La Flower – 21L 7:07.125
8. Mike Dumas – 21L 7:10.009
9. Brian Kinwald – 14L 4:50.112
10.David Green – 8L 2:44.808
2WD Mod Short Course A-main results
1. Dustin Evans – 22L 7:00.271
2. Brian Kinwald – 22L 7:13.049
3. Quincy Hughes – 22L 7:18.411
4. Cody Hollis – 21L 7:09.732
5. Clayton Easley – 21L 7:14.386
6. Paul Wynn – 21L 7:15.589
7. Randy Pike – 21L 7:17.199
8. Mike Stoll – 20L 7:00.470
9. Trevor Nault – 20L 7:05.453
10.Gary O'Brien – 20L 7:10.418
2WD Stock Short Course A-main results
1. Brent Burns – 20L 7:20.542
2. Garrett Tokuno – 20L 7:20.779
3. Dave Duncan – 19L 7:01.762
4. Gary O'Brien – 19L 7:03.46
5. Jimmy Forrester – 19L 7:03.597
6. James Green – 18L 7:01.522
7. KevinMcCoy – 18L 7:03.477
8. Charlie Martin – 18L 7:04.546
9. Richard Trujillo – 4L 1:41.229
10.Bill Jeric – 3L 1:17.059
Stock Spec Slash Short Course A-main results
1. Ron Simpson – 18L 7:07.077
2. Justin Johnson  – 18L 7:07.191
3. Marc McGurren – 18L 7:10.584
4. Alan Dodson – 17L 7:05.288
5. Bill Darnell – 17L 7:17.119
6. Chris Adams – 17L 7:19.854
7. Andrew Doherty – 17L 7:20.592
8. Jeremiah Carter – 16L 7:05.479
9. Joel Merritt – 15L 7:19.447
10.Keith Moore – 12L 5:26.897
Novice Short Course A-main results
1. Kent Everett – 12L 5:09.566
2. Clinton Majors – 11L 5:22.421
3. David Walker – 11L 5:26.116
4. Paul Forgey – 10L 4:39.833
5. Richard Terry – 10L 5:03.939
6. Cole Copley – 10L 5:08.700
7. Gabriel Majors – 10L 5:17.477
8. Josh Prior – 9L 3:56.110
9. Dizodrick Darners – 9L 5:07.207
10.Joel Irvine – 1L 2:11.145
View our event image gallery here.

---