September 18, 2011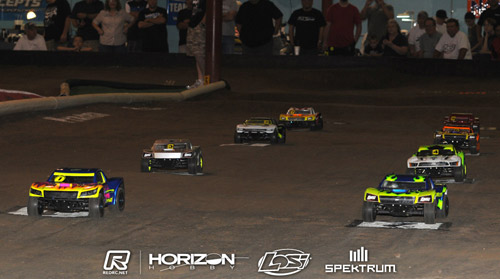 Dustin Evans will start the two main classes on the 2011 short Course Showdown Nationwide Tour race program from pole position after the factory Losi driver wrapped up TQ honours for both 2WD Modified and 4WD in the final round of qualifying at Mikes Hobby Shop in Dallas, Texas this morning.
The provisional overnight TQ holder, only Evans himself was able to better the pace doing so in 2WD driver when he knocked 2 seconds off his Q3 time.  In a messy final 4WD qualifier, local ace Quincy Hughes became the only driver to top Evans in a round as the US off road champion's truck got caught up in others incidents along with getting stood on by a marshal!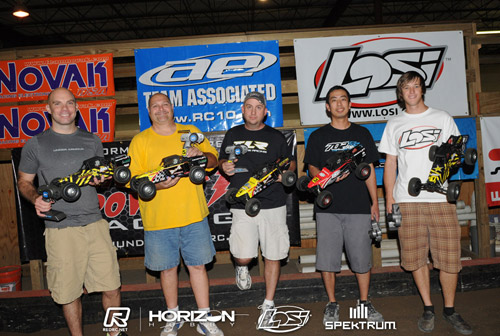 Displaying the skills that make him one of the top off road racers in the World, Evans said while he is delighted to TQ both classes he is contesting he said he can not take anything for granted especially with just single 7-minute mains. The Top Qualifier at the second date on the tour at Trackside Hobbies in Milwaukee, Evans got beaten off the line by Brian Kinwald only for the former World Champion to tank the first jump causing the pair to tangle and drop to the back of the field. Although the 25-year-old recovered to take the win he said the fourth 4WD qualifier in which he was on a new TQ run time highlighted just how easy things can go wrong.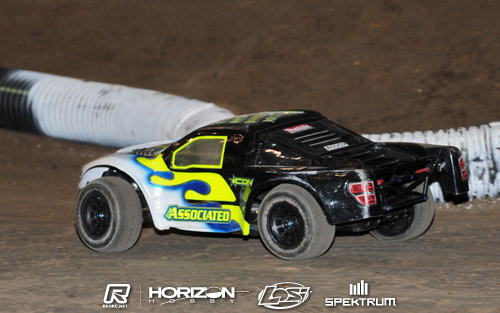 In 2WD Mod it is Kinwald that will start from the number 2 spot and the electric off road legend is looking forward to giving Evans a run for his money.  Admitting that he is not quite as quick as this year's 2WD Buggy World finalist, the Associated driver thinks he can hang with him.  Having changed the set-up on his SC10 for the final qualifier, the winner of the Californian stop on the tour said it wasn't the right way to go and he will revert back to his earlier set-up for this evenings final.  Starting 4th in 4WD after posting his quickest run of the weekend this morning Kinwald said finishing in that position is going to be his main challenge and any chance of a win is totally off the cards unless Evans truck 'explodes'.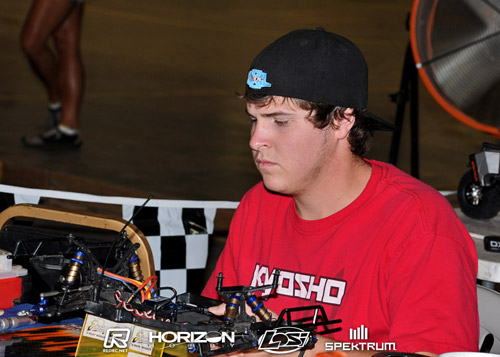 One driver hoping to mix it with the two big names of the sport is 18-year-old Cody Hollis who lines up 3rd on the grid in 2WD Mod.  The Kyosho driver says his aim is to finish on the podium but if he gets a chance he wont hold back on trying to mix it with Evans and Kinwald for the win.  Starting fourth local top shot Quincy Hughes said this is about as good as it gets for him.  Happy with his Tekin powered XXX-SCT he said its his driving that is letting him down in 2WD.  Starting second on 4WD Hughes is much more positive about his chances and says he is expecting a good race.
Competing only in 4WD, birthday boy Josh Glancy was another to produce his best time in the final qualifier and although it didn't change his starting position he is delighted to start third.  Celebrating his 15th birthday today the Losi driver felt this morning was the best he has driven all weekend.  Asked what his game plan for the final is the impressive youngster who is a newcomer to Short Course says he wants to finish the race and have fun.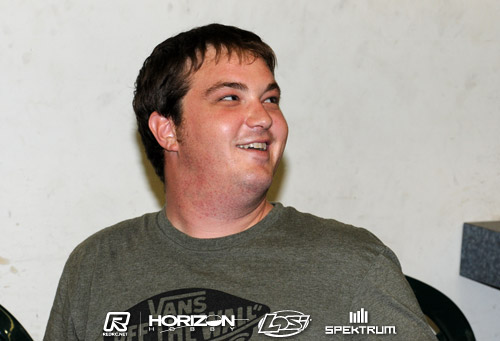 One driver that had a very productive morning was Clayton Easley.  Sitting 6th overnight in 2WD Mod he improved his time in Q4 to put himself fifth on the grid.  Adding 10 grams of weight to the rear of his X-Factory chassis along with a fresher set of rear tyres it was more 'planted and he believes it is now good enough to run for a podium. Only 22nd in 4WD after the 3rd qualifier he produced a great run this morning to take his Durango to the eight fastest time, the final direct A-Main qualifying position with the final two starters having to bump up from the B-Main for which 14-year-old Hunter La Flower is pole.
In the other 2WD classes Garrett Tokuna, Kent Everett and Marc McGurren all held on to secure the TQ honours for Stock, Novice and Traxxas Slash respectively.
4WD Short Course, A-Main Grid
1. Dustin Evans – Losi – 17/5:10.858
2. Hughes Quincy – Losi – 17/5:16.988
3. Josh Glancy – Losi – 16/5:02.492
4. Brian Kinwald – Associated – 16/5:10.990
5. Chris Allison – Losi – 16/5:11.086
6. Aaron Reynolds – Losi – 16/5:12.410
7. Mike Dumas – Losi – 16/5:12.538
8. Clayton Easley – Durango – 16/5:12.973
2WD Modified SC, A-Main Grid
1. Dustin Evans – Losi – 16/5:10.303
2. Brian Kinwald – Associated – 15/5:00.776
3. Cody Hollis – Kyosho – 15/5:05.218
4. Quincy Hughes – Losi – 15/5:07.966
5. Clayton Easley – X-Factory – 15/5:13.961
6. Randy Pike – Losi – 15/5:17.526
7. Paul Wynn – Associated – 15/5:18.963
8. Trevor Nault – Kyosho – 15/5:19.497
View our event image gallery here.
---