February 27, 2012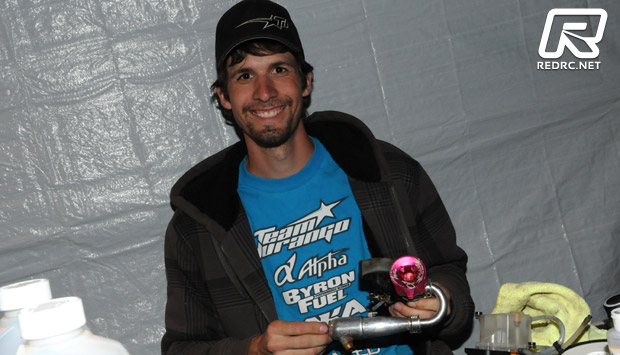 While the Buggy B-Main was full of action with battles a plenty for the lower positions, up front Ryan Lutz made light work of the opposition. Starting from pole, the Team Durango driver took a very easy win over 18-year-old A-Main Hobbies team driver Dylan Rodriguez and TLR's Matt Castellano with the Top 3 progressing to the Main event at the Fear Farm.  After a difficult run in Friday's qualifying, Lutz said switching to a larger holed piston in the rear shocks for the half hour final cured his Alpha powered DNX408 from bucking.
Making a clean start, the 'Lutzinator' said he was able to run a trouble free race to win by half a lap and hopes he can continue that form into the A-Main which brings the 13th Dirt Nitro Challenge to a close.  Starting 13th on the grid Lutz joins Durango team-mate Carson Wernimont, who lines up fifth on the grid, in the 45-minute main which sees 6 different manufacturers represented.  For Durango's Billy Fischer it was a contrasting race as he lost a wheel on the second lap but he still played his part for the team by helping Lutz' mechanic with his 7.30 fuel stops .
Also making the Main at last year's event after winning the B-Main, Rodriguez's bump up gives Kyosho the largest share of the grid with four drivers.
View our event image gallery here.
---