January 11, 2014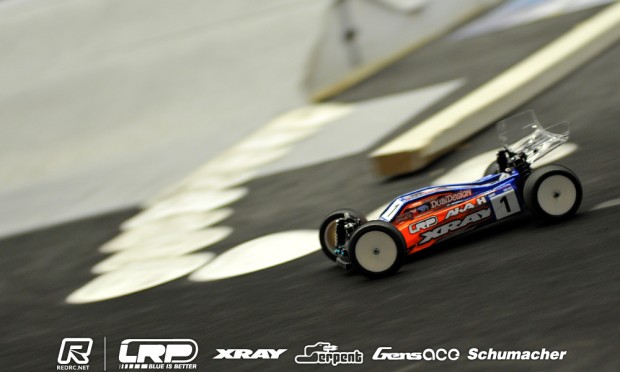 Reigning European Champion Martin Bayer made his intentions clear in the opening two rounds of 4WD Buggy qualifying at the DHI Cup taking his Xray XB4 to a pair of 15-laps run at the Odense based event.  In the opening qualifier the Czech ace was the only driver to record 15-laps setting the fastest time ahead new young Team Associated signing Jesper Rasmussen.  The second encounter was a closer affair with defending champion Joern Neumann becoming only the second driver to run 15-laps.  A bad lap by Bayer meant the Durango driver would finish the round just 1/10th of a second adrift.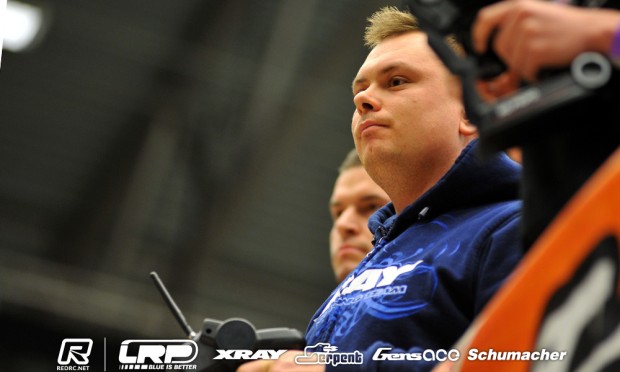 Bayer said 'after a not so good time in 2WD', him only managing to qualify 9th overall for the A-Main, his 4WD performance was 'really good'.  Describing his LRP powered buggy as 'perfect', changing nothing between runs, he said the opening round could not have gone much better.  Q2 however was not as good, the driver being the weak point.  Opting to leave his set-up as is and instead focus on adjusting his driving style, this resulted in a few mistakes in the second of the four qualifiers with him losing 2-seconds over one lap. Very confident with his XB4 for Q3 he said the plan is just try and tidy up his driving.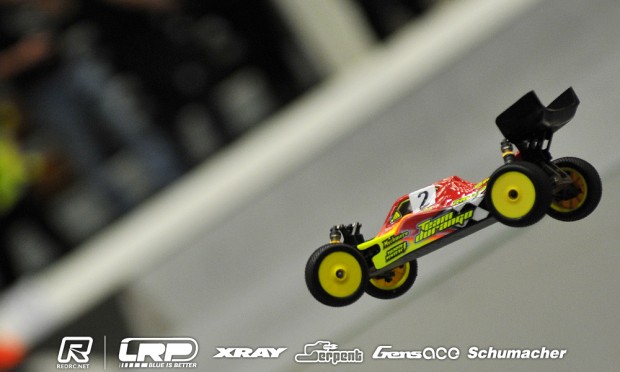 Chasing a hat trick of DHI wins, Neumann described Bayer's pace in the opening qualifier as 'very fast' and trying to keep pace with him he pushed too hard leading to mistakes that left him only 9th fastest.  Running heavier rear shock oil and a softer front swaybar on his DEX410 in Q2 he said that despite starting the heat down the order due to his Q1 performance he was able to run more with Bayer, recording the fastest lap of the round.  Planning to go heavier again with the oil in the rear shocks for the penultimate run he will also use an untouched set of front tyres having previously removed pins. The EOS Champion said because of the unusually low traction for a carpet track he needs the extra grip.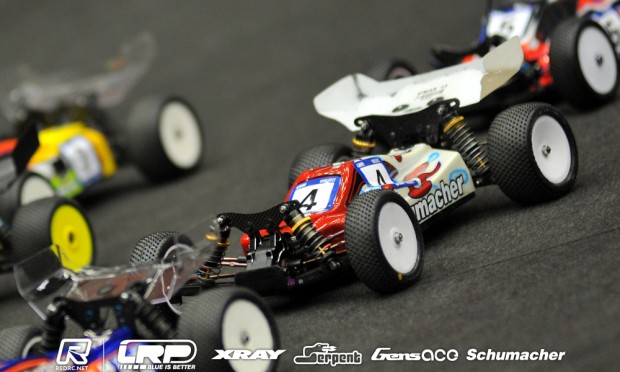 Describing his car as 'OK' for the opening qualifier when he posted the fourth fastest time, Schumacher's Tom Cockerill said changes for Q2 made it 'fell a lot better'.  Sitting second overall after two rounds, the British driver switched from 2 to 3 hole pistons which made for better landings and also put on anti-roll bars which he said brought his K1 Aero much closer to the pace of Bayer & Neumann.  Encouraged by the new found pace he said with a few more changes he 'might actually be able to starting mixing it with the two boys'.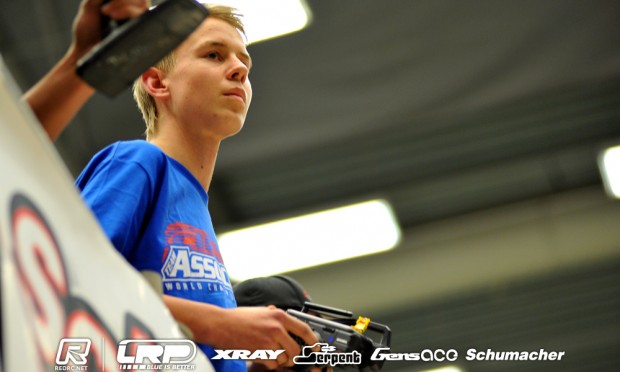 15-year-old Rasmussen was very happy with his opening round but a switch to a fresh set of tyres for Q2 left his Associated B44.4 aggressive and dfficult to drive.  Finishing the round 12th fastest, the up & coming Danish talent said with the tyres now scrubbed in he should be back up to speed again in Q3.
In a reverse of form with Bayer, 2WD Top Qualifier Oskar Levin struggled with his 4WD managing only the 13th & 7th fastest times with his Team C.  These results leave the Swede sitting provisional 10th.
View the complete Offroad event results here.
View our event image gallery here.
---