January 25, 2014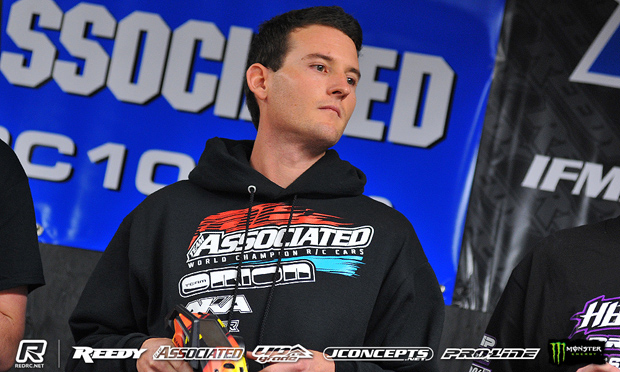 The third round of racing at the Reedy Race of Champions at OCRC Raceway in Huntington Beach, California, saw Ryan Cavalieri become the first double winner of the event.  The defending champion took the win by just over one second from a hard charging Dustin Evans while the other two heats saw European duo Lee Martin and Joern Neumann notched up their first maximum points haul.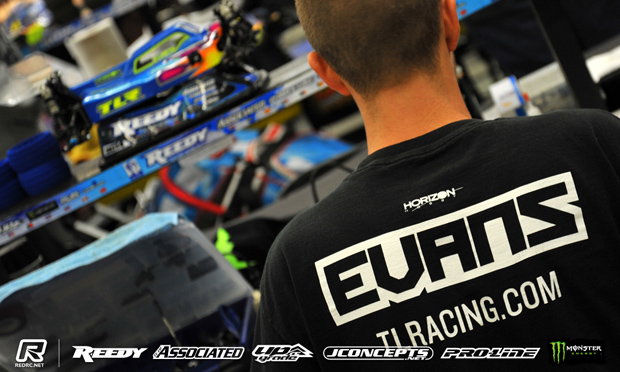 Starting Heat 1 from 6th on the grid, Cavalieri would move to the lead just after the half way point when early leader & Round 2 winner Steven Hartson got it wrong on the step down at the end of the straight.  Once out front Cavalieri would control proceedings, but the 4-time World Champion was kept on his guard by a very hard charging Dustin Evans.  Being drawn to start his third 2WD encounter 9th on the grid, 2011 Champion Evans made light work of the field getting by Hartson, who would finish third, late in the race and taking the final gap down to just one second by the finish.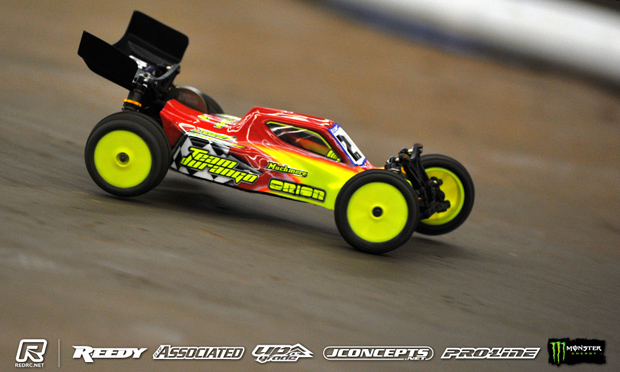 Heat 2 would see 2012 Reedy Race Champion Joern Neumann take a narrow win over Round 1 heat winner Ryan Maifield.  Starting No.2 on the grid, the European Champion would get the jump on pole sitter Kody Numedahl on the races second start, a jump start by the American causing the first attempt to be aborted.  Having started 3rd but getting caught up as the field took the corner after the step down for the first time Maifield was left to make up some time on Neumann's Durango.  Closing right in on the German, the World Championship podium finisher made a move but the pair tangled.  Stopping to let Neumann resume his lead the Arizona driver ran out of time to attempt a second pass crossing the finishing line just .077 seconds behind.  Kyosho's Jared Tebo would complete the Top 3 as Numedahl fell back to fourth.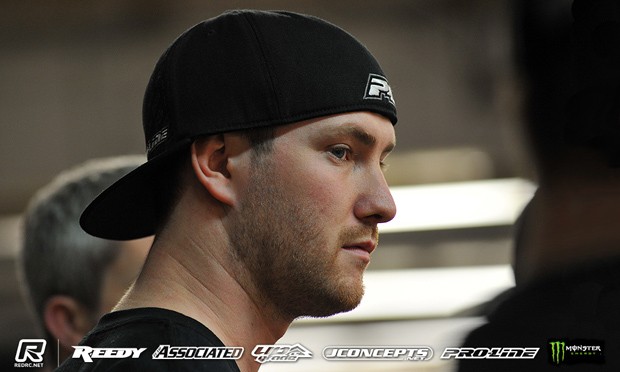 Heat 3 was a tone to tone win for new Yokomo signing Lee Martin but the British driver had to see off a strong challenge from a very consistent Cody King who notched up his 3rd second placed finish of the day.  Also in the race was Round 2 heat winner Neil Cragg but the former World Champion who started fourth had a bad run ending up only eight.  With drivers having to count 5 of their 6 results from each class, Cragg will be hoping this is the round he drops.
Round 3 2WD Buggy
Heat 1 Result
1.(6) Ryan Cavalieri – Team Associated – 15/5:00.301
2.(9) Dustin Evans – Team Losi Racing – 15/5:01.318
3.(3) Steven Hartson – Team Associated – 15/5:04.909
4.(8) Barry Baker – Team Reedy – 15/5:06.271
5.(4) Rob Gillespie – Team Associated – 15/5:10.456
6.(7) Oliver Scholz – Team C – 15/5:12.488
7.(1) Josh Pain – Team Yokomo – 15/5:14.000
8.(2) Tyler Vik – Xray – 15/5:15.130
9.(10)Christoffer Svensson – Kyosho – 15/5:17.345
10.(5)Cody Turner – Kyosho – 8/2:55.257
Heat 2 Result
1.(2) Jörn Neumann – Team Durango – 15/5:01,970
2.(3) Ryan Maifield – Team Associated – 15/5:02.047
3.(7) Jared Tebo – Kyosho – 15/5:03.193
4.(1) Kody Numedahl – Team Associated – 15/5:05.027
5.(4) Ty Tessmann – Hot Bodies – 15/5:06.112
6.(5) Joseph Quagraine – JQ Products – 15/5:13.829
7.(9) Tanner Denney – Team Associated – 15/5:14.703
8.(10)Carson Wernimont – Schumacher – 15/514.876
9.(8) Mike Truhe – Serpent – 15/5:15.929
10.(6)Brian Kinwald – Team Associated – 15/5:17.715
Heat 3 Result
1.(1) Lee Martin – Team Yokomo – 16/5:17.129
2.(3) Cody King – Kyosho – 15/5:00.632
3.(6) Travis Amezcua – Team Durango – 15/5:04.501
4.(8) Billy Fischer – Team Novak – 15/5:05.748
5.(9) Marc Rheinard – Tamiya – 15/5:06.412
6.(10)Dakotah Phend – Team Losi Racing – 15/5:07.071
7.(2) Ryan Lutz – Team Durango – 15/5:07.920
8.(4) Neil Cragg – Team Associated – 15/5:09.206
9.(7) Brian Strange – Team Associated – 15/5:09.774
10.(5)Rick Hohwart – Team Associated – 15/5:14.578
View the complete Reedy Race of Champions event heat listing here (PDF).
View our event image gallery here.
---