January 11, 2014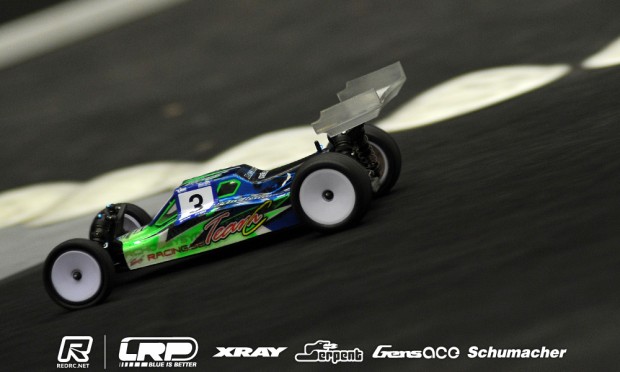 Oskar Levin has got his 2014 season & his new sponsorship with Team C off to the best start possible by securing the overall TQ honours for 2WD Buggy at the DHI Cup.  Having TQ'd both of yesterday's opening qualifiers in Denmark giving him the provisional overnight TQ honours, TQ runs from defending champion Joern Neumann in Q3 and Schumacher's Tom Cockerill in Q4 meant the Swede remained top of the ranking.  Cockerill will start tomorrow's triple leg finals from 2nd with Neumann's Durango set to line up third.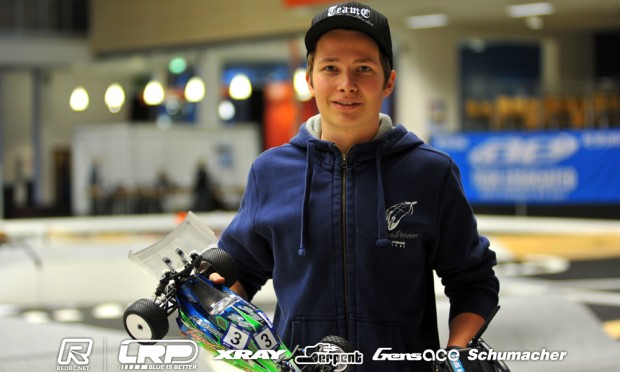 Delighted to be Top Qualifier on his international race debut with Team C, Levin said he just did his own thing today and it paid off.  Going into Q3 he said his aim was just to go for a safe run and apart from two bobbles he was happy overall with his run to the second fastest time behind Neumann. While this put Neumann in strong contention to deny Levin the overall TQ, should the German be able to repeat it in the final qualifier, the 19-year-old stuck to his game plan for Q4.  Knowing it would give him a slower car but thinking ahead to the finals he fitted a new set of the controlled Schumacher rear tyres to his TM2 V2 so as to break them in for main event. While Neumann looked threatening for the first two minutes, a mistake by the European Champion gave Levin what he described as the 'perfect start with Team C so far'.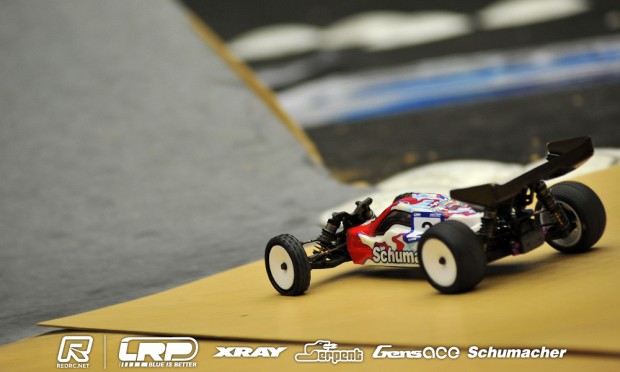 TQ'ing the final round, Cockerill said he was pretty happy although the Top Qualifier of the Euro Offroad Series season opener said he would obviously prefer to be starting as No.1 tomorrow.  Very happy with his Nosram powered Cougar KF, the British driver said it took a while to get the set-up right but he got there in the end.  Planning to just freshen up the buggy for the finals he believes there is good opportunity for overtaking due to there being no grip roll issues meaning its should be possible to throw down the inside for a pass.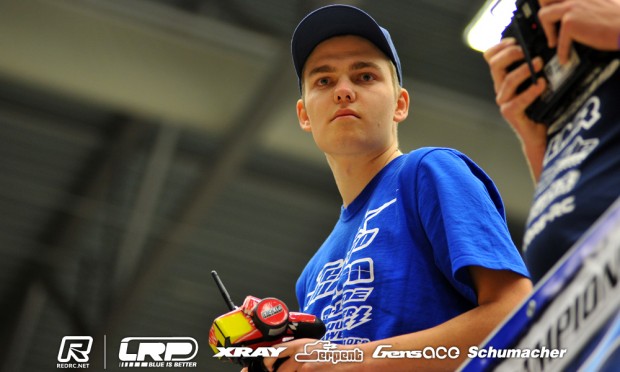 Reverting back to Schumacher's stagger front tyre having struggled in Q2 on Mini Pins, Neumann said Q3 was a good run but in Q4 he just pushed too hard.  Also improving his Orion powered DEX210 for today's qualifiers by running heavier diff oil, he said he just went for the TQ in Q4. While the first 2-minutes went well he eventually pushed over the limit resulting in a number of mistakes that left him only 7th fastest for the round.  Looking to maintain his 100% winning record at the DHI Cup having won the event since offroad was introduced in 2012, Neumann thinks overtaking will be difficult and that it will be down to who does the least amount of mistakes.  Back to back champion of the carpet based Euro Offroad Series, he also feels the Team C and Schumacher has an advantage on this year's DHI track due to the fact that their motors are mounted further towards the middle of the chassis compared to his Durango.
2WD Buggy A-Main Grid
1. Oskar Levin (SE) – Team C – 310 pts
2. Tom Cockerill (GB) – Schumacher – 308
3. Jörn Neumann (DE) – Team Durango – 307
4. Kim Nielsen (DK) – Team C – 305
5. Jesper Rasmussen (DK) – Team Associated – 301
6. Jonas Kaerup (DK) – Team Associated – 299
7. Niclas Månsson (SE) – Team Associated – 299
8. Villalba Zacarias (ES) – Team C – 298
9. Martin Bayer (CZ) – Team Xray – 298
10.Thomas Andersson (SE) – Schumacher – 297
View the complete Offroad event results here.
View our event image gallery here.
---