April 13, 2014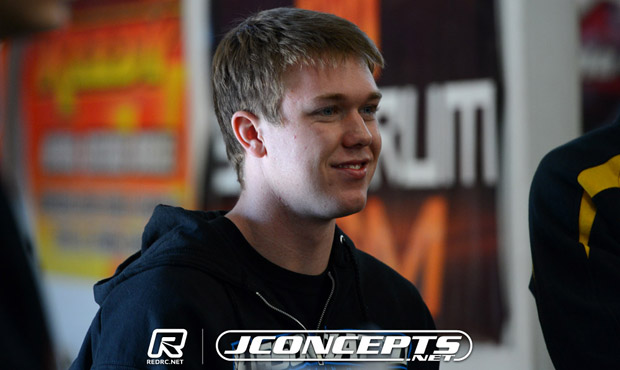 Michael Schoettler is the Top Qualifier of 2WD Mod Buggy at the  JConcepts Spring Indoor Nationals. The talented Tacoma teenager secured pole position for this afternoon's three A-Main encounters with his third & fastest TQ run of the weekend in the final of the qualifiers at the Tacoma R/C Raceway event.  The second round of the JConcepts Indoor National Series, Schoettler has stamped his authority on the class with only fellow local racer Luke Smith, who will start second, heading his Associated all weekend when he TQ'd last night's third qualifier.  Of the visiting drivers it is 4WD World Champion Steven Hartson who is the highest qualifier with his Associated set to start 5th just in front of his team-manager Brent Thielke.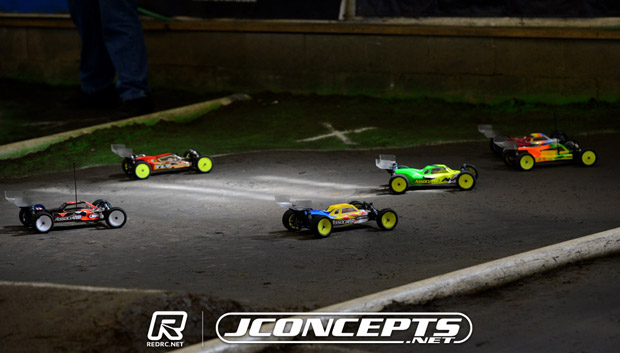 The only driver to post a 21-lap run, topping Q4 ahead of JC Johnson, Schoettler was clearly happy at taking the overall TQ honours at what is the biggest event to be hosted at the track of former World finalist Scott Brown.  Changing the front axle trailing from 3 to 4mm on his Reedy powered B5M for the closing qualifier, the 18-year-old said this was the best it has been all weekend, the adjustment helping to calm the buggy down. Looking to the finals, he said he is 'just going to try to drive a clean race and see what happens' but added that following his Q4 set-up change he is now 'more comfortable with racing it'.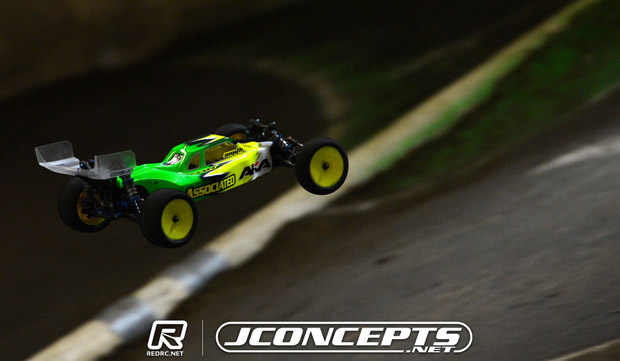 Changing to a set of tyres that looked very similar to those he used to top Q3, saving those for the finals, Smith said they were not very good and he struggled. The only driver who could challenge Schoettler for the overall TQ honours the 20-year-old would as a result manage only the 6th fastest time.  Considering raising the rear ball cup stud for the finals to try make his B5M a little more predictable, he said on his Q3 tyres he knows the buggy is good and he is confident he can have a good race with Schoettler.  Happy to wait behind the Top Qualifier for the first few laps he said hopefully the can break away from the pack after which he can then pressure the No.1 car into a mistake.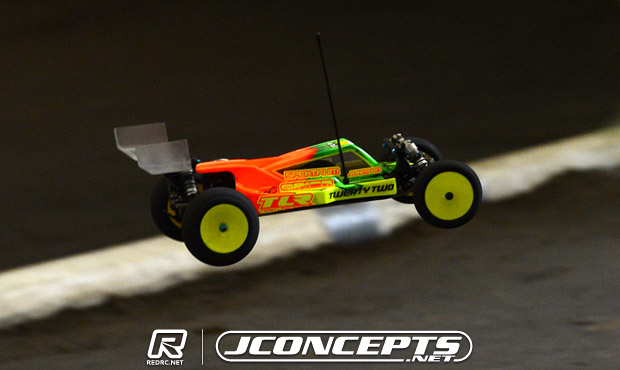 Enjoying his best qualifier in Q4 with 2nd for the round, Johnson starts the final fourth.  The TLR driver feels he is slower than his rivals but got the result because he 'didn't wreck'.  For the finals he said his plan is to just drive a race that puts him a position to capitalise on any mistakes by the two in front of him.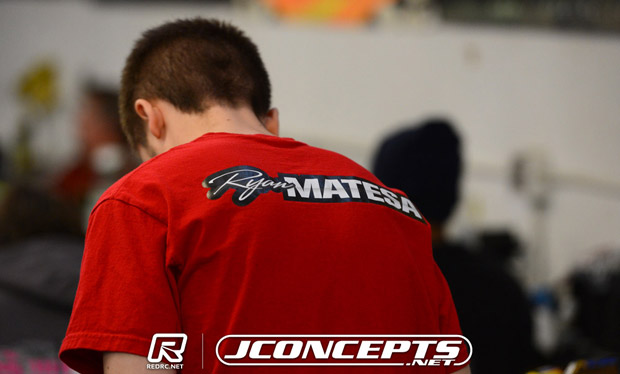 Having gone up in shock oil on his Kyosho, Ryan Matesa said this made his RB6 more settled but running a worn set of front tyres the pins were too low leaving it aggressive to drive.  Posting fourth for the round, that is where the 18-year-old will line up for the final. Going to fit a front tyre with more pin on it for the opening final, he said due to the tight track passing is going to be impossible without errors and he is going to be patient at the start and go from there.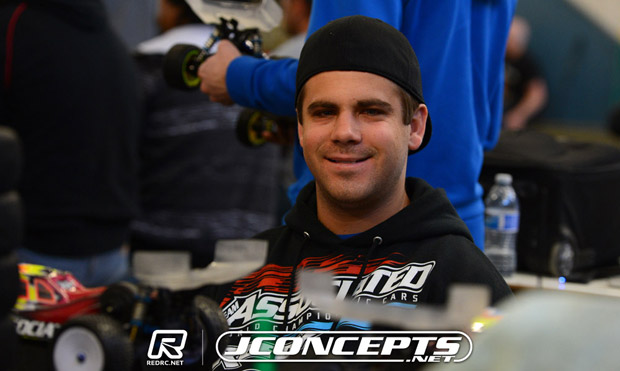 With local's locking out the Top 4 places on the grid, Hartson heads the challenge of the visiting drivers this being the first time for the JConcepts Indoor National Series regulars to race at Tacoma RC Raceway.  The full factory backed Associated driver said his LRP powered B5M is fast but he has not been able to come to terms with the height of the drivers stand.  Struggling with jumping out of line through the triple directly below the drivers stand he said he expects a tough race.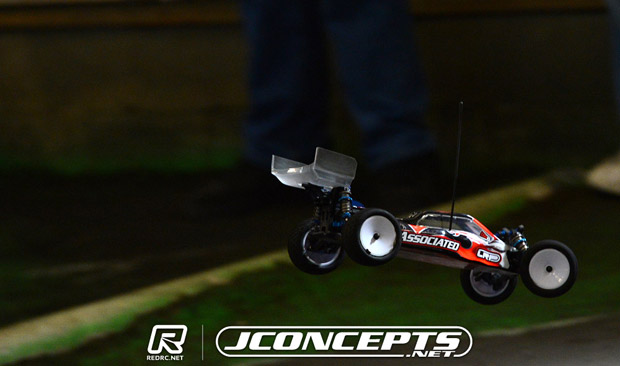 Completing qualifying with his best run of the weekend setting the 3rd fastest time, Thielke said relative to Schoettler he has been getting faster every run.  Feeling he made a slow start to Q4 losing further time as he started thinking about passing traffic rather that his driving, he said from 3rd to 8th on the grid all the drivers are 'virtually tied on pace' and he expects a pretty intense three races.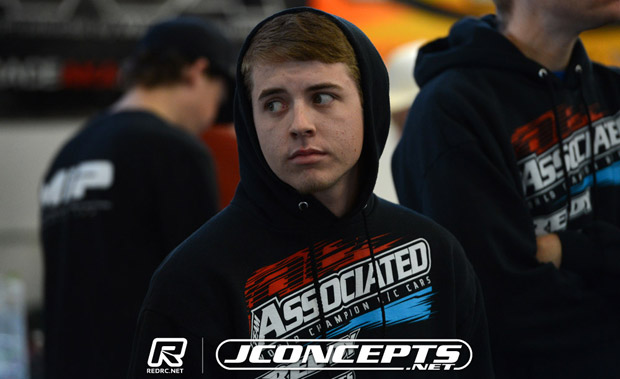 Starting directly behind Thielke will be Tanner Denney.  The 18-year-old was the winner of the opening race of the series, the Winter Indoor National in St.Louis, but has found himself struggling this weekend.  Getting off to a slow start in Q4, he said this saw him have to run behind Schoettler for a number of laps and this was very benefical in terms of showing him his lines.  Taking 5th for the round, he said while his B5M is fast starting from so far back it going to be hard to do much in the race.
2WD Mod Buggy A-Main Grid (B-main winner bumps up)
1. Michael Schoettler – Associated – 0 pts
2. Luke Smith – Associated – 2
3. JC Johnson – TLR – 6
4. Ryan Matesa – Kyosho – 6
5. Steven Hartson – Associated – 7
6. Brent Theilke – Associated – 8
7. Tanner Denney – Associated – 8
8. JR Mitch – TLR – 12
9. Mike Brown – Schumacher – 14
10.John Walentia – Associated – 15
2WD Mod Buggy Qualifying Round 4
1. Michael Schoettler – Associated – 21/5:14.030
2. JC Johnson – TLR – 20/5:05.909
3. Brent Theilke – Associated – 20/5:07.234
4. Ryan Matesa – Kyosho – 20/5:08.755
5. Tanner Denney – Associated – 20/5:09.338
6. Luke Smith – Associated – 20/5:09.463
7. Mike Brown – Schumacher – 20/5:12.666
8. Steven Hartson – Associated – 20/5:13.464
9. Marty Barnes – Associated – 20/5:14.617
10.John Walentia – Associated – 19/5:01.264
View our event image gallery here.
---