April 13, 2014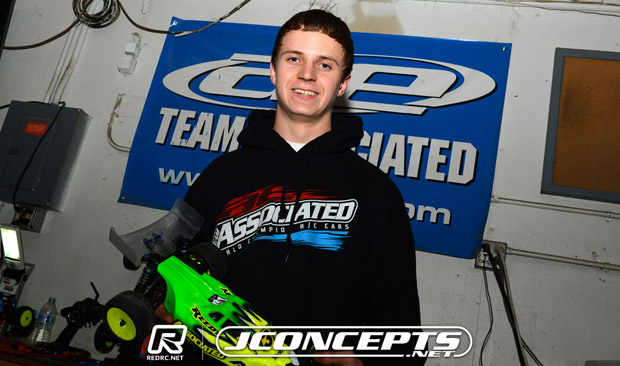 Luke Smith ended Michael Schoettler's domination of qualifying at the JConcepts Spring Indoor Nationals at Tacoma R/C Raceway, the Associated driver TQ'ing the penultimate round of qualifying by 1.685 seconds from the Q1 & 2 pace setter.  Kyosho driver Ryan Matesa made it an all local Top 3 with Team Associated's Brent Thielke the best of the visitors with the 5th fastest time.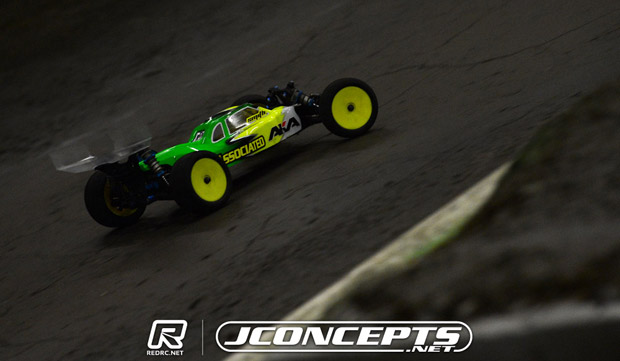 Making a number of changes to his B5M, Smith said everything worked as expected and he was very happy to pull off a TQ run putting himself in contention for the overall TQ honours going into tomorrow morning's final qualifier. Having struggled with tyres that didn't come-in in Q2, for Q3 he switched to a more worn set of AKAs which worked from the start.  The 20-year-old ran a stiffer shock package going up in oil as well as changing the front axle trailing from 3 to 4mm on his Reedy powered buggy. Asked about his plans for the final qualifier he said the plan is to leave the set-up but in terms of tyres he might try something different depending on how conditions fare out, the track set to get a watering ahead of the final day of the event.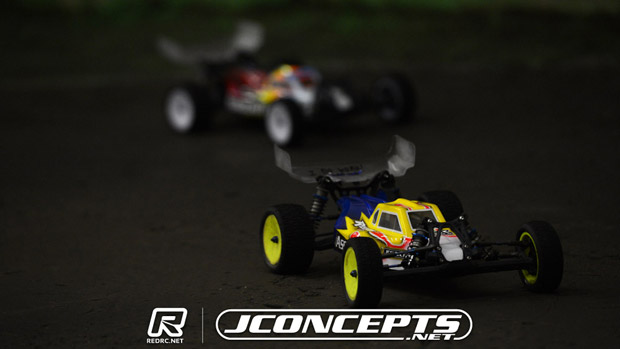 Suffering a bobble on his opening lap, Schoettler said he was still happy with second for the round.  Posting another new fastest lap of the event, the 18-year-old would lose time after suffering a tangle with Thielke but said he threw away the round with some late driver errors as he tried to close down Smith.  In terms of his B5M he said his front tyres became too worn causing the front end to become too aggressive adding that he will fit a newer set for tomorrow's action.
Matesa said he ran a more worn set of JConcept tyres which while making his Orion powered RB6 faster also made it more 'sketchy' to drive.  With the track set to watered overnight, the local teenager said expects the track to be looser for the final qualifier and with this in mind will run tyres with more thread along with stiffening up his shocks so to make the buggy a little easier to drive.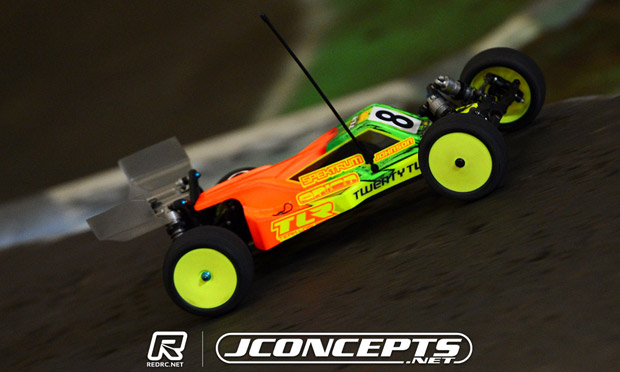 TLR driver JC Johnson posted the 4th fastest time.  Running thicker shock oil in his TLR22 for Q3 he said this allowed him to drive it a little harder.  Admitting he doesn't have the outright speed of Schoettler or Smith he said for the morning he plans to run the same set-up.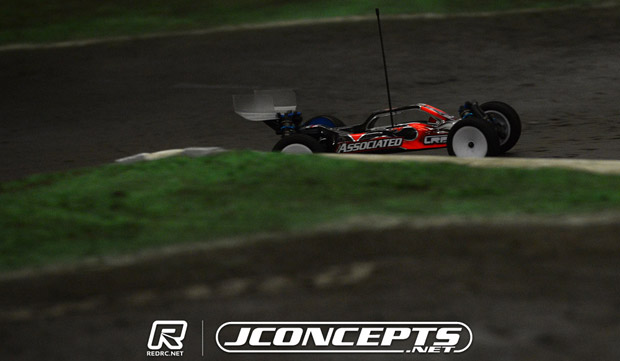 Having laid down the early TQ pace, Thielke was very happy with his B5M after a rear ball cup stud adjustment.  He said he was also able to put what he learned from running behind Schoettler in Q2 to good use running his fastest lap of the weekend on the second lap of Q3.  Unfortunately a misunderstanding by both himself and Schoettler as he tried to let the latter through cost both drivers time as the Associated's got tangled.  Again running JConcepts Barcode tyre on the front of his buggy he said for tomorrow he will probably try running a fresh set  along with making a front camber link adjustment to try and sharpen up the steering.
2WD Mod Buggy Qualifying Round 3
1. Luke Smith – Associated – 20/5:02.561
2. Michael Schoettler – Associated – 20/5:04.246
3. Ryan Matesa – Kyosho – 20/5:05.669
4. JC Johnson – TLR – 20/5:06.185
5. Brent Theilke – Associated – 20/5:07.307
6. John Walentia – Associated – 20/5:10.781
7. Tanner Denney – Associated – 20/5:13.581
8. Rudy Rico – Associated – 20/5:13.621
9. Mike Brown – Schumacher – 20/5:13.984
10.Harley Yoshii – Associated – 20/5:14.554
View our event image gallery here.
---