April 12, 2014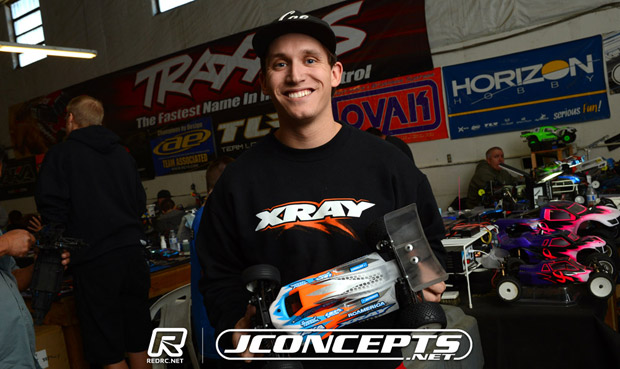 RC America team driver Tyler Vik has TQ'd the opening round of 4WD Buggy Qualifying at the JConcepts Spring Indoor Nationals, his Xray outpacing World Champion Steven Hartson by 3-seconds around the Tacoma R/C Racway track.  Local racer JC Johnson made it three different manufacturers at the top of the time sheets as he posted the 3rd fastest time, his TLR22-4 just 6/10ths off Hartson's time.
Like in 2WD Buggy, Vik is running in the lowest heat having opted to skip last night's round of timed practice in favour of a good night of sleep.  Pleased to take Q1, he said it 'felt like a conservative run' adding that his AKA shod XB4 was 'hard to hang on to'. Suffering from oversteer, for Q2 he will fit a 1.0mm front swaybar having so far ran without one since arriving at the Scott Brown owned track.  Also looking to add more flex to the chassis without changing the buggy's balance, which he said is quite good, he will remove some chassis screws.  Hoping the changes make the buggy a little easier to drive he also plans to push harder the second time of asking.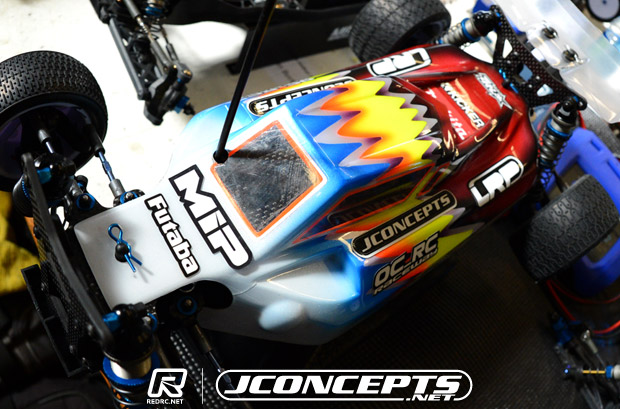 Hartson said his B44.2 was 'a lot better than practice' but he 'just kept crashing'.  Describing his buggy as feeling good he said he is still struggling to get used to the height of the drivers stand which he feels is way too high for the track.  Switching over to geardiffs and going up in front shock oil for Q1 he said the changes were good and for Q2 he will run the JConcepts Dirt Web equipped buggy as is and try to eliminate the mistakes.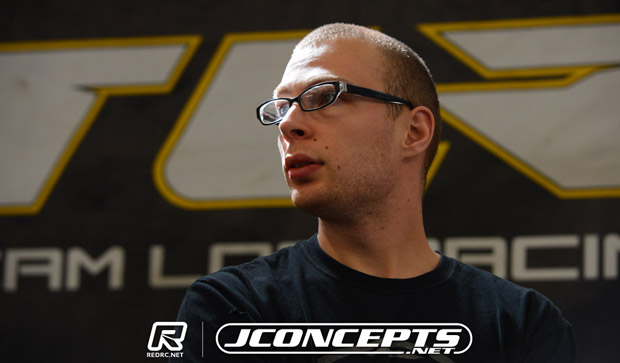 Johnson described his first 4WD qualifier as 'pretty good' adding it was a safe run.   Happy with his set-up the only change he will make for Q2 is to his tyres.  Running AKA Typos he said he will run a newer set for his next outing so as to have two sets of equally worn tyres available to him for the rest of the event.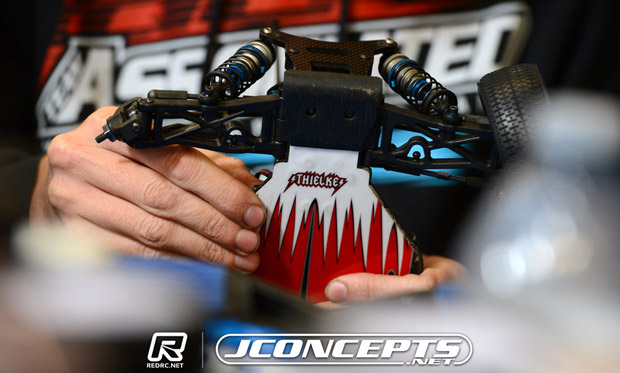 Posting the fourth fastest time Brent Thielke said his run had no big mistakes although he did miss his lines a few times.  The Associated Team Manager said after his 2WD run in which he had one very costly mistake he just focused on a safe 4WD run.  Struggling with his Reedy powered B44.2 getting 'a little wiggly' on heavy cornering he will switch to a stiffer rear spring for Q2.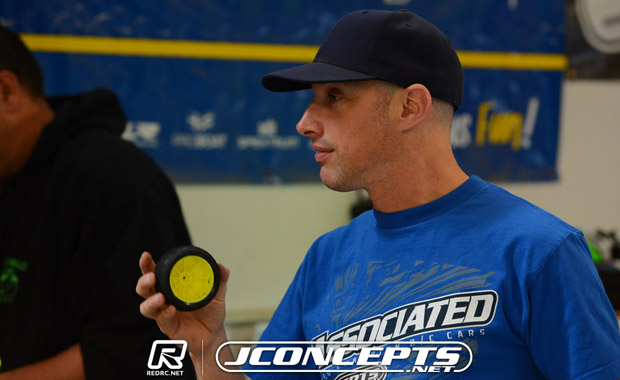 Setting the 5th fastest time was local Associated racer John Walentia.  Describing his run as 'not bad', he said his B44.2 was a little loose but he hopes a shock piston change will sort out that for Q2.  In addition to the shock change he will also fit a fresher set of JConcepts Dirt Webs to the buggy.  Behind Walentia, Anthony Honstain also driving a B44.2 completed the Top 6.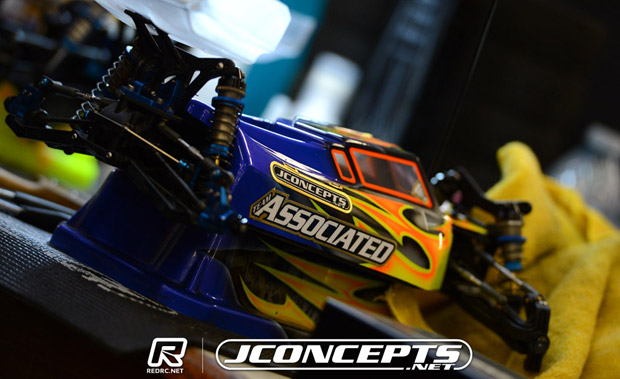 For factory supported Associated driver Tanner Denney, the opening 4WD qualifier netted only the 7th fastest time.  Adding weight to his buggy along with changing the position of his front shocks on the tower, he said this made it a lot more lazy which took a few laps to get used to.  Suffering a couple of bad laps, a bad rear hub bearing not helping matters, he said his B44.2 is still not where he needs it to be and for Q2 he plans to try a different tyre additive.
4WD Mod Buggy Qualifying Round 1
1. Tyler Vik – Xray – 20/5:00.060
2. Steven Hartson – Associated – 20/5:03.467
3. JC Johnson – TLR – 20/5:04.024
4. Brent Theilke – Associated – 20/5:05.218
5. John Walentia – Associated – 20/5:05.941
6. Anthony Honstain – Associated – 20/5:08.980
7. Tanner Denney – Associated – 20/5:12.356
8. Yoshii Harley – Associated – 19/5:00.253
9. JR Mitch – TLR – 19/5:01.324
10.Thomas Tran – Kyosho – 19/5:02.090
View our event image gallery here.
---