June 21, 2014
Despite the best efforts of defending Truggy Champion Ty Tessmann, Dakotah Phend completed the TQ double at the US National Championships in Hutto, Texas.  Needing to take the final qualifier, Tessmann did just that but on tie break the HB driver, who is chasing a hat trick of titles in the class, lost out by 3/10ths of a second to Phend.  A rough round for Phend, the Q1 & 2 pace setter only 4th fastest, it was Kyosho's Cody King who would post the second fastest time behind Tessmann.  Also enjoying his best round of qualifying, Xray's Josh Wheeler completed the Top 3.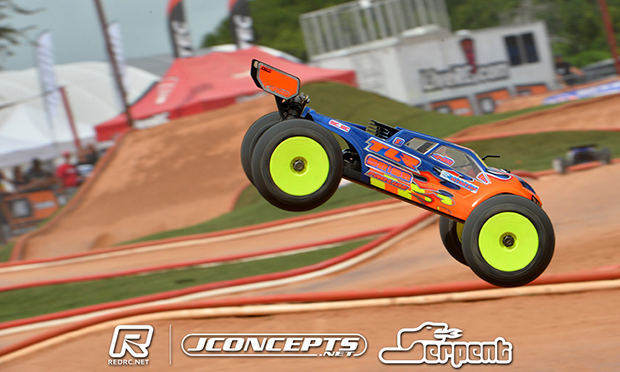 Phend was understandably happy to do the double, their being some confusion when Tessmann was originally announced as having taken the overall TQ.  Posting the fastest lap of the final qualifier, the Team Losi Racing star said going to a harder compound of Pro-Line's Holeshot tyre made his 8ight T easier to drive with it 'not as on edge in the corners'.  Suffering a couple of small bobbles he said in the end it was traffic that 'messed up' the qualifier with him losing over 3-seconds on the penultimate lap.  Looking to the 45-minute A-Main, the Michigan teenager said with the track making everyone very similar on pace starting out front was a big advantage and his aim was not to make any mistakes.  Happy that his truck is well set-up for the longer race he said the only change will be his tyres to Pro-Line Blockade, deciding the compound nearer to tomorrow's final.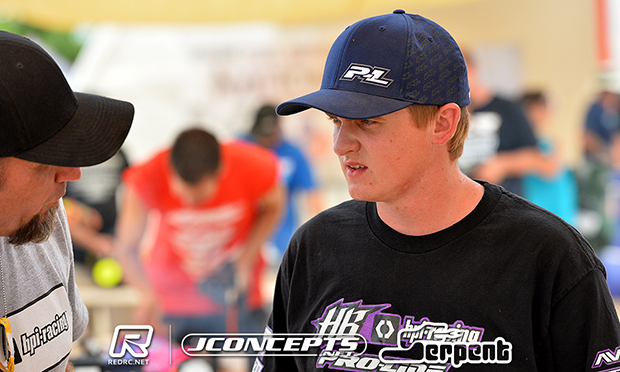 Despite coming so close to repeating his 2013 TQ, Tessmann was happy with his final qualifier.  Describing his truck as 'good again' like in Q3, he said he 'found a clean way to get around the track' with the run being free of any mistakes.   'Not going to change anything' for the final on his namesake edition of the D8T, he will run a different tyre, switching like Phend from Holeshots to a set of Blockades.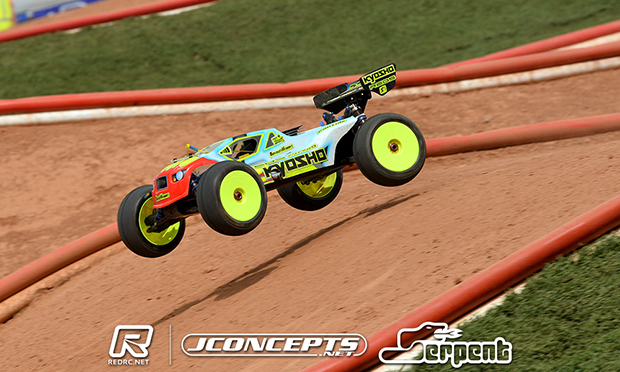 King said they have been working hard on their set-up and making a 'shock package change' for the last qualifier the difference in his Reds Racing powered STRR Evo was 'night and day'.  Very happy with how the truck felt, the Santa Ana driver said he was really looking forward to the final saying other than going to a bigger pin tyre he would run the track as is.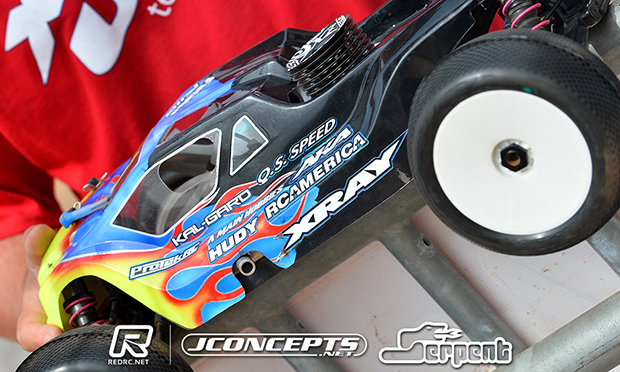 Posting the 9th fastest time in the morning's Q3 after driving 'a little too conservative', Wheeler said his P3 run came simply from pushing harder.  Happy with the performance of his OS Speed powered XT9, he said he can easily drive the truck a long time at a good pace and so he is pretty confident for the final. Asked if he would make any changes for tomorrow's final he replied he was going to 'ride the horse that brought (him) here'.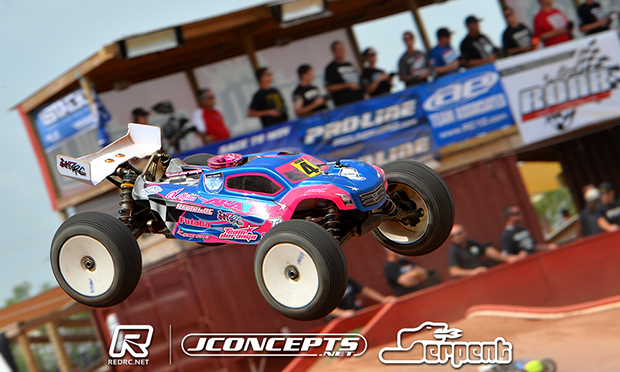 Fifth fastest in Q5 would go to Ryan Lutz with Kyosho's Jared Tebo completing the Top 6 just 4/10ths off the Durango.  Lutz described his truck as 'loose' with the rear end keeping wanting to come around on the exit of the corners.  Having made a change to the diff oils for Q3, he said for the final he will revert back to the set-up he ran yesterday.
Q4 Truggy times – Top 10
1. Ty Tessmann – HB/OS Speed – 10/7:37.678
2. Cody King – Kyosho/Reds Racing – 10/7:41.723
3. Josh Wheeler – Xray/OS Speed – 10/7:41.927
4. Dakotah Phend – TLR/Orion – 10/7:42.759
5. Ryan Lutz – Durango/Alpha – 10/7:43.692
6. Jared Tebo – Kyosho/Orion – 10/7:44.153
7. Austin Blair – Kyosho/OS Speed – 10/7:45.680
8. Adam Drake – TLR/Novarossi – 10/7:46.372
9. Josh Glancy – TLR/Novarossi – 9/7:00.966
10.Jeremy Kortz – Agama/Werks – 9/7:01.584
A-Main Truggy Grid (3 to bump up from B-Main)
1. Dakotah Phend – TLR/Orion – 0 pts
2. Ty Tessmann – HB/OS Speed – 0
3. Carson Wernimont – Mugen/OS Speed – 6
4. Josh Wheeler – Xray/OS Speed – 8
5. Cody King – Kyosho/Reds Racing – 8
6. Ryan Lutz – Durango/Alpha – 9
7. Ryan Cavalieri – Associated/Orion – 9
8. Ryan Maifield – Associated/Novarossi – 9
9. Michael Truhe – Serpent/TOP – 12
10.Jared Tebo – Kyosho/Orion – 13
11.Jeremy Kortz – Agama/Werks – 17
12.Austin Blair – Mugen/OS Speed – 18
View our event image gallery here.
---