July 13, 2014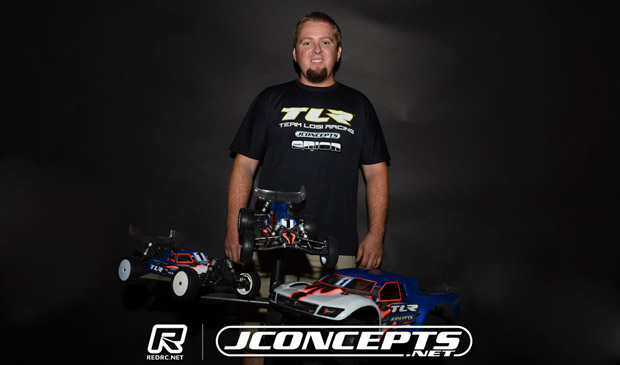 Drew Moller TQ'd a very exciting final 4WD Buggy qualifier at the JConcepts Summer Indoor Nationals in Chico but overall the day belonged to Ryan Maifield as he completed a perfect qualifying to secure his third overall TQ of the event on his TLR debut. The first time for Moller to top the time sheets having been the top seed for qualifying, the result will see the A-Main Hobbies driver start second on the grid with Q2 pace setter Tyler Vik having to settle for third after literally driving the wheels off his Xray in the final heat.  Despite retiring from Q3 following his rear hub tower coming loose, Daimon Borkowicz will start as the top Team Associated driver when he lines up fourth.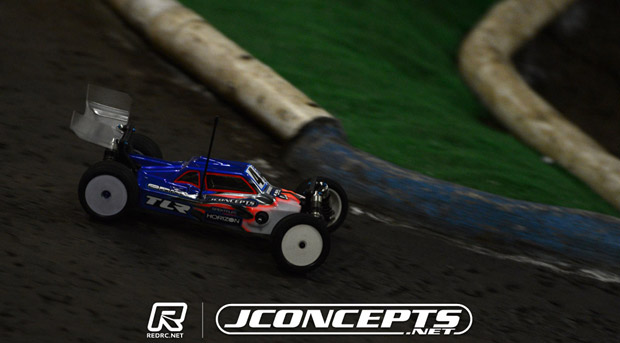 Having wrapped up 2WD Buggy and Short Course in the second round of qualifying, Maifield was pleased to put all three of his cars on pole position for tomorrow's Mains.  Making a change to his Orion powered TLR22, he said it was not the right direction to take leaving his buggy both harder to drive and slower.  Despite this he had 'fun' in the last few laps of the final qualifier fighting it out with Moller & Vik adding that hopefully he wont find himself in a repeat battle tomorrow.  On his car set-up, he said he will just go back to that which he used in Q2.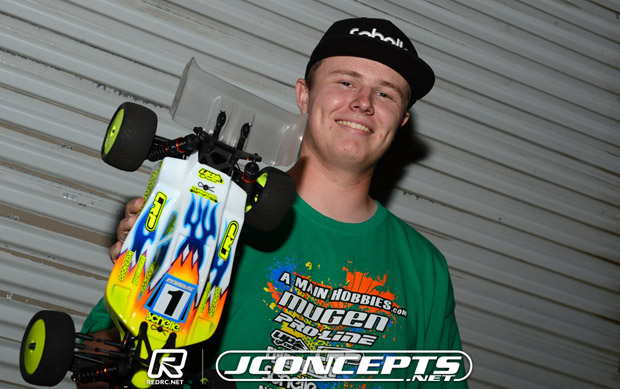 Moller said his run as 'kind of conservative' but he managed a better start than the previous two qualifiers.  Describing his HB as being 'strapped up' he said he was just able to keep putting in good laps leading to a pretty exciting finish to the run.  Better known for his 1:8 Offroad exploits as a Mugen team driver, the 18-year-old said the D413 which he only got 3 weeks ago is 'a really good fit to his driving style'.  Asked about his approach for the finals, he said he was going to be patient and just try to stay close to Maifield for the first couple laps and work out what to do from there.
'Everything was going good til my wheel overtook me on the track', that was Vik's summary of Q3.  The RC America team driver said his Xray XB4 was really good when he was not making driver errors.  Planning to leave the car unchanged for A1 he said 'tyre stuff' was all he needed to decide on.  Top Qualifier at the Spring Indoor Nationals and ending up 3rd at the Tacoma race, he said the track had little opportunities for passing and it was going to be a case of just waiting for mistakes, the track having so far proved successful at inducing mistakes from drivers.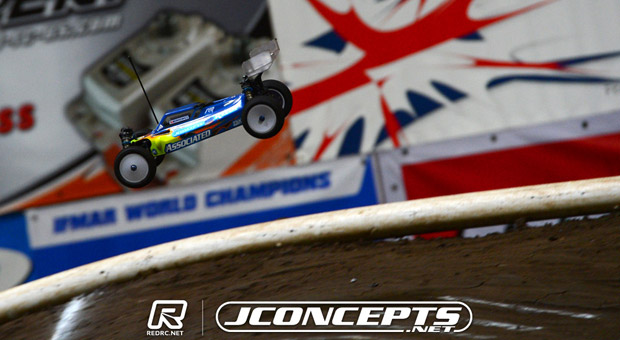 'Pretty excited' was Borkowicz's reaction to securing fourth on the grid.  The 14-year-old said this weekend has been his best performance in a while adding it was good to be running up with the top guys.  Despite ripping a screw from the rear hub tower which in turn allowed the rear suspension to flex and pop a drive shaft, he is very happy with his Reedy powered B44.2, saying the buggy is very easy to drive and that has been good for building his confidence.  Having run with former team-mate Maifield in Q1 when he took an impressive second for that round, he said for the finals his plan is to keep his nerves in check and just put in his own race.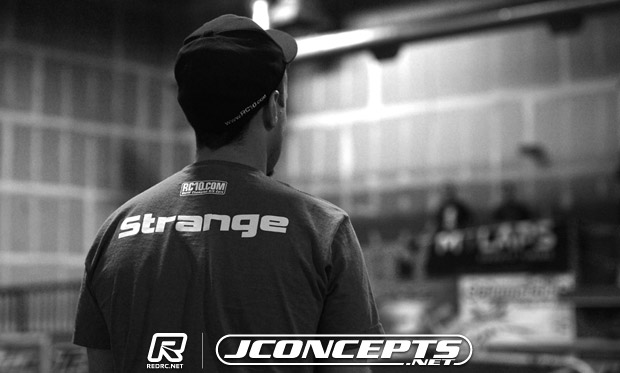 Posting the 3rd fastest time of Q3, Brian Strange will start 5th in the A-Main.  The Associated driver said the track has just kept coming to were his cars are at and they are very easy to drive.  Hoping that there is no change to the track maintenance for tomorrow so he doesn't have to prep anything differently he said starting in the middle of the pack its best to 'wait & see' how the early part of the race runs and then go from there.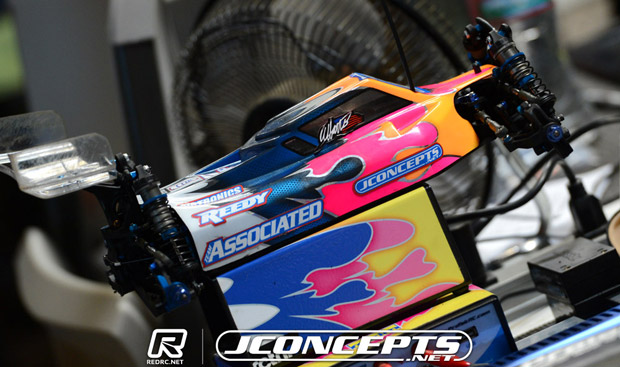 Also enjoying his best qualifier in the final round, fourth helped Eric Albano to secure sixth on the grid ahead of World Champion Steven Hartson.  The 19-year-old said he 'finally got a good run' having suffered too many mistakes of his own doing in the opening two qualifiers.  Switching to a softer set-up on the front end of his B44.2 he said this also helped with making the car easier to drive.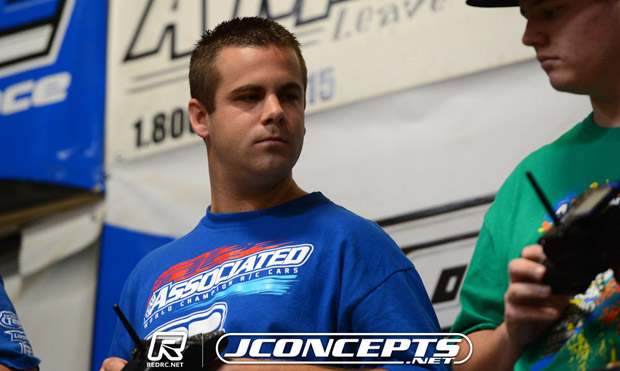 Hartson, winner of the previous JConcepts Indoor National Series encounter, said he has just struggled with his cars all day.  Describing his cars as having been 'really good yesterday' during practice he said today they are undriveable.  Trying to make his LRP powered B44.2 easier to drive each qualifier he said no matter what he did he couldn't make it happen.  Looking to the finals he said he will try some more stuff tomorrow adding he hopes they will bring some improvement over what he had to run with today.
4WD Buggy A-Main Grid
1. Ryan Maifield – Team Losi Racing – 2 pts
2. Drew Moller – A-Main Hobbies (HB) – 3
3. Tyler Vik – Team Xray – 5
4. Damion Borkowicz – Team Associated – 6
5. Brian Strange – Team Associated – 10
6. Eric Albano – Team Associated – 11
7. Steven Hartson – Team Associated – 11
8. Derek Stephansen – 13
9. JR Mitch – Team Losi Racing – 14
10.Chris Jarosz – Team Associated – 16
4WD Buggy Qualifying Round 3
1. Drew Moller – A-Main Hobbies (HB) – 21/5:13.585
2. Ryan Maifield – Team Losi Racing – 21/5:14.607
3. Brian Strange – Team Associated – 20/5:00.590
4. Eric Albano – Team Associated – 20/5:02.296
5. Derek Stephansen – 20/5:03.292
6. Mark Pavidis – Team Losi Racing – 20/5:06.817
7. Brent Thielke – Team Associated – 20/5:10.493
8. Chris Bridgewater – Team Associated – 20/5:11.486
9. JR Mitch – Team Losi Racing – 20/5:11.875
10.Kurt Wenger – Team Associated – 20/5:13.620
View the event image gallery here.
---