August 7, 2014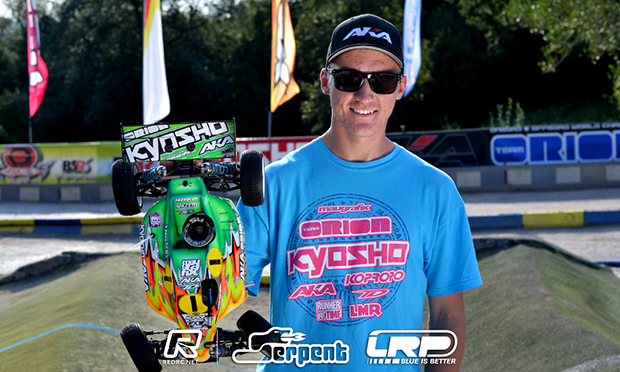 Defending 1:8 Offroad European Champion David Ronnefalk leaves the Sand am Main track in Germany this evening in the best position possible after the Kyosho driver took his second TQ run of the first day of qualifying to hold the overnight TQ.  Having taken Q2 by 3 seconds over Robert Batlle, the Swede would again take the third qualifier by an almost identical margin this time from 2012 Champion Darren Bloomfield.  It would be a good Q3 for Team Kyosho as Ronnefalk's team-mate Elliott Boots having not featured in the first two rounds took his Mp9 to the third fastest time.   In terms of the overall points standings it is Q1 pace setter Teemu Leino who sits second in the ranking followed by Batlle and Bloomfield.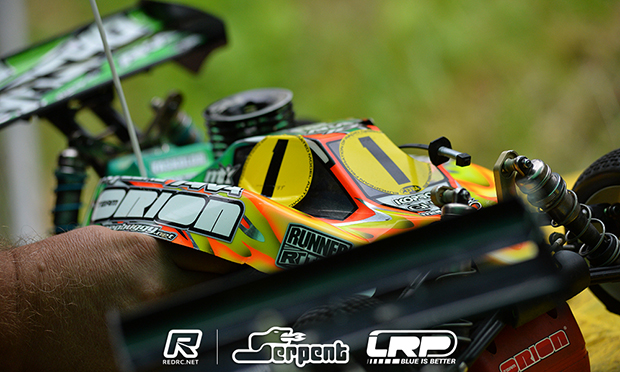 A very composed and on form Ronnefalk said 'for sure I'm happy to be leading overnight but I would be a lot happier if I had also TQ'd the first one', a result that would have secured him the overall TQ for the event.  Only 3rd fastest time in Q1, as a result of his heat being the first to run on the damp track this morning, the 18-year-old said its not the securing of the overall TQ that concerns him but rather the chance to be able to use both of tomorrow's qualifiers as a tyre test session.  Running AKA's Catapult tyre in Super Soft compound on his MP9, to which he has made little or no set-up changes since early practice, he said the tyre is providing tons of traction and the buggy feels perfect on them but he is concerned about wear.  While good for the 5-minute qualifiers he said they will not last the distance of the Semi-Final.  While he knows a harder tyre will be slower he said its how it effects the overall feeling of the car that he is concened about.  Planning to go for a third TQ run in the morning he said he will use the fifth & final qualifier to test compounds.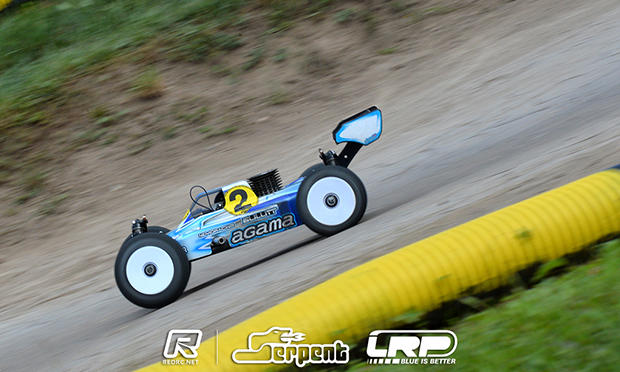 Enjoying his best performance of the day, Bloomfield put the improvement down to a change of his driving.  After two crashes in Q2 left him 12th fastest, the current British National Championship points leader said he 'minimised (his) heroics' and the time came to him.  The Agama driver said having struggled mentally with traffic on a track he says 'always feels busy', on watching his rivals face similar problems in their heats he really worked on trying to get it out of his head.  Feeling this did help his driving he said he still had some moments, jumping over '3 cars that were going wrong' as he went up the hill.  Unlike before he said the loss this time round was only fractions adding it certainly wasn't the 3-seconds to Ronnefalk but looking to tomorrow he hopes to build on his Q3 approach.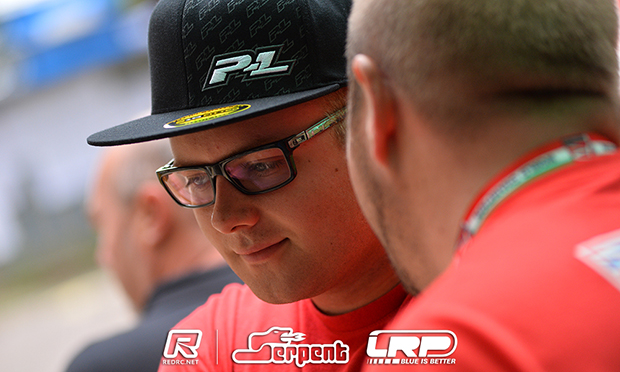 Boots adapted a similar approach to his fellow Brit, also backing off a little in terms of his driving.  Making a number of changes to his Reds Racing powered MP9 moving closer to the set-up being run by Ronnefalk, he said this made the car easier to drive.  Conscious he needed a good round, 3 of 5 to count and his opening two not having faired out well, he drove more conservatively with the net result a competitive third.  Switching from Pro-Line's LockDown tyre to a set of X2 compound Blockades, the World Championship Top Qualifier said this also added to the mix providing more side bit.  Pleased to end the day in the mix he said he hopes to build on that tomorrow and try go a little quicker.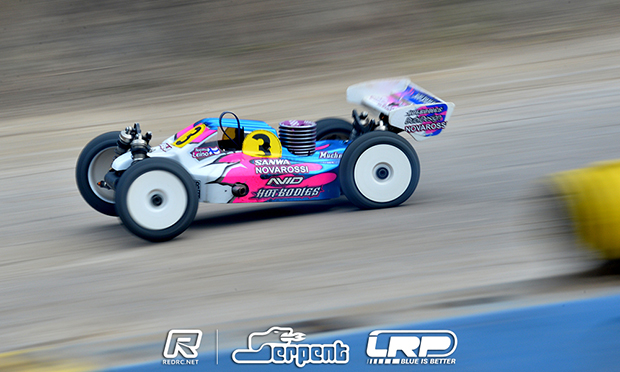 Suffering two rolls and again having issues with the same driver as he did in Q2, Leino said while 2nd was again possible he was happy to get 4th as this give him a third result that will lock him into a Semi-Final starting position.  The factory HB driver left his car unchanged between rounds and said he plans to continue that way tomorrow as running the same car is helping in terms of him improving how he is driving it.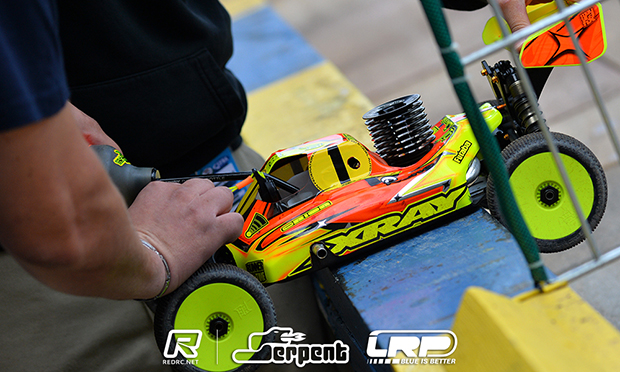 Only 51/1000ths off Leino, Renaud Savoya claimed his second 5th fastest time of the day having started off with a sixth in Q1.  The Team Xray driver said his Orion powered XB8 is getting better every run although a clutch combination change for Q3, which used a softer spring, meant the power delivery was not as good as earlier in the day.  Going up in the centre diff oil, the French ace, who saw his run of three European title come to an end here in 2011, said this improved the buggy albeit at making it a little more nervous to drive.  Also switching to a harder compound Sweep Mirco Contact tyre he said while at the end they felt good they took time to come in.  With three solid runs in hand now he said tomorrow they will use the remaining qualifiers to test things for the Semi Final.  With the car already easy to drive, him 'pretty happy' at running all three qualifiers with no crashes he said the main focus will be to find a little more corner speed.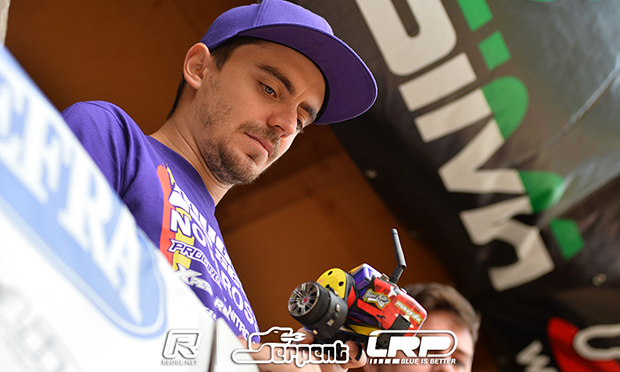 Ending up 7th in Q3 behind the Kyosho of former Austrian Champion Martin Karner, Batlle was rather annoyed with the driving of former World & European Champion Daniel Reckward.   Catching the RB driver on his 8th lap he said the German blocked him and when he did get alongside they made contact, the Spaniard coming off worst and losing over 4-seconds.  In terms of his MBX7 set-up, the reigning World Champion said they further improved the car for Q3 with it now more consistent adding tomorrow they will continue to test for the finals.
After an impressive third in Q2, Joseph Quagraine completed a successful day with the 8th fastest time in the third qualifier which sees the Finn sitting 6th in the overnight ranking.  The JQ driver felt the day had gone 'kind of how (he) expected' and he was happy with how his creation is performing, French team driver Rayan Medjoubi taking his similarly Reds Racing powered example of 'The Car' to 12th in Q3.   Running everything the same as he did in the second qualifier he said due to the warmer condition of the day's final qualifier the track was slower and should it be the same tomorrow he is going to have to find a better compound.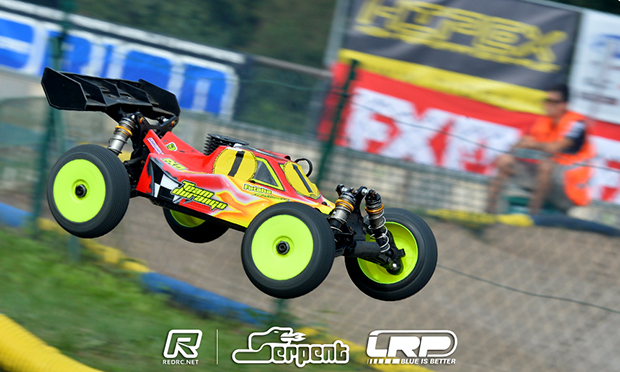 Behind Quagraine, the Top 10 was completed by Christoffer Svensson and 1:10 Electric European Champion Joern Neumann.  Having missed the first day of practice due to a lip infection, Neumann quickly got to terms with the track in seeding practice yesterday posting a Top 3 time in the second round but struggled in the opening two qualifiers.  Finally breaking into the Top 10 in Q3, the Team Durango driver will be hoping to build on that over tomorrow's remaining two qualifiers.
Round 3 Qualifying Top 12
1. David Ronnefalk – Kyosho/Orion – 11/5:13.193
2. Darren Bloomfield – Agama/Bullitt – 11/5:16.123
3. Elliott Boots – Kyosho/Reds Racing – 11/5:17.700
4. Teemu Leino – HB/Novarossi – 11/5:19.608
5. Renaud Savoya – Xray/Orion – 11/5:19.659
6. Martin Karner – Kyosho/Alpha – 11/5:21.966
7. Robert Batlle – Mugen/Novarossi – 11/5:22.349
8. Joseph Quagraine – JQ/Reds Racing – 11/5:22.463
9. Christoffer Svensson – Kyosho/OS Speed – 11/5:22.463
10.Joern Neumann – Team Durango/FX – 11/5:22.704
11.Alex Zanchettin – TLR/Novarossi – 11/5:23.011
12.Rayan Medjoubi – JQ/Reds Racing – 11/5:23.148
View our event image gallery here.
---