September 27, 2014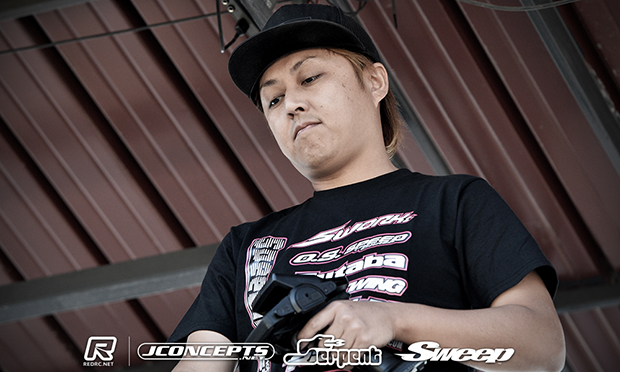 Just 24 drivers remain in contention for the 15th 1:8 Offroad World title with the 1/4 Finals eliminating some big names, the most notable being Atsushi Hara. Having been a podium finisher since winning the title in 2008, the S-Workz driver's event is done. Competing in the first of the 1/4 finals having bumped up after winning his 1/8 final, the Japanese legend could only manage 8th.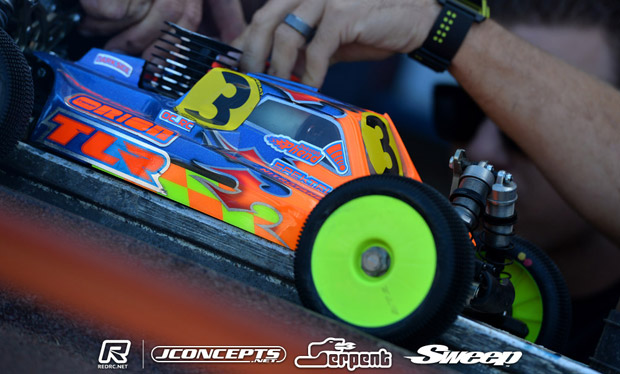 Up front after some rough early laps TLR's Dakotah Phend recovered from running as low as 10th to take control of the race to take the win ahead of Team Associated's Yannick Aigoin. Working his way up from the 1/8 Final, Radiosistemi driver Riccardo Rabitti continued his form to finish third from 10th on the grid to book his place in the Semi along with Serpent's 2008 World Championship podium finisher Mike Truhe. There was a frantic battle behind Truhe involving Xray's 2012 Finalist Josh Wheeler, Agama's Darren Bloomfield and Durango's Joern Neumann, the latter two getting together a number of times ultimately costing them a shot of bumping up. Other casualties of the race included Jeremy Kotz who while holding a bump position crashed at the double before the straight with the barrier knocking the front left shock off his Agama. Although he continued he would finish 9th behind Hara. The race would also bring an end to former runner-up Renaud Savoya's campaign.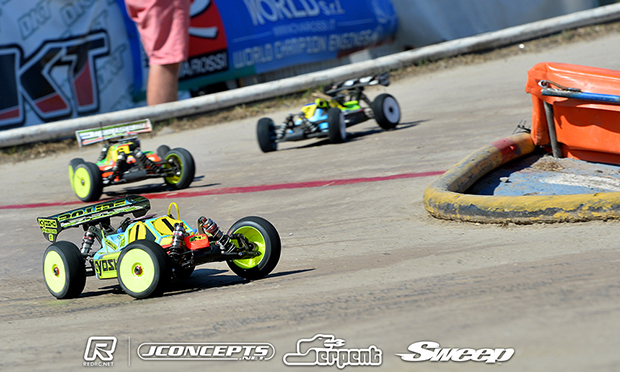 In the 1/4 B 2010 World Champion Cody King took the win. Starting from pole position, the Kyosho driver faced a number of challenges with European Championship runner-up Martin Wollanka taking an early lead. The race also saw TLR's Ricardo Monteiro head the field along with Davide Ongaro. Unfortunately for the 13-year-old talent, his move to the front getting a huge cheer from onlookers, engine issues would end his race, his Mugen coming to a stop on two occasions. Wollanka's race was scuppered by engine cuts dropping him to 10th. In the end King would take a comfortable win over Monteiro, French Champion Jerome Aigoin and Xray's Miguel Matias who had to see off a strong challenge from LRP team driver Marcel Guske who bumped up from yesterday's 1/16 Final.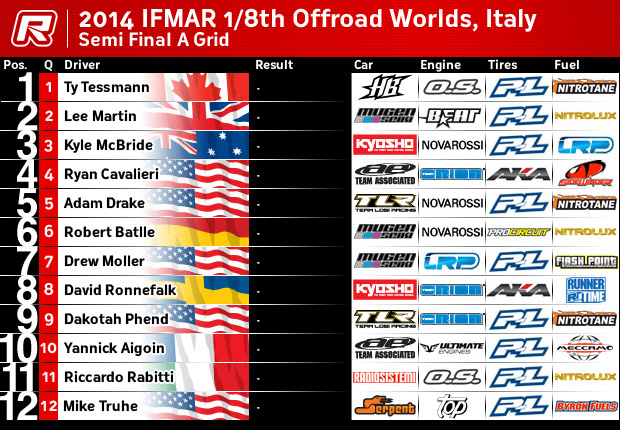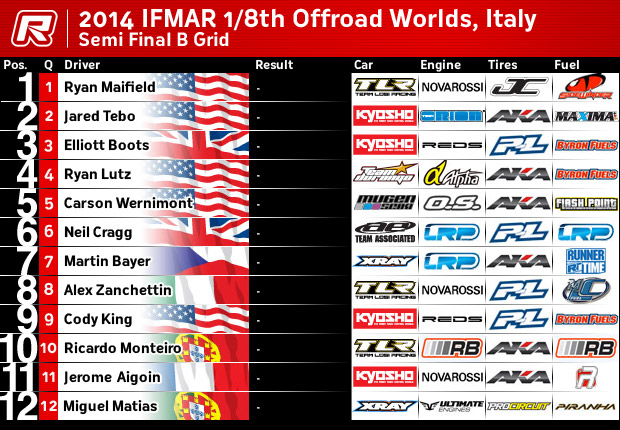 View the complete results online here.
View our event image gallery here.

---