September 23, 2014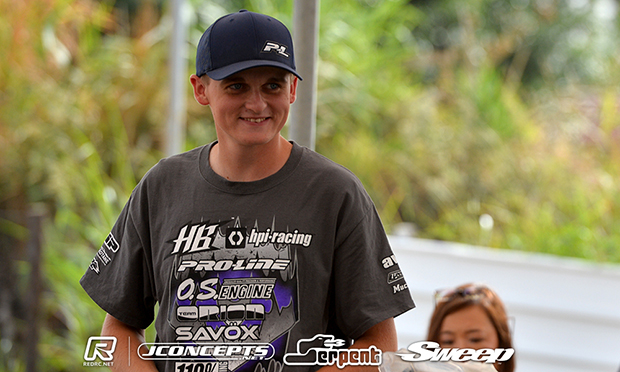 Ty Tessmann stamped his authority on the opening round of qualifying at the 1:8 Offroad World Championships in Sicily with the HB driver topping the times by a substantial 7-seconds over Ryan Maifield.  The first of the day's two qualifiers saw reigning World Champion Robert Batlle and qualifying top seed David Ronnefalk both struggled with their driving with Jared Tebo completing the top 3 but only after he had a technical disqualification overturn.  In general Q1 was a round that was rewarding safe clean driving.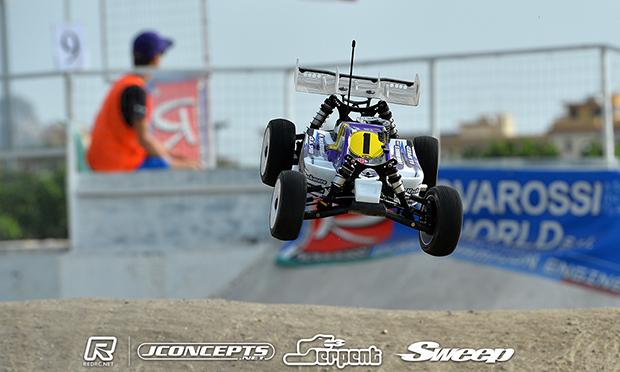 Setting the fastest lap of the round, with only young Italian talent David Ongaro joining him in the 36-second lap times, Tessmann declared himself 'really happy' saying 'usually the first one is shaky but it was a really solid run'.  'Not quite as fast as practice', the 2012 Worlds runner-up said the 10-minutes was free of mistakes and this was also the main focus for Q1. Describing track conditions for his heat, the Canadian running in the third heat, as good following overnight repairs to fill in holes he ran Pro-Line's X1 compound Fugitive on his D812 which he will stick with for Q2.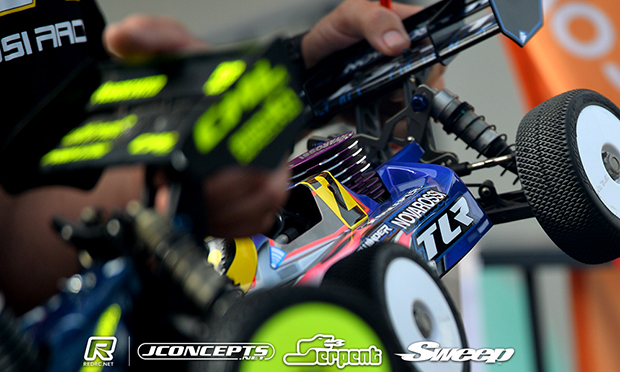 Maifield described his qualifier as 'OK' adding it was 'nice to get a second out of the first round'.  With 'no big mistakes', the TLR driver said other than a few little moments it was a 'smooth run'.  Having changed the set-up on his JConcepts equipped 8ight he said he will continue to stiffen up the buggy for the next one.  Aiming for 'another solid mistake free run' he said it would be 'nice to end Day 1 of qualifying on a positive'.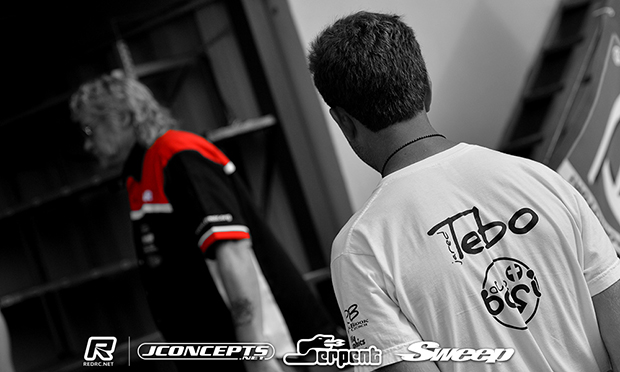 'I haven't been super fast yet' at this event 'so I couldn't be happier' that was how Tebo summed up his 3rd.  Having not really been in the mix throughout practice saying the 2010 Worlds Top Qualifier said other than change from AKA's Grid Iron to Catapult tyre he ran his Kyosho the same as the final practice and just drove a good 10-minutes.  Other than twice hitting crashed cars around the track, he said the run was really good but added he may have drove 'a little too much on the safe side'.  Having been intially excluded from the result an appeal saw the judgement changed to an official warning.  Having added a cooling hole in his bodyshell over the engine manifold, his team got the modification approved by IFMAR president Dallas Mathiesen but in technical inspection it was determined to contravene the rules.  After much discussion it was decided Tebo had not deliberately set out to break the rules and he was reinstated but for the rest of the event with his bodies already cut he will have to run them with the holes taped over.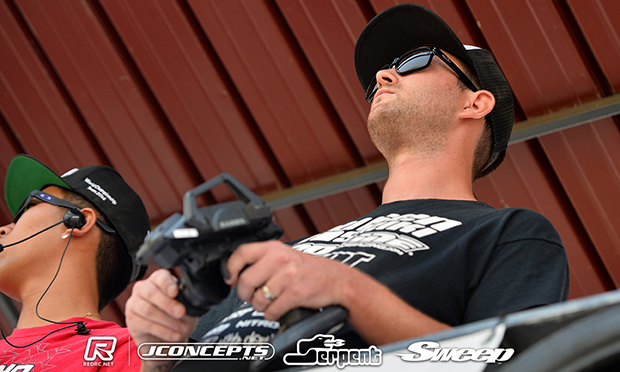 'Alright' was how Martin summed up his run,  the Brit just half a second off Tebo despite a late servo issue.  Towards the end of the 10-minutes the Mugen driver said he throttle servo started to go off causing him to loose brake and struggle with a lack of throttle response, his Beat engine going rich as a result. Happy with how his MBX7R ran before the issue he said other than fit a new servo he will run the car as is for Q2 and leave any set-up changes to tomorrow.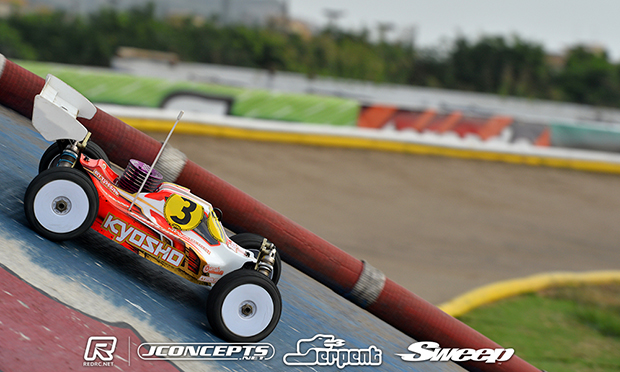 Team Kyosho's Kyle McBride took his MP9 to the fifth fastest time declaring himself 'pretty happy'.  The 18-year-old Australian ace said he just tried to go around without mistakes and that approach 'worked out well'.  Looking for a little more speed from his buggy for the next one the 2010 World's Finalist plans a couple of minor changes which he hopes will make him be more comfortable with the car so he 'can push a little harder'.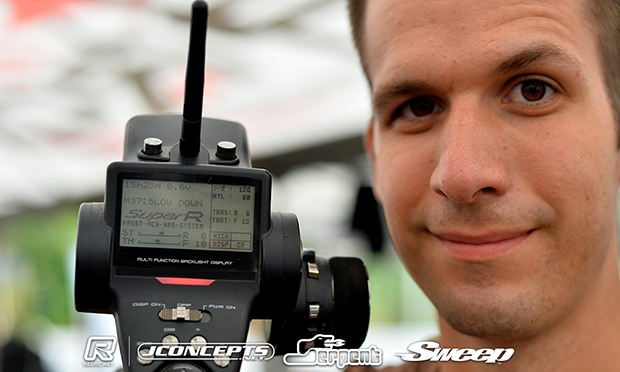 Putting the message 'Slow Down' into his Futaba 4PK SR radio paid dividends for Ryan Lutz, the Team Durango driver completing the Top 6.  The US driver said watching the first couple of heats he saw a lot of drivers crash and knew if he just slowed down and kept the run clean he could net a decent round.  Having been hampered by brake issues in practice, he said the problem is still not 100% solved and he is having to dial it out over the run on his radio.  For Q2 he will go up in the front diff oil of his Alpha powered DNX8 to try and 'smooth it out'.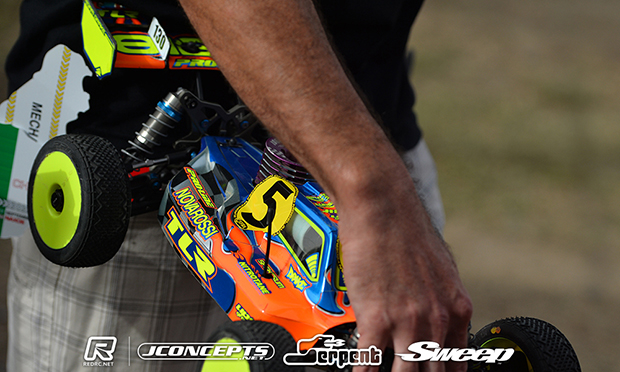 Recording the seventh fastest time, Adam Drake described his qualifier as 'just really safe'.  The master of fuel economy he said having been happy with his Novarossi engine's run time throughout practice in the final run yesterday he ended up running short.  Following this he decided for Q1 he would, like his rivals, make one stop but following 2 bobbles he said he threw that idea out the window.  Having to drive 'super cautious' so as to save fuel he would end up making it pretty easy with plenty of fuel left at the end of the 10-minutes.  Describing his 8ight as easy to drive at the pace he ran for Q2 to he will go up in shock and centre diff oil as well as going to a harder compound tyre with the aim of driving a little harder.
Eighth fastest was Carson Wernimont. The US Mugen team driver said he didn't try anything crazy, with the run working out 'pretty good'.  With his AKA shod MBX7R 'super easy to drive', the 17-year-old said the plan for Q2 is to run everything as is and drive clean laps including when leaving the pits so as to stay in the Top 10.  While on track he had a moment during his fuel stop, a mistake coming out of the pit lane resulting in a 'long detour' which cost him around 5-seconds.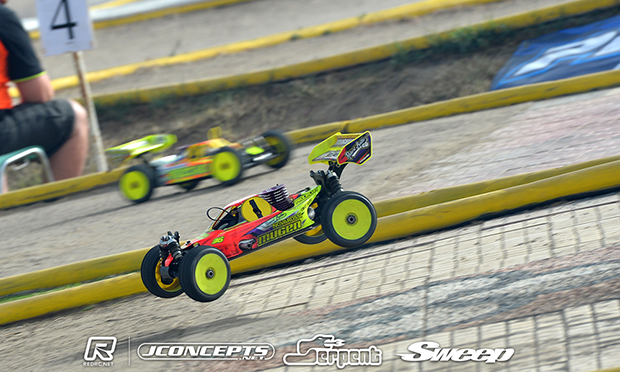 'Quite difficult' was the response of Batlle to his first qualifier after ending up only 9th.  Making 'three stupid mistakes' which cost him around 10-seconds, the Mugen driver reported also having some bad luck with traffic.  Describing his MBX7R as 'not bad' the Spaniard said he had to push a little harder than he was comfortable with to go fast and they will make changes for Q2.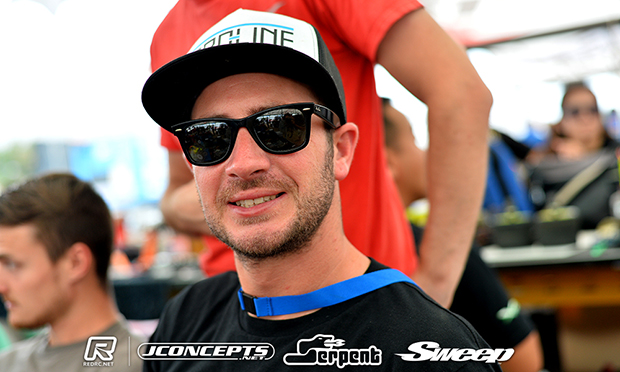 Heading the Associated charge in the opening qualifier, Neil Cragg opened the books by completing the Top 10. 'Steady as she goes' was how the English driver summed up the round adding he was 'pleased & relieved to get a banker from the first one'.  Running the new RC8 prototype he said it ran well but with 'so much traction out there' he planned to make the rear end a little stiffer for the next one so he can push it harder.
Only 11th fastest, Ronnefalk summed up the start to his day in one word – 'shit'.  The European Champion said he knew the track was a little slower than yesterday but still pushed hard leading to mistakes in the first two laps.  In an attempt to settle their driver following his poor start his team called him in early for his fuel stop after which he said he did drive better.  Feeling his Orion powered MP9 had a little too much front brake causing it to stand up on its nose under braking he said the will change this for the next one but the main focus is a better performance from the driver.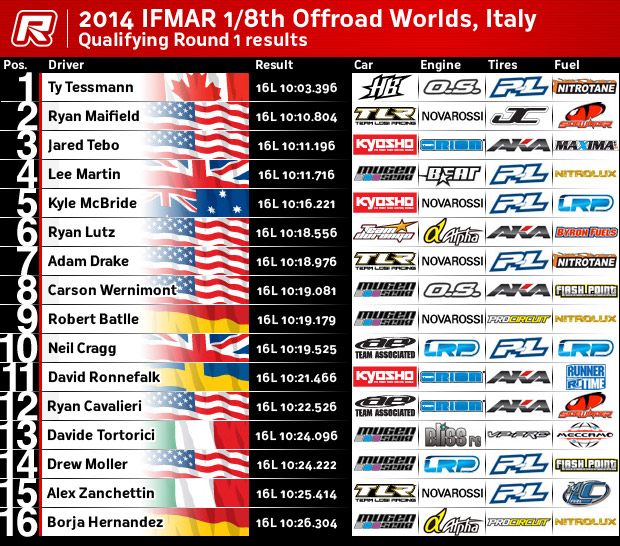 View our event image gallery here.

---