October 11, 2014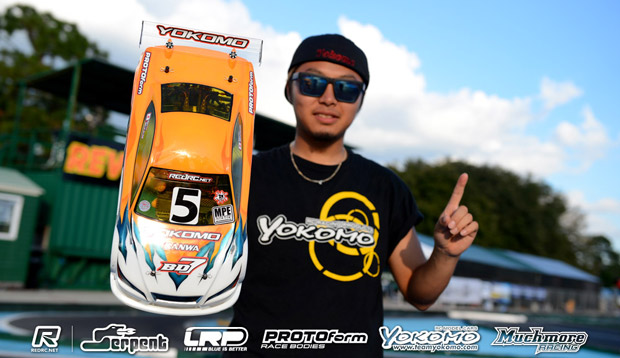 Naoto Matsukura headed a Yokomo 1-2 in the opening round of qualifying at the Touring Car World Championships in Kissimmee, the Japanese driver 1.2 seconds faster than team-mate Ronald Volker over 5-minutes. The only other driver to run 18-laps of the Full Throttle RC Raceway track, Tamiya's Marc Rheinard completed the Top 3, finishing just 1/10th of a second off Volker. Having some issues with traffic and suffering a crash reigning champion Jilles Groskamp got his title defence underway with an 8th for Q1.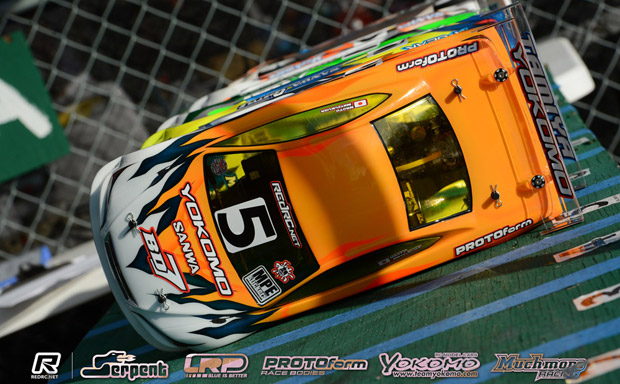 Happy to get qualifying underway with a TQ run, Matsukura said nerves got the better of him on the opening lap as he led away the field and if it wasn't for Volker making a crash himself his team-mate would have easily topped the times. Having to push to make up for his first lap error, he said with a TQ run now in hand he should be more relaxed for tomorrow morning's Q2 and happy with his BD7 2015 he will run the same set-up.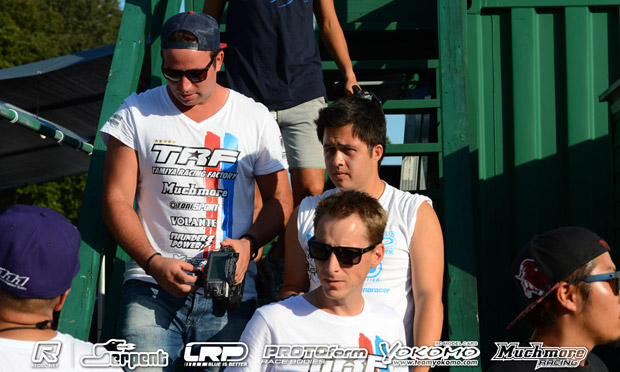 Setting the fastest lap of the round, Volker said he struggled with the corner at the timing loop. Hitting the paint there twice, this caused his LRP powered BD7 to get twitchy and he missed his line for the next corner resulting in his LRP powered BD7 jumping over the curb. Sticking with the same set-up as he ran in the final practice but with a new servo fitted after noticing the casing was cracked after contact with boards, he said with 'Naoto gone' he just focused on keeping the rest of the run clean. Having dropped to fourth he said a lack of communication there after from race control left him unaware as to how hard he needed to push but 'luckily' he did enough to get second ahead of Rheinard. 'Still not 100% with the car', Volker said while it is fast and on pace, he would like to find a little extra to make it more 'comfortable' to him.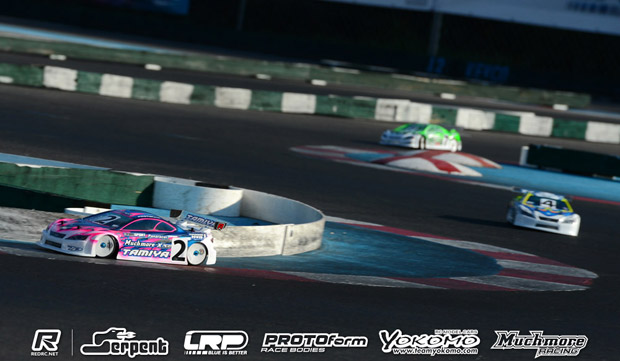 Rheinard was frustrated at how close he was to Volker, but said as an opening qualifier it was a 'good safe run'. Suffering a bad 3-laps in CP3 which determined the standing order of the reseeded heats, the newly crowned 1:12 World Champion said starting 8th and having to pass cars made it a little hard to get into his rhythm. Reverting to his CP2 set-up, he said his Muchmore powered TRF419 was better but after his contact with the boards coming onto the straight in the final practice he 'took it easy' adding he can find time there tomorrow.
1:10 Nitro Touring Car World Champion Meen Vejrak claimed fourth for Q1. Running in the second fastest heat, the Yokomo driver reverted to the set-up he ran in the morning's opening controlled practice saying it gave the car good feeling again. In the last minute of the run, the Thai driver would struggle with a lack of braking resulting in a number of mistakes. The problem appears to have been caused by his motor getting too hot with Hobby Wing recommending he move his cooling fan from in front of the motor, where it is picking up the heat of the speedo, to behind it.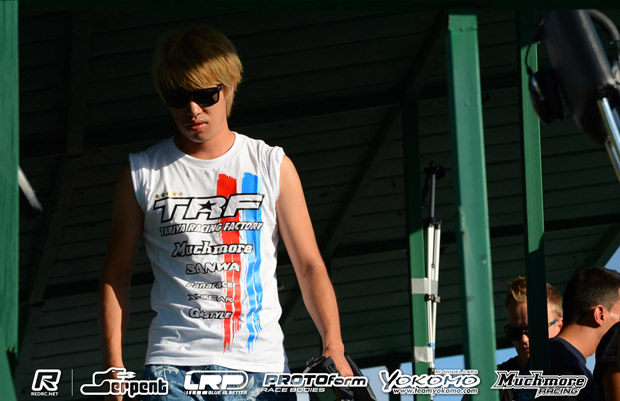 Setting the fifth fastest time Akio Sobue felt his Tamiya suffered from an imbalanced set of tyres. With the centre line of the tyres also different on each tyre, drivers not being permitted to trim it in anyway, the 20-year-old said this resulting in him having two mistakes. Hopeful of a better set of tyres for Q2, he is confident both he and his TRF419 can run better tomorrow.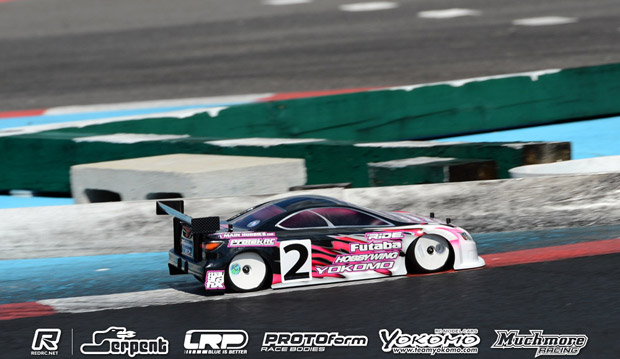 'Not too bad' was how Atsushi Hara summed up his run to 6th in the first qualifier. Electric Touring Cars first World Champion, the Yokomo driver said he ws struggling with consistency through some of the corners. While overall his 'car felt ok to drive', the traction was very sensitive to both the position on the line and the throttle input. Having watched team-mate Matsukura's qualifier he will try his younger fellow countryman's set-up for Q2.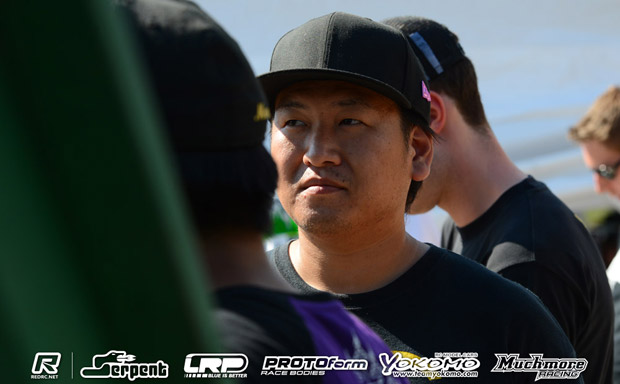 2010 World Championship runner-up Hayato Matsuzaki claimed a seventh for the first of the six qualifiers. The former 2WD Buggy World Champion, said the run was 'good for me' with things getting better the whole day. Pointing out he is not fast enough by highlight his fastest lap of 17.616 compared to team-mate Volker's 17.108, he said his time came from good consistency over the 5-minutes. Reluctant to change his set-up as he feels the track conditions vary every time he goes on track he said for Q2 he will just try to be more aggressive at the start of the run when the tyres are at their best.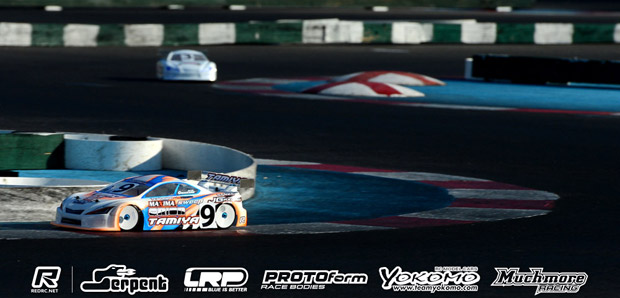 Groskamp said his time 'should have been a little better'. Having to let Xray's Bruno Coelho by only for the Portuguese driver to crash and then run behind him again before he himself crashed, he said he considered himself lucky to get 8th as the crash could easily have broken his car. Happy that the pace is there he said he is now a little more confident for tomorrow and hopefully he can open Q2 with a clean run. For Coelho, contact with the boards coming on to the straight on his last lap put his steering servo out of line causing his struggling T4 to drop to 45th.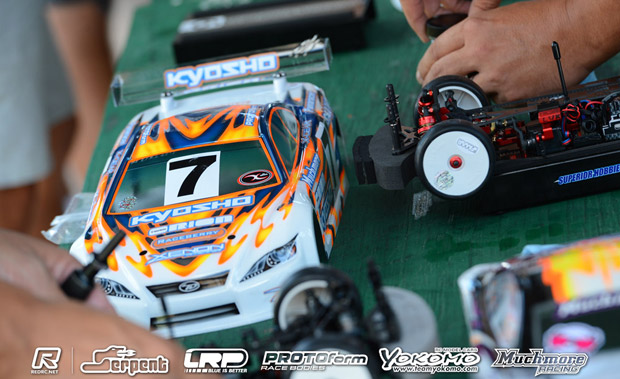 Completing the Top 10 behind Singapore TRF driver Nicholas Lee, Kyosho's Christopher Krapp said his car should have been a lot faster given the cooler conditions. Running behind Matsukura the German said he was losing a lot of time to him at the end of the straight. Talking to Kyosho/Orion team-manager Joe Pillars afterwards, he said they have to up the turbo on his Orion Speedo for Q2. Having ran safe lines, he also hoped to benefit from tightening up his driving for the next one.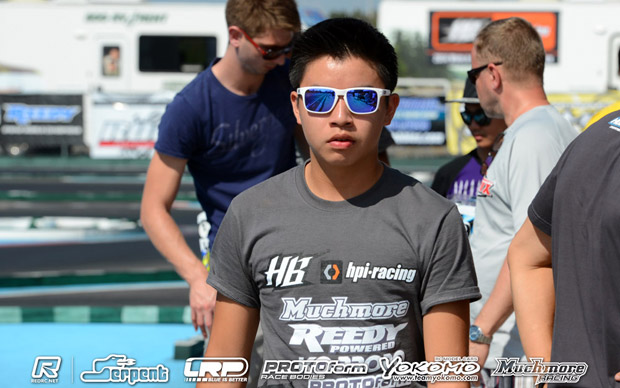 The world debut of HB's new PRO 5 chassis, JJ Wang just missed out on a Top 10 run posting the 11th fastest time ahead of fellow US racers Paul Lemieux and Rick Hohwart. With team-mate & former World Champion Andy Moore 14th, Wang said he is struggling with the car pushing at the end of the straight but having talked with his team about possible set-up changes he thinks they can improve that for the morning.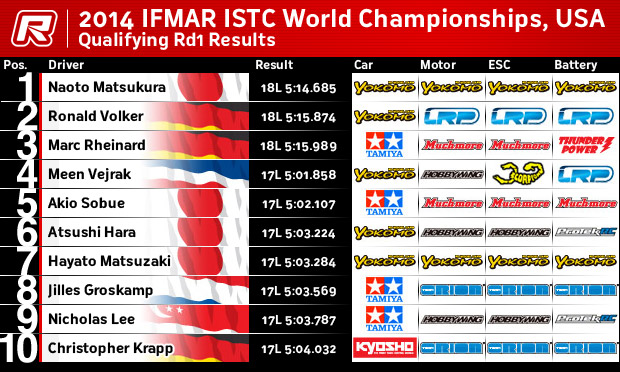 View our event image gallery here.

---