October 11, 2014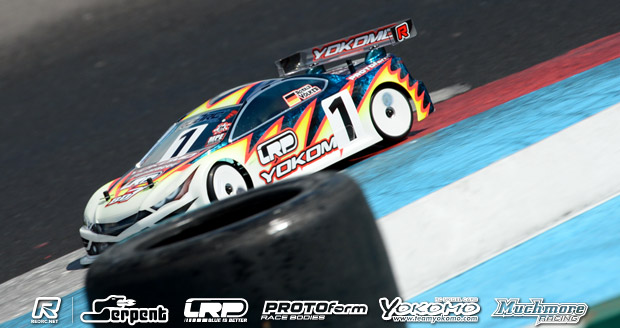 Ronald Volker got Day 3 of the Touring Car World Championships underway with a TQ run, the second round of qualifying again producing a Yokomo 1-2 with yesterday's Q1 pace setter Naoto Matuskura second fastest. Tamiya's Marc Rheinard would again complete the Top 3 with the surprise of the event Bruno Coelho posting an impressive fourth for Team Xray.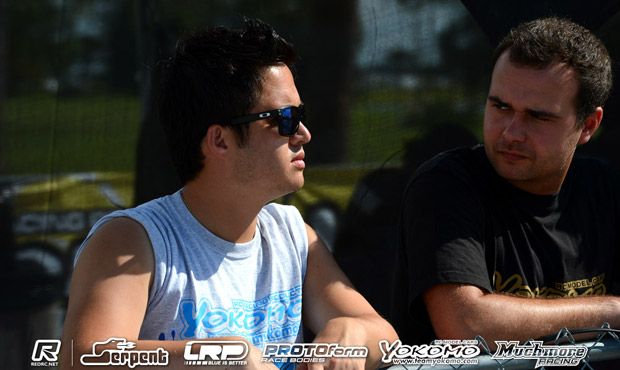 The pre-event favourite coming into the Florida event, Volker said he was 'very happy to get his first TQ run'. Seeing team-mate Matsukura have issues in front of him and seeing he was pulling clear of Rheinard behind him, Volker said instead of pushing and taking any risks he just worked on maintaining his rhythm. Having made a very slight change to the set-up of his BD7 2015, the 4-time ETS Champion said the car didn't feel any better or any worse than in Q1. Looking to get more confidence with the car, the German will again make further tweaks as they 'work on getting a better feeling'.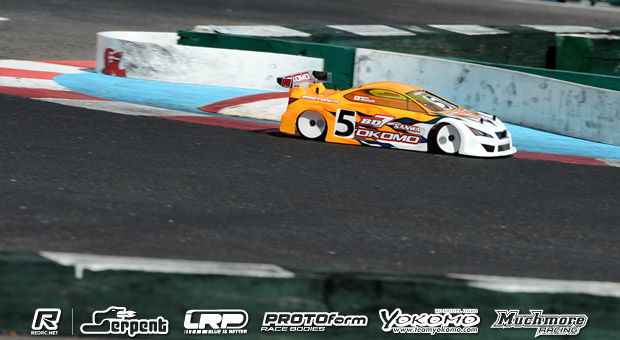 Posting the fastest lap of the round, Matsukura said his car was fast, had a 'good feeling' and has the pace for another TQ. Unfortunately for the 3-time 1:12 World Champion the right side of his bodyshell tucked distracting him and causing him to get out of shape. While it would pop back out, he said it took him about two more laps after that to get back into his rhythm.
Making contact with the wall coming onto the main straight and then having a huge slide some laps later at the end of the straight, Rheinard said this cost him time. Describing the run as 'OK' he said he is not so far off but did concede the battle for the TQ is between the Yokomo drivers. Aiming for a Top 3 starting position in the A-Main, the 3-time Touring Car World Champion said he should be good to bring that battle from there.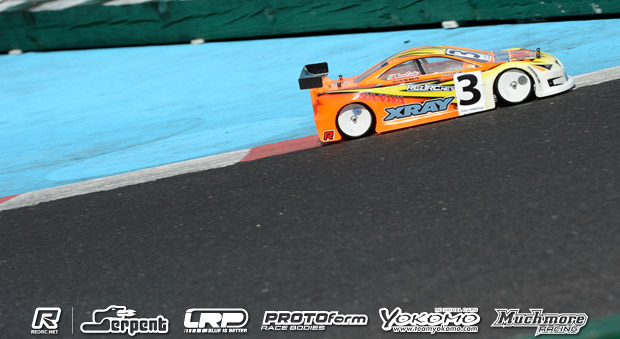 With his luggage, which got lost in London on the trip over from Portugal, finally turning up, Coelho was able to sport his colour scheme in Q2 with a freshly painted Protoform LTC-R bodyshell. The European Championship Top Qualifier, who lost out on taking the European title win due to a speedo issue, said his T4 felt a little strange at the start of the run but after a few laps started to run real well. Only 45th in Q1 after a last lap crash, he plans to leave his car as is and focus on a repeat run, driver needing 3 good run from the six qualifiers.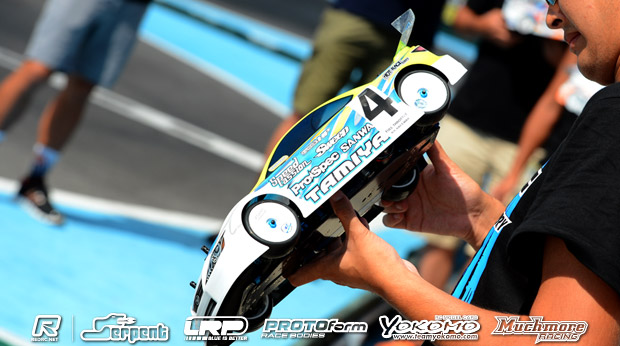 Fifth for the round, Viktor Wilck said his run 'was OK' and he just drove to get points. Putting in a 'really safe drive', the Swede said his Tamiya is not fast enough for much more as its too easy to drive. He plans to try a number of changes for Q3 as he looks to made his TRF419 more aggressive.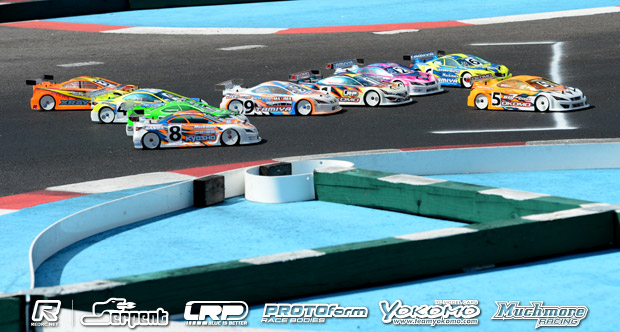 World Champion Jilles Groskamp took his example of the new TRF419 to the sixth fastest time. Describing the car as 'a little better than before' he said he had a few small driver errors over the 5-minutes but even without they wouldn't have affected the ranking for the round. More consistent over the second half of the run he will make a small diff oil change for the next one.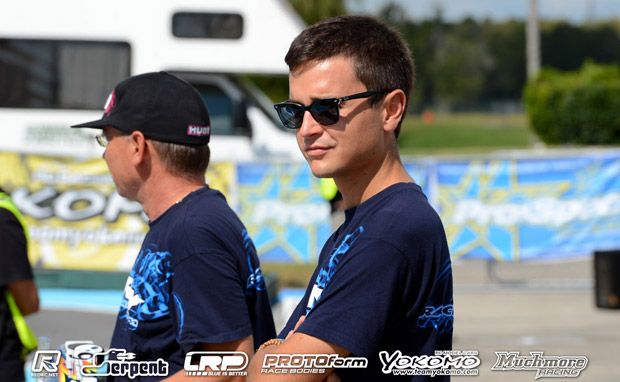 'Better, at least the car was drivable', was how Alexander Hagberg summed up his run to the seventh fastest time. Having to let team mate Coelho through in the heat, he said this cost him a little time but he was happy to get a solid run under him. Planning set-up changes for Q3, he said while it was going to be hard to fight for a top result he hoped to be able to at least push the pace more next time out.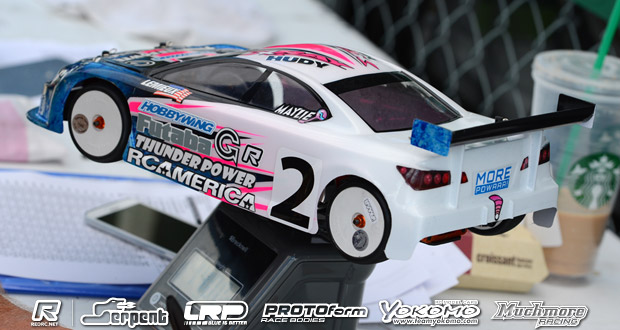 Behind Hagberg was his team-mate Paul Lemieux. The American said his T4 was 'really pushing' but he was 'happy to get a clean run finally'. Considering a number of changes to try and improve the car he said he is not yet sure whether to change his rear wing, toe, and raise the car all at once or just pick out one change.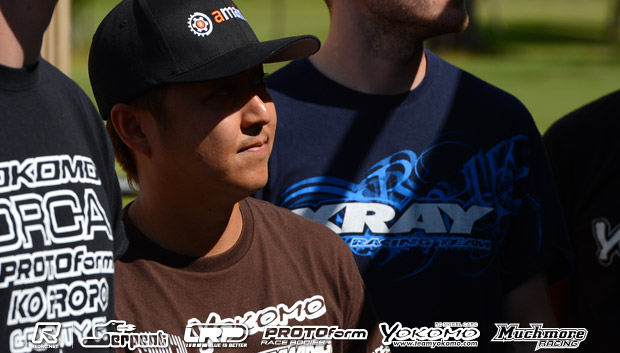 Describing the pace as 'so close', Hara said you don't even need to crash to lose time but just run a slightly bad racing line. Declaring 9th as 'not too bad for sure', the 2000 Champion said there are two groups in the Top 10 and he is in the second one. Hoping to break the Top 5 he will try less rear toe-in on his Yokomo for Q3 as the car is currently too easy to drive and not able to carry enough corner speed. Behind Hara fellow countryman & team-mate Hayato Matsuzaki completed the Top 10 followed by Yannic Prumper and Akio Sobue.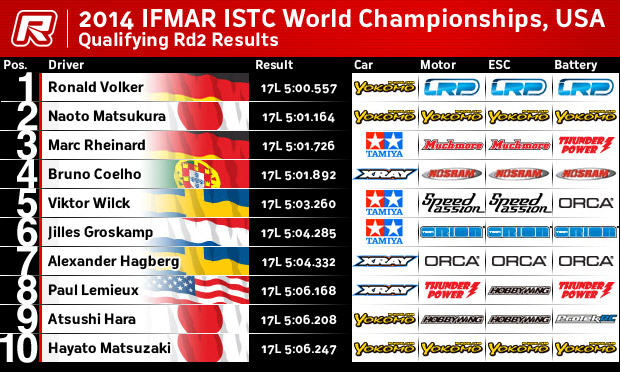 View our event image gallery here.

---