November 10, 2014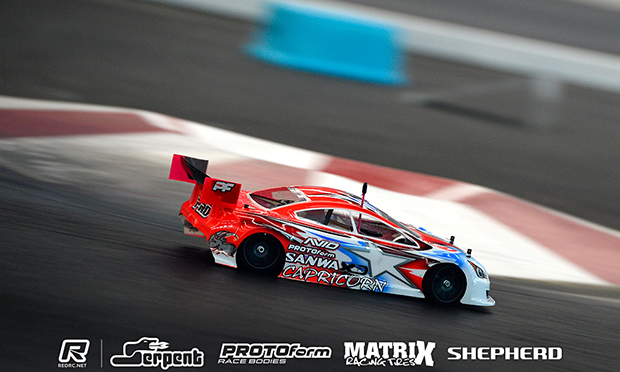 Dario Balestri is the early pace setter at the 1:10 200mm World Championships in Thailand, the Capricorn driver setting the fastest lap around the Huge RC Circuit as four days of free practice concluded in Bangkok. With only individual fastest lap times being issued on a track where 'crazy' best sums up the traction levels, Balestri ran a 13.986 lap with only Alexander Hagberg joining him on a 13-second pace.  Completing the Top 3 with a 14.053 was Capricorn's Jesse Davies followed by the Serpent of Yuya Sahashi with 2012 World Championship Top Qualifier Teemu Leino next up.   Unfortunately the event is without one of its expected key challengers with Balestri's team-mate & recently newly crowned Euro Nitro Series champion Eric Dankel having suffered a fall down a stairs just before he was due to travel that has left the quick German with a fractured shoulder with his doctor not passing him fit enough to make the long flight.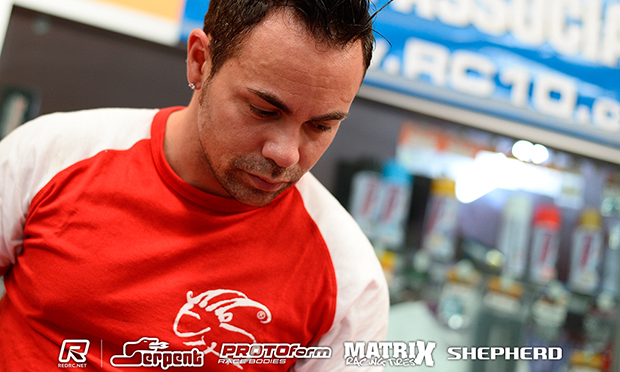 Describing conditions as 'very hard' adding the 'grip is too high', Balestri said he has found a good basic set-up for his car and while the track was still difficult to drive he was happy with how thing are going so far. Playing around with some fine tuning of the C03 set-up he said the goal is to get a car that is not necessarily the fastest but one that is safe.  With the tracks many bumps further compounding the problem of traction roll the former European Champion said over the course of the 10-minute qualifiers its going to be very difficult to run a clean heat.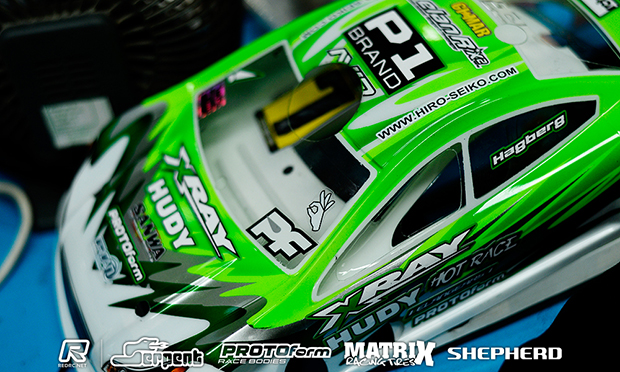 With IFMAR introducing a new rule with any driver who had not raced at the Warm-up Race or run on the Huge RC Track in the last 12-months getting two extra days of practice, Alexander Hagberg said he wasn't sure his attendance of the warm-up race had been beneficial as the track was 'totally different' now.  Feeling he had to do a bit of catching up to the drivers who got to run the extra two days, the Swede said today he made progress with his set-up for the conditions which have 'higher traction than before'.  Setting his best lap in the opening run of today, he said his NT1 feels good in the morning but in the afternoon loses a little steering but overall the car is consistent and he is happy with where he is at at the end of the free practice.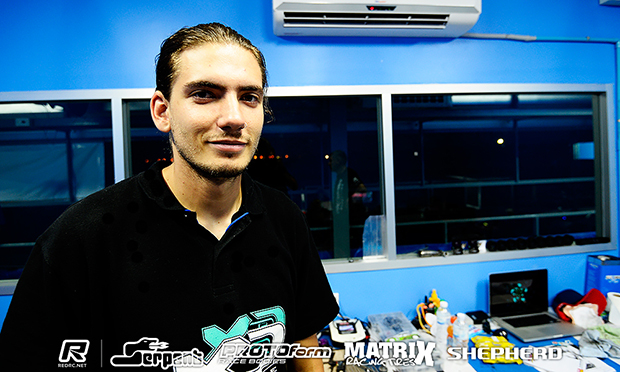 Fresh from claiming his first Australian National Championship title, Davies said a rear set-up change and the fitting of a new XRD engine for the sixth of the day's seven practice rounds improved his C03 quite a bit.  Adding rear upright shims to his car, the 24-year-old said this gave him better front end grip.  Targeting a full 10-minute run time in the final practice but making a number of errors early on he said he is confident that the car has the pace for not just a quick single lap but also a full qualifier time.  Declaring himself happy for tomorrow's timed practice, which based on consecutive laps will determine the seeding for qualifying, he will start out the day with the car as is.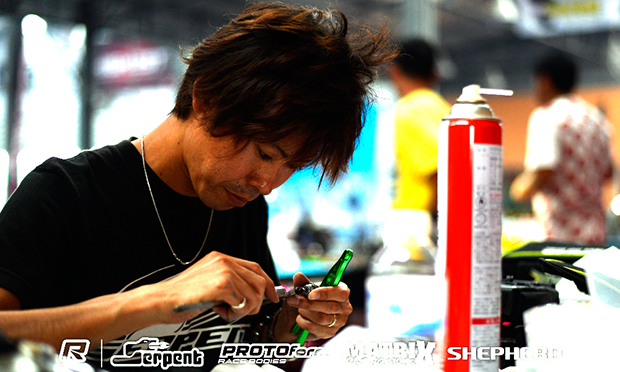 The older of the Japan's famous Sahashi brothers, Yuya was pleased with his performance as he posted the fourth fastest lap time of the free practice.  His first time to the Bangkok track, the Serpent driver was able to find a good set-up on his 748 yesterday in terms of stability allowing him today, his fourth day of practice, to focus on his Picco engines.  The 1:8 Onroad World Champion, his brother Tadahiko would take his example to the eighth fastest lap time.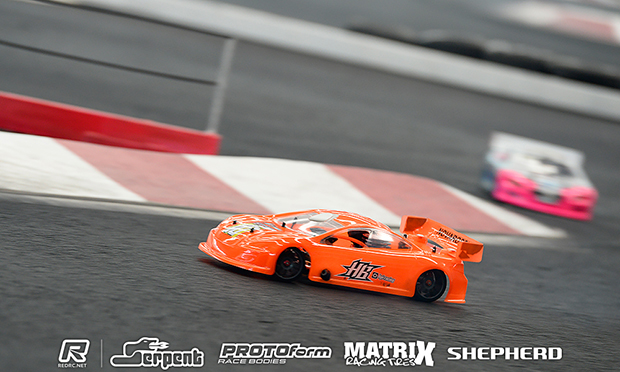 Always sparing with his words, Leino described his pace as 'so far all OK'.  The Finn, who gave HB the overall TQ on the R10's debut 2-years ago, said it was hard to read into the times because everyone can put in one lap and then flip on the next.  Running two cars today, he said his race car felt slower than his practice car and as a result he plans to run his practice car again.  Team-mates Andy Moore and Adrien Bertin both found themselves somewhat off the pace.  It was a bad start to the day for Moore as he would crash into the same car in each of the opening two practice rounds with the impact breaking a servo each time. Sitting out the third practice so as to fully rebuild the car, the British driver said his R10 is 'too safe to drive'.  Having tried Leino's set-up, former World Champion Bertin said this didn't suit his driving style.  Admitting to 'struggling a little' he said his problem with set-up was 'similar to Andy'.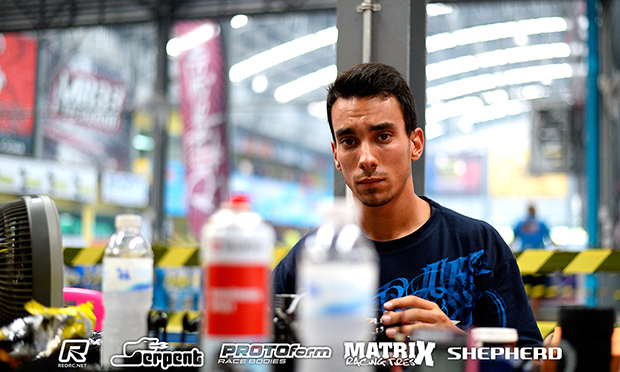 Star of the Electric Touring Car World Championships in Florida last month where he finished runner-up, Portuguese talent Bruno Coelho took his Xray to the sixth fastest time.  Having driven the track for the first time four days ago he said while the layout is good there is 'just too much grip'.  Getting a lot of help from team-mate Hagberg, the 21-year-old said he was able get his NT1 stable for the tricky conditions adding that traction rolls where not just costly in terms of time but also left you to continue with chunked tyres.  Still looking to fine tune his car he said he is working on consistency rather than outright speed.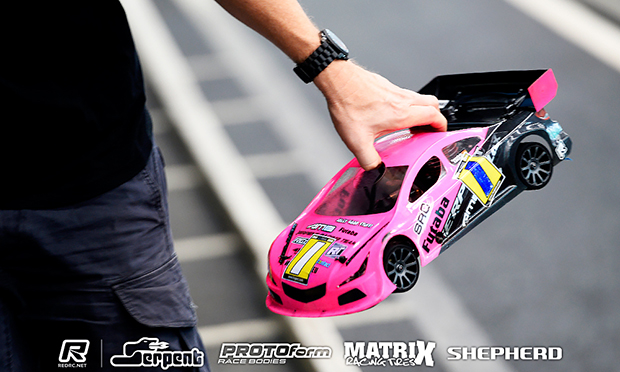 Having enjoyed a strong day yesterday when together with Serpent team-mate Alessio Mazzeo he completed a 1-2 at the top of the time sheets, Dominic Greiner said today was 'very difficult' as the traction was 'much different' and he found himself looking for steering, something they worked yesterday on trying to get rid of.  Admitting today he was not the fastest, the German said they are 'close' and believes over a full qualifier they are much more competitive.  His first time to the track, the ENS race winner said the biggest thing was to try and keep pace with the changing conditions which he added change ever 2-hours through the day.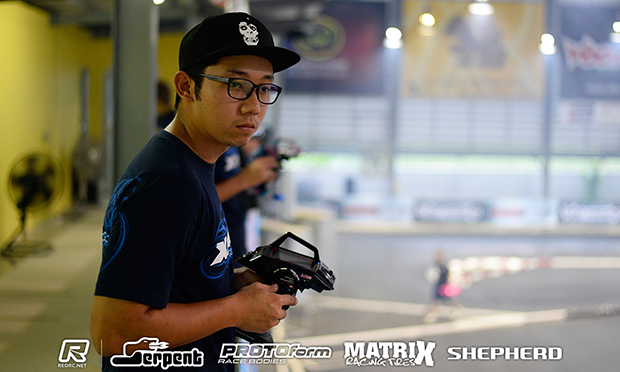 Setting the 9th fastest time behind Tadahiko Sahashi, Singapore driver Nicholas Lee said while the track had much higher grip than at the Warm-up race when he finished on the podium he had managed to find a set-up that made his Xray easy to drive.  Happy to leave his Novarossi powered NT1 as is for now, he feels it is driving that now needs improving saying he could improve on his consistency.  Behind Lee, Capricorn's Kyle Branson completed the Top 10.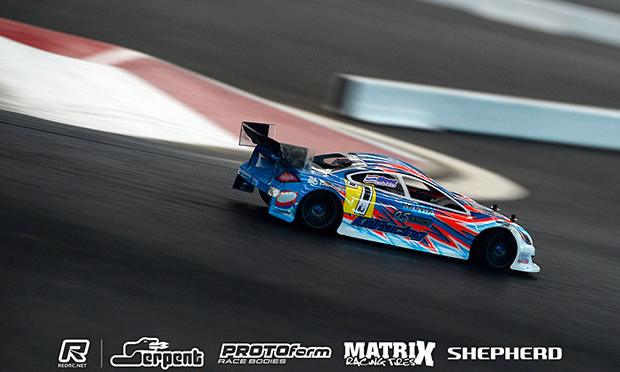 For defending World Champion Meen Vejrak it was a difficult day with the KM Racing driver posting only the 37th fastest lap time.  The Thai driver said he is struggling to find a good set-up adding there is 'still work to do' in getting his package competitive.  Describing his OS Speed powered HK-1 as having 'good stability but slow', he said even over a full qualifier, a final decision still yet to be made whether they will be 5 or 10-minute duration, he is off the pace of his rivals.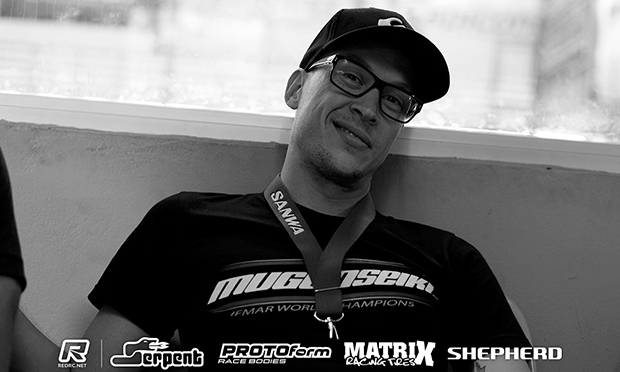 Posting the 22nd fastest time, European Champion Robert Pietsch said his day ended up 'getting solid having started out pretty bad'.  Running a heavily adapted MTX-6 chassis for the high traction which features zero caster, zero camber, 'a lot' of weight and specially made softer than 'normal' rollbars and springs, the 2010 World Championship Top Qualifier said a lot of work today was working on his driving as he had gone to 'zero confidence' as a result of all the traction rolls he suffered over the first three days.  Also trying a different bodyshell today, switching from Protoform's P37 to VRS-N he said this left him with no steering so he reverted back.  With the car now handling 'pretty OK' he said his focus is to try and make some fine adjustments to find more overall speed.
View our event image gallery here.

---