November 11, 2014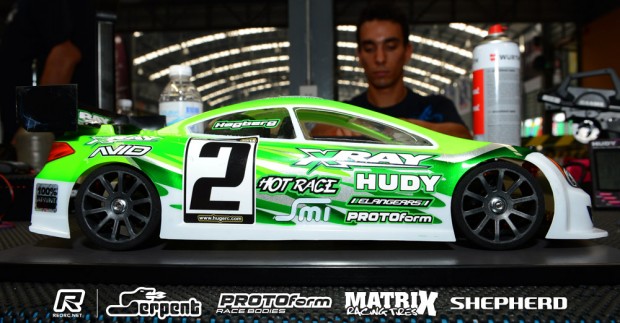 Chassis – Xray NT1 2014
Engine – Orcan RS
Fuel – Maxima
Tires (handout) – Matrix
Radio/Servo – Sanwa
Body – Protoform P37
Remarks – Factory Xray driver Alexander Hagberg is racing the standard NT1 2014 with a few option parts and the package is working very well with the Swede only one of 2 drivers to so far break into 13-second laps. Like all the racers here, trying to stop the car from traction rolling is the goal and to do so Alex has mounted the thicker 4mm chassis plate, has mounted 50 grams of weight in the front of the car and has put putty in the front diff. He is also running with very little caster and is using very soft electric touring car springs front and rear. In terms of body he has chosen the Protoform P37 and has opted to use the harder rear wing which makes the car stable thanks to the increased downforce it produces. An interesting part of the package concerns the engine, his Orcan RS mounted with a very low cooling head which lowers the car's centre of gravity yet doesn't effect cooling, back to back testing with this setup and a regular cooling head shows a big benefit in handling. Also on the car is a large capacity type of inline fuel filter which helps the tune of the engine and improves fuel consumption by making the engine-tune leaner quicker than without it.
Image Gallery

---