January 24, 2015
JConcepts have come to the Reedy race loaded with new products. First up is a new Silencer body for the B44.3, based off of the company's Yokomo body shell, it has been made for the reconfigured Associated 4wd. With the car running gear diffs throughout as well as the shorty pack the racers wanted a new different handling shell, and this new Finnisher was the result. Only completed just before the event, it is currently only being run by a select few factory racers.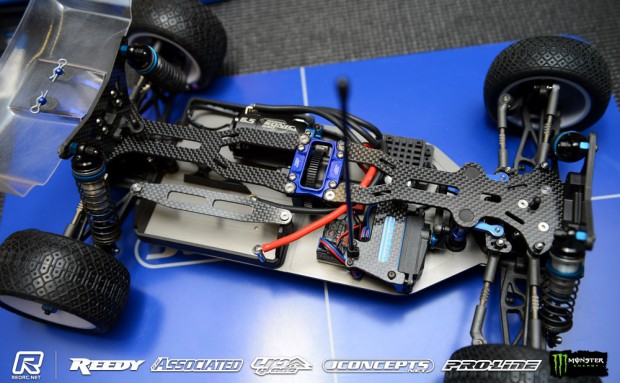 Also for the B44.3 is a new carbon set which includes the top deck, servo deck and battery hold down. With the Silencer body the antenna mount on the stock position is in the body's windshield so they moved the antenna mount to the top of the servo mount. From there they removed the antenna mount from the top deck and added slots to the plates for more flex. For the B5 there are new rear CVA bones made from spring steel to replace the standard steel versions which we are told rust up in the humid Florida weather. There is also a new rear ballstud mount from aluminium with an extra middle mounting hole in blue or black, new lightweight rear wing mounts with aluminium shims and aluminium steering plate and bellcranks.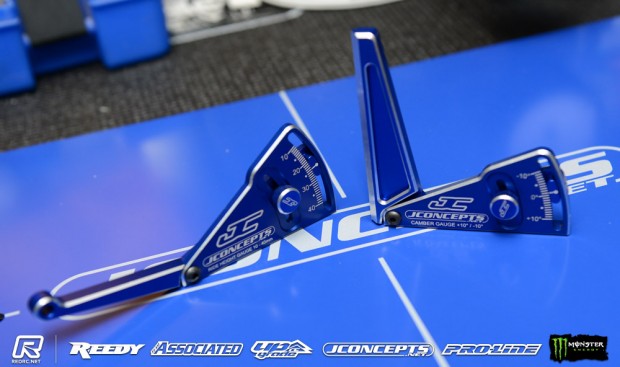 Also from JConcepts are a new line of setup tools in blue anodised aluminium for checking the car's camber setting and a second tool for measuring the car's ride height. Solid, nicely finished tools, they come supplied in a padded case. There is also a new Finnisher car stand, which is a gift for all racers here at the Reedy Race which features an all new shape and design and come supplied with foam pads to keep your car secure.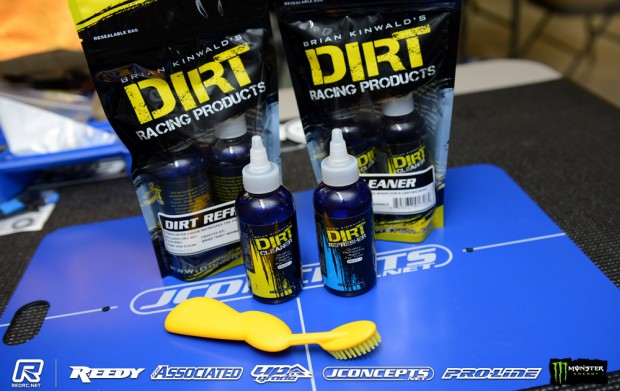 Finally a new brand from JConcepts, Dirt Racing Products is from team driver Brian Kinwald, and starting off will include both Dirt Refresher and Dirt Cleaner to clean the surface of your tires & makes them tacky and clean the beads of the tires respectively. There is also a large head 'toothbrush' for applying sauce to your tires.
Image Gallery

---