February 23, 2015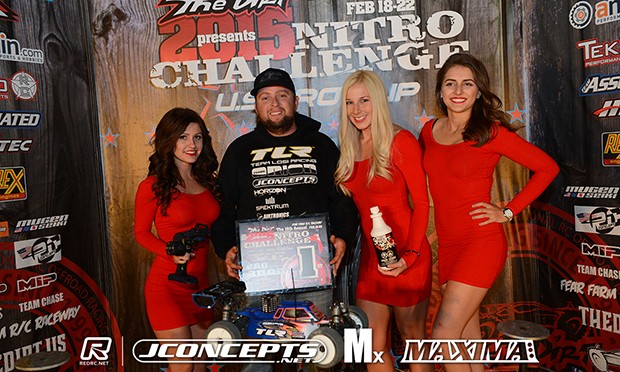 Ryan Maifield has won the big one at this year's 16th running of the Dirt Nitro Challenge.  The TLR driver would claim his 2nd buggy title at the Fear Farm but more significantly his first big nitro win for his new manufacturer when on the penultimate lap of the exciting 45-minute A-Main he got ahead of former team-mate Ryan Cavalieri.  A race that saw four different leaders, Maifield went to the front ahead of defending champion Ty Tessmann 4-minutes in until a mistake at the 10-minute mark would drop him to third.  His challenge then looked to be over as he fell further down the order to sixth.  A driver famed for his late charges, the Arizona ace never gave up and as a gusting wind added to the challenges of the tough track conditions in the closing stages, Maifield was there to capitalise to take his second major title of the new season having last month claimed his first ever Reedy Race of Champions win.  Unfortunately for the stars of last night's epic Truggy final Tessmann and new champion David Ronnefalk their races would hit trouble.  Holding a comfortable lead with just 8-minutes to go Tessmann would suffer a problem with his battery connector and losing over a minute in the pits fixing it the World Champion would be leaving with no titles this year finishing up 7th overall.  Trying to recover from a frantic start, Ronnefalk would twice run out of fuel after communication issues with his pit crew.  With Maifield and Cavalieri  separated by just 0.684, joining them on the podium would be the other of America's offroad establishment trio Jared Tebo.  Leading a total of close on 1/3 of the race, Dakotah Phend would just miss out the podium by half a second, the wind being the downfall to the 18-year-old's quest for a first DNC title.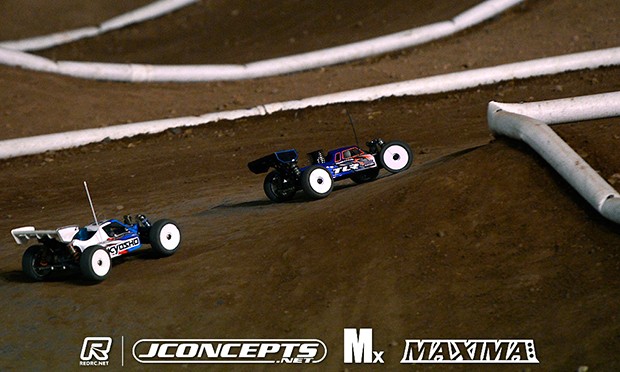 A home race for the Arizona ace with his victory proving a popular one, Maifield said 'to win buggy class was all the more sweeter after the bad luck of the World Championship'.  Describing the Main as 'a really fun race' he said he enjoyed his battles with both Tessmann and Tebo.  Making contact with Tessmann as they fought over the lead, he said 'I got into Ty but it was just racing and I let him go' back into position adding it was a 'bummer' the Canadian had a problem with his car.  Also describing TLR/Orion team-mate Phend as 'super fast', Maifield said when he dropped down the order he 'kept the head down' knowing anything can happy in 'these crazy ass races'.  Admitting that while luck 'sure didn't at the beginning, it fell (his) way at the end'.  Asked about the significance of his first big TLR nitro win, he said 'I stepped into a great progamme and that's why I wanted to work with them'.  Running JConcept's blue compound Diamond Bar tyres on his 8ight, he said going into the race the mileage from his Orion engine was 'questionable' but leaning it out 'quite a bit' he 'throttle drove it' allowing him to go 9-minutes between stops.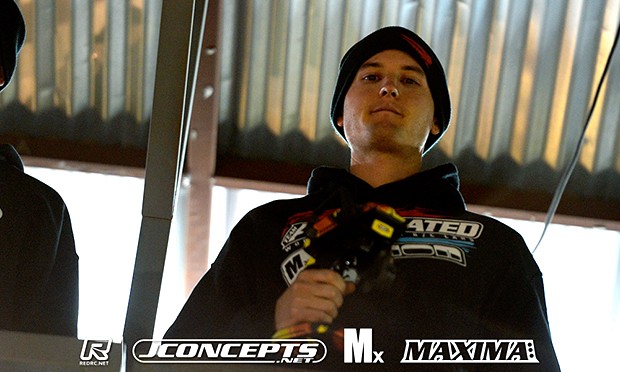 Cavalieri said the 'start was really aggressive' and he 'got shuffled around quite a bit' but once he settled-in the race went good for him.  A former champion, but never at the Fear Farm, the Associated driver said after moving to the front when Tessmann hit problems he tried to drive a conservative ending but the wind was 'gnarly' causing him to have a bobble that would drop him behind Maifield.  Trying to put pressure on Maifield he said his great rival 'didn't make that mistake' he needed to go back to the front.  Running AE's RC8 Prototype chassis and having made the switch to MX engines, he said the result is a good start to the new year .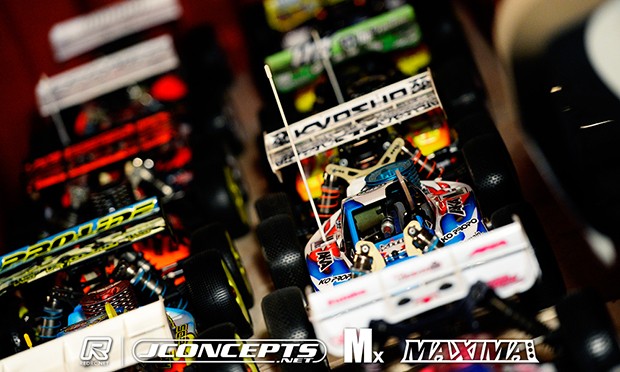 Double winner of the 2011 DNC held at the Nitro Pit, Tebo said he 'so badly wanted to get a podium' and overall he was very happy with the result having started out 9th on the grid.  Describing his new MX engine powered MP9 as feeling great in the final, he said 'a couple too many crashes' cost him a chance at challenging for the win.  Running AKA's super soft Grid Iron tyre, the Truggy Top Qualifier, who on Saturday night missed the podium, said they were great and that is what he should have run in Truggy.  Packing up after 5 long days at the track, Tebo said he was leaving Phoenix 'happy' having been able to fight for the win in all three classes.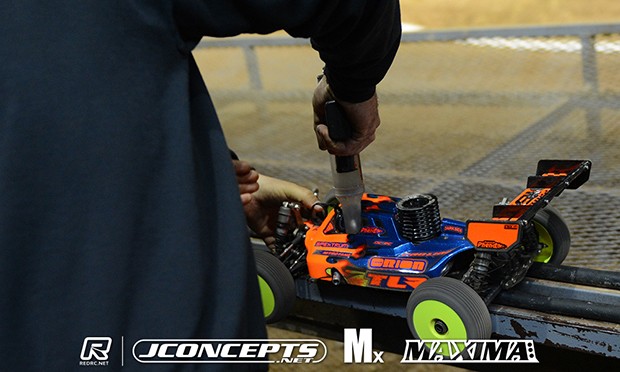 Having claimed podium finishes in all three Pro classes at last year's DNC, there would be no podium celebrations this time round for Phend.  The 18-year-old, who had an extra stop over his rivals as he ran  7:30 fuel intervals, said the race started off well as he made a good start and was part of the group of 8 cars that where covered by 5-seconds after 15-minutes of racing.  With himself and Tessmann eventually able to pull clear, when the latter hit trouble it left him with a few seconds lead over Cavalieri.  However then the wind arrived and catching his 8ight badly a few times he would relinquish his position.  Describing his car which was running on Pro-Line M3 Lockdowns as 'awesome', despite no podium finish he said he was happy with how he drove as he did everything he could and came close to pulling off the win.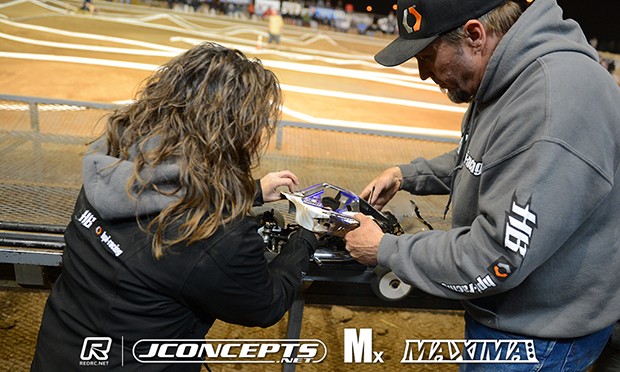 A driver whom has become expected to dominate at least one nitro class at Joey 'The Dirt' Christensen's event, Tessmann said things were a little sketchy at the start.  With the track breaking up there were holes coming onto the straight which he couldn't see and he didn't know were to go to avoid them causing his D815 to get out of shape numerous times one of the moments handing Maifield his earlier lead.  After getting passed Phend, Tessmann was about to pull away slightly with 'the race going as expected' before the car unplugged itself. Rejoining after his issue he would finish 7th overall.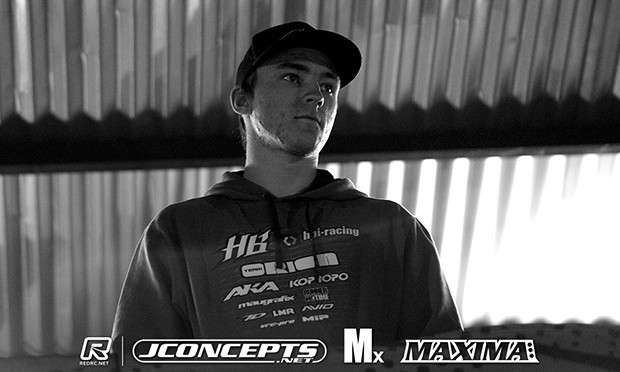 The first European to win a nitro title at the DNC,  Ronnefalk said it was 'probably the worst start (he) had ever seen'.  Describing it as 'a big mess', the Swede felt he came off worst out of it dropping from 4th on the grid to the tail end of the 15 car field.  Unfortunately this would be the least of his problems in the race as the call for his first stop was made just as he passed the entry to pitlane and the extra lap left him to run dry.  Posting the fastest lap of the final, the 2 time European Champion would run out of fuel again on his next stop.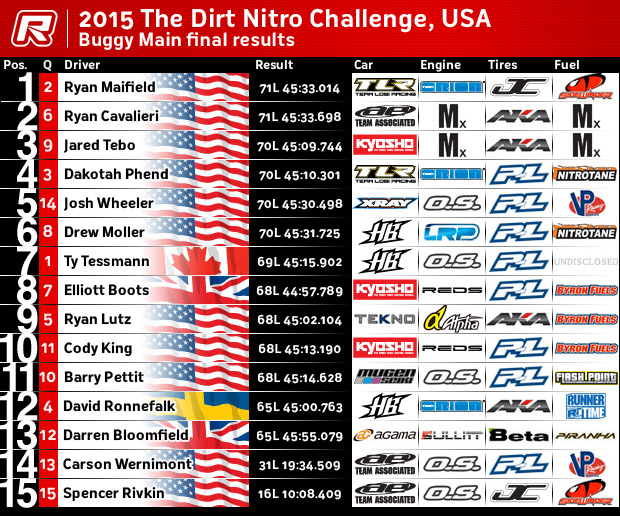 View the event image gallery here.

---