July 9, 2015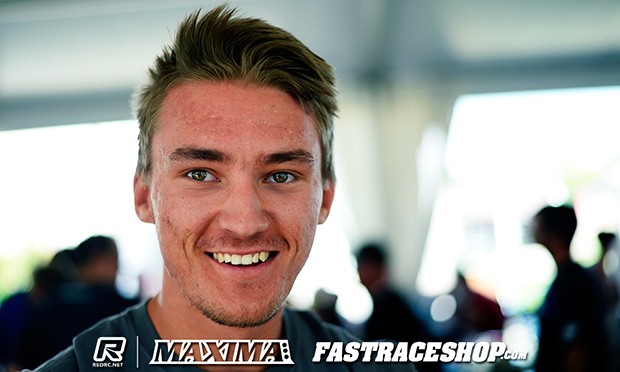 Despite getting spun around by a backmarker, David Ronnefalk set the pace in the second round of qualifying at the European Championships in Italy.  Such was the defending champions pace, even with losing 3-seconds as a consequence of the contact the HB driver still topped the round by over a second from newly crowned Euro B Champion Riccardo Berton.  After struggling in Q1,  a better set-up would help Xray's Martin Bayer to complete the Top 3 just ahead of Davide Ongaro.  Having topped the opening qualifier, late mistakes while on a potential TQ run would leave Elliott Boots sixth fastest just behind Robert Batlle who also made mistakes.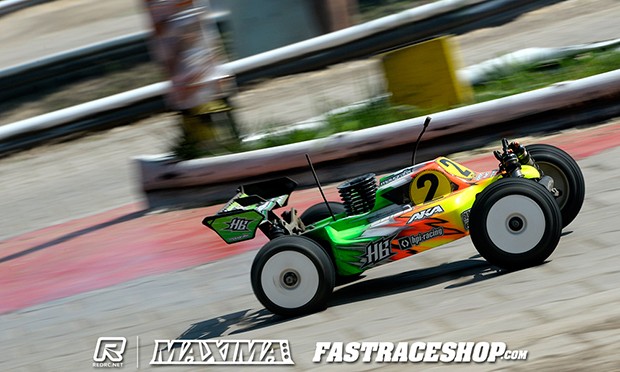 Commenting on the incident, Ronnefalk said 'luckily I still had enough in hand to take the TQ'.  Setting the fastest lap of the round on his last lap with a 37.506, his forced spin happened on the penultimate lap. After two driver errors in Q1, the Swede said he 'just tried to stay out of mistakes' and his Q2 approach was going well until when expecting the backmarker to let him through he didn't before then blocking and spinning him out at the next corner.  Running his Orion powered D815 the same as in Q1, the 19-year-old said while the track was faster than in the morning he was still very comfortable with his car.  With a first and a third, he said for the days final round he would go safe and if that works out he might then try different things in tomorrow's remaining two heats.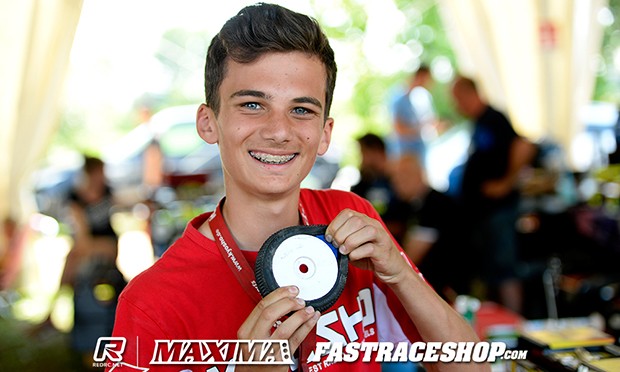 Suffering a little with his front left tyre becoming partly unglued, Berton said it wasn't a huge problem adding he was actually lucky it didn't completely part company with the rim.  Staying with everything the same as Q1, the Italian said the extra temperature meant the Pro-Line Blockade X2 tyres ran better this time round.  'A clean round', the teenager said for Q3 he will switch to Diamond Back tyres and feels there is more time to come from both the car and the driver.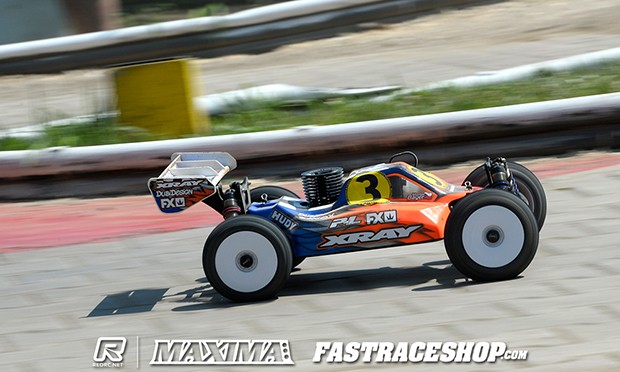 'Solid run and I needed it after my 14th in Round 1', that was Bayer's summary of his strong Q2 performance. Changing the set-up on his buggy 'a lot' for the second qualifier, the factory Xray driver said his XB8 was 'good now'.  Changing the chassis flex, pivot balls and diff oils, he said it was now generating more traction and was easier to drive.  While happy with his car he said now the track is becoming 'very sketchy' to drive and in some corners where the stones are starting to appear its very difficult to drive.  Pleased he has found a good basic set-up he said for Q3 he now just needed to adjust small details.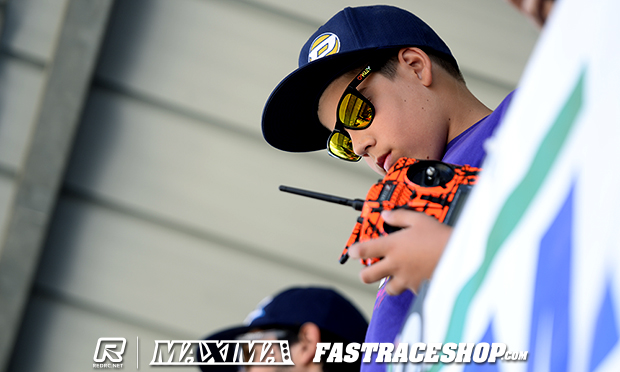 Ongaro was 'very happy with fourth'.  The up & coming talent said his Mugen is 'working really well' and there s no need to change anything and his focus for Q3 needs to be to cut out mistakes.  Catching the piping which flipped his MBX-7R requiring it to be marshalled he said without this everything is working 'very good'.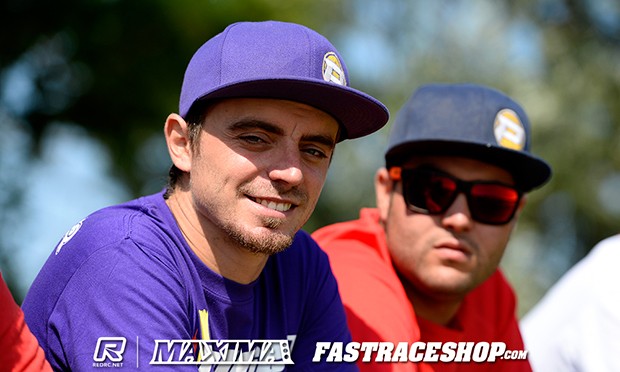 Batlle said his Mugen was good but two mistakes of his own doing would cost him up to 6-seconds and leave him 5th for the round.  Fitting a new Ultimate engine to his MBX-7R, he said the new unit had more power and as he adjusted to it it caught him out when he over jumped causing him to hit the next jump.  On the second mistake he said he couldn't really explain what caused it which was over a jump.  Taking account of the time lost from the mistakes he said he knows he has the pace to match Ronnefalk and he will continue with everything the same for the day's final run.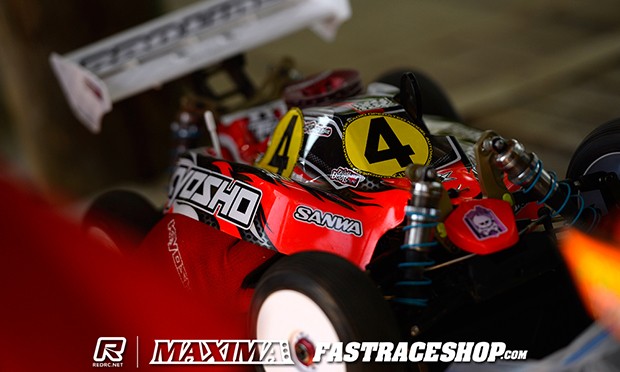 Completing the Top 6, Boots said his run was 'going alright but then (he) had a few mistakes at the end'.  Pretty much matching Ronnefalk's outright pace posting a best lap of 37.566, the Kyosho driver said his package is working really well and its all about cutting out the mistakes.  Set to again leave his Reds Racing powered MP9 unchanged for the third round he said 'no one is ballistic fast that they can make two mistakes and still TQ and his aim was for 'no mistakes hopefully in the next one'.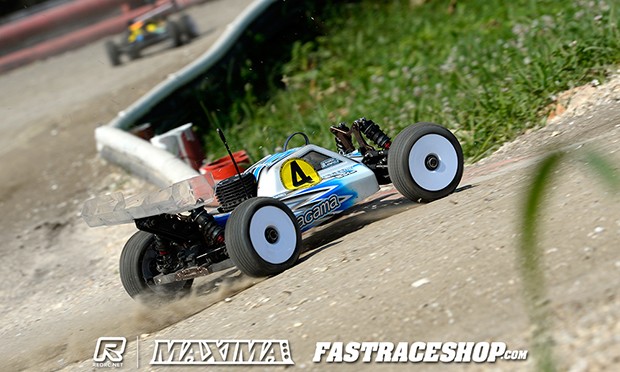 Setting the seventh fastest time was former champion Darren Bloomfield.  The Agama driver said he came off the track disappointed with his performance but it turned it to have been 'better than he thought'.  With his car a 'little twitchy' he said he was disappointed he didn't adapt his driving more and drive smoother.  Moving the front shocks to the outside hole on the front arms for Q3, the British driver said this should make the car easier to drive and help with forward momentum.  Planning to 'chill out' a little in terms of his driving he said the reason for this is that the track is getting 'rutty' and you can't throw the car into corners as its a big risk.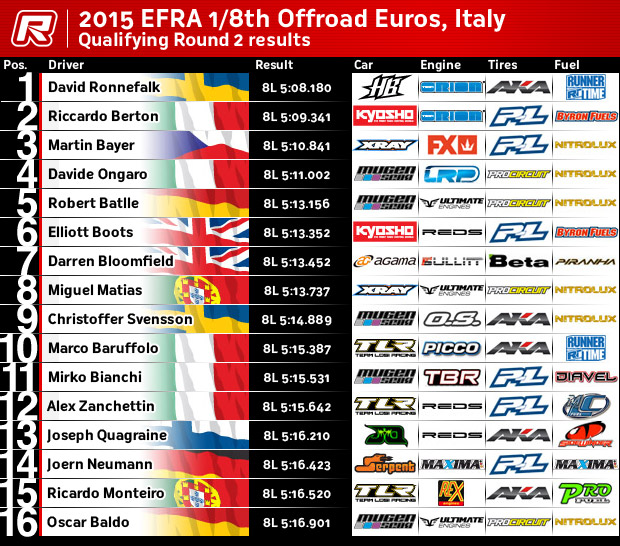 View the complete results here.
View our event image gallery here.

---