October 6, 2015
His team-manager Brent Theilke has been using the hashtag #dreamsdocometrue to highlight the progress of his young driver's first World Championship and the use of wording couldn't have turned out to be more true with Spencer Rikvin your new 1:10 2WD World Champion. The 16-year-old claimed the sport's greatest accolade by backing up his A2 win with an even more impressive drive to victory in A3.  Going up for the title against two of the sport's biggest names, Jared Tebo and Ryan Cavalieri, what was special about the performance in Japan was how the new star of offroad dealt with the pressure of the occasion like water off a duck's back.  Behind Rivkin, outgoing champion Tebo would claim second overall with Cavalieri completing the podium at the Yatabe Arena.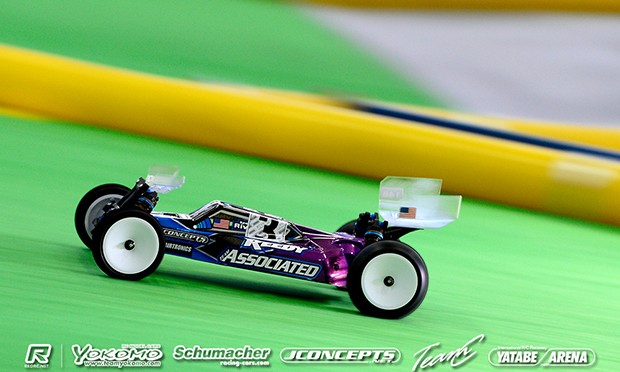 'I'm really speechless' said a tearful Rivkin.  'I stayed patient behind Jared justing following him around.  He had a crash and I never looked back'. Asked what was going through his mind as he completed his final few laps, he said 'I didn't feel any pressure, I was just having fun.  It might mean more because it has Worlds in the title but to me it was just like driving any other race'.  Thanking his dad Ronnie, Thielke, and Associated designer Kody Numedahl for their support at the event, he said there were two people without whom he wouldn't have ever got the opportunity to have reached the level where attending a World Championship would be possible those being Humpty Helms and Ryan Maifeld.  'Without Humpty I wouldn't be racing and without Maifield I wouldn't have got to take it to the next level'.  Receiving congratulations on his win from Maifield, the offroad ace having mentored the youngster, Rikvin was very emotional saying 'I couldn't have done it without you Ryan'.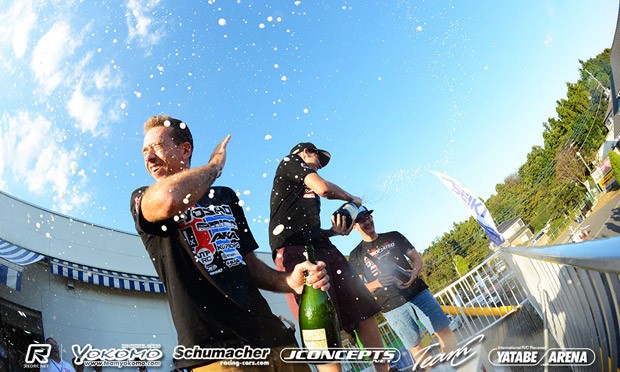 Finishing A3 third but getting second overall on tie break thanks to his A1 win, Tebo said, 'It was going good, I just made two very costly mistakes. I did my best'. This statement backed up by him being the only driver to run a 16-second lap over the three mains. Keeping his Kyosho at the front for 9 laps in A3 before Rivkin took the lead, the Top Qualifier said 'I'm disappointed not to win but I got the TQ and 2nd and I can be proud of that, I left it all out on the track'. He added 'At the Warm-up I only qualified 20th so we made a lot of progress and I'm excited about getting 4WD started – the 4WD Worlds starting on Thursday.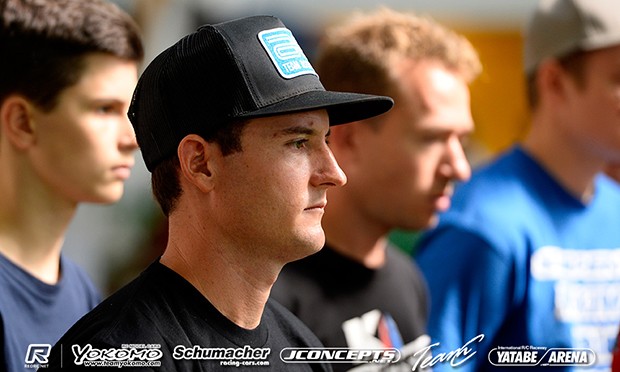 Saying he was 'surprised it ended up an all American podium considering our performances at the EOS were pretty shit', the Euro Offroad Series running carpet tracks similar to that used for this Worlds, it was clear from Cavalieri he was here for more than a podium finish.  A former 2WD champion and 3-time 4WD World Champion, and proud of the fact he won his first title at a younger age than team-mate Rivkin, he said in A3 'I made another great start but couldn't get into the groove'.  Eventually finding his rhythm, the Team Associated driver said by then he 'couldn't close the gap'.  Asked for his thoughts going into 4WD he replied 'we'll regroup and start over' adding we done a lot of work with the car 'so lets see what we get'.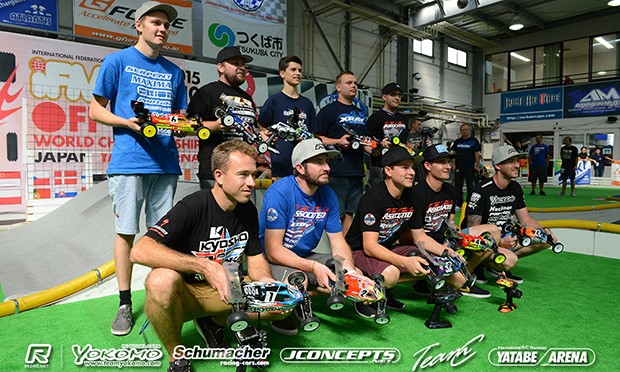 Outside of the podium Neil Cragg would get fourth in A3 to finish in that position overall ahead of fellow European Joern Neumann.  The only TLR in the final, Ryan Maifield would, after a strong showing in A1, DNF A3 leaving the 2013 podium finisher to complete the overall Top 6 winning out on a tie break with Xray's Martin Bayer.  The other of the Chico podium finisher, where he finished runner-up, Lee Martin wouldn't even register a lap in A3 breaking on the opening lap leaving the European Champion to finish 10th overall behind Kody Numedahl and Michal Orlowski.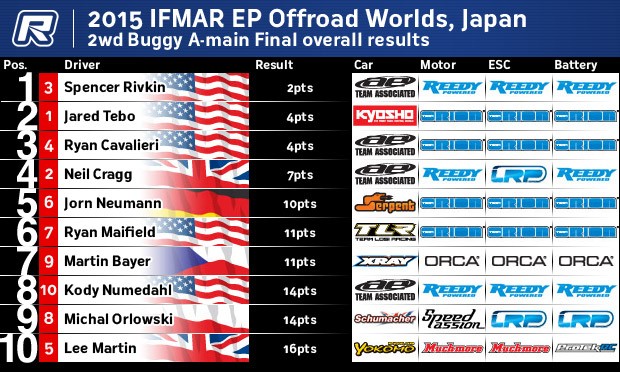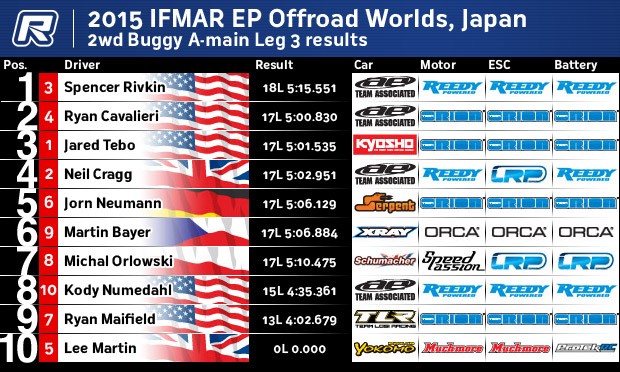 View the complete final overall standings here (PDF).
View our full event image gallery here.
---