October 8, 2015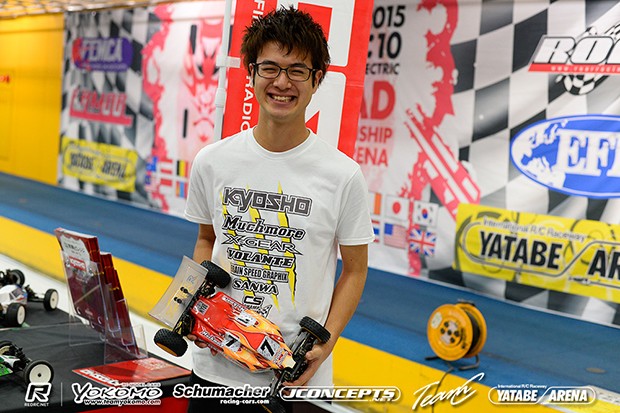 Yusuke Sugiura is the top seed for qualifying at the 1:10 4WD Offroad World Championships in Japan.  The Kyosho driver set a new fastest 3-consecutive laps time in the second of the controlled practices to secure the No.1 in the top heat for qualifying tomorrow at the Yatabe Arena.  Behind the Japanese driver European drivers Bruno Coelho and Michal Orlowski would also improve on their CP1 times to end 4WD Day 1 2nd and 3rd fastest respectively.  Fastest in the first round, Jared Tebo failed to improve second time of asking and will carry the No.4 for qualifying followed by Martin Bayer and Ryan Cavalieri.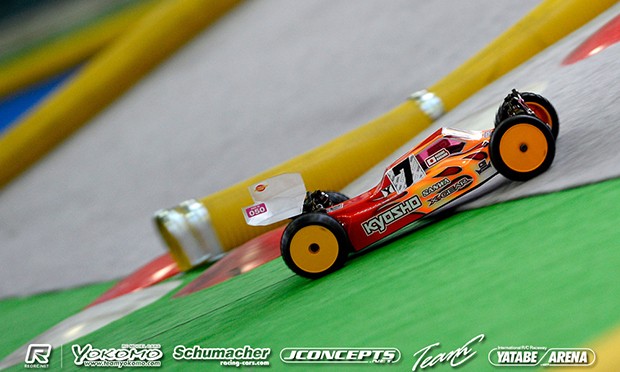 Declaring himself 'happy' to end the day fastest, Sugiura said he 'still made mistakes' adding he has 'got to be much better for qualifying tomorrow'.  Describing his Muchmore powered Lazer ZX6 as 'very fast', the 19-year-old former Japanese National Champion and Warm-up podium finisher said it is 'completely down to the driver now'.  Expecting the track to change over four rounds of qualifying on tomorrow's schedule, the fifth & final round running Saturday morning, he said he prefers the lower grip of the morning but said his car is good in both conditions.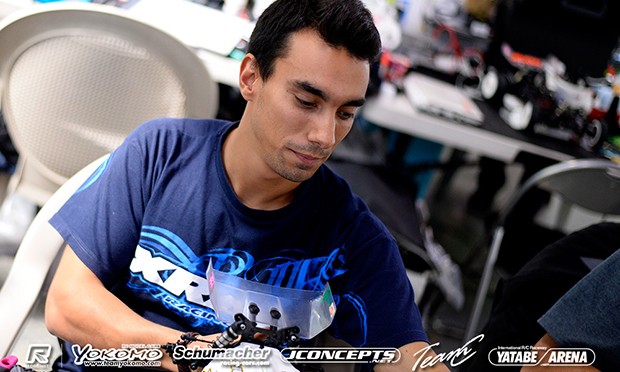 Making his 1:10 Offroad Worlds debut, Coelho said he didn't just focus on 3-laps but his 5-minutes pace in the last practice.  Making two mistakes as he 'over pushed' he said 'otherwise (he) was very happy with the consistency of (his) lap times'.  Running new tyres on his LRP powered XB4 for CP2, the better known onroad star said his buggy worked really good which surprised him as he didn't expect this on the fresh tyres.  Pleased to get in he top group for qualifying he thinks this should be good but admitted '3-laps means nothing' and its going to be 'super difficult' to stay there over 5-minutes'.  Bayer would suffer a motor issue in the final practice, but the Czech driver who was second fastest in CP1 is confident that with a new motor fitted he has a good car for qualifying.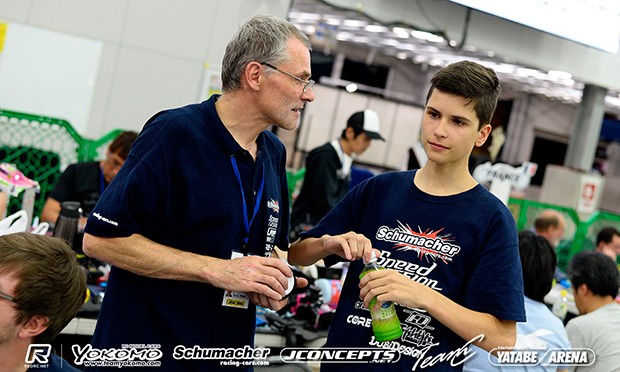 Ending up only 0.065 of a second off Sugiura, Orlowski was pleased with the result but said it didn't come easy.  Having struggled with a twitchy car in CP1, ending up 7th, he had put this down to his Schumacher being on new tyres.  Running them again in CP2, he said the car was no better and he had to reduce the steering EPA in the warm-up.  Taking the approach to drive smoother he said that worked out good but at the same time he got unlucky as on one of his counting three laps he had to avoid a crashed car costing him a few tenths.  Planning to change his wheelbase for the practice run that opens tomorrow's qualifying day he said hopefully that settles his buggy, adding a good & long night of sleep should also help with the 14-year-old feeling 'super tired'.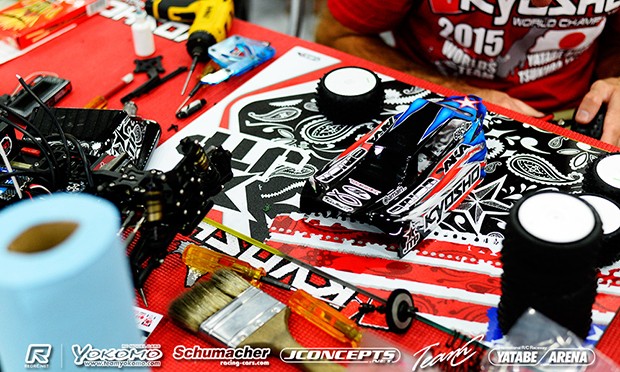 Asked if he had sorted his ongoing brake issues Tebo replied 'not yet' adding 'we'll get it figured out for tomorrow'.  The Kyosho driver said 'the car is really good so we'll be all good'.  Kyosho team-mate and a driver many expected would have a home advantage on the first Worlds to be run on astro turf, Touring Car World Champion Naoto Matsukura would fail to better his CP1 time scraping into the top heat along with 1:8 World Champion Ty Tessmann who posted his first Top 10 time in the final practice.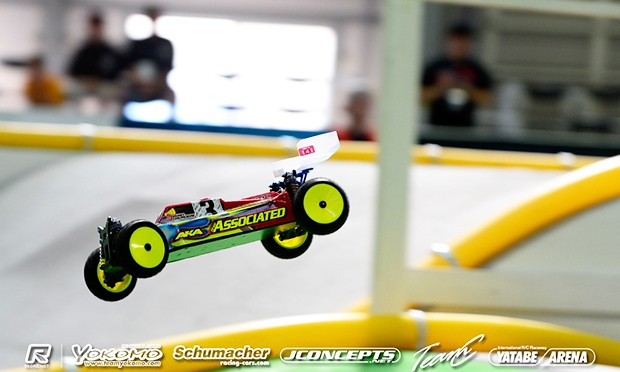 Another driver to count his opening time, Ryan Cavalieri completed the Top 6.  The Associated driver said a small adjustment to the breakthrough set-up he used in CP1 had made his Orion powered B44.3 'too conservative to drive and he will go back' for tomorrow. Feeling he is in the mix over 5-minutes he said 'its going to be interesting for sure but we should there'.  After the high of being crowned 2WD World Champion on Tuesday, Spencer Rivkin suffered a challenging first day of 4WD.  The 16-year-old could only manage 37th, a time set in CP1 when he broke with 2-minutes remaining, and put the poor performance down to just not having found a set-up yet.  Getting closer to Cavalieri's setting he said 'we'll figure it out' but lining up in the fourth fastest heat traffic could prove an issue in qualifying. Reigning champion Steven Hartson didn't fare much better ending the up 28th.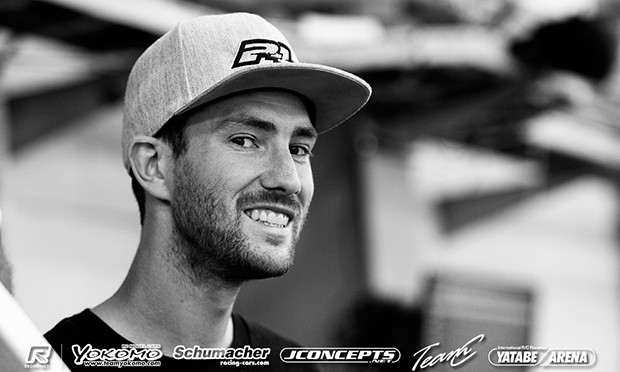 For home manufacturer and Yatabe Arena owners Yokomo, Lee Martin would finish the seeding 7th ahead of top HB driver and fellow European David Ronnefalk.  The Euro Offroad Series Champion said his last run was 'not too bad' and he was on a 5-minute run as '3-laps count for nothing'.  Feeling he 'should be OK' in terms of pace his plan is to 'try and keep it on its wheels'.  The British driver however expects 'a bit of carnage', continuing 'its so fast there are going to be crashes and in 4WD crashes are big' plus there are a few mad men in there too' not being specific about which drivers he was referring to.  Just missing out on a Top 10 time, Ryan Maifield was best TLR driver ending up 11th.
View the complete ranking list after 2 rounds of controlled practice here (PDF).
View our full event image gallery here.
---