October 5, 2015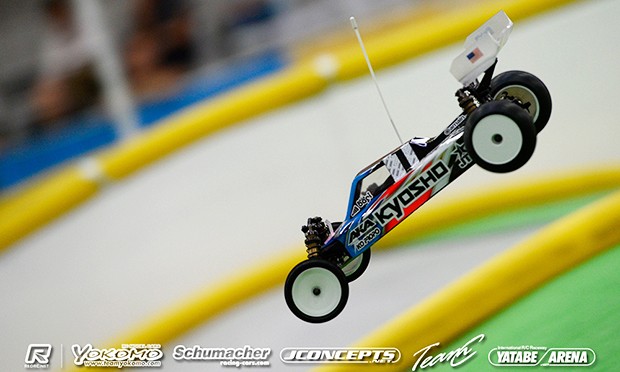 Jared Tebo has posted his second TQ run of the IFMAR World Championships but Q2 pace setter Neil Cragg made the reigning champion work hard for it, a late roll over by the former champion allowing the American top the 3rd & fastest qualifier so far by 1.2 seconds.  Behind them Cavalieri would post his first Top 3 time with the 2011 Champion becoming only the 3rd driver to run 18-lap of the Yatabe Arena circuit.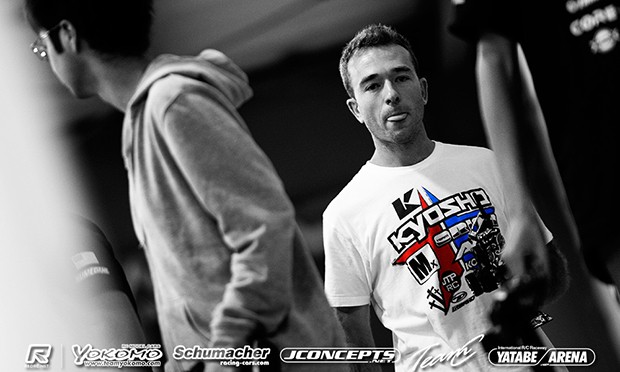 'Me and Neil were going at it hard' was how Tebo summed up the Q3 dual.  Having suffered a number of crashes in Q2 which left him annoyed with his driving he added, 'I'm happy I was able to pull it back together'.  Happier with his driving he was 'happier with (his) driving' pointing out that he was more accurate with his lines in the centre jump section.  Describing his Kyosho as 'great' saying it 'felt comfortable' he would post the only 16-second lap of the astro turf track. With both himself and Neil having 'the same pace' he said he had some 'little bobbles' and it was only Cragg's 'big one at the end' that separated them.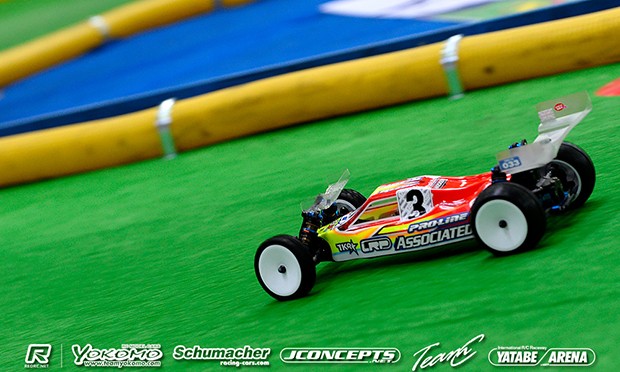 'I couldn't have done much more' was Cragg's reaction.  Driving at '105%', he said 'fair play to Tebo, I put him under a bit of pressure and he dealt with it'.  Asked about his roll at the end of the straight on the penultimate lap, he replied 'I turned in a little too tight and clipped the dots'.  Locked into the A-Main, he said his focus now is to ensure he starts in the Top 3 saying his car is 'pretty dialled' so its down to him.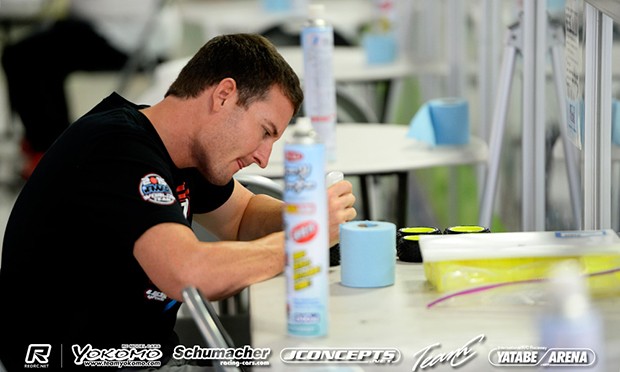 Cavalieri was pleased with his performance saying his 'pace is getting faster'.  The Associated driver feels there is more to come from his driving adding he needs to work on the section after the table top as on the following jumps he is landing on the front end which is unsettling his B5M.  With everywhere else good, he hopes to join the mix with Tebo and team-mate Cragg.
Locking himself into the A-Main on his World Championship debut with a P4 in Q3, Spencer Rivkin was clearly pleased with his impressive achievement.  Commenting on his latest run, he said 'I kind of made a slow start' but picked up towards the end as his senior team-mate Cavalieri started to catch him up.  Pushing a little too hard he would have a roll on the last lap allowing Cavalieri to deny him a trio of Top 3 runs.  Saying he knows he can do better than 4th he wants to start his first Worlds final in the Top 3 but said having come to the event with a conservative programme he will continue that approach for the remaining two qualifiers.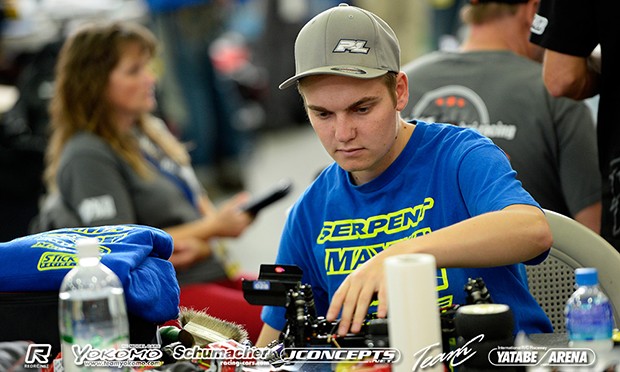 Securing his first Top 10 run with a P5, Joern Neumann said the main problem in the opening two rounds was 'too many crashes'. While he still had mistakes in Q3, he said changing to a harder front spring on his Serpent meant his car was easier to drive and the faster lap times contributed to the result.  The German plans to leave his car unchanged for today's final qualifier and just work on eliminating the mistakes.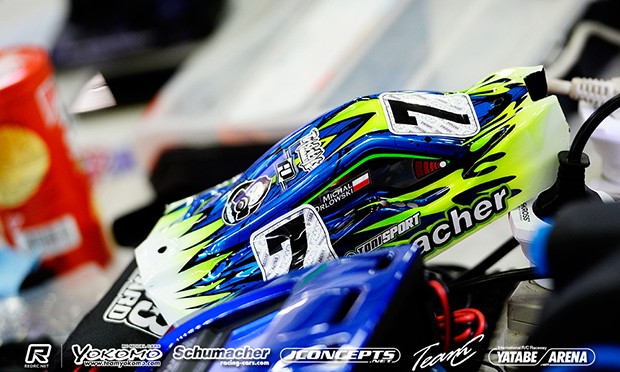 Completing the Top 6 was Michal Orlowski.  After an impressive P3 in Q1, the factory Schumacher driver had a difficult Q2.  Only changing to a new set of tyres on his KF2, the 14-year-old said for some reason this caused it to jump strange leading to too many mistakes.  Adding weight and an extra centre piece to the rear wing he said it cured the issue and he was 'pretty happy' to put in a clean run.  Describing the car as easy to drive but lazy he will remove the weight for Q4.  Behind the Polish star fellow European's Martin Bayer and Lee Martin rounded out the Top 8 ahead of Kyle McBride and Ryan Maifield.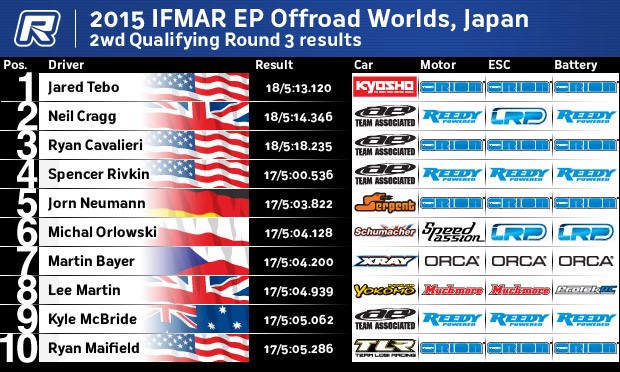 View the overall standings after 3 rounds here (PDF).
View our full event image gallery here.
---