January 9, 2016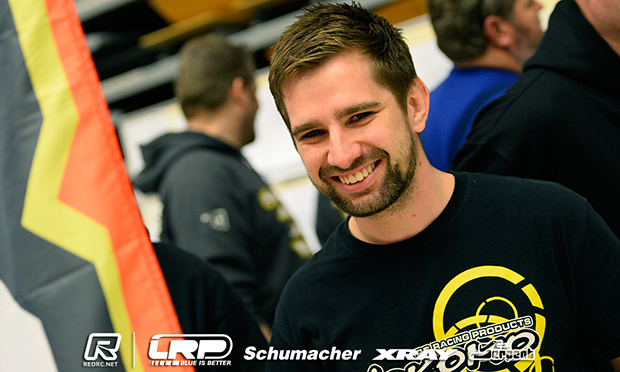 Former Champion Tom Cockerill finally came good in the third round of 2WD Buggy Qualifying at the DHI Cup, the Yokomo driver denying another former Champion, Joern Neumann, his first TQ run of the event on the final lap. Having taken both qualifiers at the Odense event yesterday, Michal Orlowski looked like he was about to seal the overall TQ early but a last lap error allowed Neumann to jump to the top of the timing screen.  It was to be short lived however as Cockerill, who started from the back of the 10-car heat after a tough first day of qualifying, went fastest by 0.081 of a second.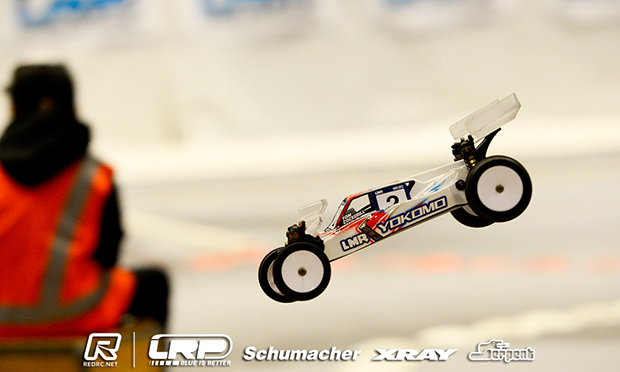 Commenting on his TQ run, which importantly was a new fastest time, Cockerill said 'I texted tech support and after being told off about my driving got some set-up suggestions'.  The tech support he was referring to was Yokomo lead driver Lee Martin whose nitro commitments has him racing in Italy this weekend.  Switching to a flat front arm, adding more caster and rebuilding the shocks on his YZ-2, Cockerill said the changes gave the car a little more steering with it now 'tucking in nicer' into the corner at the end of the straight.  The only driver who can deny Orlowski his first overall TQ at the DHI Cup, Cockerill said the only change he will make for the decider is change to a new but already scrubbed-in set of the handout Schumacher tyres.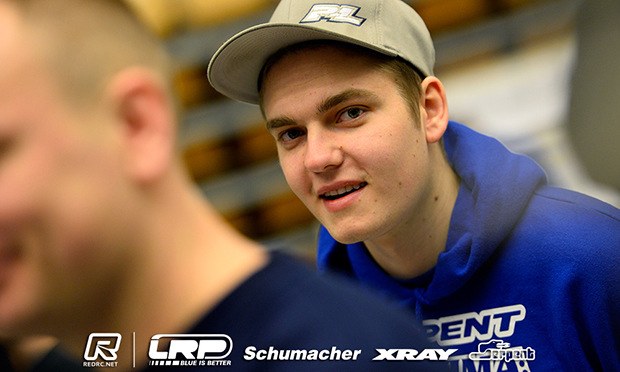 'Car was pretty good', was how Neumann summed up Q3.  The Serpent driver, who is running a modified 4WD buggy in 2WD, said for the first minute and a half he was quicker than Orlowski but the Pole was faster in the middle of the heat.  Only changing to a new set of tyres for the qualifier he said this was a slight improvement but to try and get his SX4 more consistent for Q4 he will run a heavier diff oil.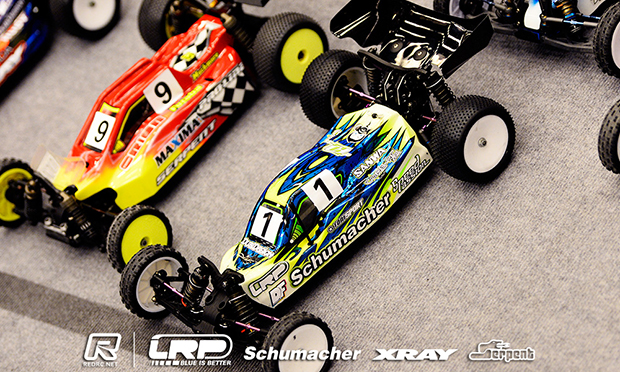 Running tyres for a third time, Orlowski said he knew from the warm-up laps that it was going to be a struggle as his Schumacher was sliding around on the past their best tyres.  After a mistake at the first corner on the opening lap at the table top, the 14-year-old said he 'just pushed as hard as (he) could' and setting the fastest lap it all looked to be working out until the last lap.  Making a mistake at the table top, he said as he tried to recover he caught at dot and flipped his KF2 SE.  Losing over one & a half seconds, he would drop to third just 2/10ths off Cockerill's TQ pace. Behind Orlowski, Xray's Martin Bayer would get a P4 followed by Yokomo driver Frederik Hovgaard with David Hassel completing the Top 6.
View the event image gallery here.

---