February 19, 2016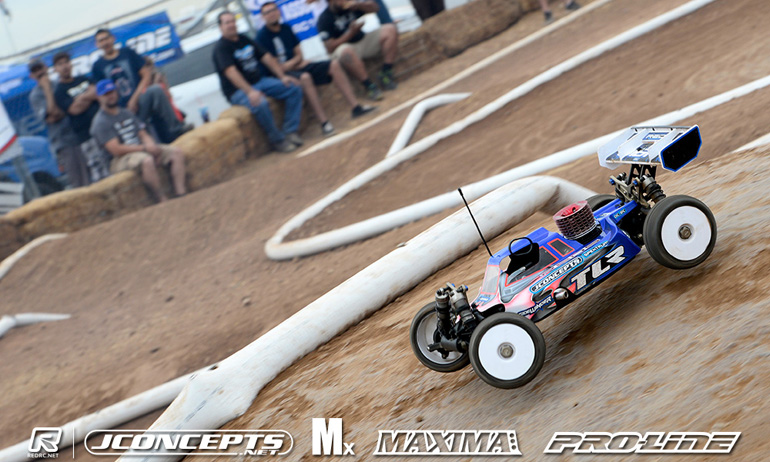 Reigning Dirt Nitro Challenge Champion Ryan Maifield got his quest to retain his buggy title off to a good start this morning in Arizona as he topped the opening qualifier.  The 3-time champion lead a TLR 1,2 from team-mate Dakotah Phend, the pair separated by 1.5 seconds.  Having enjoyed a successful day at the Fear Farm yesterday when he TQ'd both Truggy and eBuggy, Maifield took the first of the three qualifiers after a late mistake from Team Associated's Spencer Rivkin, while behind the TLRs, HB's David Ronnefalk was best of the rest with the 3rd fastest time. Following Rivkin's costly 8-second last lap crash which dropped him to 6th behind Ty Tessmann, Ryan Cavalieri would be top Team Associated in 4th.
'I don't think its the fastest car out there but I knew what it could do', was Maifield's reaction to his TQ run.  The Arizona driver added 'I tried to push in the middle but it wasn't safe so I backed it down. Spencer drove good and I was happen to settle for 2nd.  When he made his mistake I just made sure to bring it home safe over the last lap'.  Describing track conditions as 'super gnarly', he said, 'its probably the hardest track I have driven on'.  Running on JConcept's Triple D tyre, he said for Q2 he might make some small adjustments to his Reds Racing powered 8ight 4.0 to 'keep up with the track' adding 'it is (the track) going to get more interesting as weekend goes on'.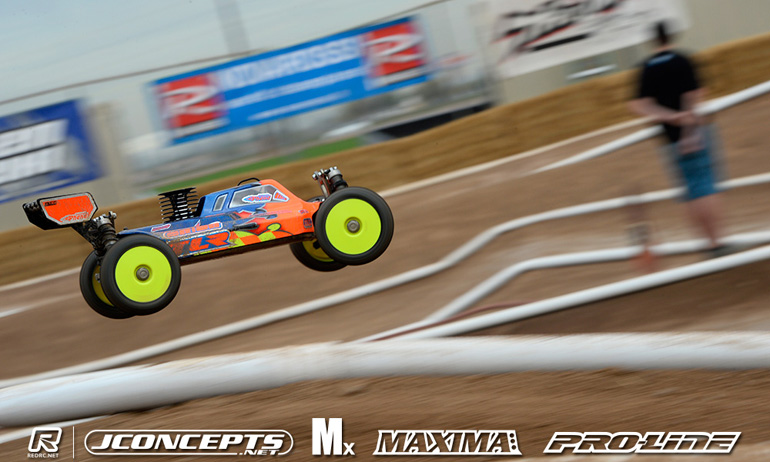 'It was a good start' was how Phend summed up his opening run.  Running in the second fastest heat, he said 'I went out there focused on driving smooth and putting in consistent laps and I just had one bobble'.  Making 'subtle changes' to his Orion powered 8ight 4.0 he said they worked well adding 'everyone is on a similar pace and its down to who is having no crashes'.  Like Maifield he is finding the track is 'very tricky' saying the 'square edges (of the surface) throw (the buggy) all over the place'.  'Pretty happy for the most part' with his buggy set-up the 19-year-old might make some further small changes for Q2.  In terms of tyres, running on Pro-Line's X3 Holeshots he said 'they were a little too hard at the beginning but this helped (the buggy) to safely slide over bumps while still having good acceleration'.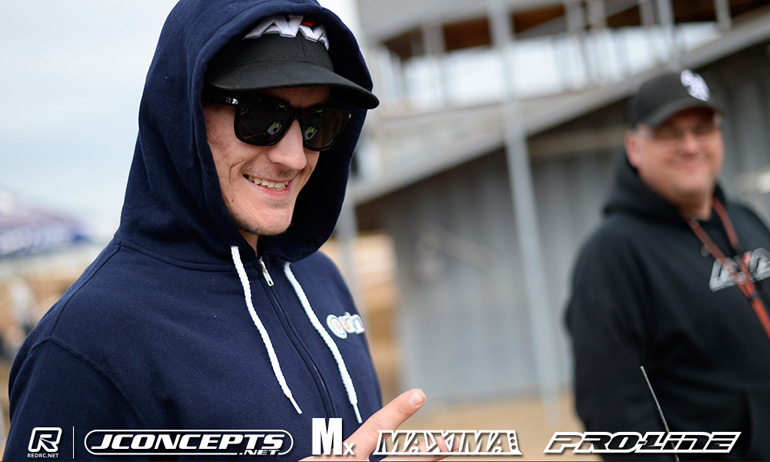 Ronnefalk said the qualifier 'started out really good' as he ran behind Rivkin and they 'paced each other' until he touched a pipe and had a rollover. Later the Kyosho driver, who posted the fastest lap, would suffer a spin through the back section feeling both incidents cost him around 4-seconds and without this he would have been close with Maifield.  Running super soft AKA Grid Irons on his D815, the Swede said 'everything felt good' but with the track now 'pretty bumpy' he will change his shock package for the next qualifier.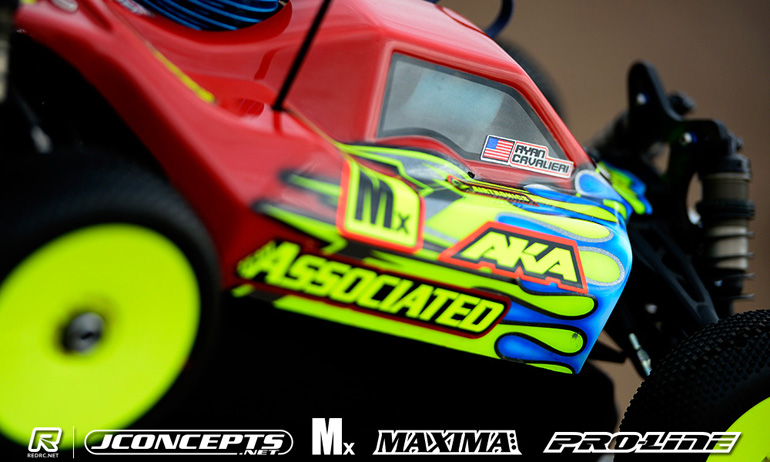 'It was alright, a safe run' was Cavalieri's view of Q1.  The former champion said the key to his run was he 'didn't have any real mistakes'.  'A little slow at the beginning', the Californian said he 'picked up the pace' adding making no mistakes was the 'big positive' of the qualifier for him.  Team-mate Kody Numedahl would post the 7th fastest time, the Associated designer also putting his result down to 'just no wrecks'.  Describing his RC8B3 as 'a little uncomfortable' due to the 'gnarly' track conditions, he felt he had 'a little too much power' and he will 'tone it down a bit' for Q2.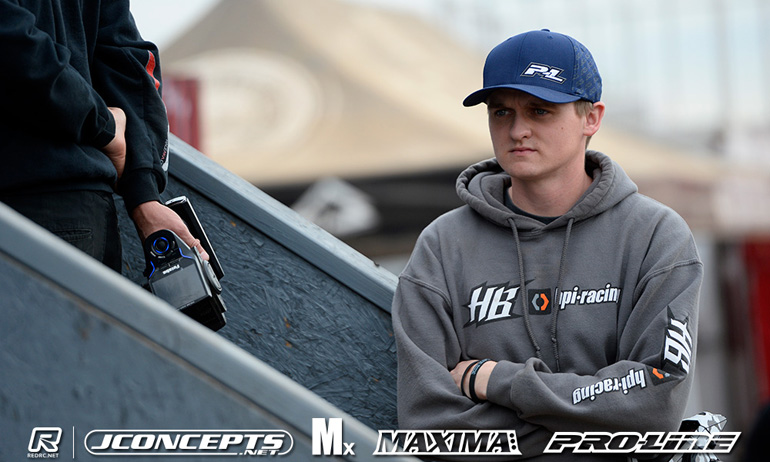 The DNC's most winning driver, Tessmann said he made a wrong tyre choice.  Running Pro-Line X3 Blockade's on his OS powered D815, he said they were 'not very good' and 'slow' and he 'tried to drive around' but had 'a mistake on (his) own'.  Then on the penultimate lap he would get tangled up in a pile up involving Jared Tebo at the second step up which would cost him 3-seconds and leave him with a P5 for the round.  For Q2, the World Champion said he will run a different tyre as well as try to 'not make mistakes'.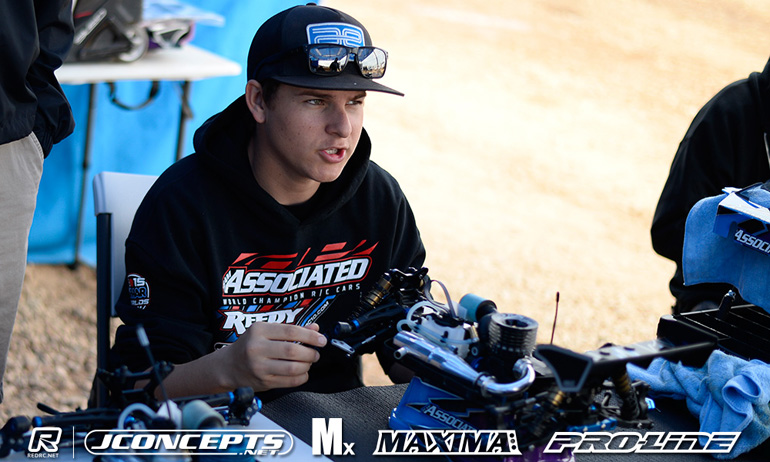 Rivkin said his RC8B3 was 'super easy to drive' but towards the end his OS engine starting getting 'really lean' leading to his mistake.  Giving too much throttle for the leaning engine he said it shot out of the corner leading to his flip with the 17-year-old adding 'it was still my own fault'.  Describing his selection of JConcepts' Triple D tyre as an 'amazing choice' he said he will leave his car unchanged and 'try to do the same thing in Round 2'.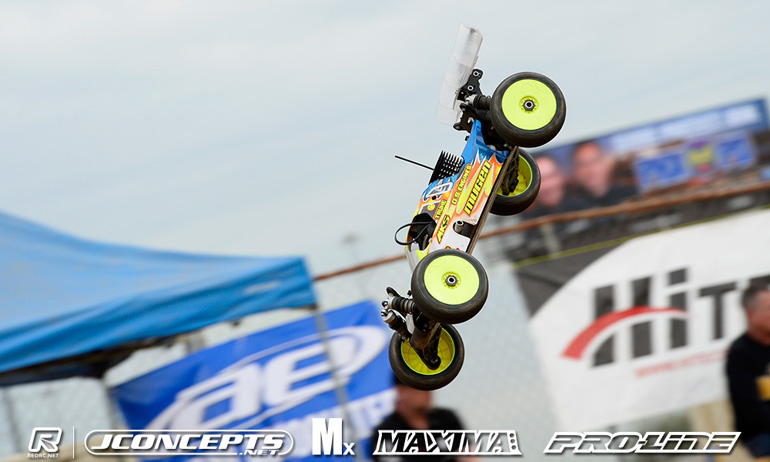 Making his first big race outing since joining Mugen where he is reunited with former TLR team-mate Adam Drake, Mike Truhe posted the 7th fastest time.  Only having the car a month, he described the qualifier as 'a nice solid safe run'. A former DNC Champion, doing the double in 2007, he would like to get his MBX-7R to pull straighter out of the corners and is considering adding rear under drive for Q2.  Behind Truhe, Tekno's Ryan Lutz and Kyosho's Cody King completed the Top 10.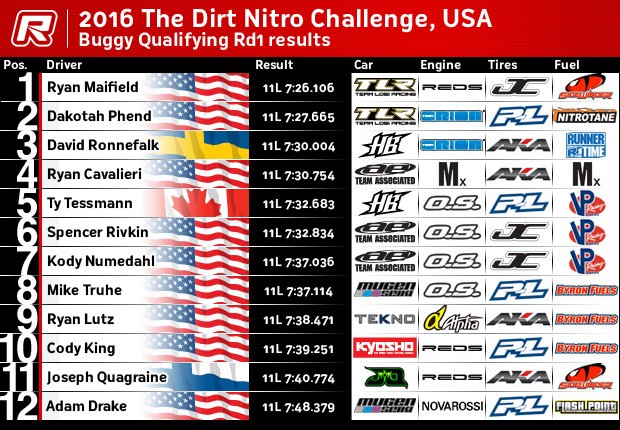 View our complete image gallery here.

---