April 15, 2016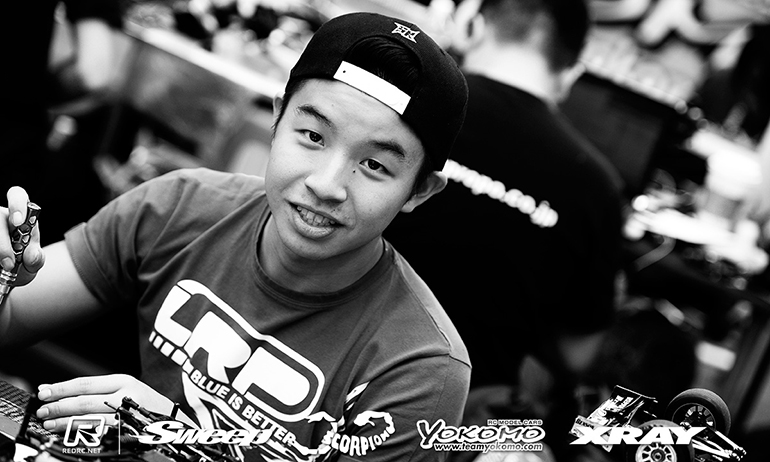 Controlled practice at the opening round of the 2016 Asian Onroad Championships at RCI V2 in Shanghai is now over and in the Modified Touring Car class it was local superstar JJ Wang who is top seed for qualifying. Holding a small advantage over his competitors, the next fastest driver was Yokomo's Ronald Volker who was just under 1/10th of a second slower than the Chinese American driver over 3 laps. 2012 World Champion Jilles Groskamp was 3rd fastest, and along with JJ was the only driver to post a sub 10 second lap.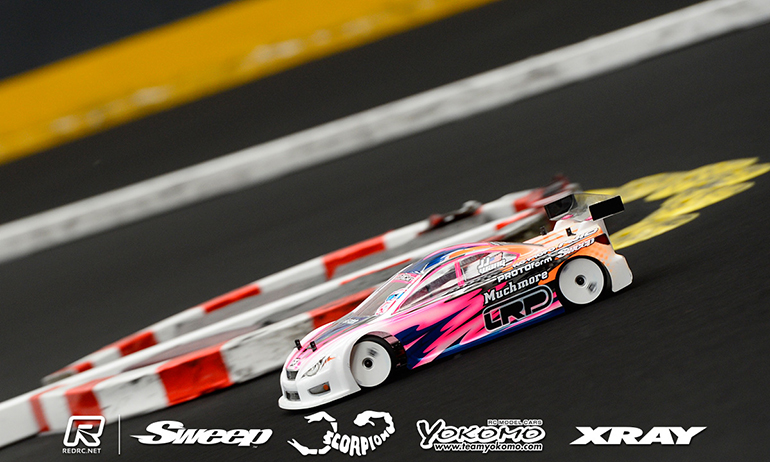 JJ Wang, who is running an Xray having tested a number of touring car options following his departure from HPI, says his focus through practice has been on his driving. With the car remaining unchanged from free practice, for qualifying he plans to make some tweaks to the setup in order to get more steering, this tight track layout meaning a lack of steering is heavily punished. Also noting that, because the track is being used by 1/12th scales on foam tires, the traction changes a lot between runs. Now the top seed for qualifying, which will see 3 rounds of which the single fastest run will count, JJ said that knowing the car has the pace it is now 'up to me to drive it'.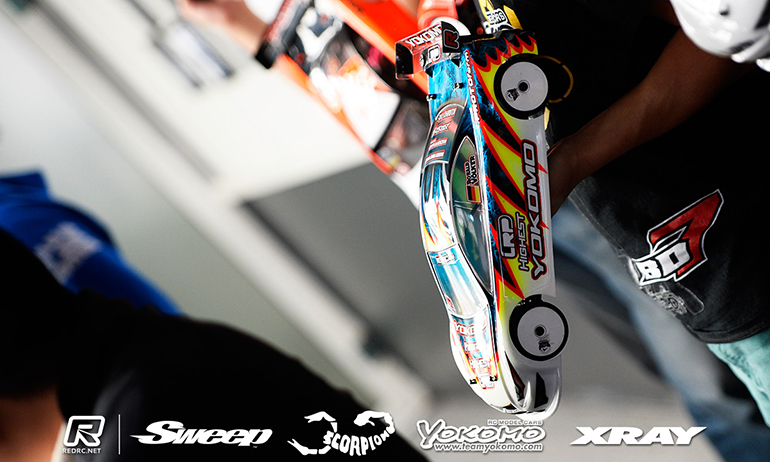 Ending the two rounds of controlled practice 2nd overall, reigning ETS Champion Ronald Volker used his 2nd round to run-in his second set of race tires. With the first run on new Sweep tires being slightly slower he was unable to drop into the 9 second lap times, and having made a small setup change for CP2, he will revert back to his CP1 car setup for the first round of qualifying. Still suffering from slight understeer and with his pit man Yukijiro Umino, sick, going back to the hotel between runs, his focus for qualifying is to just make a clean run.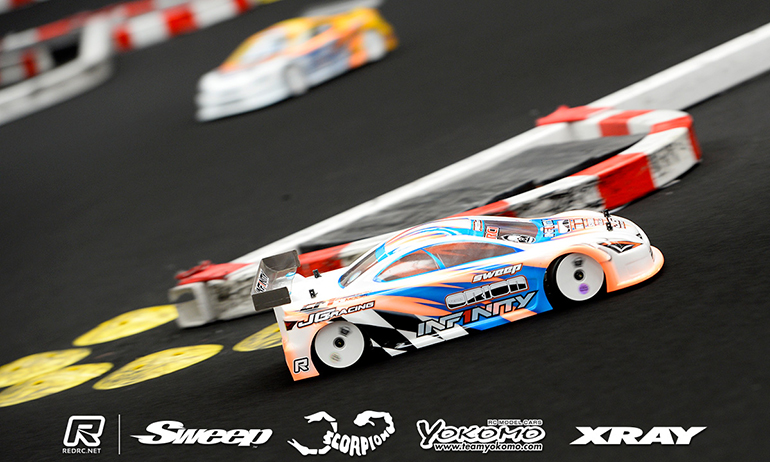 Newly signed Infinity driver Jilles Groskamp was 3rd and had the second fastest lap time in CP2 with a 9.995 having set the fastest lap time of the weekend in free practice with a 9.8 second lap. With Infinity not having an electric touring car yet, the Dutch man has been testing several chassis options and like JJ settled on an Xray although he admits that currently his setup is very far from that of JJ and Xray team driver Jan Rathiesky. Having not run on carpet for 4 months he is very happy with his current pace saying he is fast every time he goes on track and is pleased to be 'not so far off JJ'.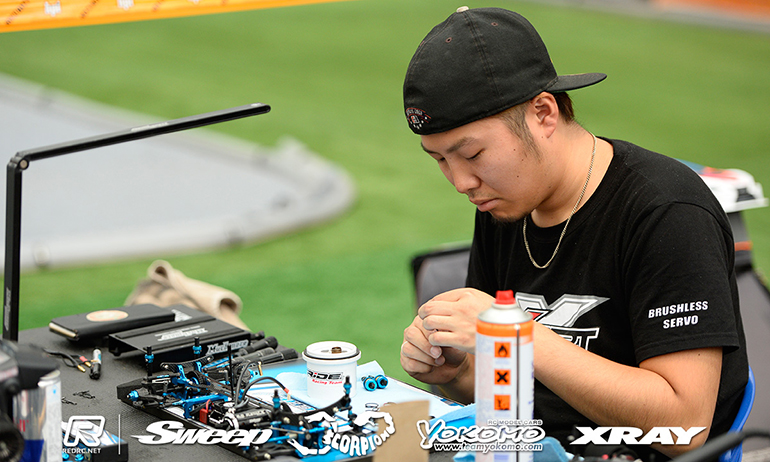 Reigning touring car Champion Naoto Matsukura is running double duty this weekend, racing his Tamiya prototype in touring car and his Roche prototype in the 1/12th scale class. Fourth fastest in touring car he, like all those ahead of him, is looking for more steering and for Q1 will switch to a softer front spring to try and remedy that problem. In 1/12th scale, where he heads JJ Wang and Heng Heng in 2nd and 3rd, the 3 time World Champion says while his car is good it is lacking some overall traction and will change to a harder tire for the first of the 2 qualifying rounds being run today, the 3rd and final round to be run on Saturday morning.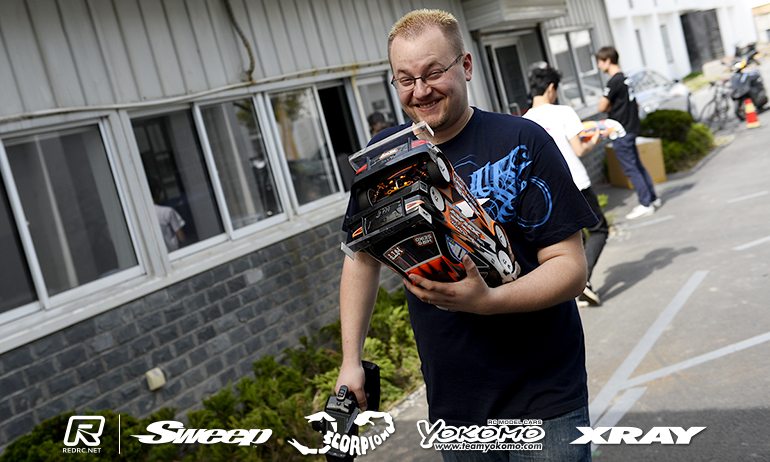 As expected, Jan Rathiesky topped controlled practice in 13.5 boosted & blinky touring car as well as the Formula class and is also sitting 6th in modified touring. The German is making his first trip to Asia having spent just a few hours at home following his double win at last weekend's ETS Rd3 in Wels, Austria. In the boosted class Jan topped controlled practice from Gavin Kwok and ARC front man Jones Chu while in blinky it is Nicholas Koh and Sean Wang who are his closest competition. In the Formula class the advantage was much less, just over 1/10th in 3 laps with Heng Heng 2nd, with a large gap back to 3rd placed Sean Wang.
View our event image gallery here.

---