May 30, 2016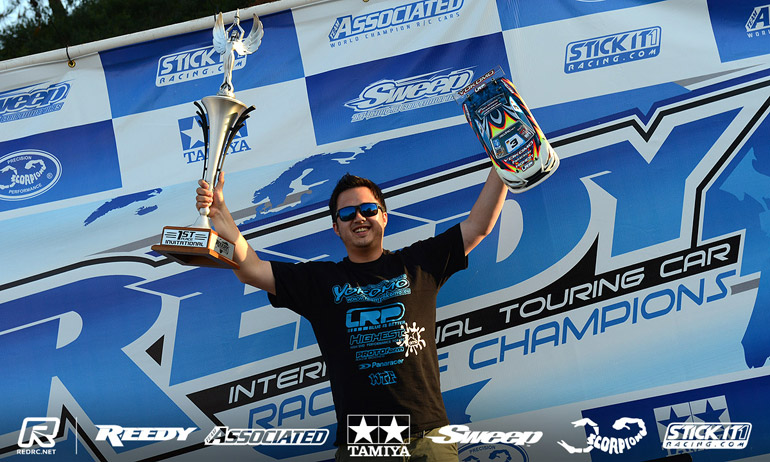 Ronald Volker is the 2016 Reedy Race Champion, the Yokomo driver securing the title at the iconic touring car race for a third time as the tie breaker was required to give him the victory over Christopher Krapp.  The 19th running of Mike Reedy's unique heads up racing format, it would end up an all German podium at Tamiya Raceway with outgoing champion Marc Rheinard completing the Top 3 in California.  While Volker would effectively lay claim to the famous Reedy Race trophy with a 2nd in the penultimate round of racing, there was still a mathematical chance that a 26-lap winning time from Krapp could secure the Tamiya driver the overall victory.  Krapp would deliver the win but couldn't manage the required time confirming Volker as the new champion before the 2009 & 14 Champion completed his 12th & final race out of which he would spectacularly crash after a coming together with Rheinard.  The best non-European finisher would be Japan's Akio Sobue who finished 4th ahead of the Ryan Cavalieri who upheld the host nations honours.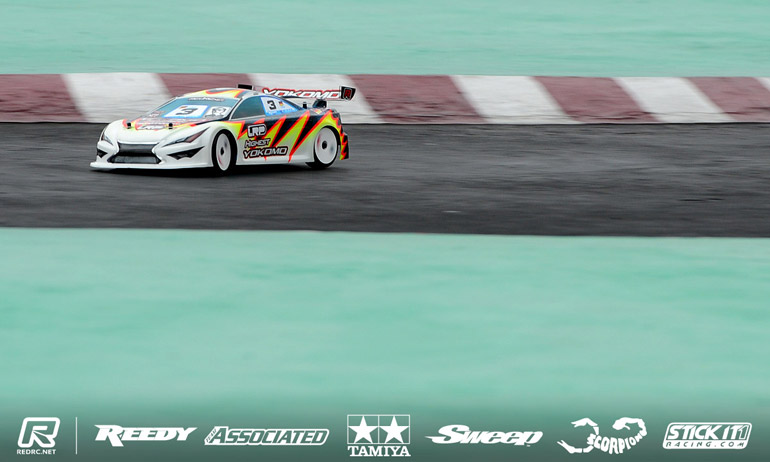 'I'm super happy with the win. This is one of the toughest races and also one of the best races to enjoy what we do', was Volker's reaction to what is his second win at the driver favourite Tamiya Raceway track, his first RROC win being at the Speedworld track before the race returned to what many feel is its spiritual home in 2014 when he won again.  The reigning ETS Champion said the event showed his team have made improvements to the BD7 and thanking his engineer Umino Yukijiro for his help he said 'After this win I feel ready for the next ETS'.  Commenting on the concluding round of races, he said, 'Originally I thought Chrissie had to beat my time but when I found out he needed to do a 26-lap run I know I could just go out and enjoy my races as the result wouldn't influence anything'.  On that race, he added, 'I was just trying to make a safe pass but got in a drag race down the straight with Marc, we touched and I went flying into the wall'.  Knowing the title was decided it was his second car he was using in the race adding it 'felt great' up until trying to exit the track boundaries.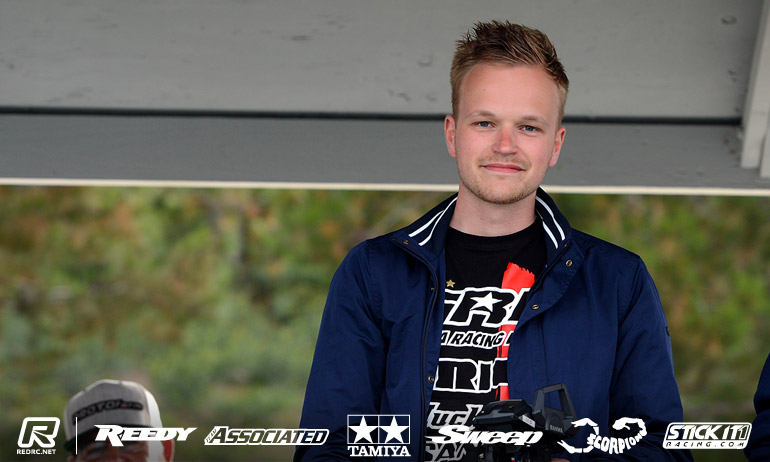 'In the end I was close' said Krapp with a huge grin.  He continued, 'After last year's experience I just took it race by race. I can't believe it yet'.  A driver who has struggled somewhat to find full form since moving to the Tamiya team, the multiple World Championship finalist said, 'I want to thank Tamiya for giving me a great car and I hope I can bring this form into future races, especially the Worlds'.  Matching Volker for the most number of wins over the three days of racing, winning 7 of the 12 encounters, he said to stand on the podium at the Reedy Race of Champions on only his second attempt 'feels good'.  Asked about his slim chance of taking the title and starting from P4, he said, 'I knew if I could passed on the first lap I could try for it but I got stuck in second for a few laps and knew it was over.  After that I could just enjoy the race'.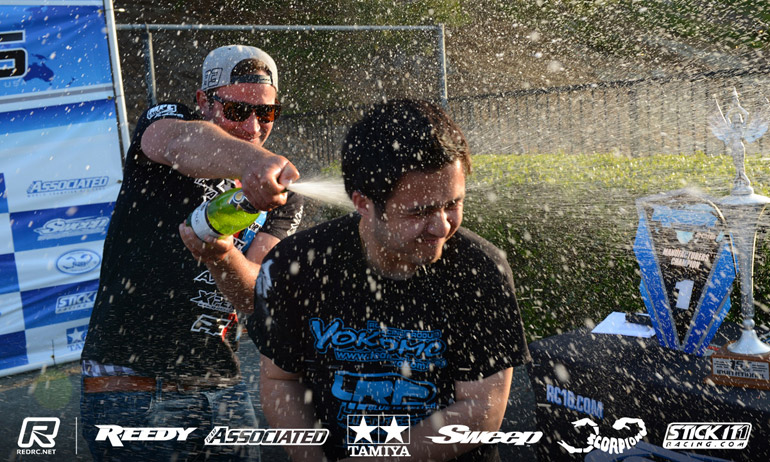 Reflecting on his event, Rheinard said, 'with all that happened, 3rd is a good result'. The race's most winning driver, the 5-time champion was referring to the draw picking out Rounds 7, 8 & 9 as the deciding factor of the race.  Racing against Volker in each, Rheinard would line-up at the back while Volker started up front adding this 'gave him easy wins'.  Describing the race 'a lottery', the 4-time World Champion said a fairer system was needed for compiling the grids adding, 'there is a Swedish guy who created a program that create grids that sees drivers all meet the same number of times, this would make for a much better battle for the title'.  Moving on from his issues with the draw, he said, 'As a team we showed our new car is good.  Getting a 2, 3 and 4 shows all our cars are good and not just one', that comment aimed at Yokomo.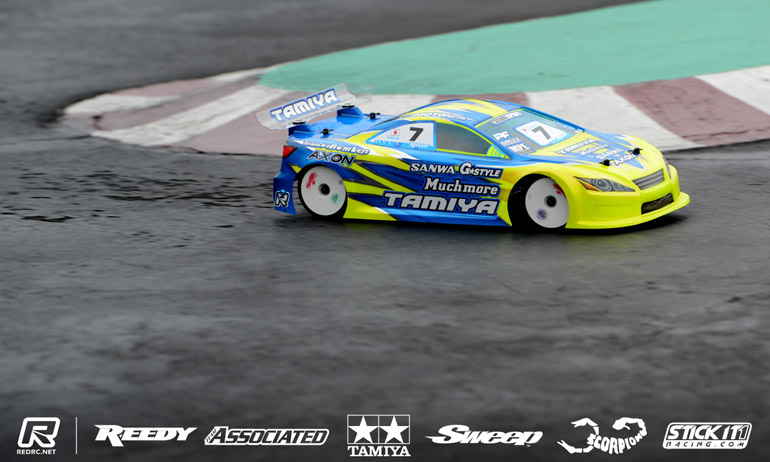 While finishing two places better than last year, matching team-mate Rheinard on race wins, Sobue was disappointed with fourth overall.  The 21-year-old who is over shadowing his World Champion fellow countryman Naoto Matsukura as Japan's top driver, said he came to the Reedy Race aiming to at least finish on the podium.  'A good race for the team', he said 'driver and set-up issues on Day 2' cost him a shot at the podium but he would 'come back next year'.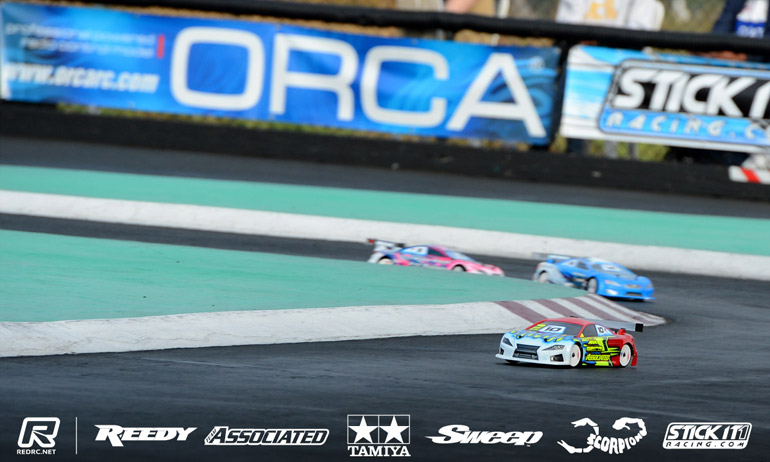 Recording a Top 5 finish, having been 15th last year, Offroad ace Cavalieri said, 'I'm very happy with my performance all week. I got a solid score'.  The multiple Reedy Offroad Champion continued, 'I'm a little disappointed with some of my passing but it was a great event'.  Asked if he enjoys racing touring car, the Californian, the reigning US National Champion having won that title at Tamiya Raceway, said, 'everyone keeps telling me to keep racing onroad but its hard with my schedule'.  He concluded, for sure I will come back next year'.  Behind Cavalieri, Rick Hohwart would enjoy one of his best finishes, the Reedy boss completing the Top 6.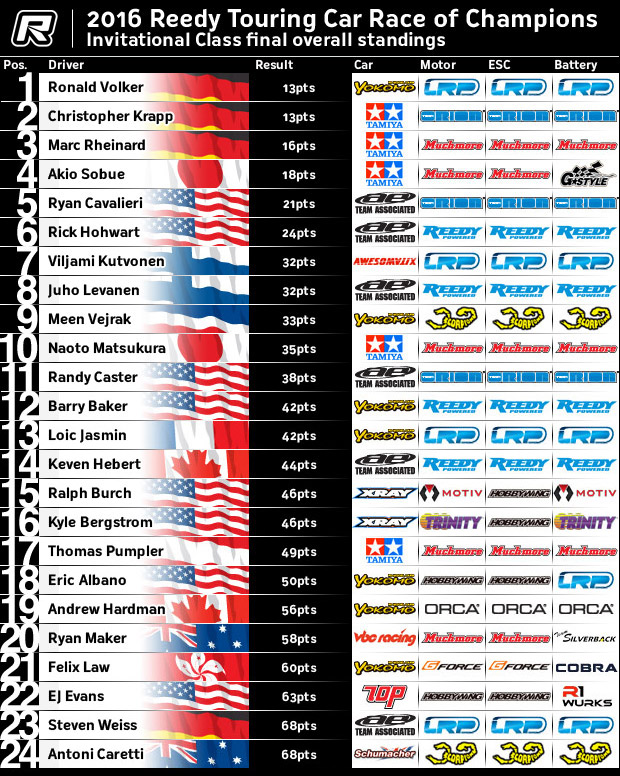 View our event image gallery here.

---