May 29, 2016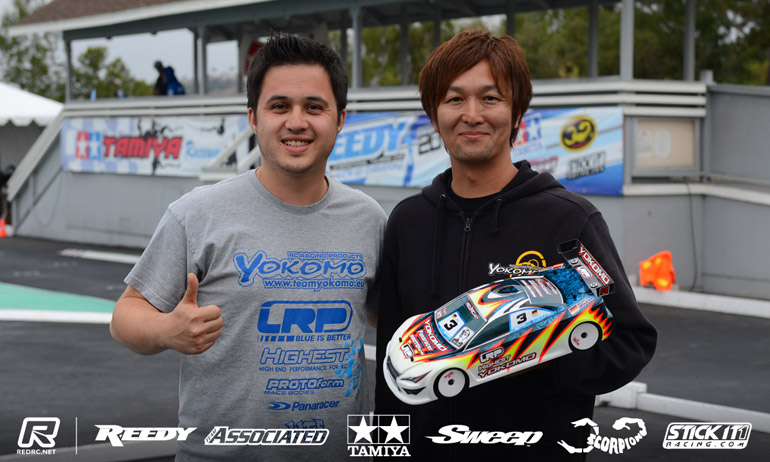 Completing a perfect day, winning all four of his races, Ronald Volker will go into the final day of the 19th running of the Reedy Race of Champions tomorrow with a 2-point lead over Christopher Krapp with four races separating the Yokomo driver from his third title at the iconic race.  Unfortunately in contrast to his Tamiya team-mate Krapp who enjoyed three wins today, defending champion & leader after Day 1's action Marc Rheinard would fall fowl of the draw.  Starting three of the day's encounters in the same race as Volker, the 5-time Champion would loose points to his rival each time, a win in Round 6 when he didn't line-up on the same grid as Volker little consolation as he finds himself 3 points and 2 wins off his long standing arch rival.  Starting the days closing race from pole, Volker made easy work of his opposition as Rheinard starting from P6 found himself spun out on the opening lap by Rick Hohwart ending any hopes of challenging for a much needed win.  In Krapp's race, once he got by France's Loic Jasmin on the fifth lap, it was just a matter of putting in laps on what would be cooler and much faster track conditions.  In the second race of the round, from the front row of the grid, 2015 podium finisher Meen Vejrak got the jump on pole starter Juho Levanen to cruise to a second win of the event.  This left Round 7 race winner Levanen to fend off AE team-mate Ryan Cavalieri for second, the Offroad star doing well to come through from P8 on the grid for 3rd to end the day with all Top 3 finishes.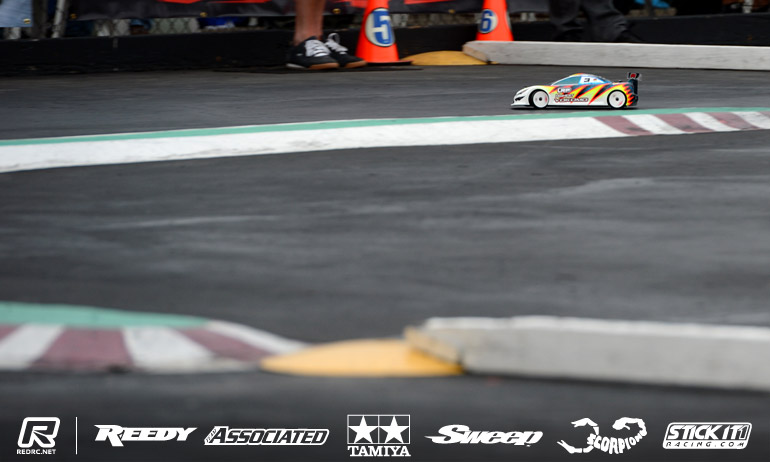 'The last race went perfect' was how a very happy Volker summed up today's action adding it was 'the first time every I had a perfect day (at the Reedy Race)'. Putting the improved performance down to 'better starting positions than yesterday' he continued 'the job is still not done yet and from past experiences I know too much stuff can happen (over the remaining four races) and I will take it race by race tomorrow'.  Commenting on his sixth win of the event, the multiple reigning ETS Champion said 'I had a slide at the first corner but afterwards was able to control the race.  I took no risk I was just out to get the win'.  Despite his no risk approach he improved on his previous best race time by 8-seconds saying 'the track was much more responsive and the corner speeds improved a lot.' This time could prove crucial should the tie breaker be called upon tomorrow evening.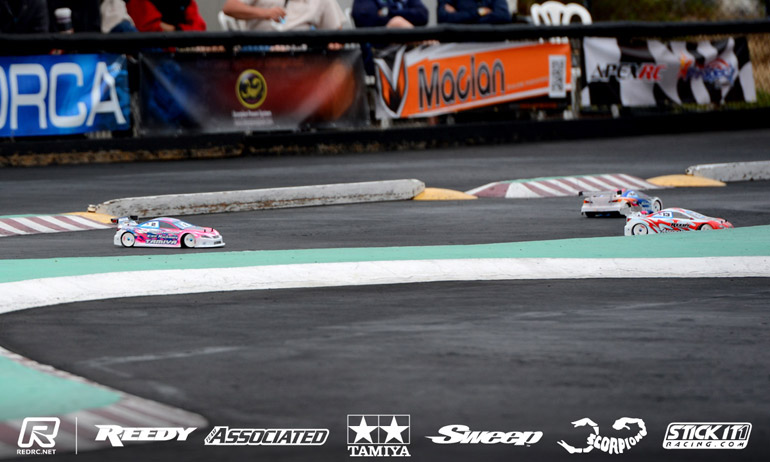 Reacting to his 2nd place finish in the closing race, Rheinard said, 'I would like one time to at least get a clean first lap. Rick took me out'.  Starting the opening round tomorrow in the same race as Volker and behind him both times, Rheinard said 'it is pointless' and 'it's over' in terms of his quest to claim a 6th Reedy Race title. With only half the number of wins to Volker, and team-mate Akio Sobue only 2-points off plus having pole in the opening Round 9 race, he concluded 'now I'm fighting for third (overall)'.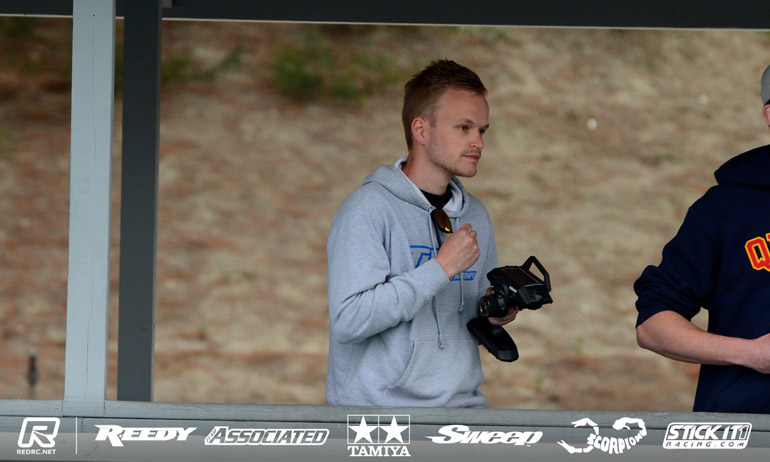 Krapp was 'really happy to finish the day with a win'.  Claiming 3 wins and having 'one shitty race', the personable German was airing caution about his prospects saying, 'last year I was in the same position'.  A title contender going into the final day on his debut at the Reedy Race 12-months ago he added, 'I know how quickly it can go wrong from last year'.  Describing his TRF419X as 'dialled in', he said the approach for the final day was to 'do my own races and see what happens'.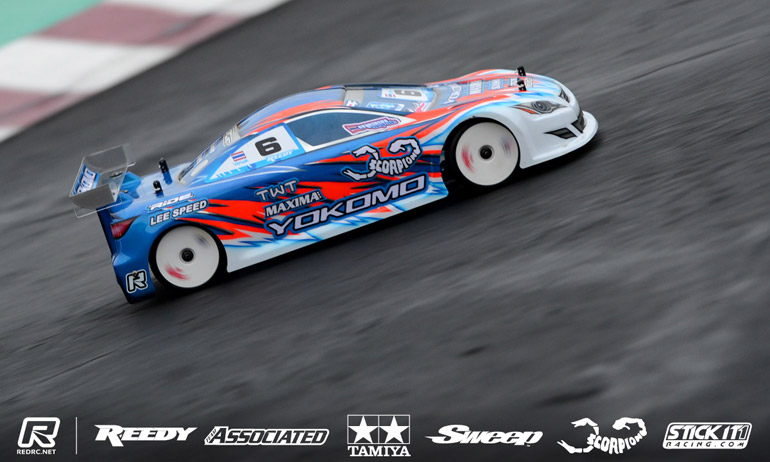 Going into last year's final day sitting fourth before benefiting from Krapp's key error in Round 10 to snatch a podium finish, Vejrak said, 'It was a bad day for me, I lost a lot of points'.  Happy to end the day with a win, his other result being two P4s and an 8th, the Bangkok driver said hopefully he used up his bad luck today and that his win would be a turning point adding 'who knows what can happen, its the Reedy Race'.  The Yokomo driver sits 6th in the standings tied on 16 points with RROC rookie Viljami Kutvonen with Ryan Cavalieri 3-points ahead of him in 5th.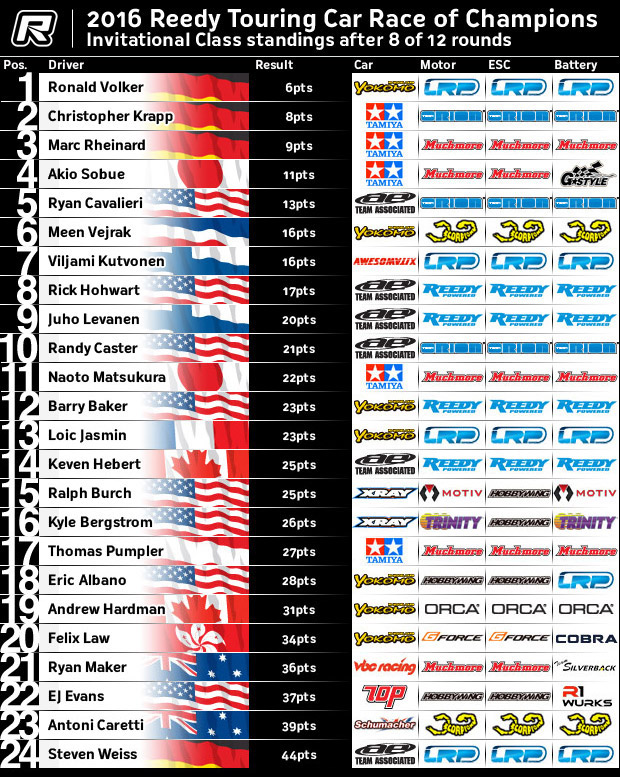 View our event image gallery here.

---