July 7, 2016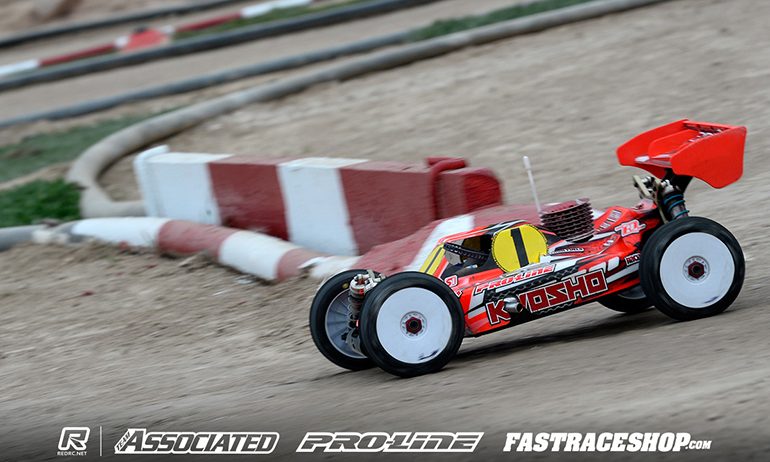 Elliott Boots has TQ'd the opening round of qualifying at the 1:8 Offroad European Championships in Redovan, Spain.  The reigning champion was fastest over the first of the five 5-minute qualifiers from fellow British driver Darren Bloomfield, the former champion just under a second off the Kyosho driver.  Turning out to be an all Champions affair at the top of the time sheets, former back to back champion David Ronnefalk would post the third fastest time followed by former double champion Robert Batlle.  Having topped seeding yesterday Daniel Bernabe would struggle in the opening qualifier with a combination of running on new tyres that left him with an aggressive car and not getting the set-up on his SOAR correct for today's cooler overcast conditions.  The Spaniard would also have a 4-second mistake on his last lap.  This left João Figueiredo to be the surprise of Q1 with last year's Euro B Top Qualifier getting a P5 ahead of Neil Cragg who completed the Top 6.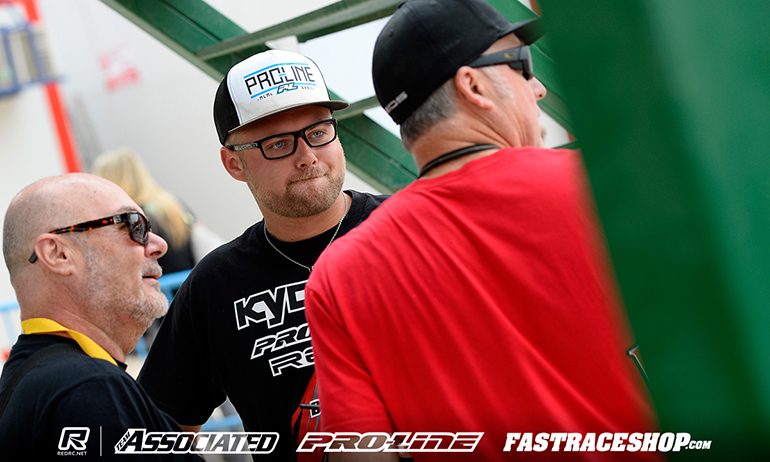 'The right start', was Boots reaction to taking the opening qualifier adding, 'we'll try continue like that and hopefully get two more'.  Pleased with his Reds Racing powered MP9, leaving it unchanged from yesterday after it ran good in the morning shakedown despite yesterday's beating sun being blocked today by clouds, he said the wind & traffic were his only issues.  With dust clouds sweeping across the track, he said, 'the wind was really strong and was blowing the car around a lot so I was jumping low to be safe and get a banker in'.  Coming up on 'a lot of traffic' in the latter part of the qualifier, he said while 'they didn't hold (him) up much' it did effect his rhythm a little leading to him catching the pipe once leading to a roll but luckily his car landed back on its wheels.  Running on Pro-Line's Fugitive tyre, when asked if he planned any changes for Q2 he replied, 'we'll stick with it'.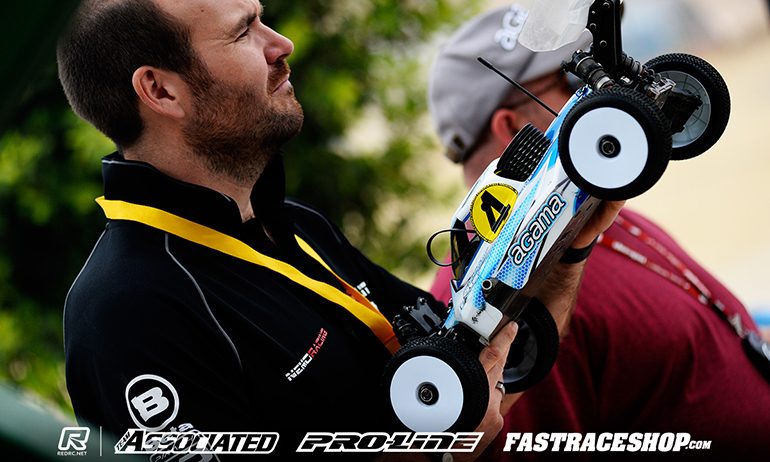 'I put qualifying tyres back on but to be honest I didn't think I'd get second, I really happy with second', was how Bloomfield summed up Q1.  Using the two seeding practices to test a final tyre, a Beta Hurricane, the Agama driver said this lost him between half and 1-second a lap and ending up P12 it was a 'downer day' but the focus was always on doing his own thing and working towards the final.  Switching to a medium compound V-Max tyre this morning, the 2012 Champion had the speed again but added 'the tyre got a bit soft and chewing gummy at the end but you need this compound for the speed'.  Asked about his plans for Q2, he replied, 'just keep clicking them rounds off so leave the car the same'.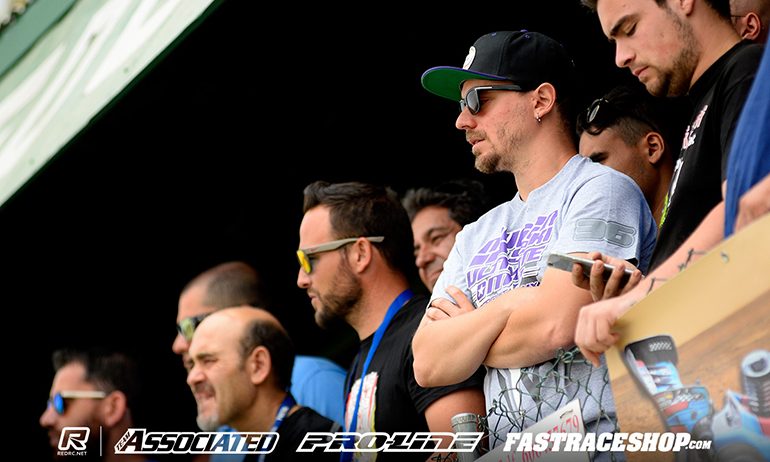 Batlle declared Q1 as 'not bad' adding '1-second off TQ is almost nothing'.  Switching to a softer compound of Procircuit's new prototype tyre, the 2007 & 11 Champion said 'in the beginning it was OK but the last 2 laps were tricky'.   With 'a lack of traction' from his MBX7R, the Spaniard said while the tyre was one factor he feels some of the lack of traction was in the set-up.  Planning to go to a harder compound he added 'we will also make a few (car) changes for the next one'.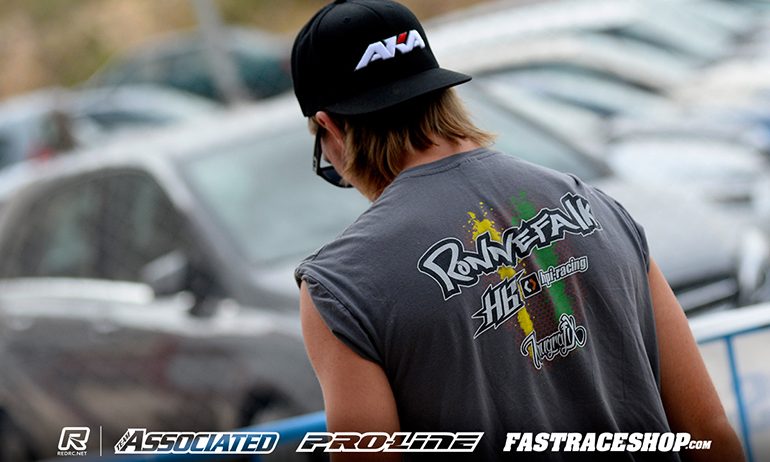 'A pretty good start' was Ronnefalk's view of his P4 time.  The HB Racing driver added, 'I didn't have any big mistakes, just touched the piping but I did have a big coming together with the wind which cost me a few tenths'.  The Swede said after a not so good shakedown, the 'driver made a big improvement' for Q1.  Continuing to run on AKA's Zipps tyre, the Warm-up Race winner said the plan for Q2 in terms of his D815 was to 'keep it like it is'.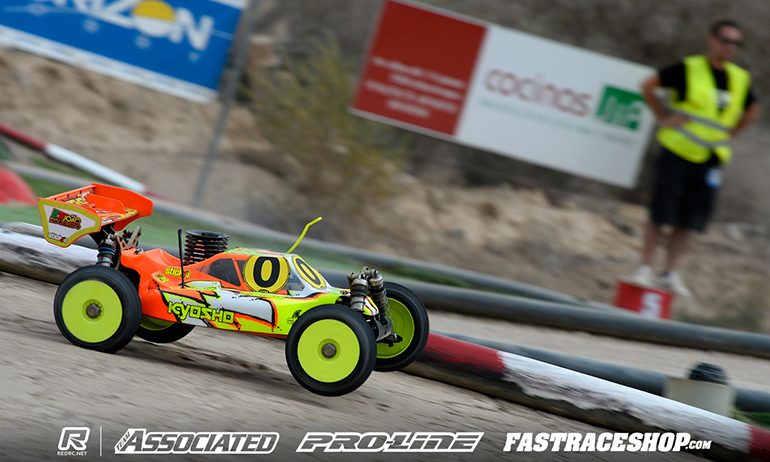 'Awesome' was Figueiredo's reaction to his posting the fifth fastest time adding, 'I did expect to be a good'.  The 19-year-old Kyosho driver said adding weight to his MP9 had improved the car but running in the same heat as Bloomfield, Batlle and Ronnefalk he said the key to his run was to 'keep rhythm with the others'.  Using Hot Race's new Amazzonia tyre in medium compound the Portuguese driver will leave everything unchanged for Q2 and focus on his driving.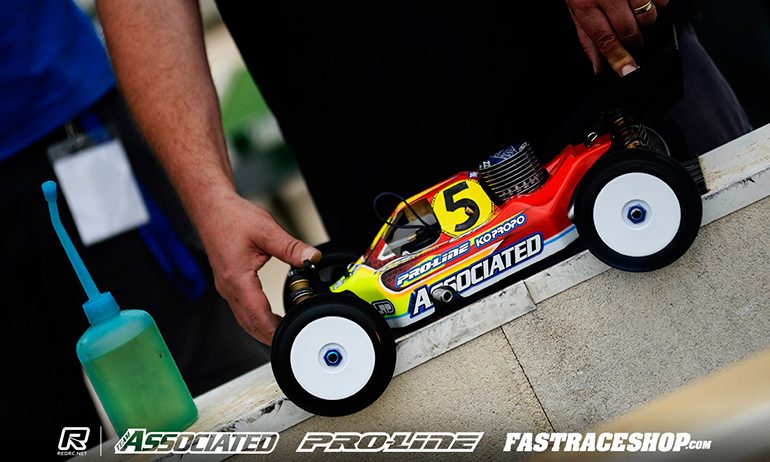 Team Associated's Neil Cragg said his improved performance was down to 'finally getting used to the track' continuing 'it's a daunting track to learn'.  The former electric offroad World Champion said the aim has been to 'keep improving, keep improving but (they) made a big step yesterday evening (with set-up)'.  Describing his drive to the P6 time as 'nothing special' he said it was an '80% drive to get a banker and (they will) pick up from there'.  In terms of his LRP powered RC8B, he said 'on track it feels dialled' but added 'I'm loosing time on the whoops and I'm not sure if its me or the car but there is time to be got there. Right now its not easy on the eye (in the whoops)'. Behind Cragg, Spanish driver Jorge Soler, Italian Marco Baruffolo, event host Oscar Baldo and former champion Yannick Aigoin completed the Top 10.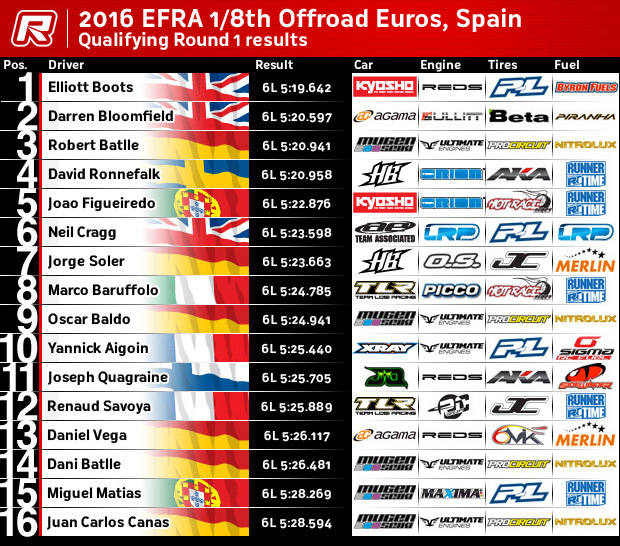 View complete event results here.
View our complete event image gallery here.

---