August 9, 2016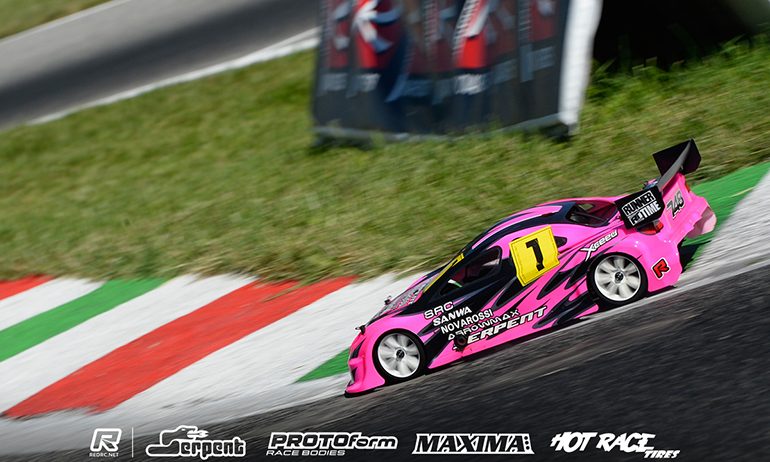 Dominic Greiner picked up where he left off yesterday to top the first round of controlled practice at the Nitro Touring Car World Championships in Gubbio, Italy, this morning.  The Serpent driver set the fastest 3-consecutive laps with an almost identical time to that which saw him top free practice last night.  Just 0.009 slower this morning, he was fastest from Dario Balestri with Takaaki Shimo completing the Top 3.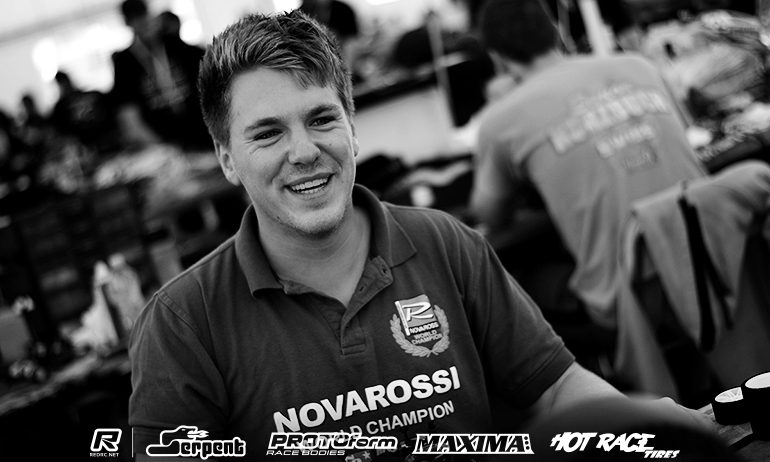 'The car awesome' was Geiner's reaction to topping what is widely predicted will be the fastest track conditions of the four controlled practices that make up today's scheduled.  The German said with his 748 working so well he '(doesn't) know what to change' continuing, 'so I will leave the same for the next one'.  Having fitted a new conrod to his Novarossi engine after his issues yesterday he said the engine ran without any issues even though they ran it 'a bit too lean'.  Pleased with both his car and engine, adding 'run time is no problem', the 2014 Worlds Top Qualifier's only complaint was with himself saying, 'my driving was not as good as yesterday so I will try to improve that'.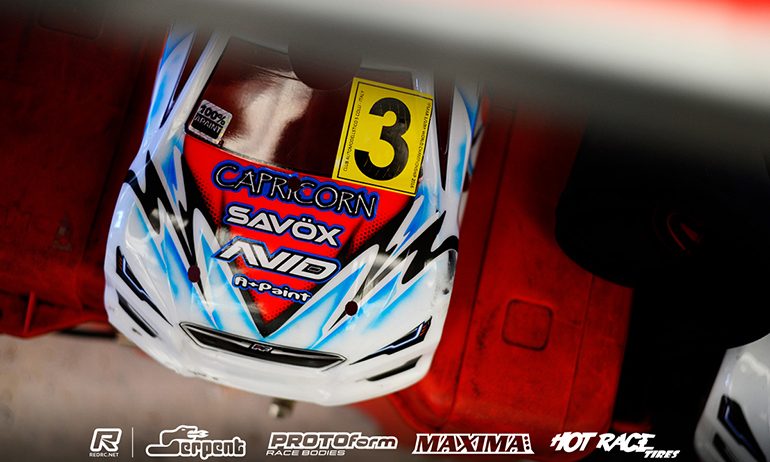 Just over a 1/10th off Greiner's pace, Balestri said he tried a different pipe on his Tesla engine 'just to test' and it was 'not so good for the engine'.  Set to revert back to his previous pipe, the Warm-up Race winner said 'the car was good so all is ok'.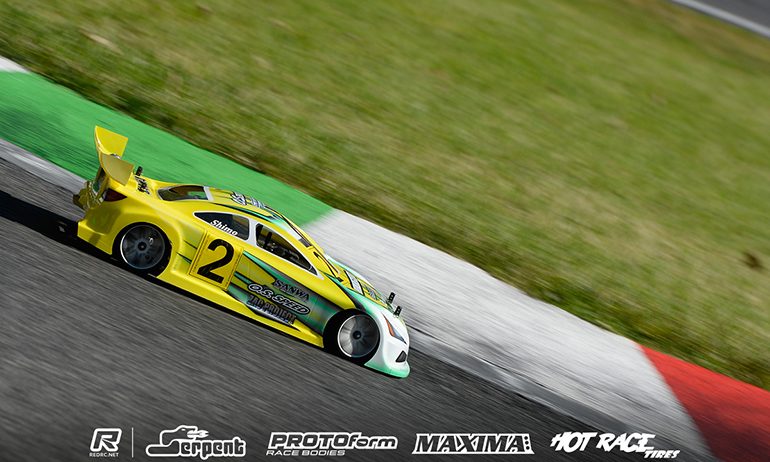 Removing the aero disks from his Mugen, Shimo was happier with his car this morning.  Without the carbon disks, the Japanese driver said his MTX6 had better initial steering.  While the overall performance of the car is improved he said the hairpin before the sweeper onto the main straight is now a problem area as he is 'very slow' in that one corner and he 'need(s) to improve' the car for CP2.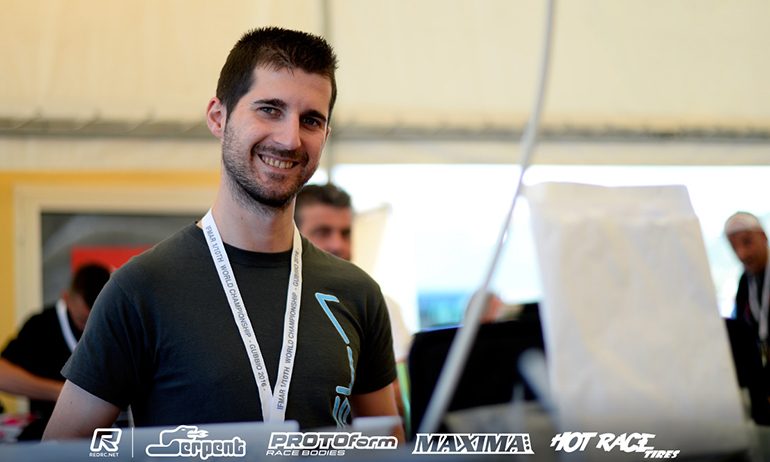 Impressing yesterday when the track was at its hottest, Luca Redaelli would post the fourth fastest time.  The Capricorn drivers said, 'I did what I hoped to do, it was better than my Top 10 target so I am super happy'.  Only changing back to his 'good' Tesla engine for the first controlled practice he would not complete the full 8-minutes due to a clutch issue.  Towards the end of the round the Italian said the clutch was sticking, causing the car to run on in corner.  Planning to fit a new clutch for CP2 he said they will leave everything else unchanged.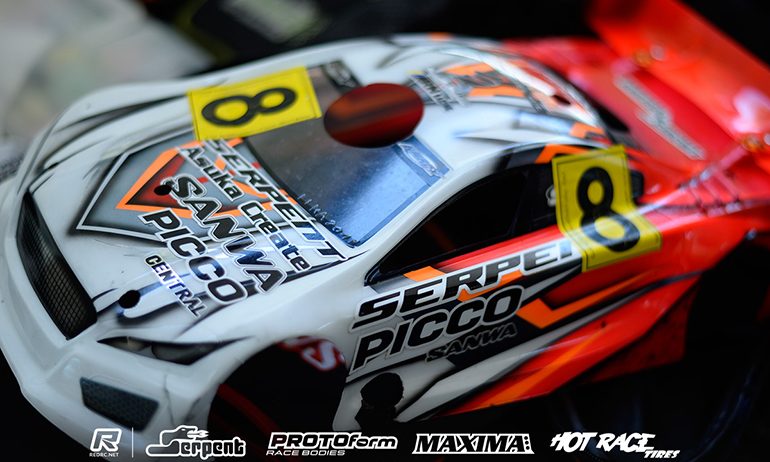 Posting the fifth fastest time, 2013 1:8 World Champion Tadahiko Sahashi put his improved pace down to a better damper setting.  Going for a harder shock package on his Picco powered Serpent, he said this gave the 748 more rear traction.  Looking to get further rear traction from the car he will go even harder with the shocks for CP2.  The Japanese driver will also change to a different engine 'just to test'.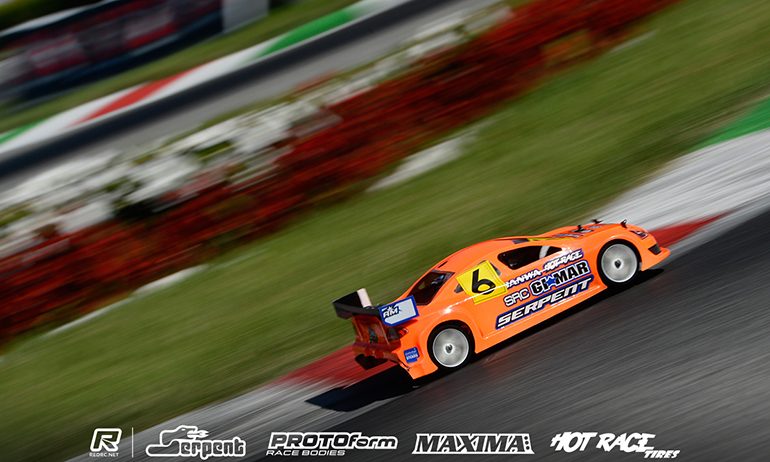 Completing the Top 6, Alessio Mazzeo made 'little changes' to his Serpent but 'didn't like it'.  With his Gimar powered 748 'less stable on power than yesterday', the Warm-up Race podium finisher will go in a different direction with his set-up for CP2.  It was a good start to controlled practice for Serpent with Toni Gruber and Mark Green making it five 748s in the Top 10.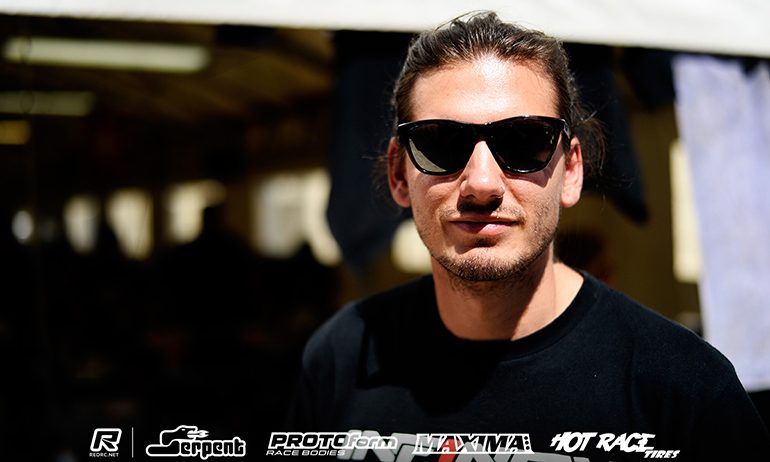 With Jilles Groskamp having engine issues, it was Jesse Davis who was fastest of class newcomer Team Infinity.  The Australian took his prototype to the 7th fastest time improving his pace considerably from free practice in which he was only 26th fastest.  The reigning Aussie National Champion, he said his car was 'much better today' after he reverted back to the set-up he was running 2 days ago.  After 'trying stupid shit' on the new car while 'trying to figure out what to do' he said he has ended up back where he started which is a 'pretty good base set-up'.  Planning now to 'just fine tune' that set-up he said the problem is that 'the track is going to change a lot' due to the temperature going up.
Posting the 8th fastest time ahead of fellow German Toni Gruber, Robert Pietsch 'tried something' that 'wasn't good'.  Finding the rear of his car loose in the colder conditions yesterday, the Mugen designer made the change to cure this but with 'the track different today' he ended up with understeer.  Describing the run as 'solid',  he will 'try a completely different set-up' for CP2 saying it might be 'a lucky punch' and lead to them finding something new in terms of set-up ideas.
View complete event results here.
View the event image gallery here.

---