August 27, 2016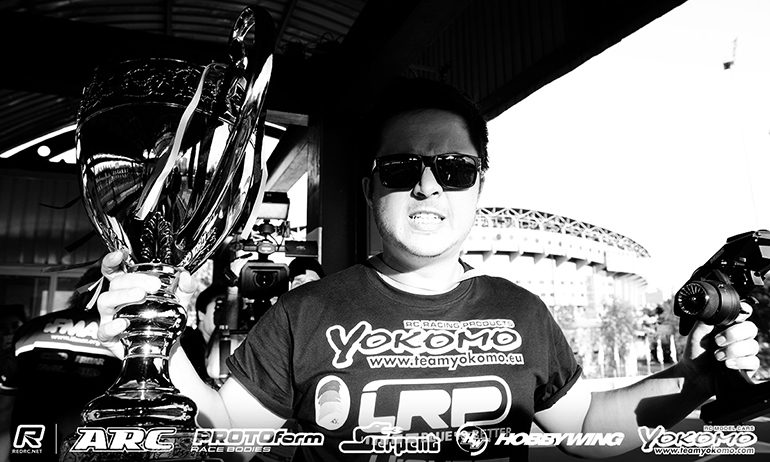 Ronald Volker has finally got the World title he so desperately chased for the last number of years.  Widely recognised as the one world's best touring car driver as he reigned over the highly competitive Euro Touring Series for five consecutive seasons, the Electric Touring Car World Championship have eluded him and his long time Yokomo engineer Yukijiro Umino, but that all changed in a dramatic closing A-Main in Beijing this evening.  With Top Qualifier and A1 winner Bruno Coelho favourite to lift the title despite handing Volker a win with a mistake in A2, a change in track conditions would catch out the Xray driver.  Losing the rear of his car early in the opening lap and jumping the curbing, Volker would go to the front only to get hit by Coelho in the chicane bunching up the field and making for a dramatic couple of laps.  With Volker somehow getting back the lead he lost corners earlier as Coelho and Marc Rheinard came together, once in front he never looked back as further carnage gave him an unassailable lead.  Of the carnage the biggest benefactor would be Viktor Wilck, finishing 2nd in A3, he would take a surprise first Worlds podium finish getting third behind Coelho.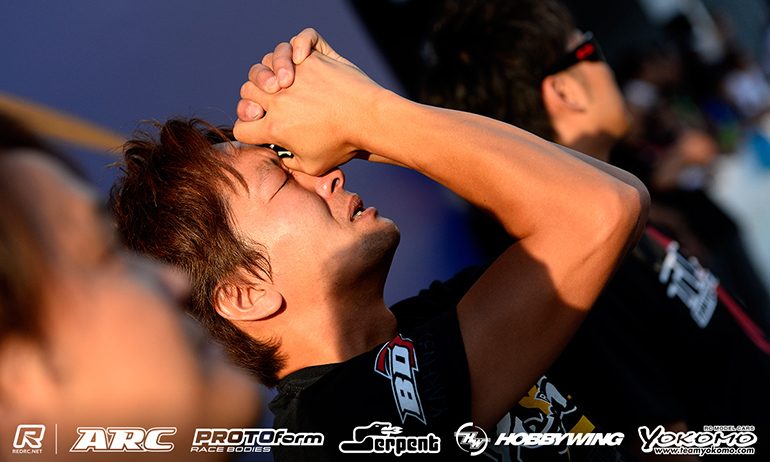 'I can't describe how happy I am', said Volker who hardly had any voice left by the time he made it down from the driver stand to a huge cheer.  The German continued, 'I'm overwhelmed by all the people congratulating me and all the emotion, especially of the team.  It's been a very very long road to achieve this amazing World title and I have to thank Umino the most.  I don't know anyone else so passionate and I know he wanted the title as much as I did.'  Commenting on the title deciding race, he said, 'After the storm after A2 we went softer 2 stops with the diff and I was on third run tyres which I think nobody tried.  I had a good feeling (they would be good) from pre worlds testing and right from the start Bruno got loose and I got ahead of him'.  He continued, 'In the chicane he tagged me from the rear and I went on the dust while also not waiting for me, which was not clean.  After a few more laps I was in the lead and was then helped by the carnage behind.  The car was perfect right on time and I was just able to cruise and enjoy the drive.  I was super cruising'.  Helping Yokomo retain their crown as the World Champion manufacturer, he finished up by saying, 'I have to thank everyone who supported me over the years, the hard work of LRP, everything was on top performance today. A big thanks to all my friends and especially my beloved girlfriend'.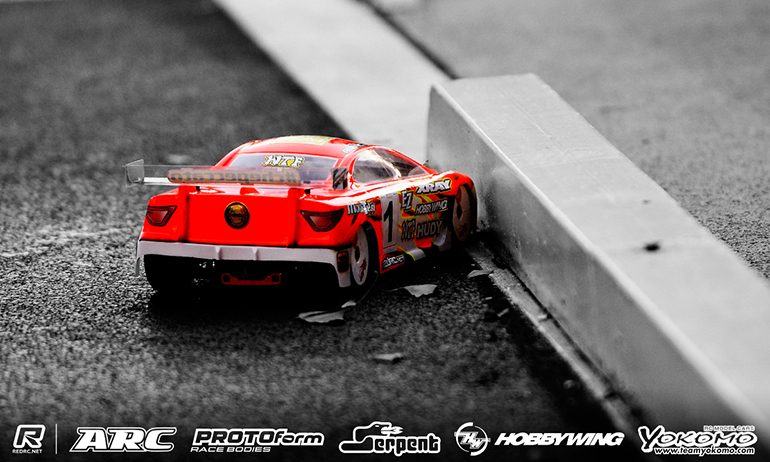 Pulling off after his second lap with a damaged car,  Coelho said, 'the track changed a lot and we changed the car to get it safe but it was sliding in the rear a lot causing me to make a mistake'.  He added, 'we were unlucky on the point of the weather', a huge wind between A2 and 3 blowing dust and leaves across the track.  Not one to mince his words, the dejected Portuguese driver said, 'I lost the race in A2 not this one'.   Having qualified 3rd team-mate Alexander Hagberg would come of badly from the carnage ending up P7 in A3 which saw the potential of a first Worlds podium evaporating into 7th overall.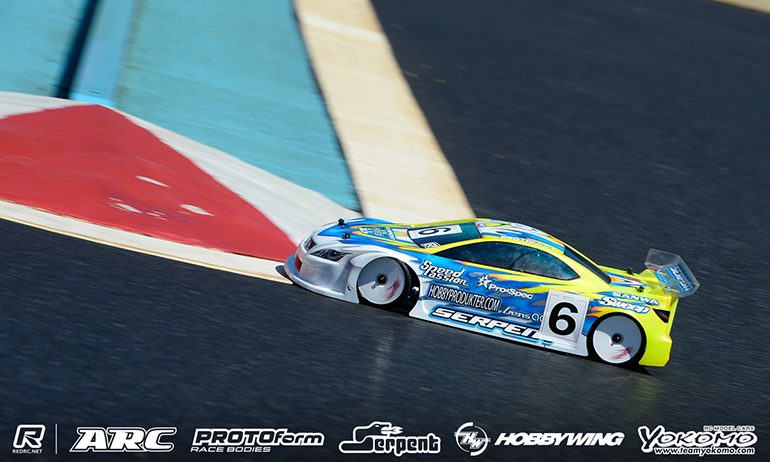 No more surprised by his podium finish than his competitors, Wilck said, 'I drive many Worlds without luck but today finished with the right luck'.  The first World Championships for Serpent's out of box design 4X, the Swede said, 'the result is good for David (Ehrbar, the cars designer), the company and the car'. Asked about A3, he replied, 'I know my car is good in low traction.  There were cars everywhere and I crashed with Chrissi (Krapp) and rolled over but somehow came out OK. Then I was able to stay ahead of Fischer', his former team-mate get a third for A3.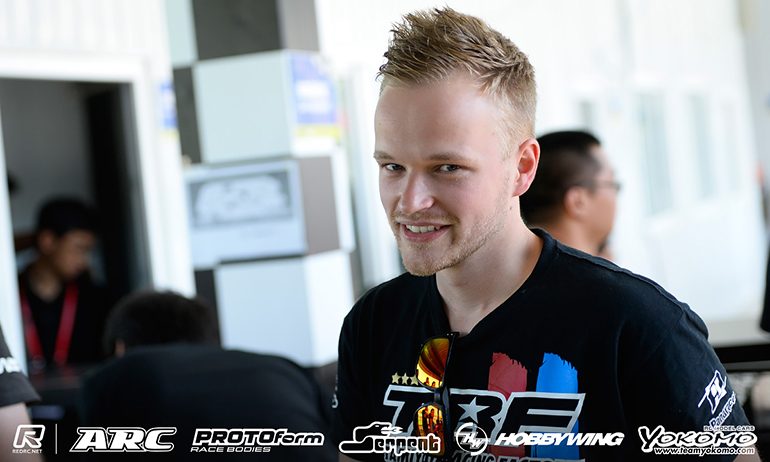 Equalling his previous best Worlds finish, 4th in Germany in 2010, Krapp said 'fourth is the shittiest place to finish'.  The Tamiya driver continued, 'maybe tomorrow I'll be happy but today I'm pissed'.  Taking some consolation from the fact he was the highest placed Tamiya, finishing ahead of his 3-time World Champion team-mate Rheinard, he said my car was good and third was possible'.  On the last Main in which he got fourth ahead of team-mate Akio Sobue, who took sixth overall, he said, 'I got hit from Viktor and was really mad with him but afterwards I looked at the footage and saw it was not really his fault.'  With China's first hosting of an IFMAR World Championships impressive and hugely successful, drivers have 2 years to figure out what went wrong and prepare for South Africa where it might be third time lucky for Coelho.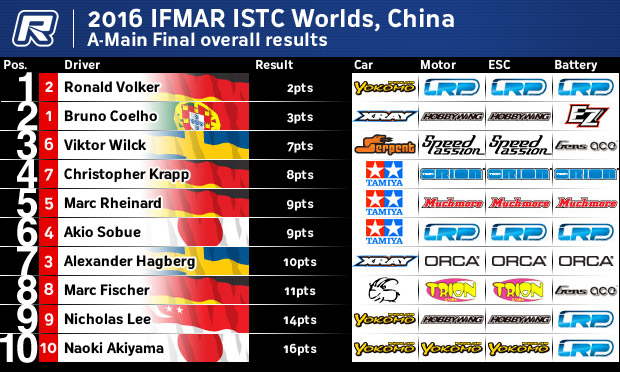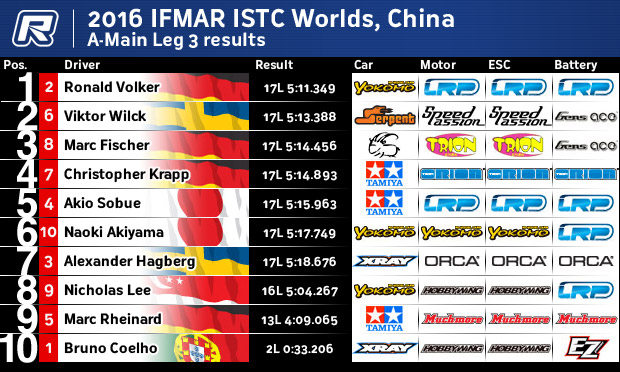 View our event image gallery here.

---