October 6, 2016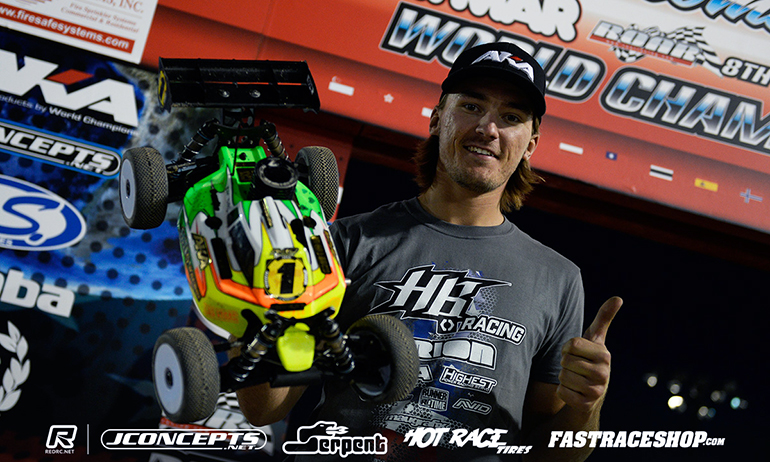 David Ronnefalk finally came good in the fourth round of qualifying at the 1:8 Offroad World Championships when the HB Racing driver ended Day 2 of qualifying with his first TQ run.  The Swede, who had a difficult first day of qualifying leading to him being critical of the watering of the track, would go fastest as the sun set at RC Tracks of Las Vegas topping the round by 4-seconds over Q3 pace setter Jared Tebo.  As in the previous qualifier, Dakotah Phend would again complete the Top 3 with reigning champion Ty Tessmann next up.  For yesterday's pace setter Elliott Boots, today's second qualifier would be a slight improvement on his earlier run as he posted a P5 time ahead of Kyosho/Reds Racing team-mate Cody King.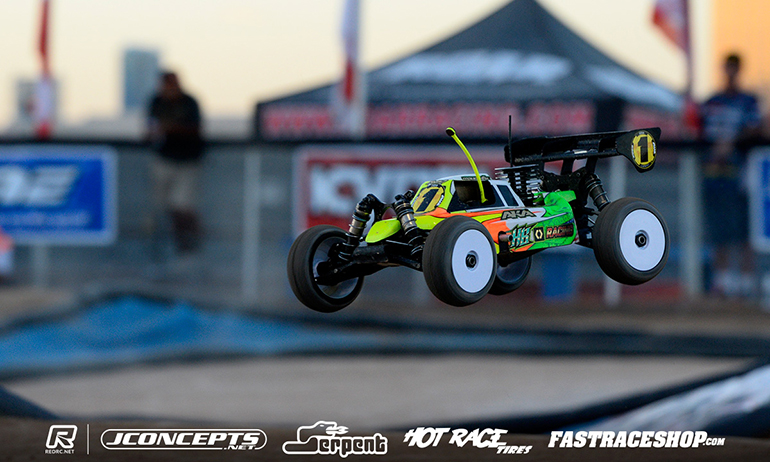 'Obviously it worked out good. The driver was on point, the car was on point, and I like how the track is right now', was Ronnefalk's reaction to his TQ run.  The multiple former European Champion, continued, 'I like it bumpy and the track is starting to come to me now'.  Having shared his views on the watering of the track, feeling the top heat was at a disadvantage, he said, 'After my Facebook post they have made a good job with the track today.'  Having had problems with traffic in the previous three rounds he said, 'this time I didn't have any issues and got lucky with traffic'.  Running AKA's soft Grid Iron tyre, he said switching to white wheel was a help saying, 'they feel better for me'.  Summing up with, 'Today was a good day for us' he concluded, 'we can work from that for tomorrow'.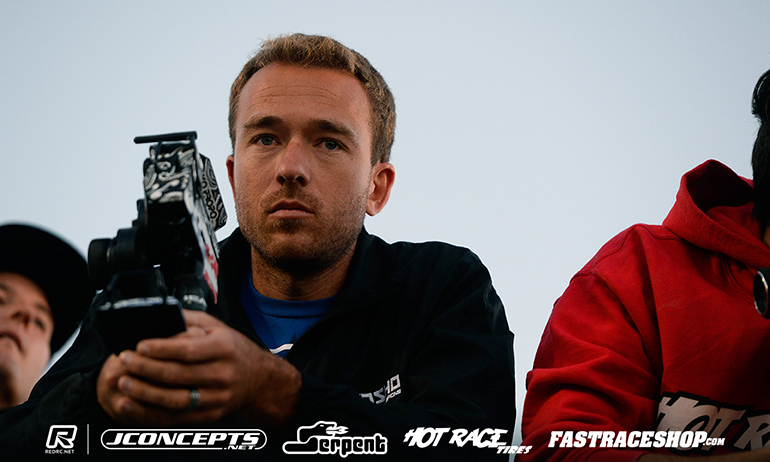 '2nd, I'm really happy with that', was how Tebo summed up his third Top 2 run of the four qualifiers.  The Kyosho driver said, 'I had a game plan for driving new lines but it didn't work out.  I was searching out the lines in the beginning but it led to me driving bad'.  He continued, 'I thought the track had changed enough to need new lines but it hadn't.  It's really easy to a lose a second a lap and I had quite a few of them hitting a bump here and getting loose there'. With 2 from 4 rounds counting in the official overnight qualification ranking, the 2010 Top Qualifier sits second and with 2 rounds remaining he said, 'I'm happy where I am at'.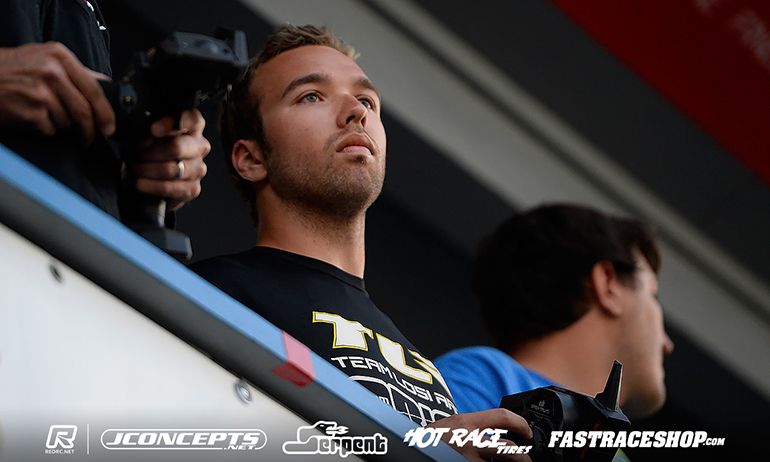 Reacting to his P3 for the round Phend said, 'the car was really fast but I had a couple of mistakes on my own so I was happy to salvage a good run'.  He added, 'I have four Top 10 runs so I am happy with that'.  On the track conditions the TLR driver said, 'the moisture was definitely staying in the track that time so there is more traction and from a grip level it made it easy to drive'. On the increasing bumps, the Michigan teenager said, 'its getting worse and worse but it is a lot of fun now (to drive)'.  To keep up with the changing track conditions he said, 'we'll make a couple of changes for tomorrow'.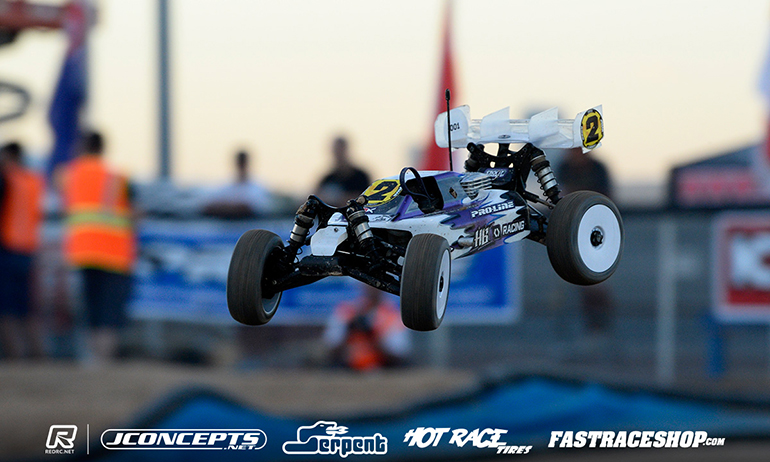 While Tessmann would describe his latest qualifier as 'pretty good', the HB Racing driver added, 'I think the shocks were a little thick for the cooler temperature but it felt good other than that'.  The 24-year-old would need to be marshalled early on in the 10-minute run but 'finished strong' adding he was happy he had 'good speed' and with 'a good set-up' now on his OS Speed powered D815V2 he is confident for tomorrow.  Switching back to Pro-Line's ElectroShot tyre after choosing Holeshots for Q3, he said this was 'better towards to the end (of the run)'.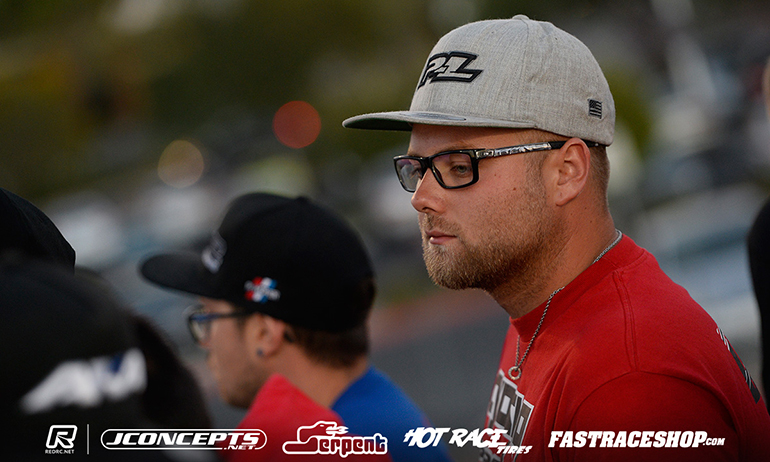 Boots said they 'changed a few small things on the car and they worked out well'.  Summing up the run as 'not bad', the British driver had one mistake coming onto the straight but also had 'loads of problems with traffic'.  The reigning back to back European Champion was also less than impressed with his team-mates saying 'my team-mates didn't help out. I had to race them to pass'.  Happy that the P5 would 'scratch out an 8th', the overnight TQ holder for a second night running is aiming to get back to his Day 1 pace for the deciding day of qualifying.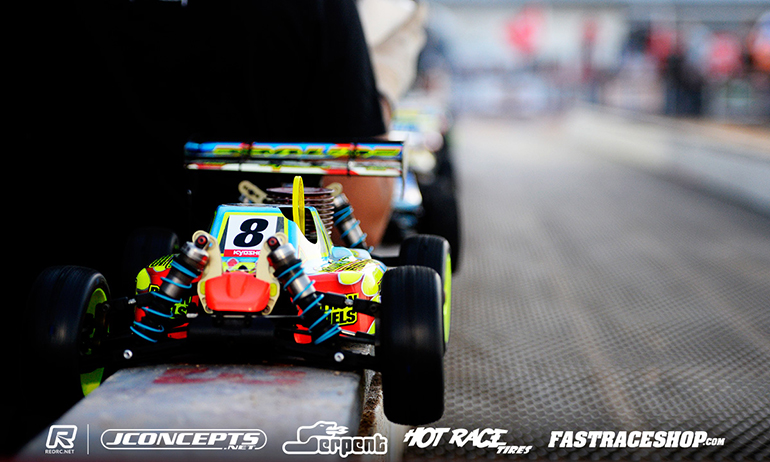 'It was alright' was how King summed up his first Top 6 run.  The 2010 World Champion, who has impressively made the final each Worlds since then, continued, 'I hit a few bumps I was meaning to go around but the car is getting better'.  The American said they have been 'changing back and forth' the set-up starting with his own and then trying 'others set-up' before going back to his own direction trying to get his MP9 a little better on the bumps.  Feeling they are now on the right way, the 29-year-old said, 'I'm just waiting for Saturday to get here'.  Behind King, young star of these Worlds Davide Ongaro posted the 7th fastest time with his Mugen followed by Ryan Cavalieri, a round resulting in first time Top 10 runs for Worlds podium finisher Miguel Matias and Xray's Josh Wheeler.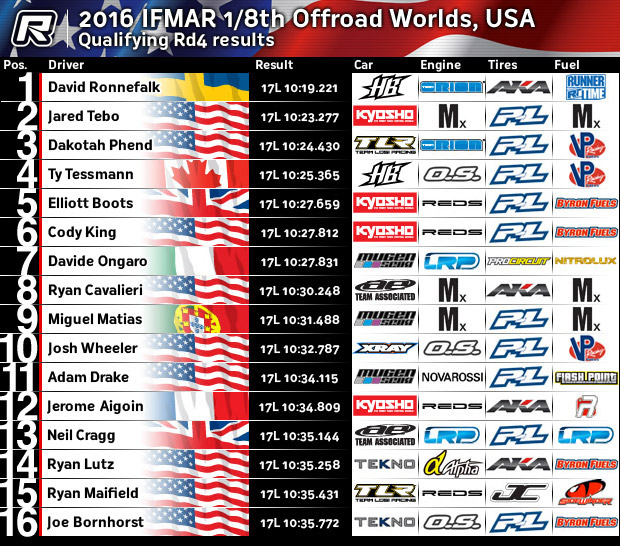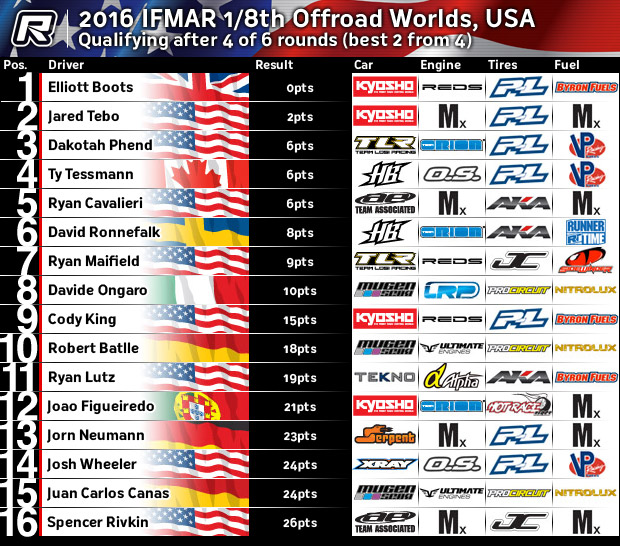 View our event image gallery here.

---