October 9, 2016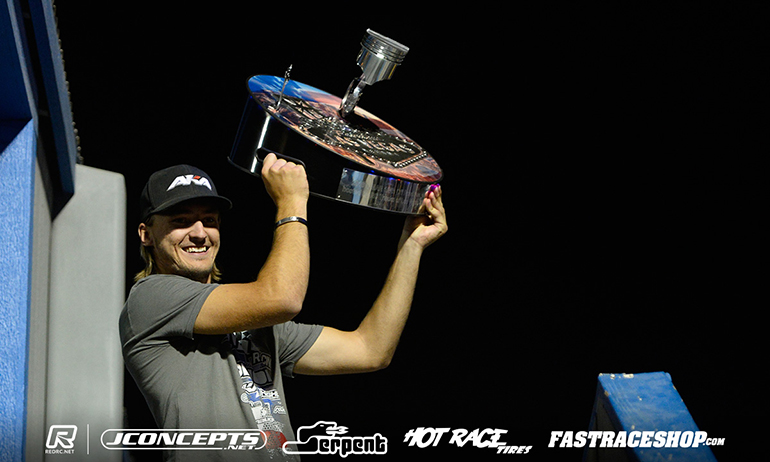 David Ronnefalk is the new 1:8 Offroad World Champion, the Swede finally delivering on the promise he has shown ever since being crowned European B Champion in 2009.  Starting from 3rd on the grid, the HB Racing driver would win the 1-hour encounter in convincing style once he got passed pole sitter & defending champion Ty Tessmann, his HB Racing team-mate eventually finishing up third.  Making it a European 1-2 in the American's own backyard, 2012 World champion Robert Batlle would take the runner-up spot recovering from some big early mistakes.  With Ronnefalk claiming the sport's greatest prize, RC Tracks of Las Vegas would put the spotlight on his replacement as nitro offroad's next star of the future as David Ongaro, despite his age, mixed it with the biggest names in RC with ease and confidence.  A back pressure pipe would deny him from finishing his first Worlds final as Vice Champion leaving the Italian 6th behind Ryan Cavalieri.  With many feeling the first running of a Worlds final under floodlights would favour the American drivers, it would be Top Qualifier Jared Tebo who would be the best US finisher taking fourth 2.2-seconds up on Cavalieri.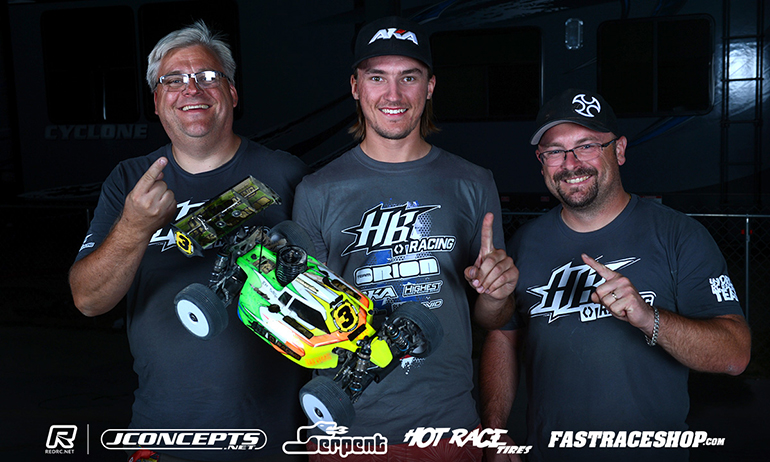 A driver who has never lacked the belief that he would one day be World Champion, his preparations for the 16th running of the Worlds well highlighted on his Facebook page, Ronnefalk said, 'This has been my goal since starting racing'.  He continued, 'ever since I teamed up with Adrien (Bertin) I have had a super good relationship and we won this together.  I want to thank my family, my girlfriend and all the racers back in Sweden for being super supportive and letting me do what I love'.  On the race he said, 'From the start I had a good race.  When Cavalieri flamed out I had a big enough gap to Ty which meant I had less pressure on how I could take the first few jumps. Ongaro also showed good patience behind me'.   He continued, 'I have no idea how long I was behind Ty but my goal for the race was to makes as few mistakes as possible.  In the Semi I was just trying to survive out there so I knew I had more speed but after I got the lead others started making mistakes behind me and I pulled away slightly every lap. I think my biggest gap was 28-seconds.  With 2 stops left I knew everyone's tyres would go off so I could control the race although I had a couple of mistake coming home'.  One of those mistakes was at the end of the last lap, it stopping Bertin in his tracks as he prepared to celebrate his protege's win, with the 20-year-old saying 'on the last lap my mind was somewhere else'.  With his goal reached Ronnefalk said his new goal is the electric offroad Worlds which run next year.  A podium finisher at the last 1:10 Worlds in Japan, he said, 'now our attention will be on developing two cars for the Worlds next year in China and I will do a lot of practice at my own track where he will host a race in 2-weeks time.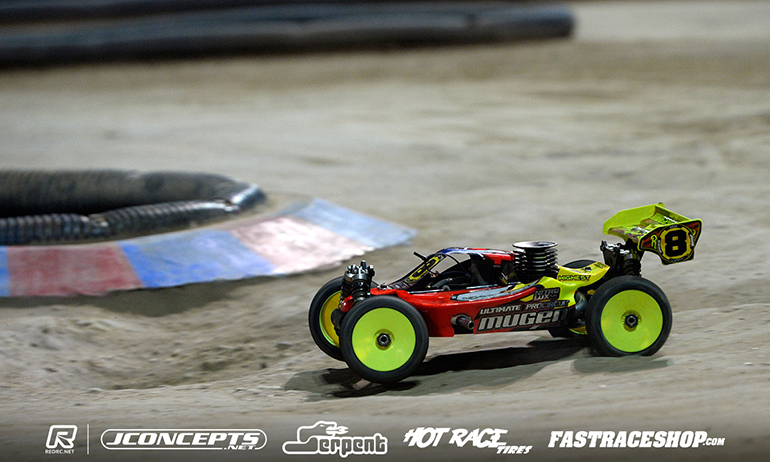 'From hospital to 2nd, I'm super happy', was Batlle's reaction to coming from 8th on the grid to finish runner-up after a late battle with Tessmann.  The Spaniard, who on arriving in the US for the event ended up in hospital with painful kidney stones, added, 'Given how the week started if you had told me on Tuesday I could have second I would have said OK'.  On his race the Mugen driver said, 'my car was loose at the beginning and I had 2 or 3 big mistakes that lost me a lot of time, but the car improved and was then very good letting me get into some huge battles.  I'm super happy with how the race turned out but David deserved the win for sure.  I'm I happy to have a World and now a Vice World Champion trophy.'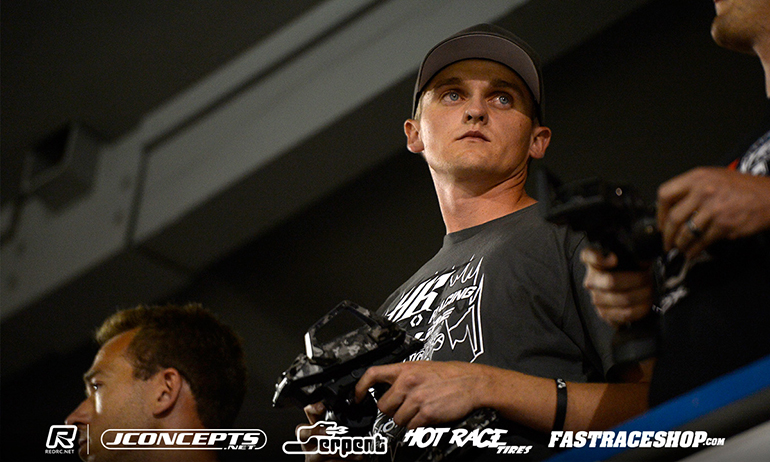 Summing up his race Tessmann said, 'It started good and the tyres were really good at the start but the last 3/4 of the race they got worse & worse'.  Running Pro-Line Fugitive Lights on his OS powered D815V2, the Canadian continued, 'In the Semi practice I ran them and they faded but that was in the day and I thought at night they wouldn't'.   Losing out on making it a HB Racing 1-2 by just 2.2-seconds, he said, 'David drove great and everything worked good for him. Well done to him on the win.  We'll try again in 2018'.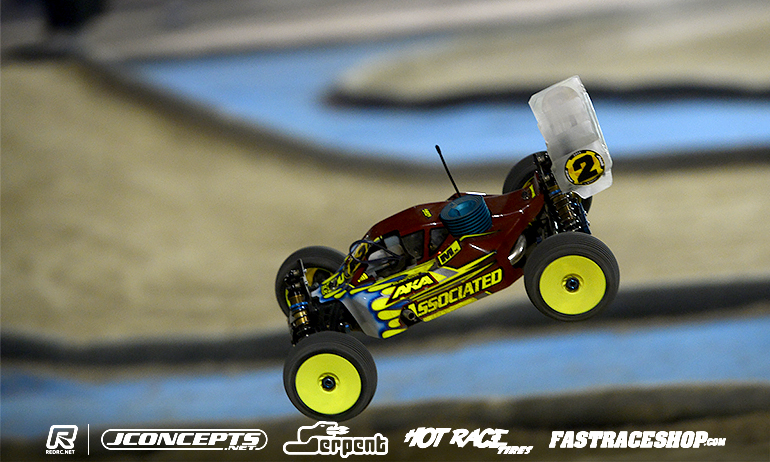 'I go screwed from start' was how a less than happy Cavalieri summed up his race after finishing 5th.  Having for a few moments held pole for the final but then lost his win for contact with Tessmann on the final corner of that 30-minute encounter as the battled for the win, he continued, 'starting from pit lane irritated me and I drove bad'.  With his RC8 flaming out as the cars waited to be placed down causing the start to be aborted some confusion followed over him retaking his P2 starting position with it soon clarified he must start from pitlane. Having been on the podium at the previous Worlds, he said, 'I tried to recover but couldn't put it together.  It wasn't my day which sucks'.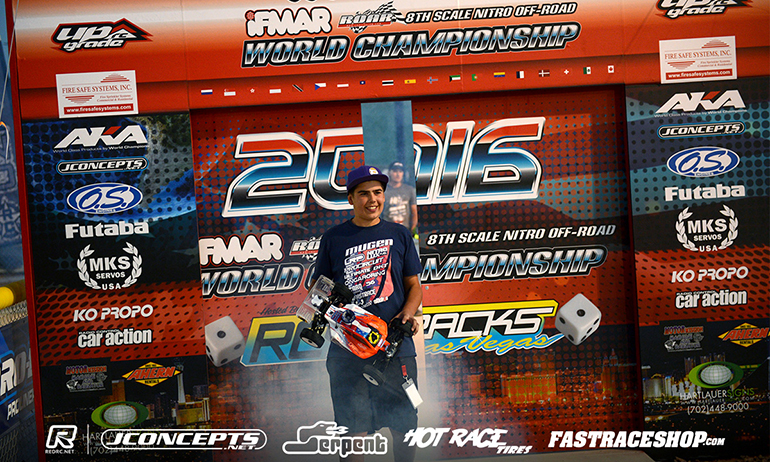 'Happy' with his sixth but adding 'second would have been better', Ongaro said nerves led to a couple of early mistakes.  With his MBX7R getting better as the race progressed he was able to recover the lost time and get up to second.  With the race producing a number of intense battles for the podium places at various stages over the 60-minutes, the fuel pressure pipe coming off would ruin his spectacular showing.  Having to nurse the engine for a lap & a half to get to his next scheduled stop, that stop would be lengthy as they refitted the tubing, with a crash on the entry to the pits compounding the lost time'.  Behind Ongaro, Renaud Savoya would be the best of the TLR drivers finishing ahead of team-mate Ryan Maifield, who for a time looked on target for at least a podium. Despite how rough the track was to become for the finals, all 12 cars would go the full distance with the order completed by ninth place Ryan Lutz, Elliott Boots, Dakotah Phend and Kyle McBride.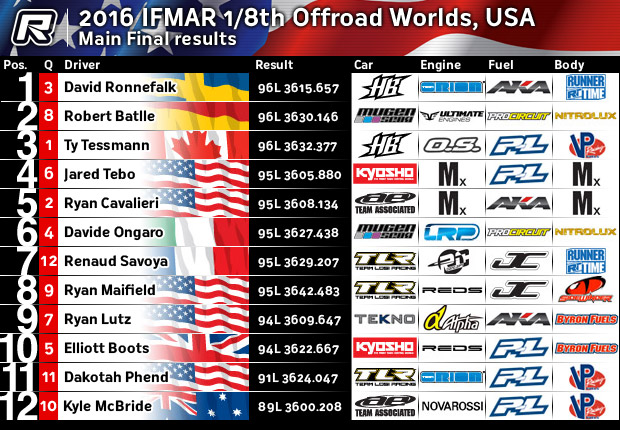 View our event image gallery here.

---