October 5, 2016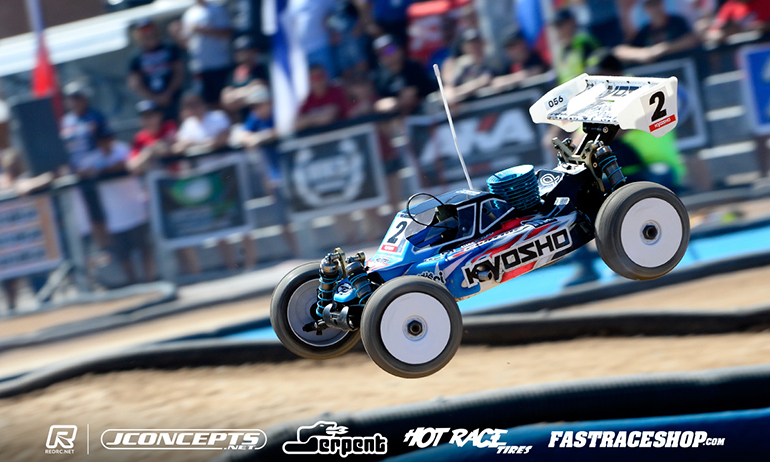 Jared Tebo has opened the second day of qualifying at the 1:8 Offroad World Championships with a TQ run, the Kyosho driver maintaining the Japanese manufacturer's reign at the RC Tracks of Las Vegas. Opening qualifying with a P2 behind team-mate Elliott Boots in Q1 and then a P7 in the second round, the former Worlds Top Qualifier would top the times in Q3 by 3.5-seconds from reigning World Champion Ty Tessmann.  Posting his first Top 3 run, Dakotah Phend, who runs in the same heat as Tessmann, would complete the Top 3 ahead of relative unknown Tomi Salonen, the Finnish driver having set his impressive time in the second heat of the reshuffled running order. Having dominated yesterday's action TQ'ing both rounds, Boots' third run would contain a number of mistake that would leave the European Champion with a P7.
'That was good. I drove well', was Tebo's reaction to topping the time sheets, the track now 20-seconds slower than the opening TQ pace.  He continued, 'the track is getting really fun for me and I can be creative with my driving.  I really enjoyed it'.   Running his car unchanged, a new receiver battery the only change after it finally turned up having been sent to his old address, he said for the next qualifier he had the 'same game plan' and no plans to change the set-up on his MX powered MP9.  With the top drivers second run of the day set to run much later today due to the new running order of the heats it is expected to run under lights meaning much cooler conditions.  Commenting on this Tebo simply said, 'It might affect it a little bit but I'm just going to keep doing what I'm doing'.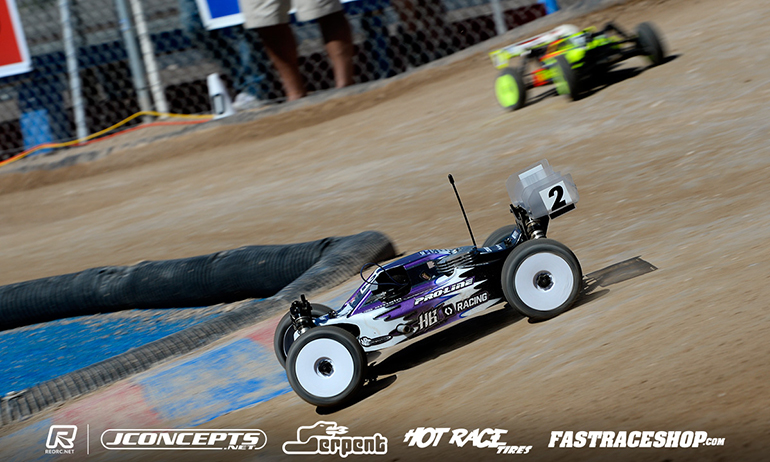 Commenting on his best run so far, Tessmann said, 'I thought it was pretty good. I had no mistakes just a little trouble with traffic which was a little sketchy'.  He continued, 'I'm not sure I made the right tyre choice for how hot it got'.  With his father Gord intervening that he 'gave into peer pressure', Tessmann said he went with M4 Holeshots because, 'Elliott was running them so I thought I would try them'.  The Canadian added, 'they didn't put a lot of water on the track that time so its hard to judge what compound to run'.  Looking to Q4 he concluded, 'tonight will be cooler so it should be easier to pick the right tyre'.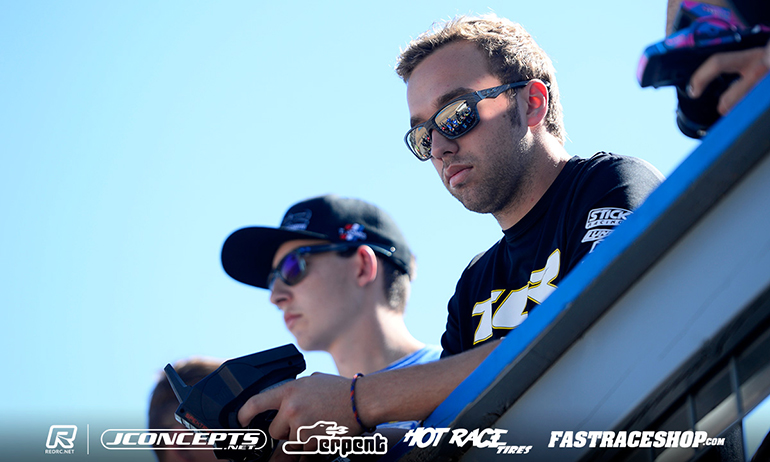 'It went OK, I had a bad crash that cost me 5-seconds', was Phend's view of his heat, continuing 'for how the track is out there the car was good'.  Also losing time when his Orion powered 8ight got caught up on the piping, the 19-year-old said with the bumps and it being a lot hotter today it was hard to find the right lines, the heat making it more dusty causing the car to slide around.  Running Pro-Line's Fugitive Light tyres, he said 'it wasn't bad' but for Q4 he will most likely go to Holeshots which he said having run them previously should be faster.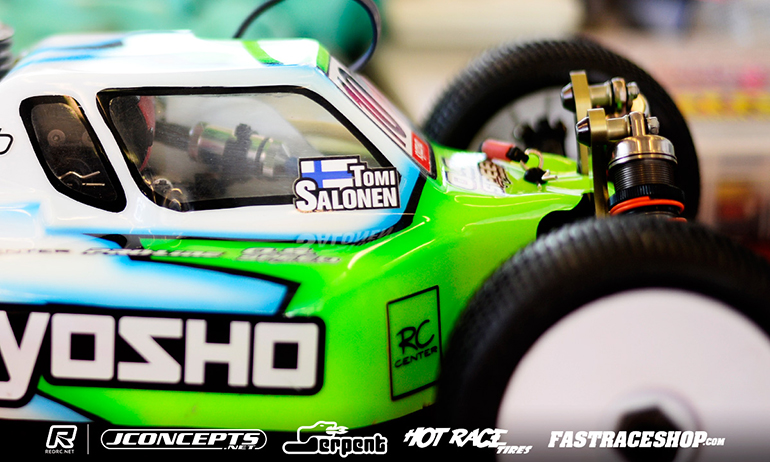 'A moment you get once in a lifetime' was how Salonen summed up finding himself right up there with the best drivers in the World.  He continued, 'I'm a privateer, I'm old & I'm slow but I didn't make any mistakes that round'.  Running a Kyosho, the 38-year-old, who finished Runner-up in this year's Finnish National Championship, said, 'I have been racing 25-years but this is turning out to be my best season and I am really enjoying the track here'.  Only his second World Championships to attend, when asked what tyres he was running he replied, 'Pro-Line Switchblades, it is the only option I have'.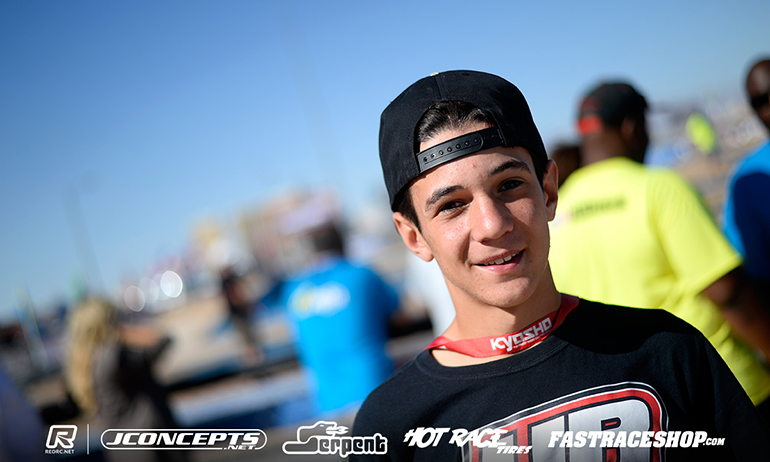 Another surprise of the round was Juan Carlos Canas, the up & coming Spain talent posting the 5th fastest time. With his previous best a P19 in Q2, the 14-year-old Mugen driver put his improved pace down to a shock change.  Switching to a lighter oil and Fast Race bladders, this made the car easier to drive and more stable on the bumps.  Describing the round as 'really good' with his only drama 'a little traffic', he also switched to running a prototype tyre from Procircuit which is similar to Pro-Line's Fugitive.  Looking to Q4, which because his Heat No.7 is the last in the new running order will be held under flood lights, he said he needs to see how conditions are, but for now he doesn't plan to change anything.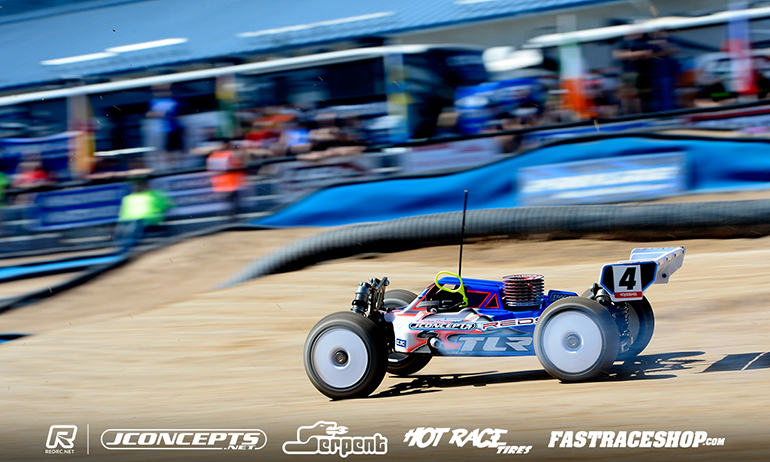 Sixth for the round, Ryan Maifield said, 'it was good but our car is not very good in the wet'.  The TLR driver continued, 'the track stayed wet longer for our heat which for others is good but not me' adding 'the track is so inconsistent its hard to know what your going to get'. Opening qualifying yesterday with a P3, he said 'I drove it the best I could with no mistakes and just sent it for the last few laps' which would see him pip Robert Batlle to top their heat.  Running JConcepts green compound Triple Dees he said expecting tonights track to hold more moisture they will try something better suited for a wet track but added 'my car is good in the dry so I'm excited for Saturday (finals day)'.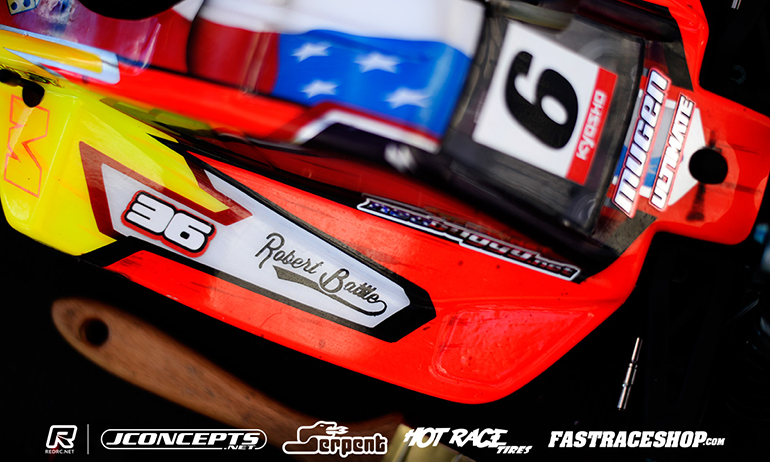 Suffering with kidney stones, having had to make a number of hospital visits since arriving in the US, 2012 World Champion Robert Batlle said, 'that went quite well considering I'm on pain killer and not 100%'.  The Mugen driver said his Ultimate powered MBX7R was 'super nice' adding the 'the track is so much better than yesterday'.  With the track getting more difficult the Spaniard is liking that 'it's getting more about the driver than the car'.  Happy with his own performance, setting the fastest lap of the round, he was less happy with some of the other drivers saying 'One guy crashed me out of the track.  I think the referee was having coffee and not looking at the track'.  He would also lose more time on the last lap when two cars crashed in front of him calling it 'bad luck'.
'Not good' was how Boots summed up his 3rd qualifying effort.  He continued, 'I made 3-mistakes and that cost me a lot of time'.  Taking responsibility for one of the mistakes saying it was driver error he said the other two where down to track conditions with the track 'a lot more bumpy'.  Describing his MP9 as 'not a million miles away (for where the track is now at)' he said, 'its all about not making mistakes, don't have them and your at the top'.  On his next qualifier, the British driver replied, 'I might look at changing my lines'.  Behind Boots, David Ronnefalk and Ryan Cavalieri completed the Top 10 with both drivers suffering mistakes including a crash for Ronnefalk as he came in for his fuel stop.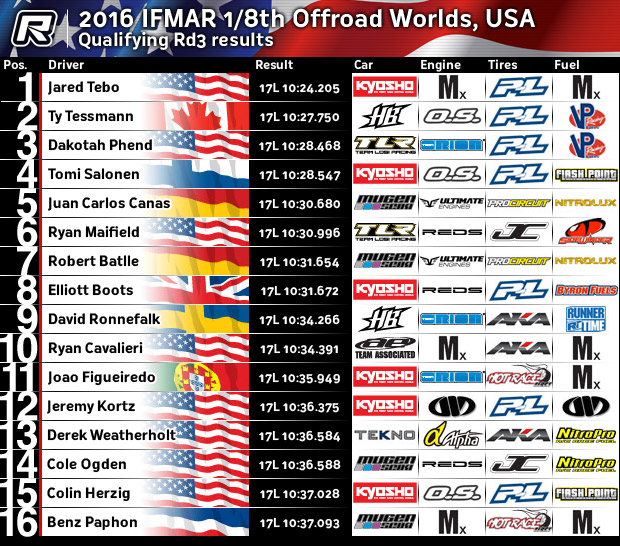 View our event image gallery here.

---