October 4, 2016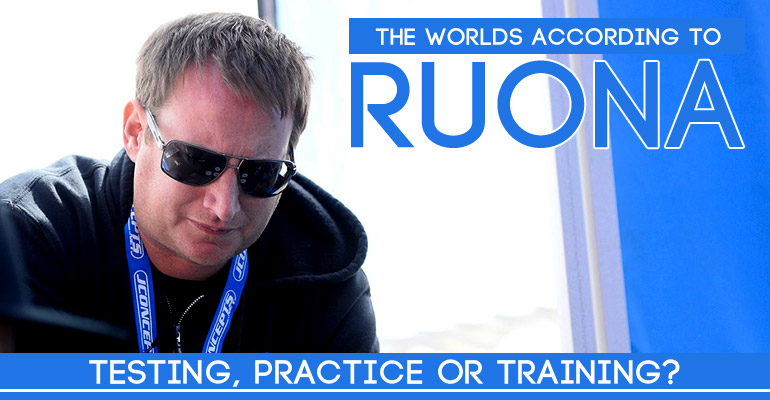 We made it through a great practice day today at the worlds and so far things are looking pretty normal. The track is developing character with some bumpy places here and there and most certainly will continue. I see some drivers having trouble finding their marks out there so it's obviously more difficult than it looks. After the 180 down the straight there is a nice hole forming and on the face of the following roller / jump. Things will only get more interesting from here.
The fastest 3 laps is always a bit annoying because the qualifiers are 10 minutes. It's a nice system to sort drivers for qualifying but we get impatient at races like this and start using this immediately as The Who's / Who at the worlds. Today we will see a little more reality because the entire 10 is on the clock and we will sort by 3 consecutive. I will be watching the top 5, top 10 and top 15 laps section of the LiveTime print out.
This is a tough thing for me because I'm not a fan of the watered track surface. I think it looks pretty with fresh water but it makes the consistency so much more difficult. This has everything to do with the weather and nothing to do with really who is behind the hose or hoses. Since the heats were not rotated today the drivers that were up early had the wettest track and the guys at the end had the driest track. There are 3 conditions to watch as a racer, watered surface (looks like chocolate cake as Saxton says), drying / dusty (most difficult to drive on) and then the beginning to groove phase which only gets faster with more time. My favorite on this track is the grooved, getting fast condition. I love this track when it starts to groove, I think the consistency stabilizes and the drivers can push harder which looks more impressive. Until that point the drivers are really at the mercy of which heat they are in to really know what to expect of the conditions.
We got into a discussion last night night on more and more drivers mentioning they are testing. This isn't directed so much toward worlds drivers but more what I noticed on social media. I like the word practice or training better than testing. To me, if you are testing you have the ability to make radical updates or changes to the design of the product. Your input can drastically change the product at some point or another. Practice, training or using the product seems more accurate of what we can really do on a given day. Maybe we say, experimenting? I don't know, I haven't really settled on my favorite word yet. I feel if I say I'm testing, I'm trying to sound like I'm important.
Let's skip to when I felt important and I have a testing story. This time I was more of a test dummy driver I think….not sure. Around 1998 Team Associated was building the TC3 touring car, but for their own purposes they never left the back parking lot at AE with the car. They knew if they took it to the track, than it would only be a matter of time before word got out what the car looked and performed like.
We were racing the NORRCA Nationals in coincidentally Las Vegas. I received a call from Cliff Lett and he mentioned to me that he wanted to fly in and "test" the TC3 prototype after the race on Monday. Mark Pavidis was also racing the event but they didn't want him to drive the car in fear that if it didn't work well then he would dislike the whole design. So, Cliff flew out and we met up on Monday at the track where he and Mike Reedy had the car and pits setup and ready to drive. Reedy had his whole pit setup with race motors, new batteries and the whole 9 yards. Cliff pulls out this entirely hand built car with machined plastic, aluminum and carbon fiber components. This is before everyone and their brother had a 3D printer and was suddenly an RC engineer making one-offs on their coffee table. Reedy gives Cliff practice batteries and a motor and proceeds to install everything.
Cliff explains, be careful driving this car because we have no parts. I proceed driving with caution and getting a feel for things while Cliff and Reedy turnmarshal if needed. Is turn marshal one word or two? I'm going slow, trying not to crash or break the car…..Cliff yells…you can start going faster now. I begin pulling it a little more and getting more comfortable. The car is working, everyone is getting more comfortable and confident and feeling good. Reedy pulls out a race motor and one of the race battery packs and wants to see us step up the game. Cliff makes the swap and I ready a fresh set of tires. I head to the drivers stand and extend the antenna (back when we had them). I look down to see Cliff drop the car by accident and shatter a custom machined suspension arm. I'm thinking, well, at least it wasn't me..but now we are finished for the day.
I head back to the pits and everyone has this look of disgust on their face…the day was over. Just then, Cliff reaches into the box and pulls out this bag and he says, I'm glad I brought these extra parts. A good laugh and tension break and we were back on the track. Finished the day and as they say, the rest is history.
Today is officially history and overall I was pleased. As a competitor you want to TQ, top seed or kick someone's ass every day but it's a grind to be the best at something. Official practice seeding kicks in tomorrow and I'm excited for where the ups and downs take us. I just hope our "testing" proves itself in the long  run and we can all enjoy a chuckle in the pits along the way.
Bullets of the day –
– Track has character now.
– It should be coming alive quite soon.
– It's only Sunday and the race parking lot is already full.
– I noticed JQ likes our AstroTurf pit area.
– People keep stealing our chairs.
– Walking in the rocks suck.
– You never have enough sun screen.
– New shoes get dirty.
– The fast guys always say the other fast guys cars look hard to drive.
– Sometimes you have to water the carpet and banners too.
– It sucks to suck.
– Watered track looks like chocolate cake.
– The Temptations are apparently still alive and in concert at The Orleans hotel and casino.

---