January 6, 2017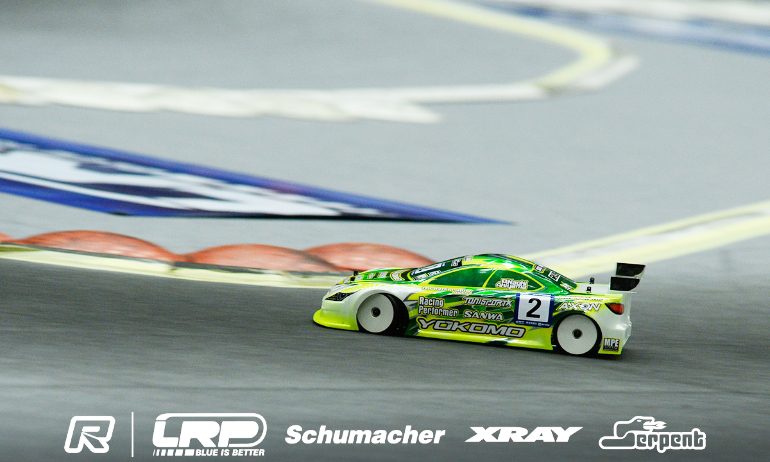 Team Yokomo protege Naoki Akiyama opened qualifying at the 16th running of the DHI Cup with a TQ run, the Japanese driver setting the pace ahead of Xray's Alexander Hagberg.  Benefiting from a difficult qualifier for reigning champion and practice Top seed Ronald Volker, Akiyama was over 6/10ths faster than Hagberg with Freddy Sudhoff completing the Top 3 a further half a second off.  For Volker, who twice rolled his Yokomo over the 5-minutes, Q1 would leave him with a P6 behind former team-mate Yannic Prumper and a much improved from practice Viljami Kutvonen.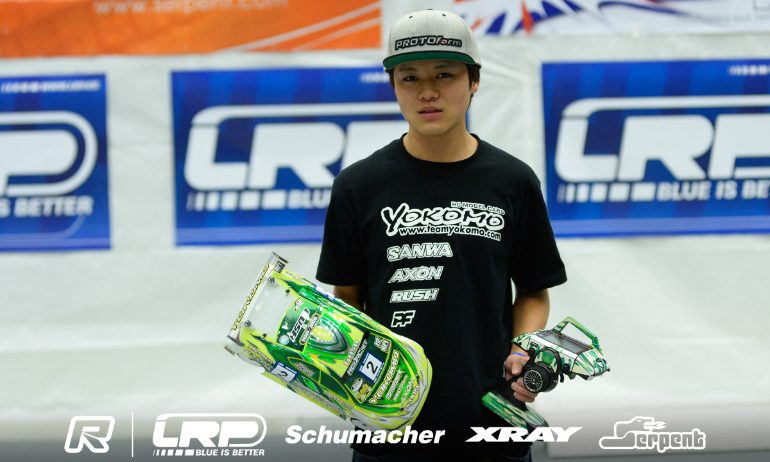 While declaring it was a 'good result', Akiyama was quick to make the point, 'I don't have the pace, Ronald is faster'.  The 17-year-old was to be actually fractionally faster than his World Champion team-mate on outright lap time, the fastest lap of Q1 being posted by Xray's Jan Ratheisky.  Describing his BD8 as 'good', he said there is more to come from the driver, him continuing to feel he is still not driving smooth enough.
Giving a summary of his P2 run, Hagberg said, 'the beginning was a disaster. It was like there was dust on the tyres because the first couple of minutes I had no traction'.  The Xray driver said once the tyres came in his T4 was 'very good' and he 'could close the gap for a good recovery'.  For tomorrow, the 2016 podium finisher said 'we need to check our tyre prep or be careful on the warm-up laps' to ensure he doesn't have a repeat of his lack of traction at the start of Q2.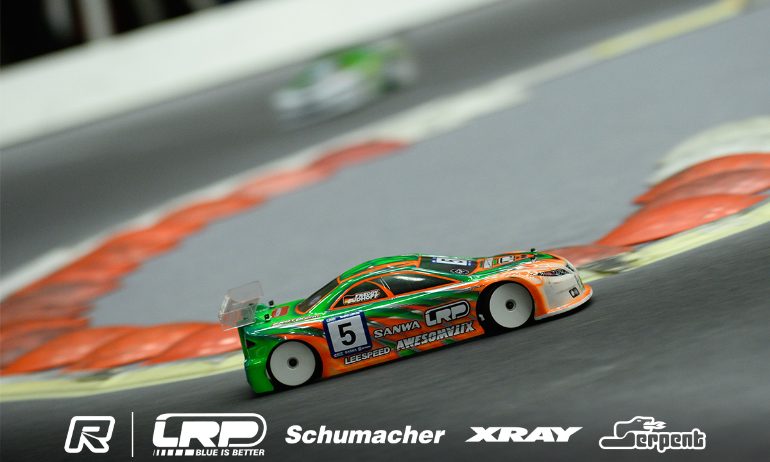 'I could fix the problem of the car being edgy to drive in practice and the car is consistent now', was Sudhoff's response to how Q1 had gone.  The Awesomatix driver added, 'I hit the tape twice and got up on two wheels but despite this it was a good run'.  Feeling they now have a 'good base to work from for tomorrow', he said 'we already have a few small changes planned for tomorrow to further improve the car but for sure we will try a different tyre prep'.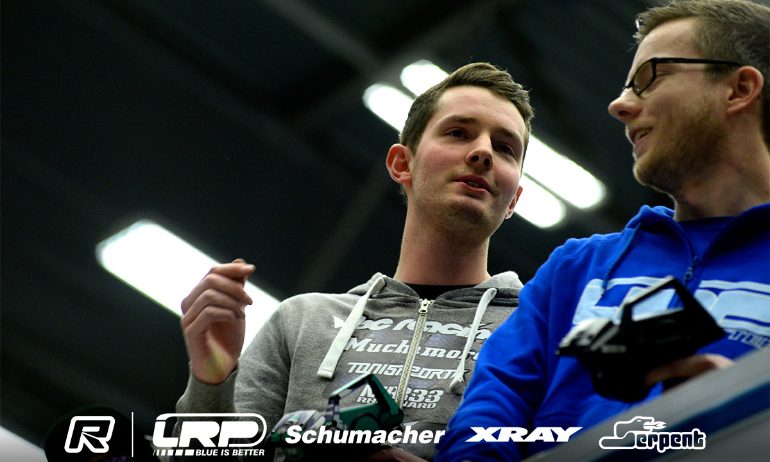 Having not been overly happy with his 3-lap pace in seeding practice, Prumper said on opening qualifying with a P4, 'over 5-minutes its not so bad'.  Making a additive change for Q1, he added his VBC was 'a little better'.  Declaring '4th is ok for sure', the German, who qualified second overall at the 2015 DHI Cup, was on target for a Top 3 time until a small mistake on the penultimate lap. Looking to Q2, he said 'I might keep the car the same and just try to get rid of the mistake'.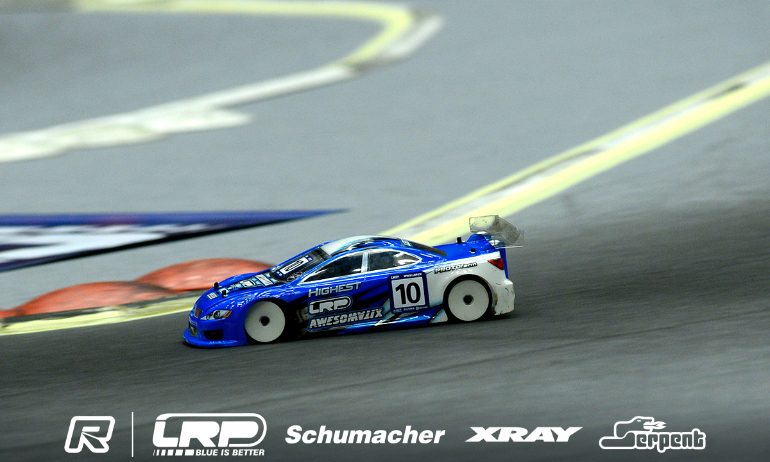 'Much better than practice' was Kutvonen's reaction to getting a P5 out of the first qualifier.  Only 10th fastest in seeding, the ETS season opener podium finisher, said 'that set-up didn't work and I completely changed the car for Q1'.  Asked what was the biggest difference between the two set-ups was he said it was 'small changes everywhere'. Describing his start to the heat as 'slow at the beginning', the Finn said he found his rhythm at the end and is now confident with the car again, plus with a few small set-up changes planned to further improve the car he is looking forward to a much better day.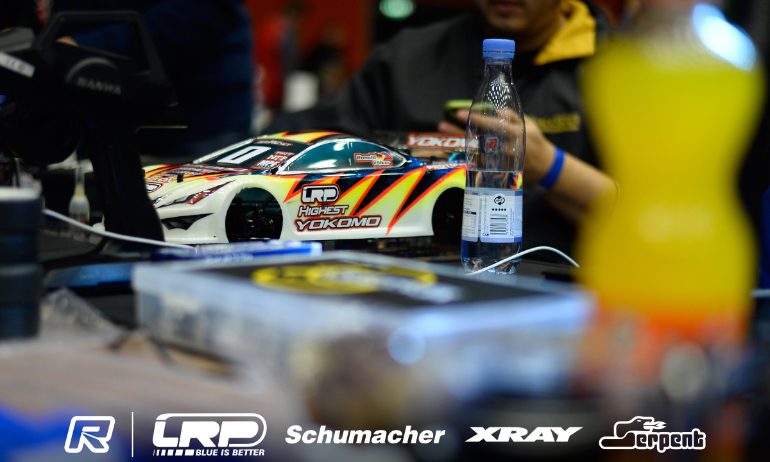 Explaining his P6 for the opening heat, Volker said, 'It started quite good but then got a little edgy and I traction rolled'. He continued, 'trying to catch back up the lost time I then rolled over again'. Describing his LRP powered BD8 as 'too difficult to drive' the 7 time DHI Cup champion said, 'we need to consider a bigger set-up change for tomorrow'.
View the event image gallery here.

---