April 30, 2017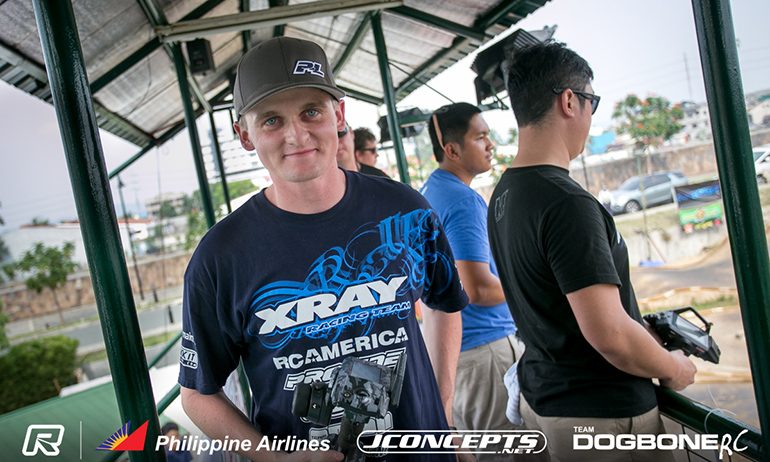 Ty Tessmann has taken a convincing Truggy win at the Philippine Masters, the Xray driver winning the 1-hour Main in Manila from outgoing champion Adam Drake.  Starting from second on the grid, the Canadian was gifted the lead at the start as Top Qualifier Kyle McBride had a fumbled set down on the grid.  Once in front, Tessmann took control of the race and while McBride would recover and close to within 4-seconds of him it was all in vein.  Chasing down the leader with six & a half minutes to go, the Australian would make a mistake in a 180 corner and facing into the oncoming traffic would get collected popping a right steering block. Continuing the lap & limping back to the pits, despite the best efforts of his pit crew they couldn't force it back into position and his race was done.  This promoted Drake to second with Aaron Stringer also moving up to complete the podium ahead of top local driver Jordan Go.  Along with McBride, another of the international visitors to retire would be Atsushi Hara.  Popping a steering rod early on but able to rejoin after being returned to the pits, the former World Champion would then run out of fuel twice before retiring at the 43-minute mark when he broke a front centre drive shaft.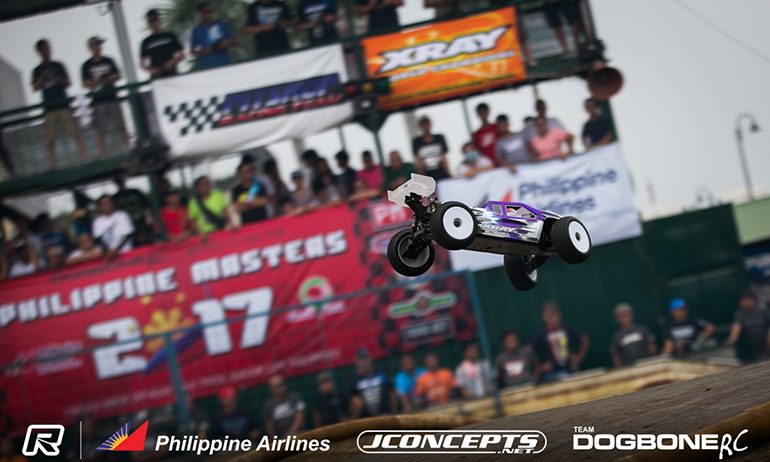 Summing up his win, Tessmann said, 'The start was a little strange.  They gave the motion to go down but Kyle's dad didn't put his car down, then Scotty said go so I went'.  Once out front, the first time visitor to the country said, 'I just tried to not make any mistakes and build up a comfortable gap.  After that I was able to drive a controlled race because on this track you can't make up time but you can lose it'.  On McBride closing him down for a time, he continued, 'My truck was easy to drive so it was no problem and I could pick up my pace'.  Asked about his off track excursion as he exited the pits following a fuel stop, he replied, 'its super slippery there'.  Also surviving a coming together with a back marker, the incident that would put out his main rival brought on a mistake with him saying, 'When Kyle broke his truck I ended up having a rollover.  I was trying to listen to what was going on and got distracted'.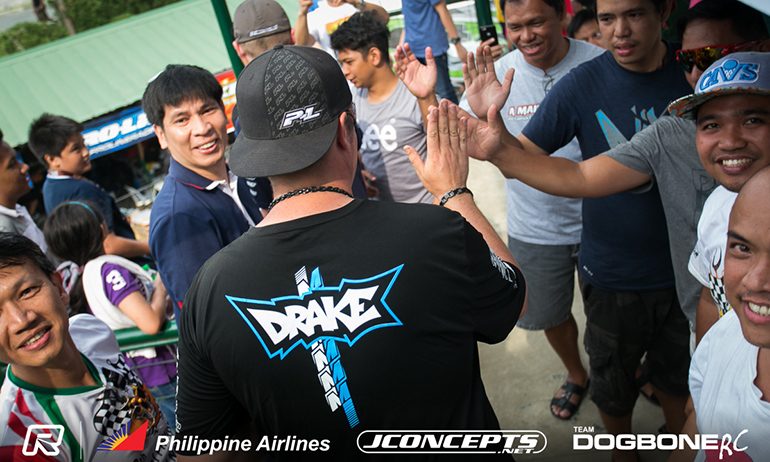 'Long, hot & humid.'  With the heat and the hour it was a race of survival', was how Drake summed up the race.  The driver responsible for kicking off the international interest in the Philippine Masters, the Mugen driver continued, 'The beginning was good but then I had a little mistake trying to get on the inside of Kyle which caused me to lose touch with the Top 3 group.  It was uneventful and boring after that'.  Describing his second as a 'solid finish', he added however, 'I would have liked to be closer and fighting for the win'.  Without his regular pitman for the trip, the American complimented his local crew saying, 'they did really good.  The called the stops a little early and I was concerned they wouldn't call me for a splash but they did'.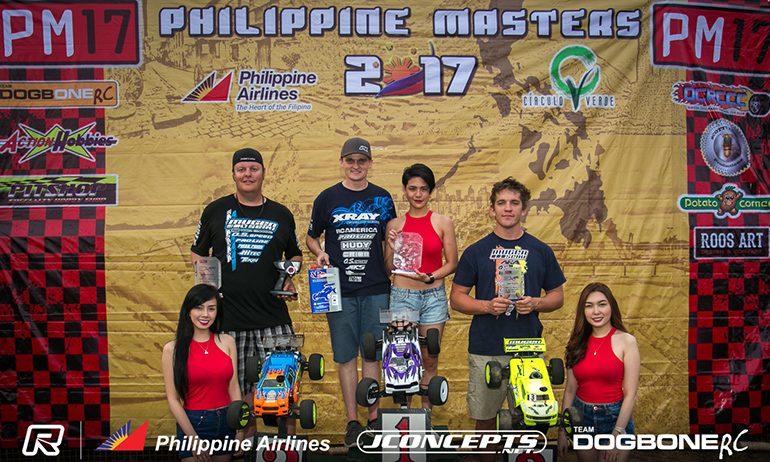 'Not really' was Stringer's response when asked if he was happy to finish on the podium.  Setting an almost identical fastest lap time to that of Tessmann, who had the fastest lap over the hour, the Mugen driver was frustrated to have 'issues with backmarkers a few times'.  Describing it as a 'tough race',  the Australian National Champion would suffer a flame out which was caused when "I think I landed on a rock'.  Describing his Truck as good over the race he concluded, '2nd would have been better but 3rd is alright, that's racing'.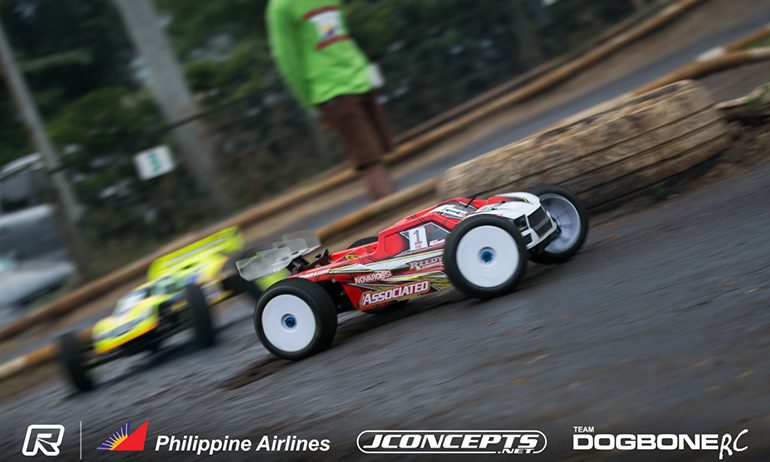 Reacting to a frustrating start and end to his race, McBride said, 'The start was a bit hurting. My dad didn't hear the start'.  The factory Team Associated driver continued, 'after that I was just trying to chase Ty but got hooked up the tyre and the guy hit me.  It was an accident.  It was my fault for crashing'.   Describing his RC8T3 as 'easy to drive' he said 'it was not the fastest but I was just trying to stick with Ty.  I got the gap down to 4-seconds, then crashed and it was all over'.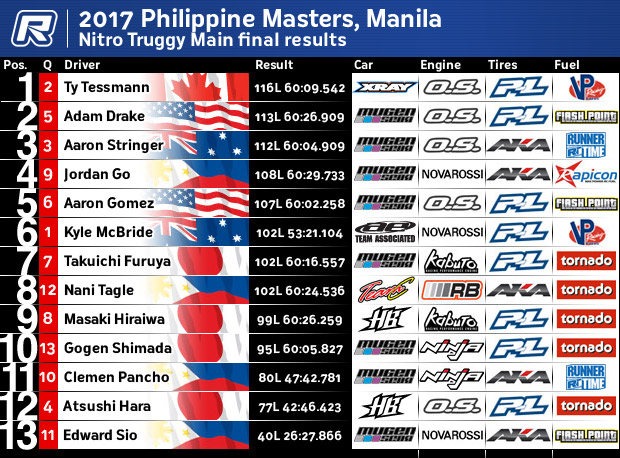 View complete event results here.
View our event image gallery here.

---