May 26, 2017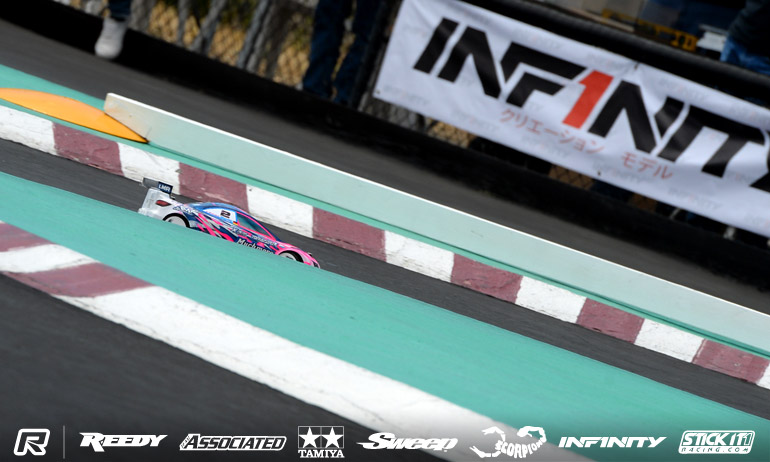 It has been a perfect morning for Marc Rheinard at the Reedy Race of Champions in California with the Infinity driver making it two wins out of two races. With Round 2 his only front row start for the day, lining up alongside team-mate Naoto Matsukura while he would fail to get the jump off the start he would go to the front when the kink put an end to Matsukura's race, the battery coming out on the landing after the Japanese driver's short flight. In the other two encounters, while Yokomo drivers Nicholas Lee and Meen Vejrak enjoyed their first wins it was a less fruitful race for reigning champion Ronald Volker. The most heavily loaded race of the round, Heat 3 had Volker starting from the back behind team-mate Christopher Krapp, Bruno Coelho and Round 1 winner Akio Sobue. While Vejrak took the win after Kevin Hebert threw away the chance to become the first pole sitter to convert their starting position into the win, Volker would get caught up in a mistake by Krapp. Getting out out shape coming onto the straight Krapp would tag Volker as he tried to go by leaving the World Champion with a P5 result he will be hoping is one of his two permitted drop outs.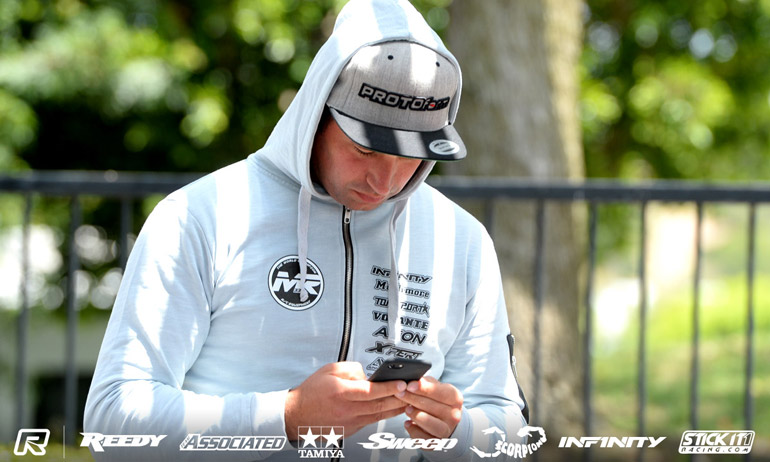 'It's been a good start', was Rheinard's reaction to putting two wins on the board. On Round 2, the 2015 Champion said, 'I tried to beat Naoto off the start but it didn't work and I had to back off. After that I had a few rough laps but then he hit the kink. Its a pity because he has good pace and it would have been another Infinity 1-2, although I'm not sure in which order'. Getting to watch Volker's race he said, 'for me it was a good round in terms of how my rivals did although Bruno got a second'. Having made the most of his best two starts of the day, Rheinard will finish Day 1 having to start both races from 5th on grid going up against Coelho in both with us having to wait until the morning for the first race when he & Volker share the same grid.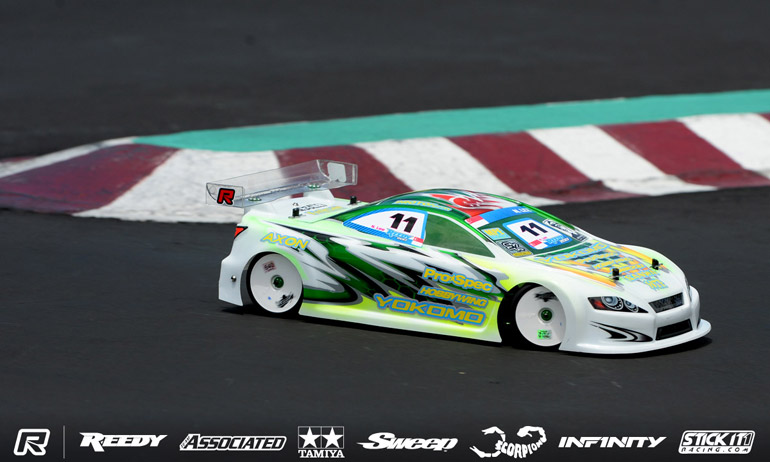 'I got lucky everyone in front of me crashed', was how Lee summed up his win of Heat 2.  Starting and finishing 6th in Round 1, the Singapore driver also felt set-up changes had left him with a better car for Round 2.  Asked about the opportunities to overtake rather than have to wait for mistakes from others he replied, 'the room for racing is not so much because of the low traction off line'.  Behind Lee, Serpent's Ralph Burch would finish second somewhat redeeming himself for throwing away a certain Round 1 win while last year's Reedy Race Open Champion Julian Wong completed the Top 3.  Elsewhere, a winner in the first round, Ryan Cavalieri would salvage a P4 from the race having started on the back row of the grid.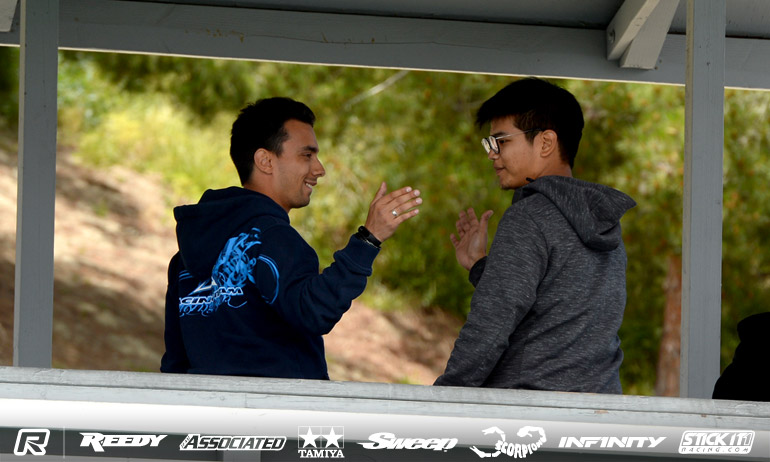 Having got a 4th in Round 1 after two crashes, Vejrak was more happy with his car second time round saying, 'this time it was better, it was more consistent on used tyres'.  The former Nitro Touring Car World Champion also described it as a 'good fight between me & Bruno' with Coelho eventually finishing 2-seconds back.  Starting from 5th on the grid, Akio Sobue would back up his Round 1 win with a third place.
View our event image gallery here.

---