August 5, 2017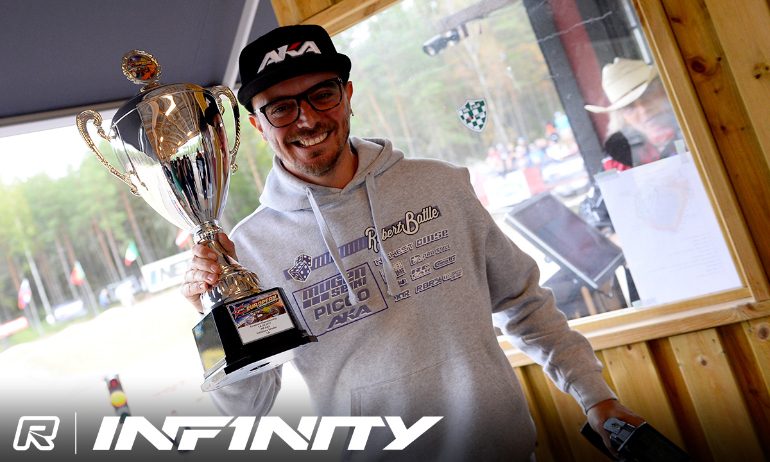 Robert Batlle is the 2017 1:8 Offroad European Champion.  Ten year after winning his first title, the Mugen driver delivered a dominant race performance at the Gröndal Ring in Sweden to claim his third & most important Euros win.  Top Qualifier for the race Batlle would win his Semi to start from pole and after some early errors in the 45-minute final, returned to the front from where he pulled away from a thrilling second place battle.  Having taken the early lead until a mistake, Swedish hero David Ronnefalk would duel it out with defending champion Elliott Boots and rising star Davide Ongaro.  A hard fought battle, Ongaro would come out on top to claim his first Euros podium finish with 2nd.  With high expectations for his home race, Ronnefalk would take some consolation from completing the podium in Eskilstuna having to work hard to stay ahead of Boots.  Setting the fastest lap of the race, Boots' quest for a third title in a row would disappear in the pits with the British driver suffering flameouts on two of his fuel stops.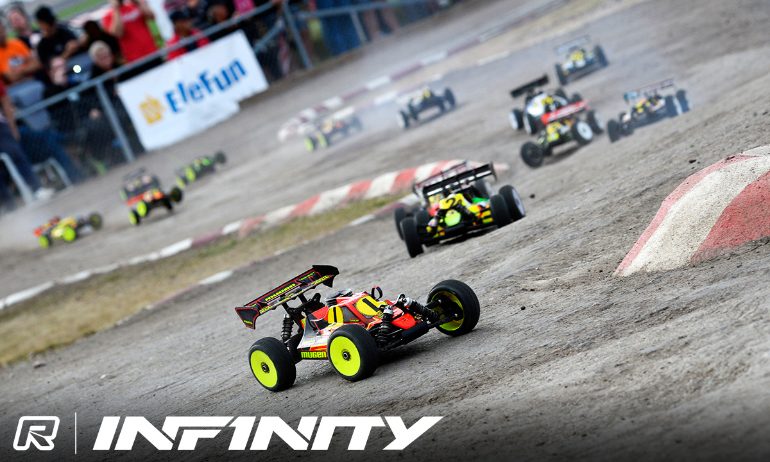 'Amazing' was the word Batlle used to sum up winning the 37th running of the European Championships.  A driver who since winning his first title in 2007 in France has always been a title contender, the Spaniard added, 'Each title is always special but this one is important.  After the last three or four years when we always have mechanical problems finally we did it. This is David's home so to beat him here is super amazing'.  Commenting on the race, he said, 'we knew at the start we would all be close together on the track. I made a good start but then had two errors, the one on the right side cost me a lot. After that I talked to myself and said it was ok to drive 2 or 3 tenths slower because I saw the others were crashing a lot also. I started to drive the most comfortable I could and finally we got the win'. Reminded its ten years since his first win he said, 'this is a nice way to mark it'.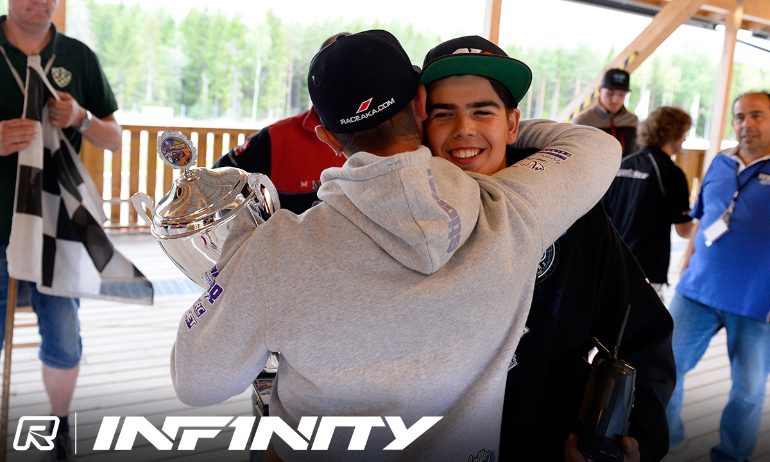 Receiving congratulations from his very pleased team boss Craig Drescher, Ongaro said, 'I'm really really happy'.  Making only his third Euros Main start,  the 16-year-old Team Associated driver added, 'It was very difficult race because of the track. It was very rough'.  Changing to the same tyres for the final as Batlle, both drivers running AKA's soft compound long wear Impact tyre, the Italian said, 'all the package worked and I just tried to drive without mistake'.  He continued, 'I had big battles with David and Elliott but this fighting cost too much time & the chance to fight with Robert for 1st position but I'm happy to get my first podium'.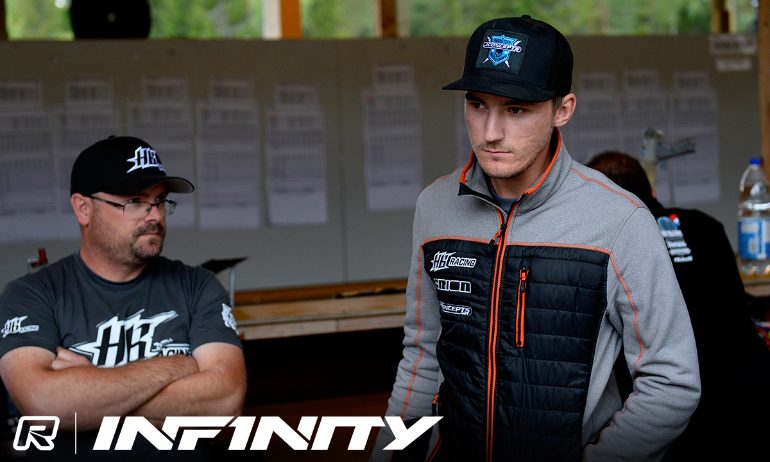 'In the end it was a podium which isn't bad considering how hard I worked out there', was how a clearly disappointed Ronnefalk summed up his third place.  The HB Racing driver continued, 'the car was too edgy for me, we need to check it over but I think maybe the temperature drop because of the clouds was the problem. It felt to drive like a spring cup had come off.  I had to fight really hard with Ongaro and Boots and this let Robert get away and take control of the race'.  The World Champion concluded, 'I wanted to win here because its my home country but next time'.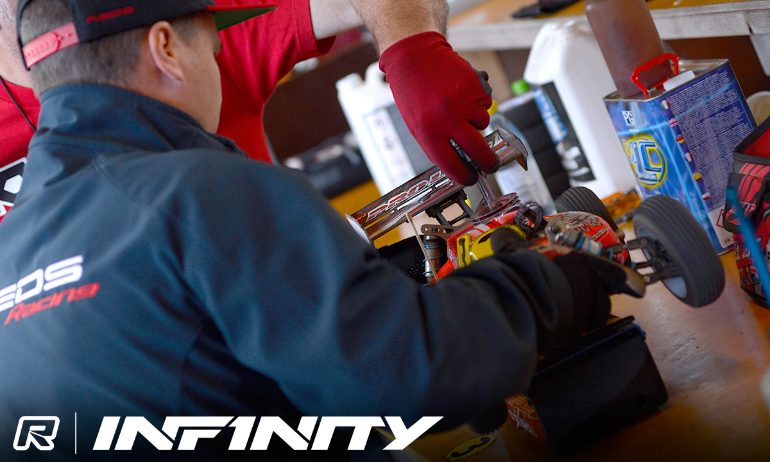 Asked to sum up his final Boots replied, 'shit pretty much'.  The Kyosho driver said, 'the car was really good in the end and was getting better and better.  At the start I got stuck behind a few people and when they crashed it stopped me.  I ended up making a couple of mistake because I was pushing hard to get back to the front and we also had a couple of problems on the pit stops. I caught up to the lead almost'.  Suffering two flame outs, on his 1st and 3rd fuel stops, he said, 'If I had no problems in the pits I feel 100% I would have won it. Sometimes that's what happens'.  Behind Boots, Kyosho team-mate Riccardo Berton would claim his best finish with P6 ahead of young Spanish talent Juan Carlos Canas.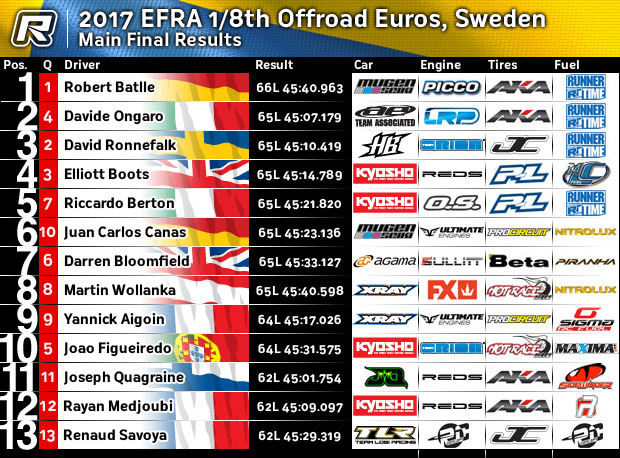 View the complete event results here.
View our event image gallery here.


---