September 16, 2017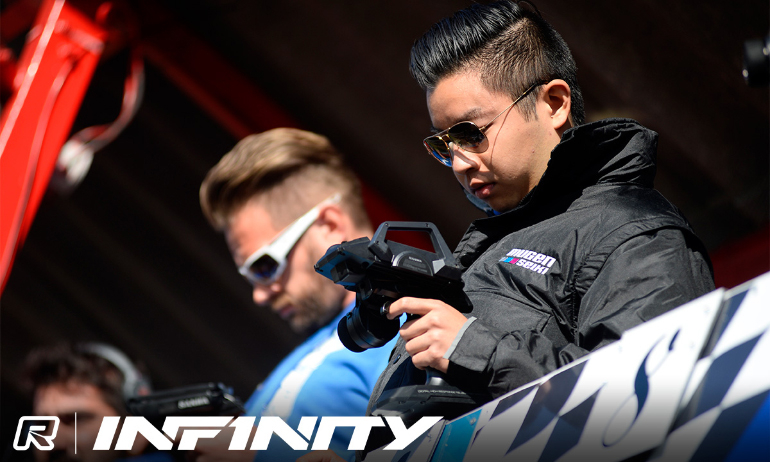 The 21st running of the 1:8 Onroad World Championships is down the final 22 drivers with the 1/4 finals completing the line up for the two Semi finals which will decide the 8 drivers to join Dario Balestri and Naoto Matsukura in the fight to become the World Champion.  In the first of the 1/4 encounters it was JJ Wang who took the win ahead of Takaaki Shimo after the 2015 Vice Champion was given a penalty for bad refuelling. Behind them John Ermen was holding third but the ARC driver came under intense pressure from 2013 World Champion Tadahiko Sahashi in the final laps.  With the Serpent driver all over the Dutchman the pair made contact at the final corner with Ermen ending up on the grass.  While Ermen protested the result, after watching video footage of the pass officials deemed the result would stand with Sahashi progressing to the Semis.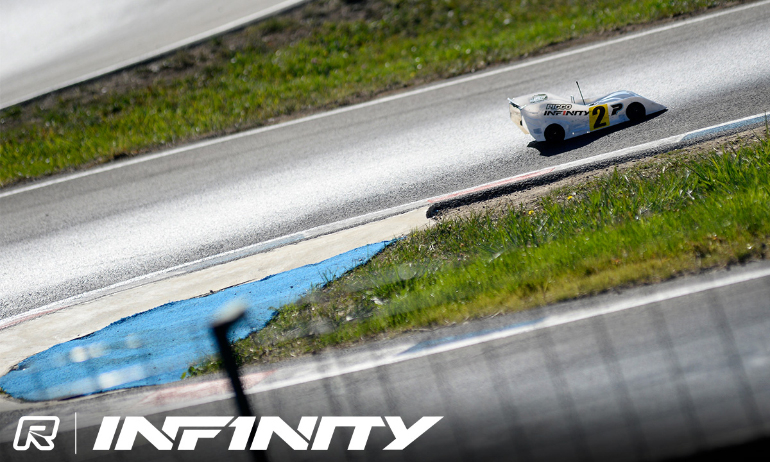 In the second 1/4 final, Alberto Picco was the winner from Infinity team-mate Carmine Raiola who was another to be penalised for bad refuelling.  Behind them Takehiro Terauchi would complete the Top 3 of a race that would see reigning 1:10 European Champion Toni Gruber and former finalists Rick Vrieljink and Flavio Elias go out.  Losing second gear on his WRC, Gruber tried to continue but it was too much for his engine and it expired.  For Vrieljink his chances of progressing ended when he ran out of fuel and for Elias, who was running his 5th final after a bad qualifying, his run ended due to a broken steering servo.
'Very happy' was how Wang summed up progressing to the Semis.  The Mugen driver continued, 'qualifying was so so, so I'm happy to still be in the mix'.  On the 20-minute encounter which he started 4th, the Chinese American driver said, 'The start was good for me but the conditions were very difficult.  The Top 3 were evenly spaced but then the drivers behind started to attack. When Shimo got the drive through I took the lead and just tried to drive a safe race to the end'.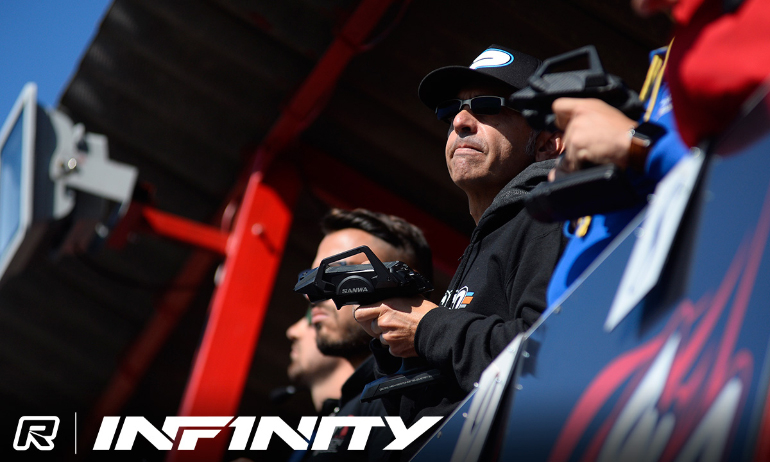 Echoing Wang's comments of conditions being more difficult today, Picco said, 'the track was not as good as yesterday. It was slippery and more difficult to drive'. He continued, 'I just tried to keep a good pace without pushing because I didn't have the same confidence as before because of the dust on the track'. Otherwise, the Italian veteran said the rest of the race was good and while conditions are more difficult he will leave his Infinity unchanged for the longer 30-minute Semi Final.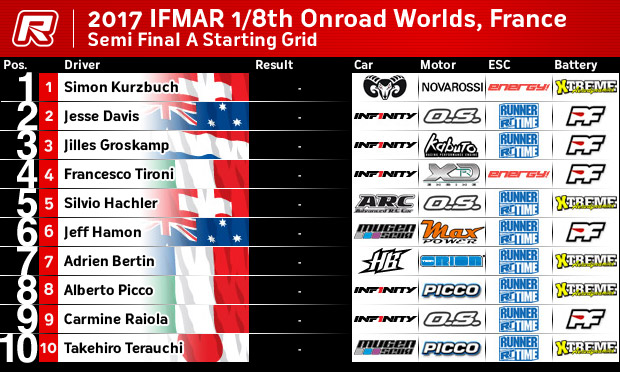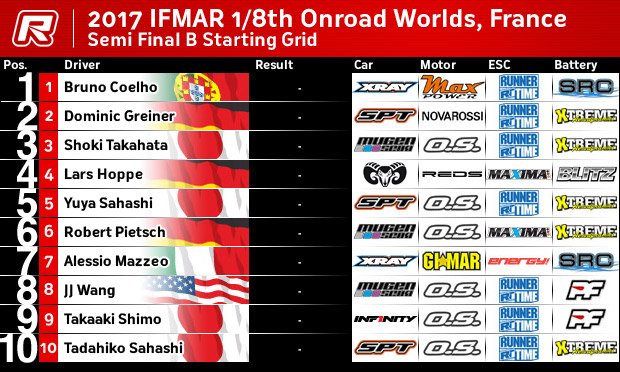 View complete event results here.
View our event image gallery here.


---