November 14, 2017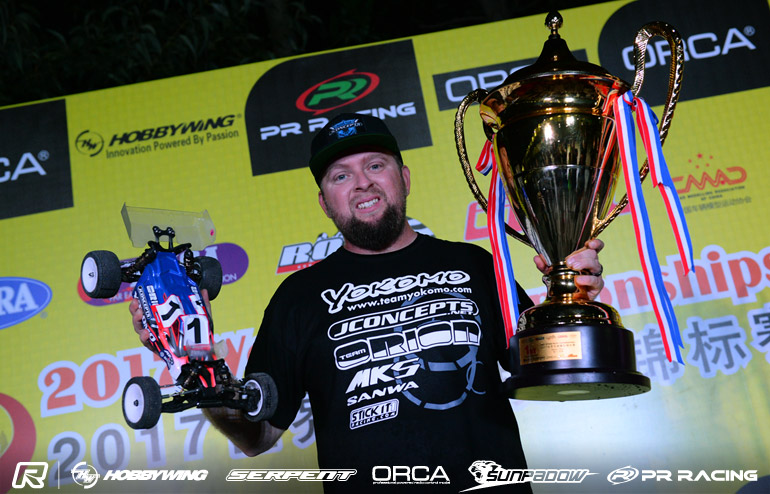 Having held a title of being one of the greatest offroad drivers to never have been crowned World Champion, Ryan Maifield today finally revoked that status when he joined R/C racing's most elite club by becoming the 2WD World Champion in China. With form over the first day & a half of the event making the American an unlikely title challenger, that all changed in the third qualifier as together with his Yokomo team he turned things around and go on to become Top Qualifier.  Taking an easy win in A1 despite a last lap tumble, A2 would see a first lap mistake set up the world famous 'Ryan & Ryan' show as he and Ryan Cavalieri went into battle. Having lost out to Cavalieri in the past, Maifield this time kept his composure with the mistake coming from Cavalieri.  Getting stuck up in a corner pipe it handed Maifield a huge lead allowing him to cruise to the win and with it the World title. Admitting afterwards that he had begun to accept he might never be a World Champion, the meaning of finally achieving his dream was clear to see as he became overcome with emotion on the drivers stand as track announcer Scotty Ernst asked him how it feels to finally be World Champion.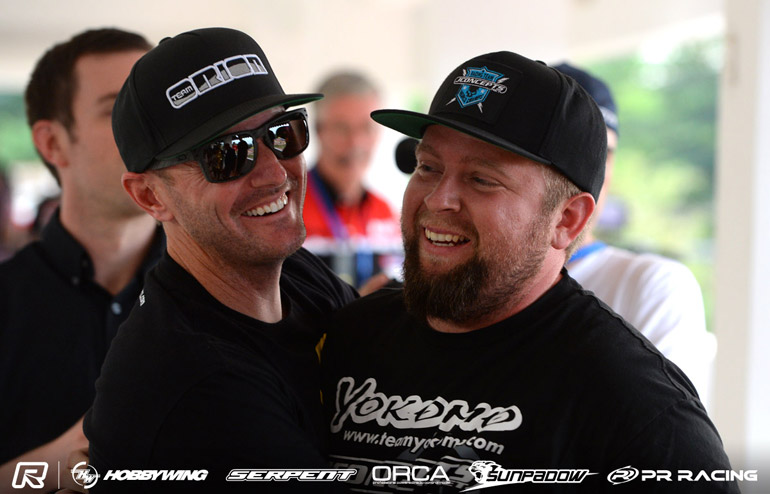 'Its a pretty surreal feeling. There are so many great drivers that have never won a World title, I'm very thankful that I can now say I'm a World Champion, not many drivers can say that', was how Maifield summed up the meaning of this his greatest win.  Part of the offroad super power trio that is himself, Cavalieri and Jared Tebo but the last one to add a World title to his CV he continued, 'I have always dreamed of this and I wish Jason (Ruona) was here. We have worked well together for a long time.  I'm sure he won't regret having missed the food but I'm sure he's going to regret not being here for the win but we'll celebrate when we get home'.  On his A2 performance he said, 'I made a slight bobble in the doubles.  I knew how important it was to stay in front so I did what I did to keep in front.  Ryan is a great driver and held his line, he knew it was the first lap so he didn't contest it.  It was great to race Ryan for my first World Championship because I raced him for each one of his'. In terms of his YZ-2 DTM he said, 'I had to build my car twice today because I had a bent chassis (after his Q5 off) and them for this one (A2) my diff didn't feel great so I stole Hara's.  Joe (Pillar) has just joined the team and has been a great help and kept everything calm. When I'm freaking out rebuilding the car he keeps everything calm.  It is great to be involved with a team like Yokomo, I only joined them at the start of the season but they have listened to my input and Lee's and made the changes we needed. Myself and Lee have worked really well together and Shin too, its been a real team effort'.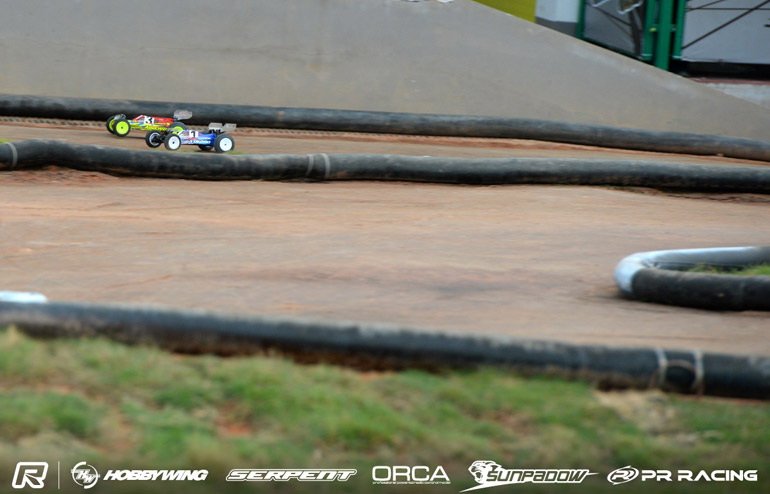 Finishing second to David Ronnefalk in A3, the Swede having a great run from P7 on the grid, Cavalieri said, 'I did what I had to do to get second (overall)'. He continued, 'Lee made a mistake so I knew a win or second would be enough'.  Going one better than Japan two years ago, the Team Associated driver said, 'Overall it was good result but we struggled a bit today. I had everything going for me yesterday but still we were close'.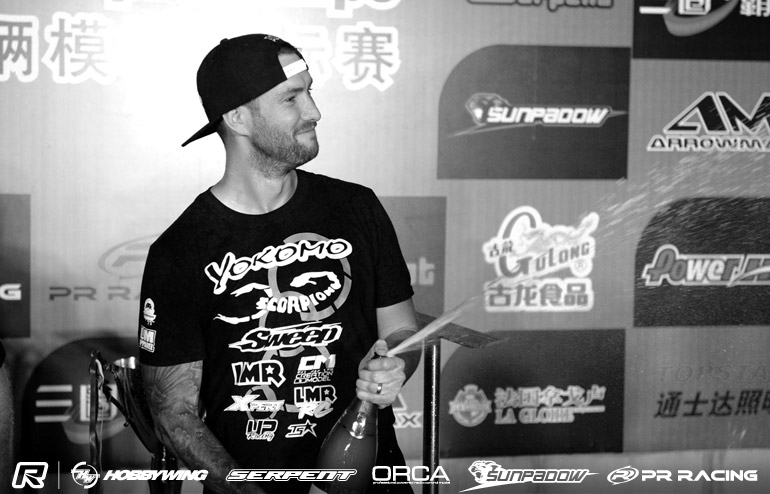 Disappointed to miss out on making it a 1-2 for Yokomo, Martin said, 'I drove like shit there. My car was good again but I took the wrong line over the triple which killed the speed and I got swallowed up by the pack'.  His first Worlds podium with Yokomo, the European Champion said, 'Overall I'm really happy with making the podium and I'm super happy for Ryan. We won this as a team not as an individual and we proved a lot of things like our car is great. Now on to 4WD'.  Finishing on the same points as Martin but losing out on the podium on tie break, Kyosho's Jared Tebo would finish 4th with Ronnefalk's A3 win securing the HB Racing driver fifth.  With the 13th different 2WD champion having been crowned at the 17th running of the IFMAR World Championships, Maifield has a day to celebrate before he and the rest of the drivers get back down to business on Thursday for the start of the battle to crown the 4WD Champion.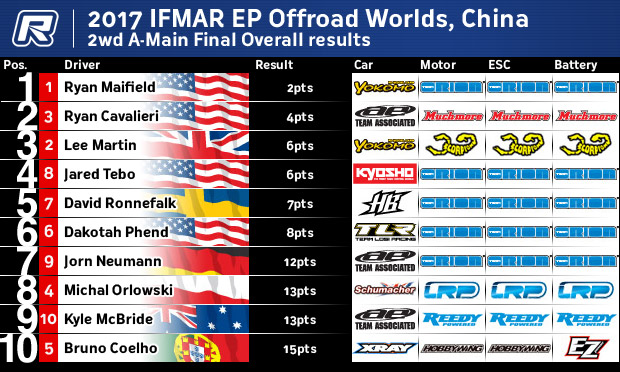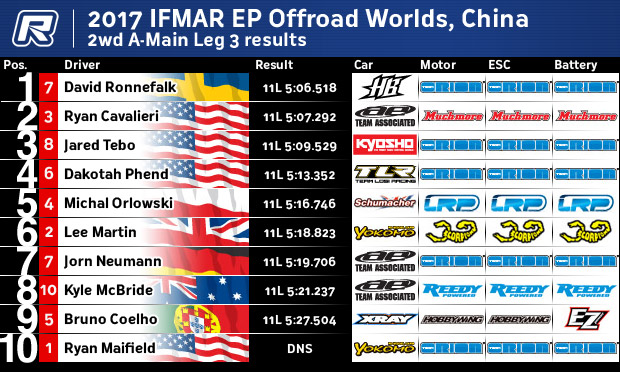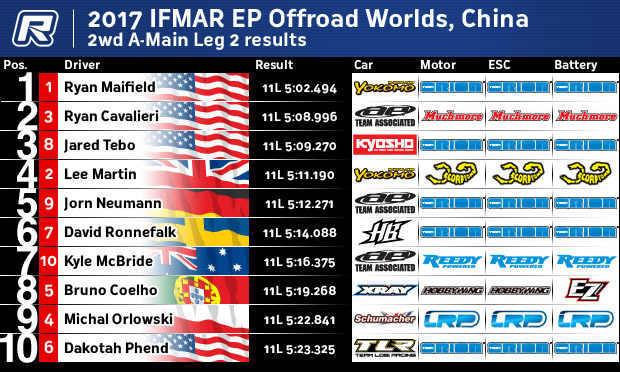 View our event image gallery here.

---