March 2, 2018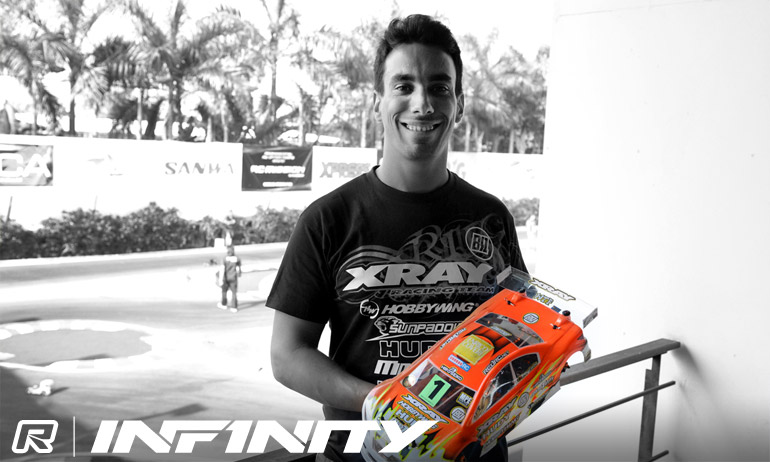 Bruno Coelho has ruled over the first day of qualifying at the TITC, the Xray driver having a perfect and dominant day at RC Addict to TQ all three qualifiers on the schedule.  Q3 would see the reigning champion again top the times from Naoto Matsukura as he had done in the previous round but this time with double the time margin.  Mixing up the order a little with Top 5 almost identical in Q1 & 2, Marc Rheinard would end the day with his first Top 3 run going faster than Alexander Hagberg would made it a hat trick of P4s for the day.  While Coelho had a strong day, for the two drivers that joined him on last year's podium it was day to forget.  After posting he ninth fastest time in the opening two qualifiers, Ronald Volker would have a DNF in Q3 while Nicholas Lee, who lost out on the win on a tie break with Coelho last year, finds himself 33rd in the overnight qualification having DNF'd Q1 & 2.  The Singapore driver did however finish on a more positive result with a P8 for the third qualifier.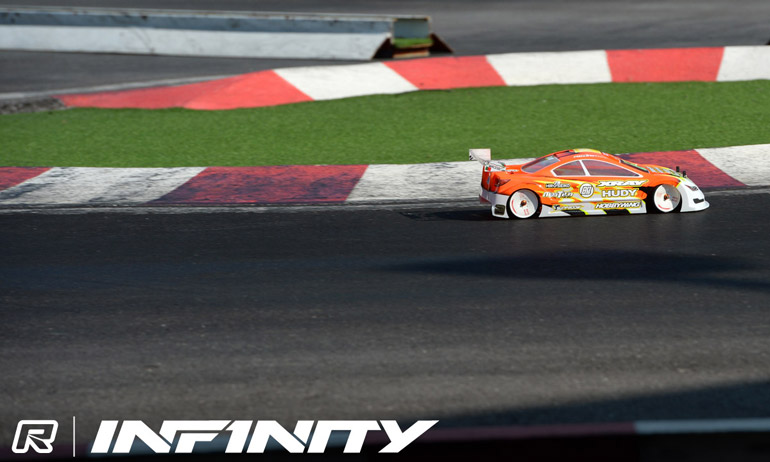 'It was a very good first day. The car works in all conditions, it was a little colder in the last one and it works still', was how Coelho described his day's performance.  Three seconds faster than Matsukura in Q3, the ETS Champion added, 'we will change nothing and just try to continue with no mistakes tomorrow'.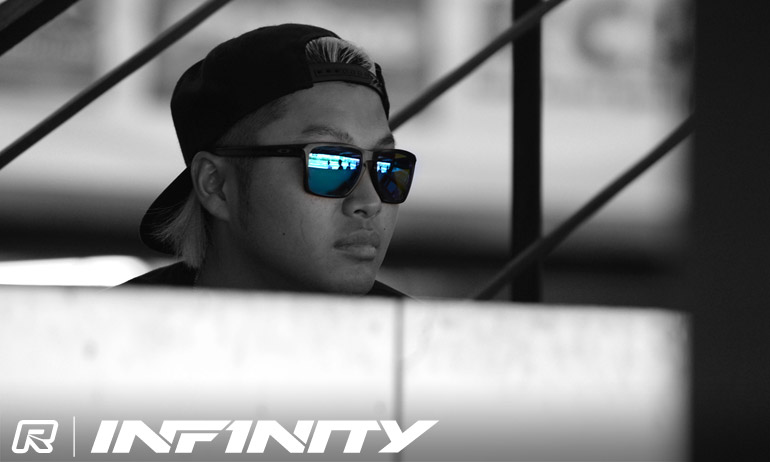 'No mistakes but slow', was Matsukura's reaction after Q3.  The Infinity driver, who crashed in the first two laps of opening two qualifiers, continued, 'I had understeer, the set-up was no good'.  Lowering the front upper arms he said 'it was not so good so I will go back up'. With his team-mate Rheinard and Sobue going opposite directions in their diff oil choice and liking the changes, the Japanese driver will also make other changes for tomorrow but ruled out the diff as one of the changes.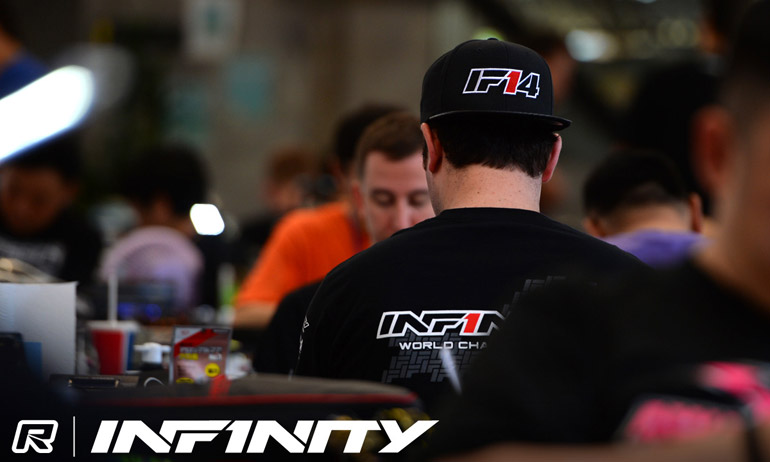 Commenting on his third for the round, Rheinard said, 'I got a little loose at the end of the straight which cost me a couple of tenths but for sure we are getting there'.  Changing to a harder diff for the last of the day's qualifiers he said, 'a harder diff made the car feel a little better for me but I know my team-mates tried softer and also liked it so I will talk with them and see if I will make any other change for Q4 & 5 tomorrow', the sixth & final qualifier due to run Sunday morning.' He continued, 'we are still 3-second away from Bruno so obviously they have found something that is better, still I'm in the A-Main at the end of the first day which is better than last year'.   On his official debut for Infinity at the TITC last year the multiple World Champion found himself qualifying in the B-Main.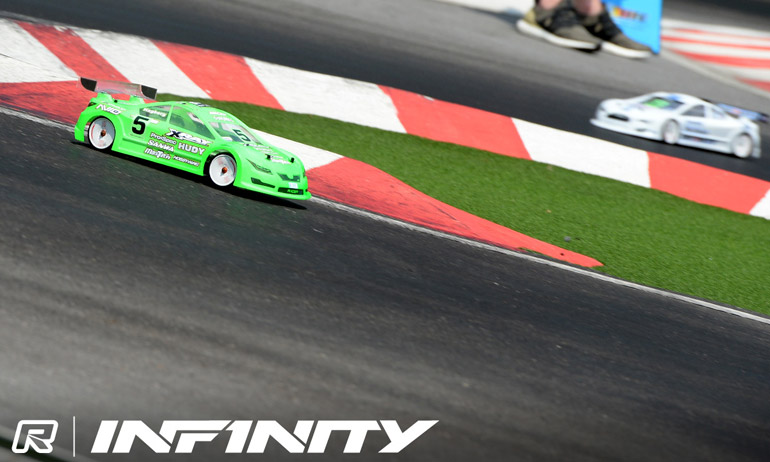 'I lost too much time at the start and couldn't make it up at the end', was Hagberg's thoughts on yet another P4 run.  He continued, 'I'm not sure why but we need to work on the first laps so I can be more aggressive with the car'.  He concluded, 'At least I have three decent runs so I can drive more with confidence tomorrow'.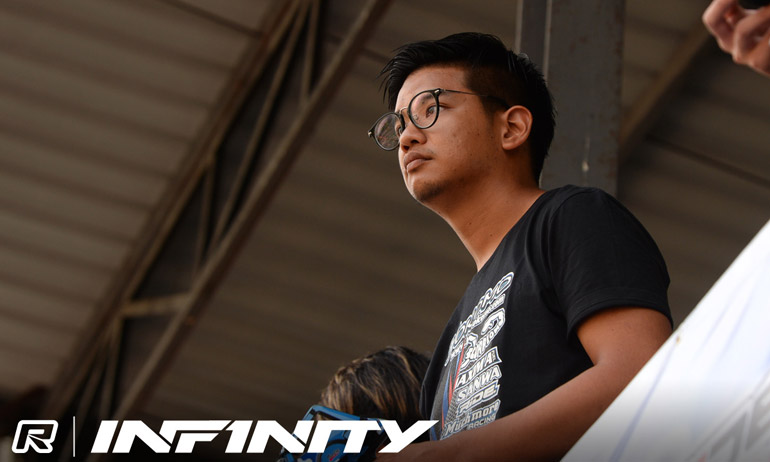 Completing the Top 5, Bangkok's very own Meen Vejrak said, 'It has been a difficult day. The temperature is so high so its easy to make a mistake'.  He continued, 'If you push at the beginning the tyres overheat so that is why I have tried to drive safe to get good points'.  With a 6th from Q1, a 'little mistake' in Q2 cost him 2 places and he ended up 7th, but the former 200mm World Champion, who won that title at RC Addict, said, 'with these points I can now try stuff tomorrow'.
Losing almost 4-seconds on the last lap after 'a big mistake' that cost him a Top 2 run, Akio Sobue said changes to his Infinity for the round had made it 'much better'.  Catching the curb after the chicane which flipped his car, he added, 'the car is ok but the driver was shit and I hope tomorrow I have no more mistakes but overall today was not so bad'.  Changing to a softer diff he said while the steering had improved he still wants more steering and he has a few small changes he will try tomorrow.
View our event image gallery here.


---