March 18, 2018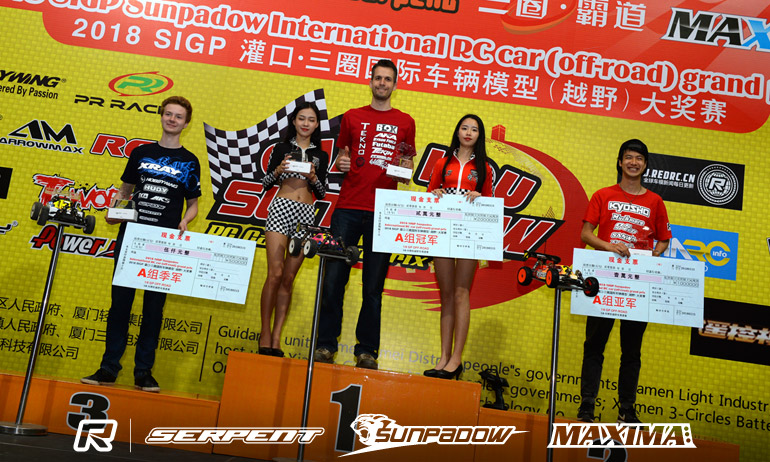 Ryan Lutz has taken an expected win in the 1/8th nitro buggy class in Xiamen China, but he didn't have it all his own way. Looking at the results one would think the race was a procession but at various stages of the 1 hour main there was plenty of excitement at the front of the field. Yusuke Suguira looked to have the faster car throughout the race, especially in the early part, but too many mistakes meant he couldn't capitalise, while in their own league, behind the leading pair Kaja Novotny took home 3rd after a long and exciting battle with Wataru Takashiro who ended up just off the podium in 4th.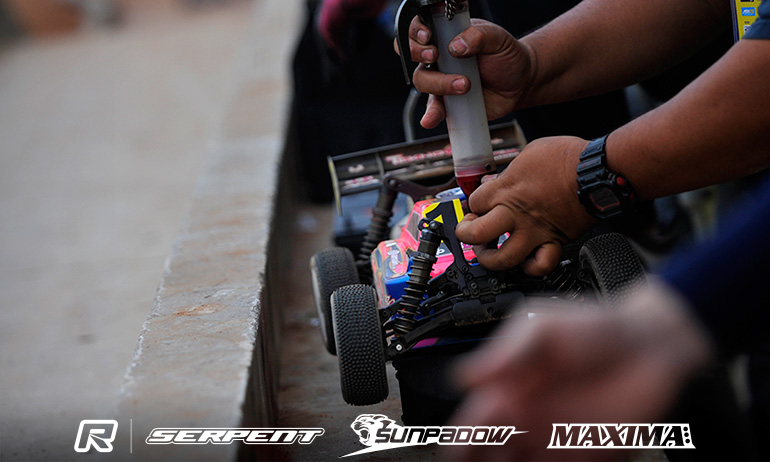 While Yusuke would crash early and drop to 4th, such was his pace that he got back up to 2nd and after a quicker pit stop was right on the tail of Lutz, the American when asked about it saying 'I was worried before the first stop, but then I saw that Yusuke had to make an extra stop'. Knowing he had more pace he didn't want to push, commenting that 'slow and steady till the last lap', the Tekno driver pushing hard to put a lap on Sugiura in the closing stages. Feeling his car was again too soft, despite this he made very little mistakes which brought him the win and with it the cash prize of RMB20,000 (US$3,160).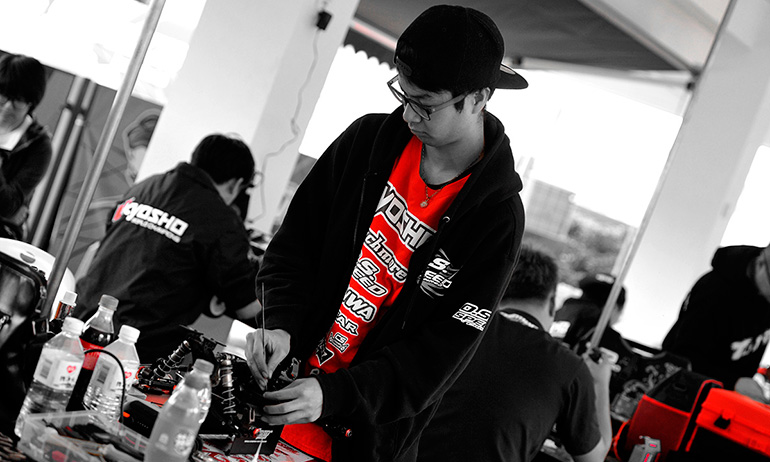 Starting with a blistering pace and pushing hard to not let Lutz dominate completely, Yusuke kept him honest in the first 10 minutes, repeatedly catching up only to lose time in a crash or spin each time. Feeling his car was a little nervous, without the crashes he believes he could have brought the battle to Ryan, this the Japanese driver's only 2nd one hour final and his first time racing 1/8th outside of Japan, ending by saying it was 'good experience for me for the Worlds'.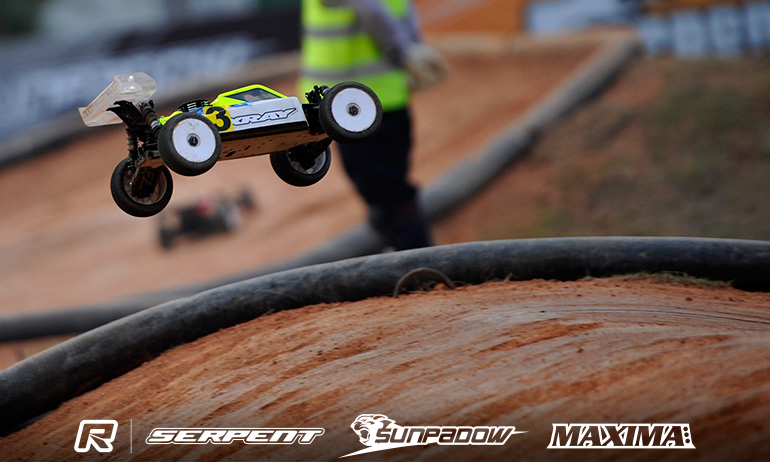 In what was to be a race long battle, in the second half of the main final Kaja Novotny and Wataru Takashiro really started going at it, trading positions in the pits and on the track. It wasn't until the 46th minute that the Czech driver finally made the position stick as Wataru started to struggle badly with his car. 'I'm happy I finished my first one hour final' the Xray driver continuing 'after 1st practice I didn't even think I would make the main'. Wanting to thank his pit man Gavin Kwok for all his work this weekend, the Xray driver said that his JConcepts tires came good in the 2nd half of the race which made his car less edgy, this allowed him to move up to 3rd, having been quite a bit back on Wataru at the 40 minute mark.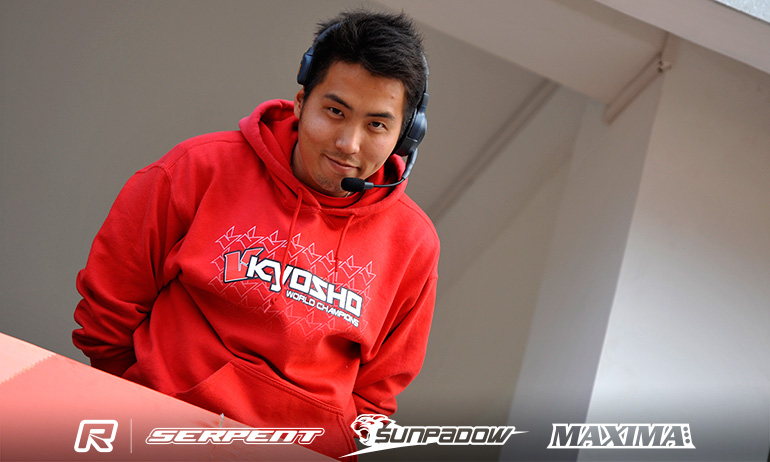 Feeling he had a diff problem as well as an issue with his shocks overheating, Takashiro noted that traction was higher than yesterday and so made his diffs stiffer but it turned out to be the wrong decision, the Kyosho driver struggling to keep the car on track by the end. Saying 'this race was not good for me but I know what to do to make it better', ultimately it was a series of crashes in the S section that let Kaja past and pull out close to a 2 lap advantage at the finish.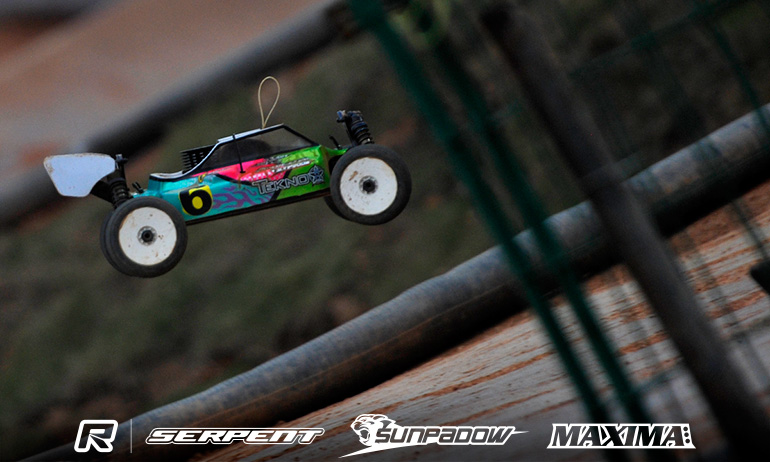 Completing the top 5 was young Jonathan Yeung from Hong Kong, the Tekno driver putting in a steady and mature drive, despite flaming out due to being on his roof too long just before a scheduled stop. Recomposing himself he got his head down and put in the laps in what was a mostly solitary race. Two laps back, Taiwanese National Champion Chen Guanxian took 6th with Jade Lim from Malaysia a further 2 laps back in 7th. Zhan Wei, Scott Yang and Jeon Hanyoung from Korea completed the order.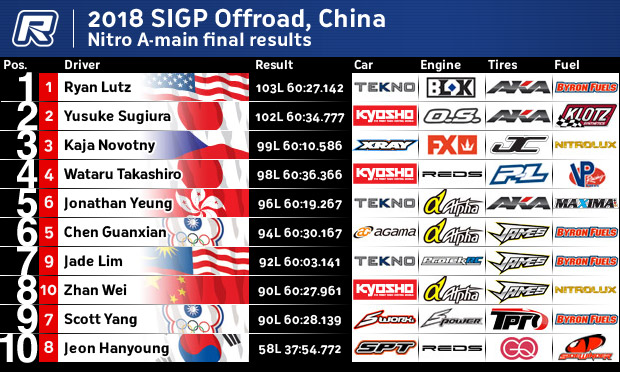 View complete event results here.
View our event image gallery here.

---