May 25, 2018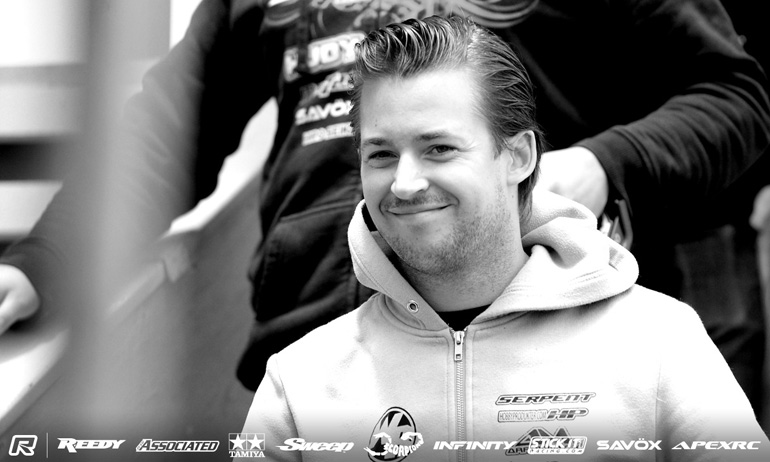 The second round of racing at the Reedy Race of Champions produced an all new batch of winners with Akio Sobue, JJ Wang and Viktor Wilck registering their first wins of the event.  In the first of the 3 encounters, Infinity's Sobue recovered from a first lap altercation with the Tamiya Raceway's kink to come from the back to win ahead of Meen Vejrak. Also recovering from an early incident, when he caught the kernbing in the sweeper and rolled, Christopher Krapp completed the Top 3 ahead of pole sitter Keven Hebert.  Having failed to start in Round 1, Xray's JJ Wang would bounce back in the best way possible take the Race 2 win ahead of Jilles Groskamp and Nicolas Lee while pole sitter & offroad ace Ryan Cavalieri had a tough race dropping back to 6th.  The main attention however would be on the stacked Race 3 in which both title favourites Marc Rheinard and Ronald Volker lined up against Wilck.  Both Wilck and Volker had bad starts while Rheinard got things wrong in the chicane while holding third.  This and an incident between Volker and Barry Baker played into the hands of the recovering Wilck he would take the win ahead of Volker, with whom he now shares the points lead together with Sobue.  A disappointing race for Rheinard given he started ahead of his title rivals he would have to settle for third.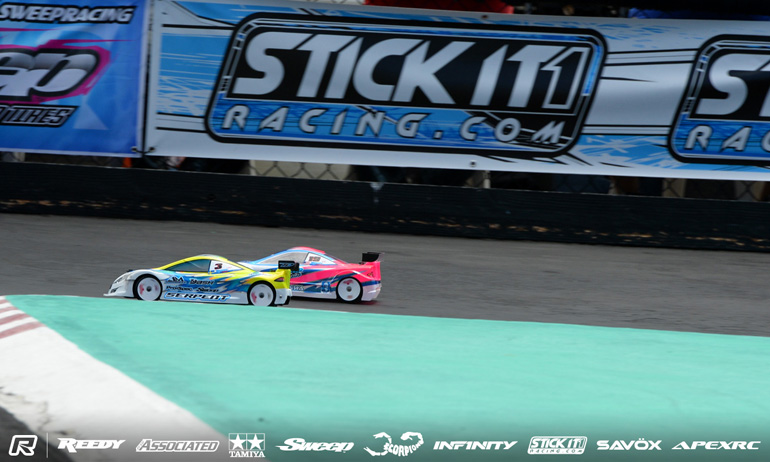 Commenting on his win, Wilck said, 'It was a good result but I got lucky with incidents and traffic'.  Starting the race 6th on the grid, the Serpent driver continued, 'I made an ok start but got hit at the first corner and was at the back again but they crash a lot in front of me so it was possible to come back'.  Showing good speed in practice and taking second to Rheinard in Round 1, the Swede said his car was 'ok but needs to be a little faster to fight'.  With his best lap time slower than that of both Volker and Rheinard he said, 'the car is really stable but needs a little more so we will try a different setting in the front for the next one'.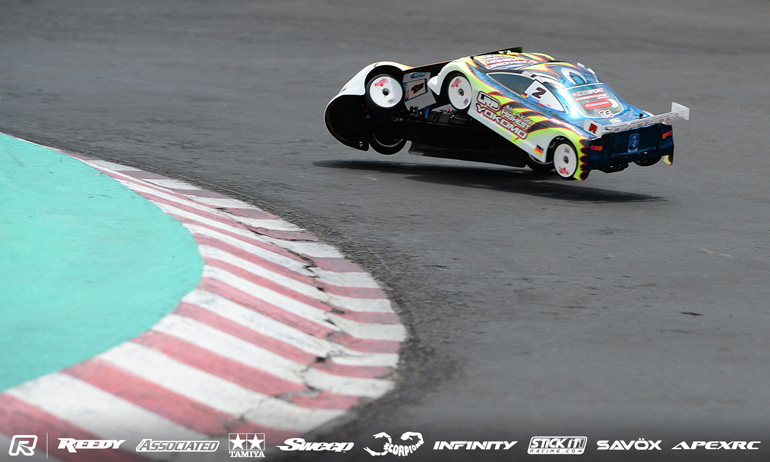 'That was a competitive round and we came away with valuable points',  was Volker's reaction after Round 2 of 12.  The Yokomo driver said, 'I made a bad start off the line and was last.  The number 7 spot is too far in and it's dirty but I started to get positions back.  When I passed Randy (Caster) he accidentally ht me and spun me so I was at the back again.  Later I had an incident with Barry (Baker) and got very emotional but we cleared everything after'.  He continued, 'Marc and me then ran toe to toe trying to reduce the gap to Viktor but we didn't have enough time to put pressure on him'.  Getting by Rheinard when he went wide in the middle of the race, he concluded, 'the car was on pace and 2-points is a good result'.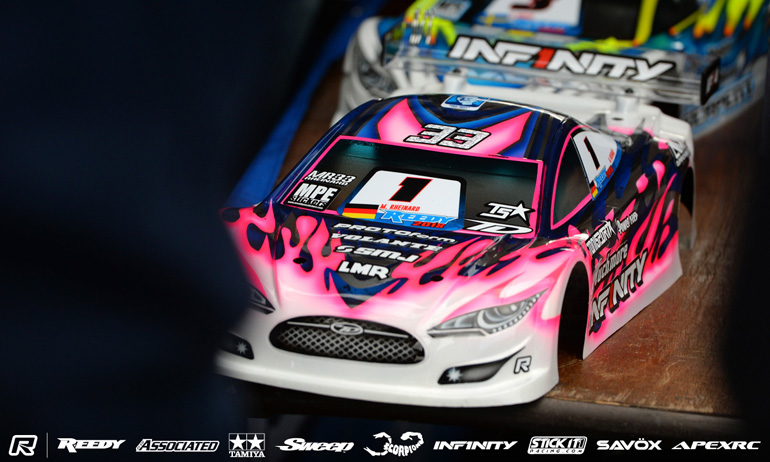 Rheinard summed up his race as 'a bad result' adding 'it was my own fault'.  The defending champion continued, ' it started ok but I had one stupid mistake at the chicane and went onto the green while I was second.  Then the tyres were dirty and I had no grip Viktor dived down my inside.  Then I hit someone and Ronald went by so not a great race for me'.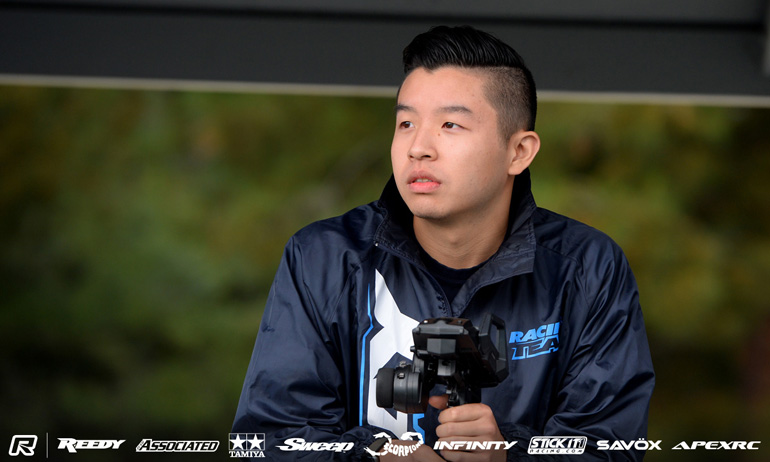 'Not perfect because we were in a rush to make the start but it was a good comeback', was Wang's reaction to his win.  Suffering an unknown electrical issue that meant he couldn't start Round 1, the Chinese American said, 'we changed everything possible and because it was a rush the car didn't feel perfect but after our bad start I'm glad that things worked out that round'.  Looking to Round 3 he said, 'I will look through things (on the car) and take my time so we do things right'.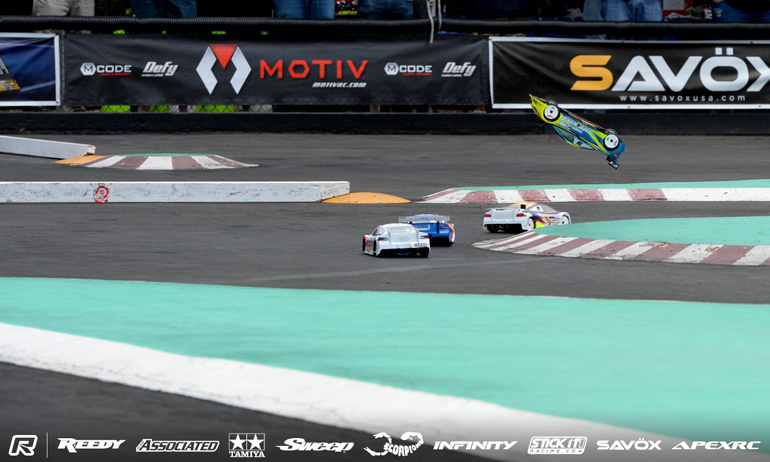 Commenting on his race, Sobue said, 'I had to comeback because I jumped the kink on the first lap but luckily everyone made mistakes or crashed.  I made back the positions but didn't make so many overtakes'.  With the fastest car in his race, the Japanese driver said, 'the car is good but the next one I start 8th so it will be a difficult race but I hope to move up some places'.
View our complete event gallery here.
---