October 24, 2018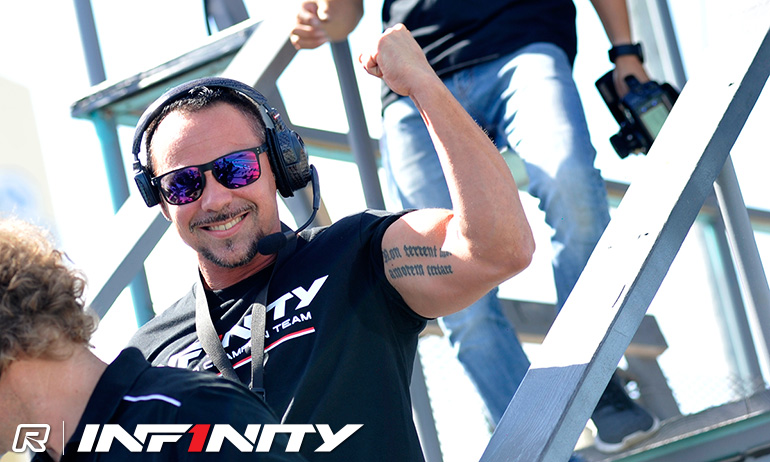 Dario Balestri has TQ'd the opening round of qualifying at the 1:10 200mm World Championships in Miami, Florida.  Only 10th in seeding, just making it into the top heat, the reigning 1:8 World Champion topped the first of the six qualifier by 4/10ths of a second from Infinity team-mate Naoto Matsukura.  With the 8th running of the nitro touring car Worlds now featuring 7-minute qualifier, an impressive run from Simon Kurzbuch saw him take P3 after he ran the full distance without stopping for fuel. For Dominic Greiner he opened his title defence with a P5 run which later became P4 when Shoki Takahata was disqualified.  The Japanese driver fell foul of the body ruling that no two openings can be closer than 5mm and in his case he had only a 4mm gap between the rear window and roof hole for the glowplug.  Jesse Davis would set the fifth fastest time with Tadahiko Sahashi completing the Top 6.  Having topped seeding on his 200mm Worlds debut, Lamberto Collari could only manage the 12th fastest time in Q1 reporting afterwards that he had a glowplug issue that meant he couldn't get a good tune on his engine.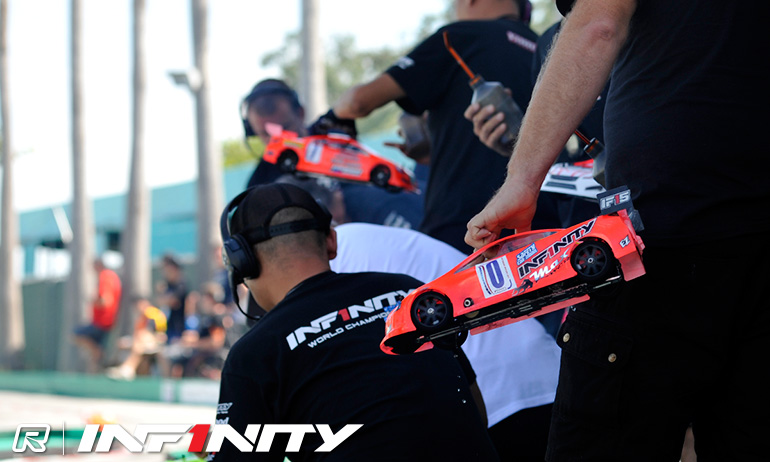 'I started the heat like a lottery because I changed a lot on the car', was Balestri's reaction to his TQ.  Top Qualifier at the previous Worlds in Gubbio, he continued, 'I checked what my team-mates used (in seeding) because they were fast and tried to get a combination that would work for me.  I'm happy but I was not sure it was going to be good. Honestly I'm surprised'.  Asked if the car was now to his liking, the Italian replied, 'Honestly it is still loose but it is like this for everybody so you just need to drive it the best you can.'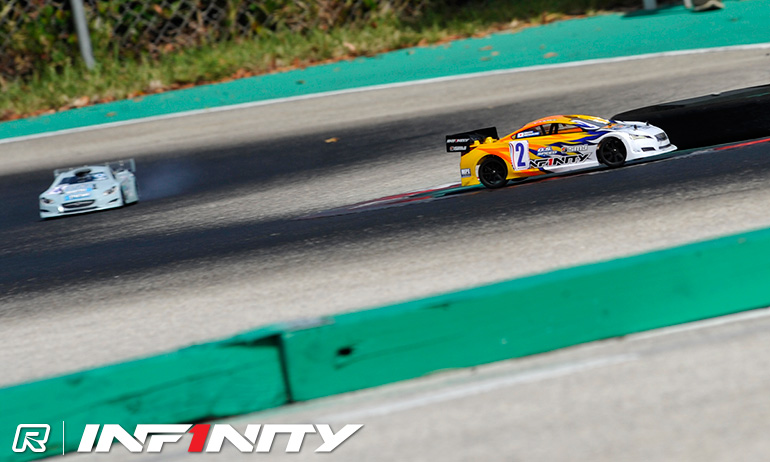 'Not too bad', was how Matsukura summed up Q1.  He added, 'I think before (the heat) the track has less traction but actually when I drove it the traction was quite good.  Like I said yesterday I wanted to do a safety drive and have no mistakes.  On time I went wide and let Pietsch inside and then we touched and my car rolled. Without this it would have been a TQ run but still I'm happy with second.  He concluded, 'I will leave my car the same for the next one'.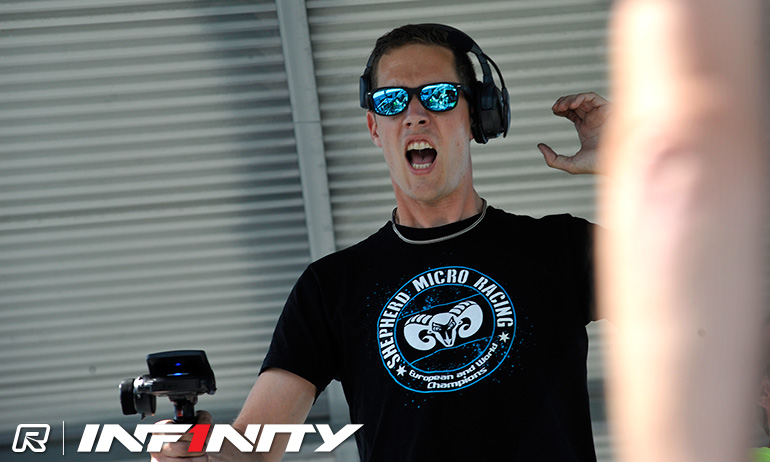 With former World Champion and now Novarossi representative Daniele Ielasi super impressed by his driver's ability to go the 7-minutes without refuelling, Kurzbuch took it more in his stride saying, 'this was our strategy from the beginning'.  He said he calculated both with and without fuel stops and going with the latter had paid off.  The former 1:8 World Champion, who made his Worlds Final debut here at the Homestead RC Raceway in 2011, said, 'I had to drive really smooth to save fuel and it was a pity we were only 1-second off at the end.  I'm sorry for the other guys (in his heat) behind me that I didn't open but I was leading and our target time was a fastest lap of 18.2.  I had some really slow laps and I will try to take them out in the next one'.  He concluded, 'we are still in the game'.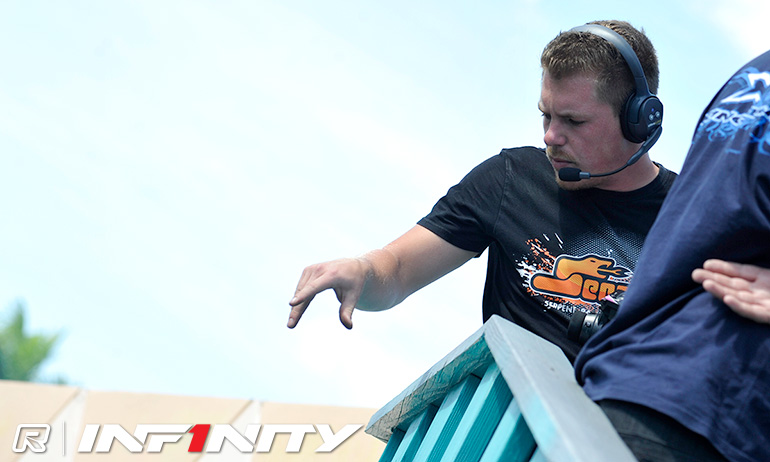 Greiner said his opening run 'was ok' but continued 'my car was super hard to drive'.  The Serpent driver added, 'I had 3-mistakes. A spin one-time. I hit the wall one time and lost time in the pits when I touched another car.  This all cost me about 3-seconds so we are there on pace just the car is super hard to drive. I will try something different Q2'.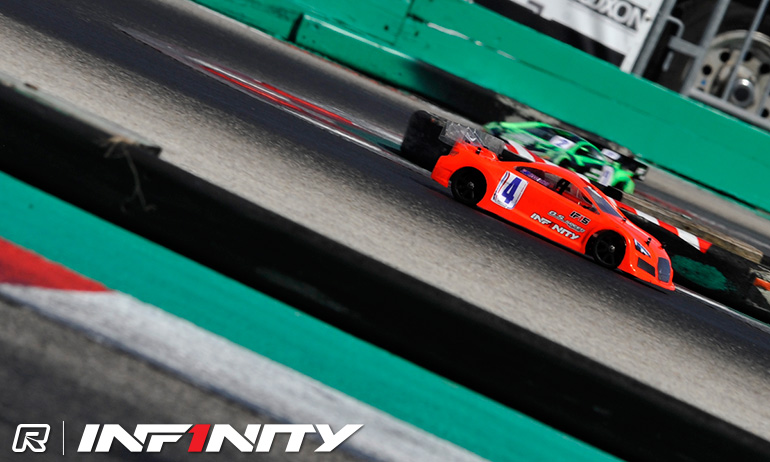 Davis was happy to make the Top 6 after a difficult time in practice.  Running in the second fastest heat, the Australian said, 'the track changed a lot after the rain and we lost our set-up completely so we had to start fresh.  There was no rain last night so the track was same as in IPD and we went back to the set-up we used then and also put in a better engine.  The Infinity driver continued, 'I think it will be better for Q2 because I had a mistake with a back marker in that one'.  On his car he said, 'I will try the same and try to do another safe drive before I try another set-up'.
View the complete event results here.
View our event image gallery here.


---