October 28, 2018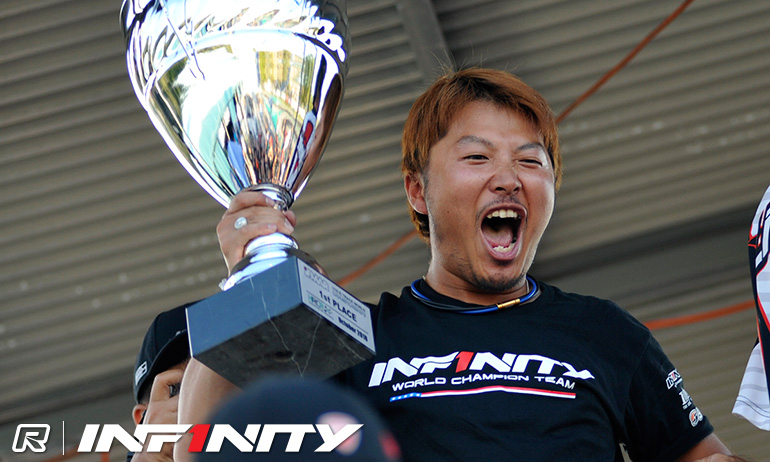 Multiple Electric Onroad World Champion Naoto Matsukura has added a Nitro Touring Car World title to his tally with a very convincing performance at the 1:10 200mm World Championships in Florida.  After a messy start which saw Top Qualifier Dario Balestri, Super Pole winner Robert Pietsch and reigning champion Dominic Greiner receive penalties, the Infinity driver quickly stamped his authority on the 1-hour final.  By the first round of fuel stops the 200mm rookie, who stopped early at 4:30, had already pulled out over a 6-second lead and such was his lead at the mid race tyre change his crew was able to switch to 4:00 stops ensuring his massive lead was never at risk.  At the end the Japanese driver becomes the 8th different World Champion of the class by almost 2-laps.  Battling with Tadahiko Sahashi for second place before the Infinity driver suffered a flame out in the final minutes of the race Capricorn's Kyle Branson would finish second with Team Shepherd's very quick Eduardo Escandon coming through from the back of the grid to complete the podium at Homestead RC Raceway.  Half a lap back Pietsch would recover from his penalty and a bad tyre stop to finish fourth ahead of Mugen team-mate Jeff Hamon, with Greiner, who got a second penalty completing the Top 6.  Ending up 9-laps off the lead after running out of fuel, Balestri ended up 7th but his biggest frustration was the length the cars were held on the starting grid.  He said his penalty was a result of him trying to make sure his engine didn't cut.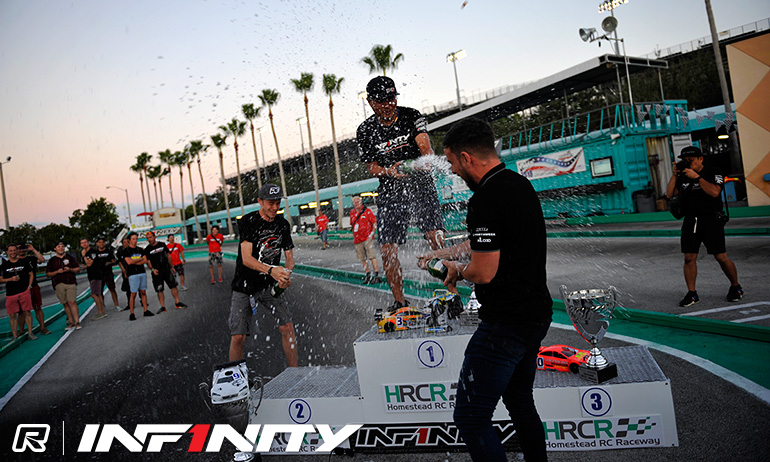 'Perfect.  Perfect car, perfect speed, perfect mechanic', was how Matsukura summed up becoming the nitro touring car World Champion at his first attempt.  The former Electric Touring Car World champion, who also won that title in Florida at the nearby Kissimmee track, continued, 'We made a really fast tyre stop and after this the gap more than a lap so I then just tried to control my race.  Before we were refuelling at 4:30 but to be save we make 4-minutes'.  Having led the final on his 1:8 Onroad Worlds debut in France last year, but succumbing to a flat receiver battery, he said 'around 55-minutes I started to get nervous and starting think about things going wrong.  I even asked Miura if we could go to 3:30 for the last fuel stops but he told me don't worry.  Miura and Bank did a perfect job.  I also want to thank my boss Mr. Kenji and my family who all stayed in Japan to watch the race'.
Reacting to his race, having bumped up twice after starting the day in the 1/4 finals, Branson said, 'I didn't expect that'.  The British driver continued, 'We were all bunched up for a while at the start and I had to hold back.  I didn't want to do anything stupid so I waited for the pack to spread out.  I know I had to do 2 extra (fuel) stops I think but for the final my car was perfect.  I could drive it so easy.  I didn't have to push to be in the pack'.  His first Worlds podium having made his first worlds final last time out, he added, 'thanks to everyone who has helped me and congrats to Naoto.  Fair play to him, he was on another level'.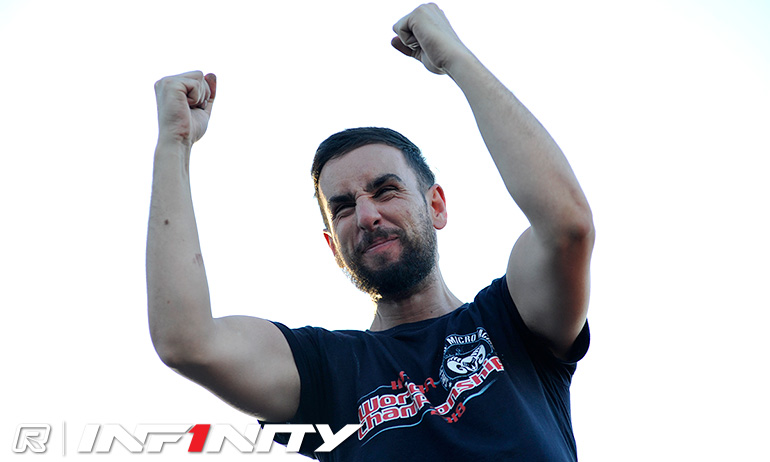 'First I have to say a massive thank you to Shepherd Micro Racing and Coten Escuderia because I am only here because of their support.  Without it I would not be celebrating this podium', said a delighted Escandon.  The Spanish driver, who first made a name for himself in the ENS after joining Shepherd last season started out the day in the 1/4 finals, continued, ' (Takaaki) Shimo hit my car in the last lap of the Semi so we had to rebuild the car and I had to get a bodyshell from Thilo.  After that my plan was to have fun with the top drivers in the World for 1-hour but when I realised I was running in the main pack I started to push and at the end I am third place.  It's amazing from where we started the week struggling to what we finished. For sure this was a team effort'.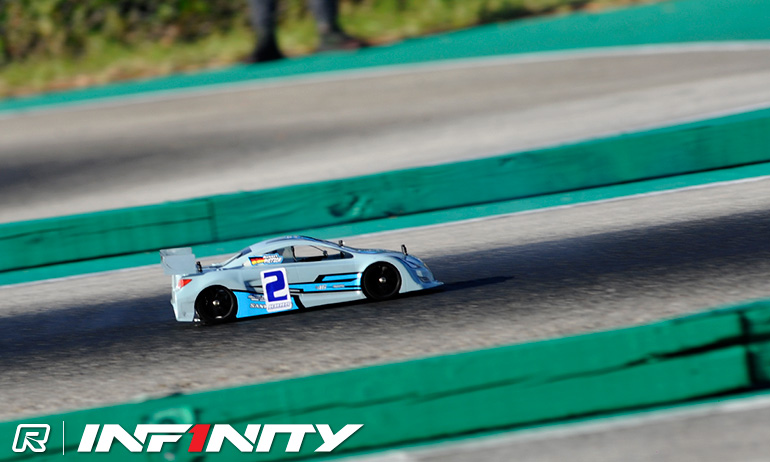 Asked about his fourth place in the final, Pietsch replied, 'the start was a big problem.  Dario jumped the start and I followed him so I also got a penalty.  Then after Dario took his penalty he touched me at a bad angle and I rolled'.  Winner of his 1:8 World title at the same track 7-years ago, the German continued, 'The tyre stop was bad and we lost 6-seconds but the car was also difficult to drive.  It was not on the same pace as before'.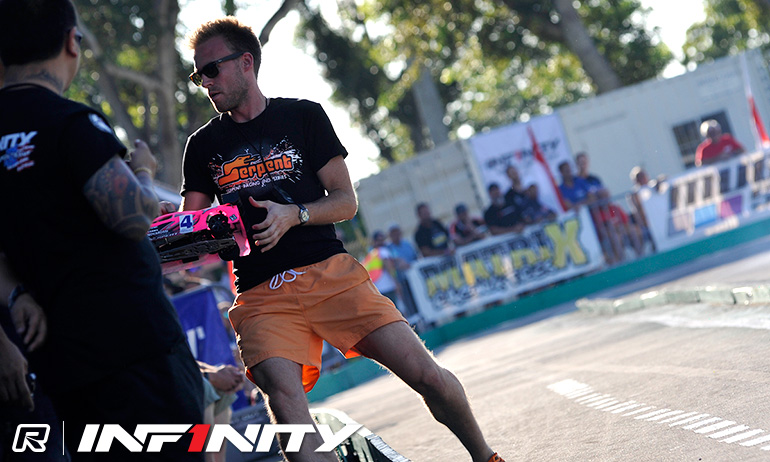 Summing up his race outgoing champion Greiner said, 'I don't know what happened at the start.  I didn't jump the start but I got a penalty.  They said I put my car too early on the ground so I got a penalty'.  Not happy with the decision, the German said, 'I don't know what Masami was doing.  I touched a guy and rolled my car and got a penalty.  Dario hit Robert and got no penalty'.  Ultimately running out of fuel would end Greiner's chances of retaining his title.  He said, 'At the second fuel stop we ran out of fuel and then it was over.  For sure Naoto was fast but out front he could drive his own race'.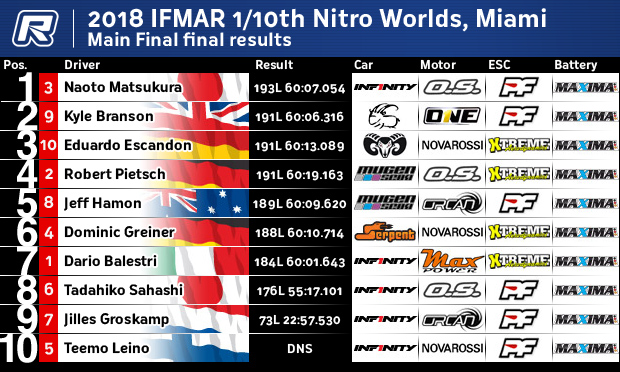 View the complete event results here.
View our event image gallery here.


---