October 27, 2018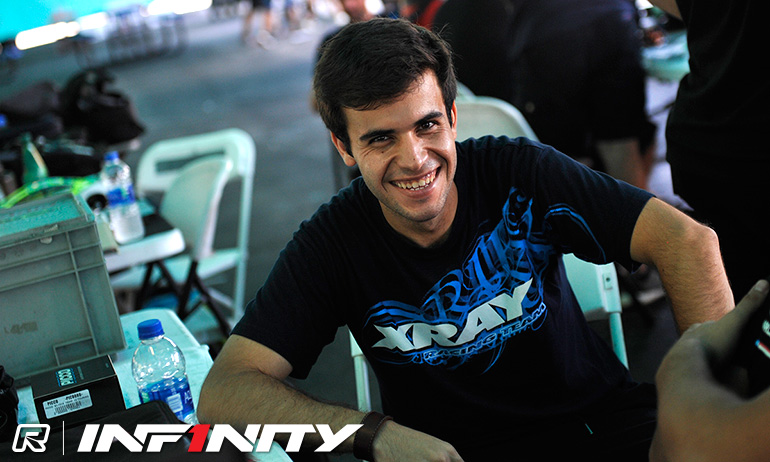 1:10 200mm Vice-World Champion Alessio Mazzeo's hopes of going one better this time around are still alive after the Italian won his 1/4 final to progress to the Semi Finals in Miami.  Starting on pole for the 20-minute encounter, the Xray driver took victory over another Gubbio finalist Kyle Branson, the Capricorn finishing 4-seconds back.  Setting the fastest lap of the race, 2010 Texas World Championship Finalist Shinnosuke Yokoyama completed the Top 3 to progress to the all important Semi's which will determine who will join Top Qualifier Dario Balestri and Super Pole winner Robert Pietsch in the final.  Significant names to end their quest in the first of the 1/4 Finals were 2010 World Champion Ralph Birch and 1:8 legend Lamberto Collari.  Having bumped up from the 1/8 final Birch finished 6th after early contact with Yokoyama while Collari, having impressed by topping seeding on his 200mm World debut, had a crash that damaged a front arm leaving him to struggle to the finish in last position.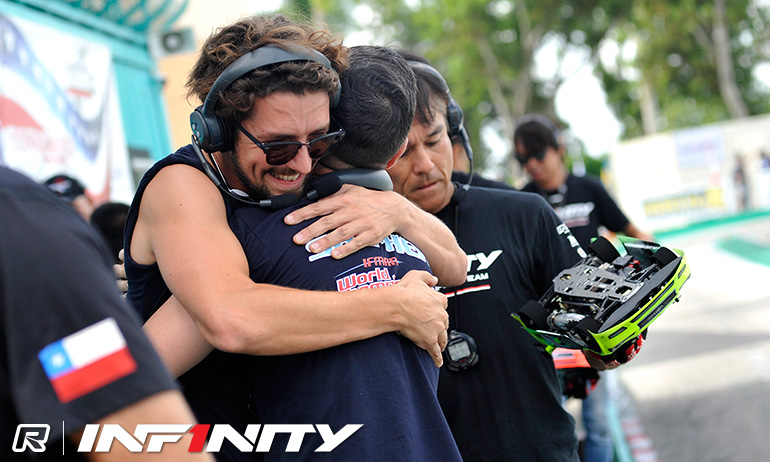 In the second of the 1/4 finals a delighted Eduardo Escandon took his Shepherd to the win from 3rd on the grid.  The Spaniard and ENS front runner, had a 1.6-second advantage over multiple World's finalist Takaaki Shimo.  Australia's Jeff Hamon secured the final bump up position to the Semi's, his Mugen finishing almost 1/2 a lap in front of 2014 Vice Champion Yuya Sahashi.  Unfortunately for Xray's top driver in qualifying Leo Arnold, his race ended in retirement while holding a comfortable lead. Starting from pole and leading the race early on from team-mate Mustafa Alp, until he also retired, during the French driver's first fuel stop the fuel tank lid stuck open leading to the end of his World Championships.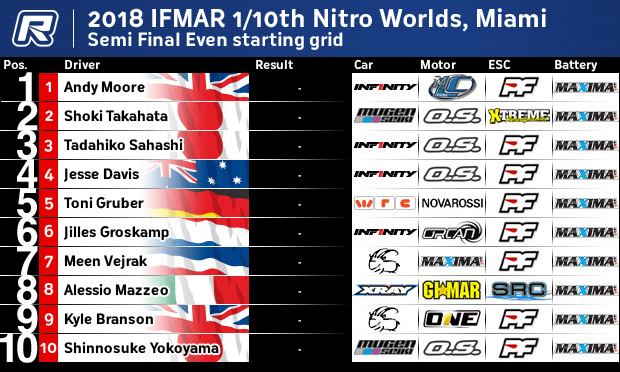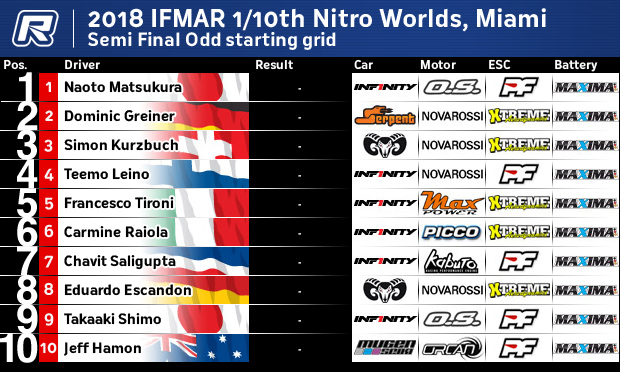 View the complete event results here.
View our event image gallery here.


---