November 1, 2019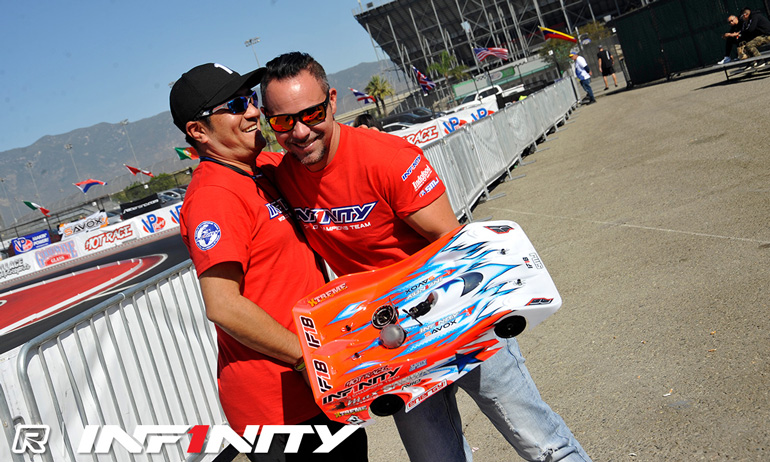 Dario Balestri will defend his 1:8 Onroad World Championship title as the Top Qualifier for tomorrow's final at Steel City RC Speedway in California.  The Infinity driver secured his fourth consecutive World Championship TQ when he topped the sixth & final round of qualifying ahead of Simon Kurzbuch and Dominic Greiner.  With the first five qualifiers seeing 4 different drivers post TQ run, the final qualifying was a four way shoot out. Running in the second fastest heat Greiner did all he could to set the provisional TQ time while the other three contenders, Balestri, Naoto Matsukura and Kurzbuch set off in reverse order in the top heat.  The first to post a second TQ run when he topped the morning's Q5, Matsukura would unfortunately crash out at two and half minutes, leaving the battle between Balestri and Kurzbuch, their predicted pace up on the time set by Greiner.  In the end Balestri had it under control finishing with 4/10ths on Kurzbuch. Overall Matsukura qualified 2nd followed by Kurzbuch, Greiner and Jesse Davis.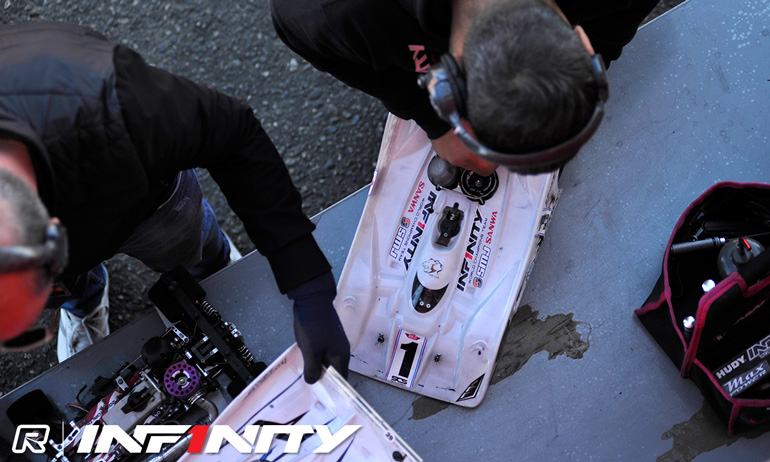 'The last one was the best one because finally I start behind Naoto. The one in front always has more pressure', was Balestri's reaction to the final qualifier.  The Italian added, 'I didn't want the battle to end with Naoto mistake but even when he went out I could not take it easy because if Simon would win he would have the TQ so I had to push to the end for sure'.  With his place in the final secured, looking to the 1-hour race he said, 'We have a perfect car for the race.  It's super balanced and consistent on the lap times so we just need to see which temperature we will have and we can adjust the balance for that. I am looking forward to the final'.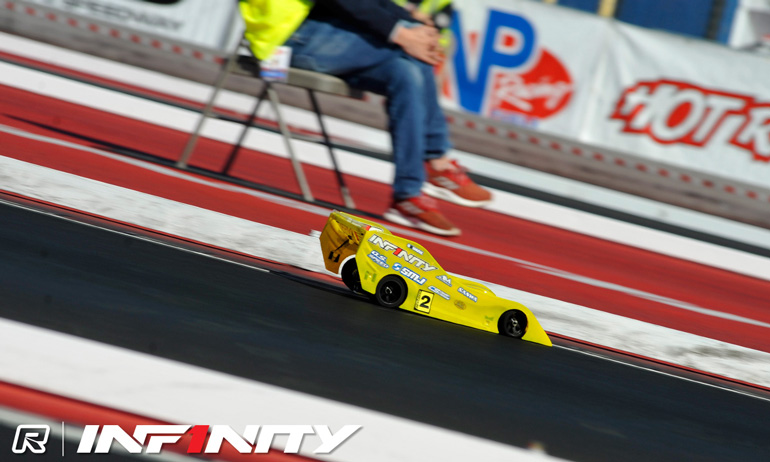 Explaining his mistake, Matsukura said, 'the engine was a little rich, I had no power, so I pushed hard and it caused me to traction roll'.  Winner of Super Pole at the last 1:8 World Championships when he made his nitro racing debut, the Japanese ace said, 'For Super Pole I will go 100% but it is going to be super close.  Dominic and Simon can make good laps and also Jesse.  I will do my best and I like the single lap challenge'.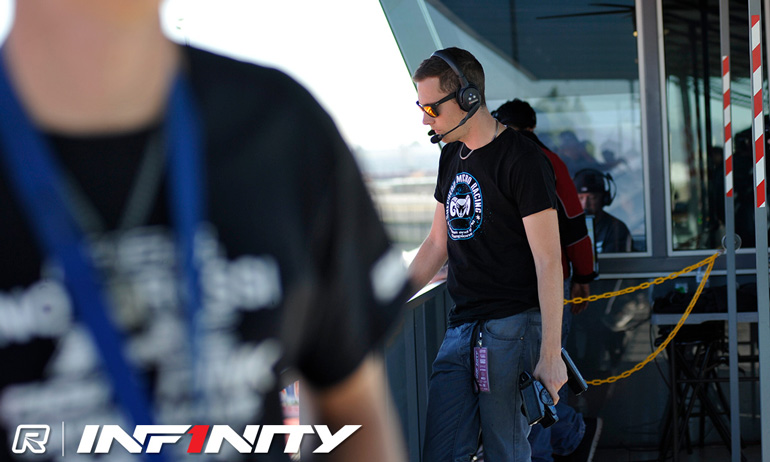 'We gave everything I would say', was how Kurzbuch summed up Q6.  The Shepherd driver continued, 'Overall 3rd we are third now which is a good result.  Twice we were super close to Dario but he was just a bit quicker so he deserves this pole. Now the next challenge for us is Super Pole'. On contesting Super Pole, the 2015 Champion said, 'In the last round the car was really good so we will go with it the same for Super Pole.  I cant say I like Super Pole because it means we missed the TQ but the passed two years I have experience of it and I will be pushing for a good outcome for our side'.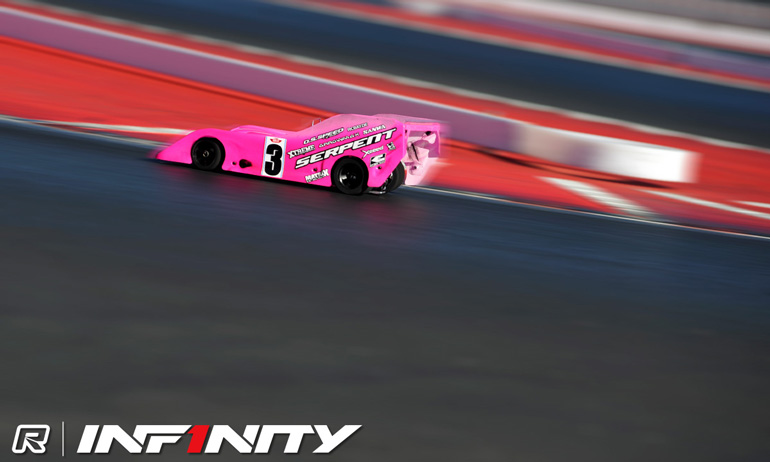 On his final qualifying attempt, Greiner said, 'the engine was better but my driving was not perfect. The car was fast'.  He continued, 'I am not a super pole driver. I am not so good on single laps but of course I will try my best'.  Almost conceding he will be lining up in the Semi Finals the Serpent driver concluded, 'for the Semi we have a good car so everything should be fine'.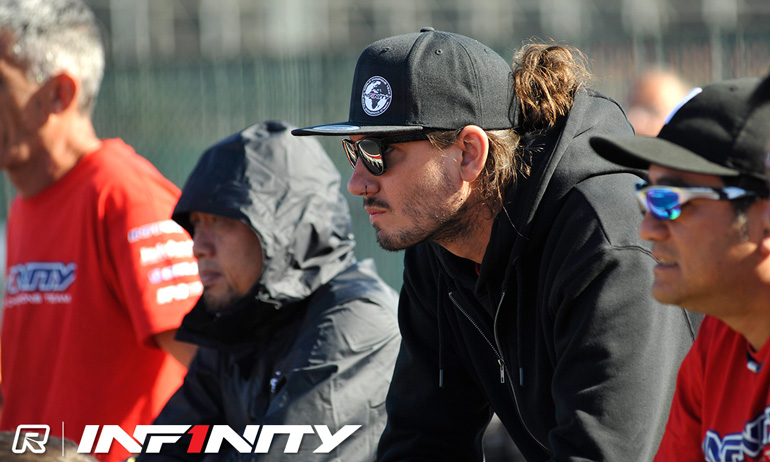 The final of the four Super Pole contenders, qualifying 5th overall, Davis said, 'still we have good final's pace but we just couldn't find that 1-second we needed for the TQ pace'.  Making Super Pole last time out in France, the Australian said, 'For Super Pole we will change the engine. Normally over one lap I can do something but here on this track I don't think it's going to be easy for me to do something over the 6-laps but I know we have a good Semi car. It's easy to drive and consistent'.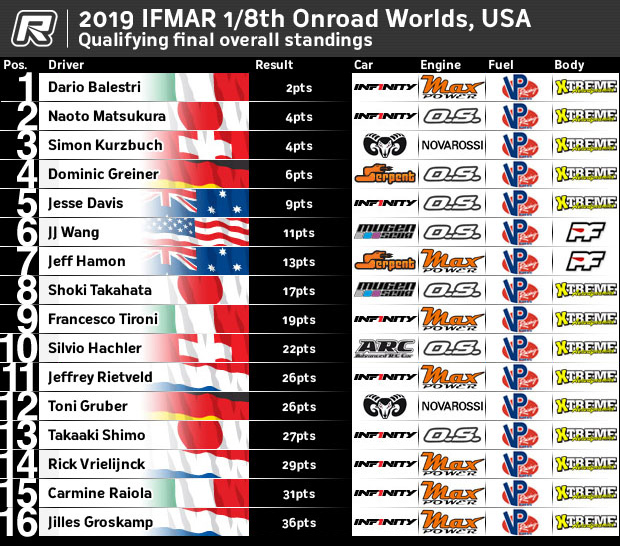 View the complete event results here.
View our event image gallery here.
---